After a 7-day open beta, the short and brief tour in the world of Battlefield 1 has come to an end on September 8th. And now we have to wait one and a half month until the full content is finally unveiled before us. But, seriously, how can you be sure that you're ready for the upcoming battles? Yes, we're all aware of the famous quote, "Wars are won by soldiers." Yet no soldiers can fight without equipment and gears. Fine gears, especially. Since there's a plenty of time before the troops set off, AORUS Gaming Blog features this performance analysis for you to figure out what's the best weapon for the Great War ahead.
Requirement Comparison
First of all, let's have a quick look on the system requirement recommended by the developer. To be more accurate, we compare the requirement of Battlefield 1 with those of its siblings from the family of Frostbite Engine: Star Wars Battlefront and, of course, Battlefield 4. See the chart below: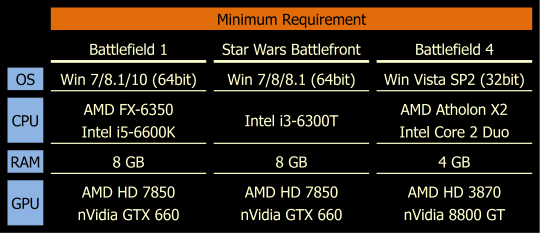 As you may notice, the minimum requirement remains the same as of Star Wars Battlefront. In addition, what was recommended for Battlefield 4 is now merely the minimum for Battlefield 1. Since there's no available recommended requirement at this moment, the following performance benchmarks will help us find out.


Respective preset @ 1080p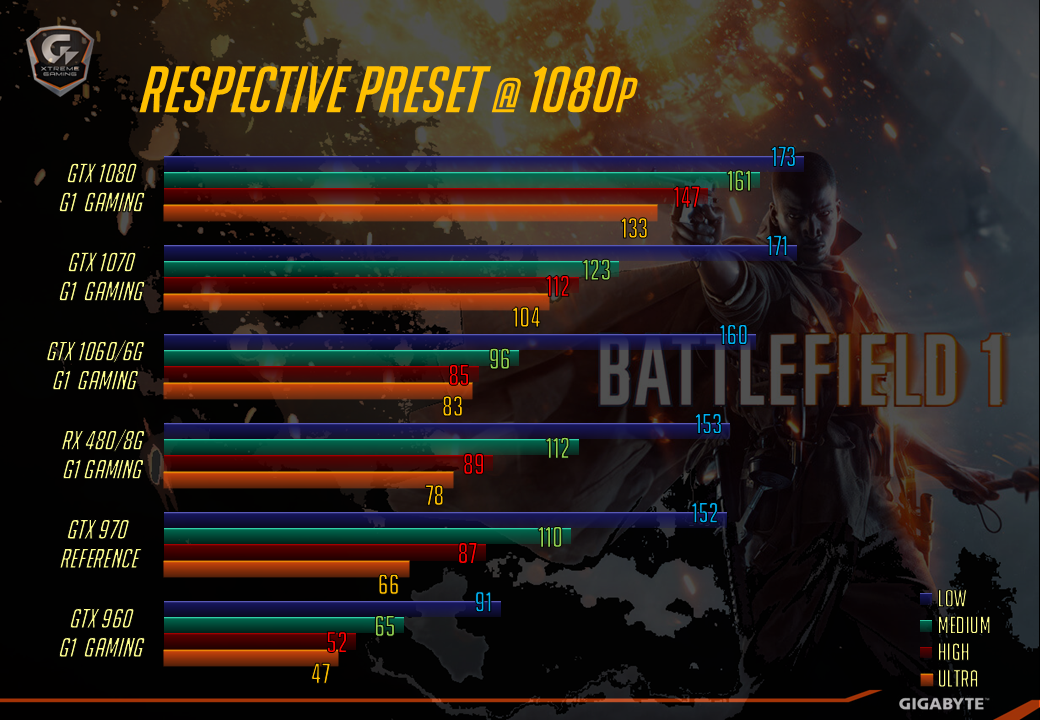 The first performance test we ran was to compare the latest-generation models with the last-generation at the most common 1080p resolution. The benchmarks indicate the average FPS of each model with respective presets. All models, except GTX 960 G1 Gaming, can do pretty much good job under Low preset. Notice how minor the FPS drop from High to Ultra was with GTX 1060/6G G1 Gaming. If you aim to secure the best experience at 1080p under Ultra preset, you may need a GTX 1060 graphics card or higher.
Ultra preset @ 1080p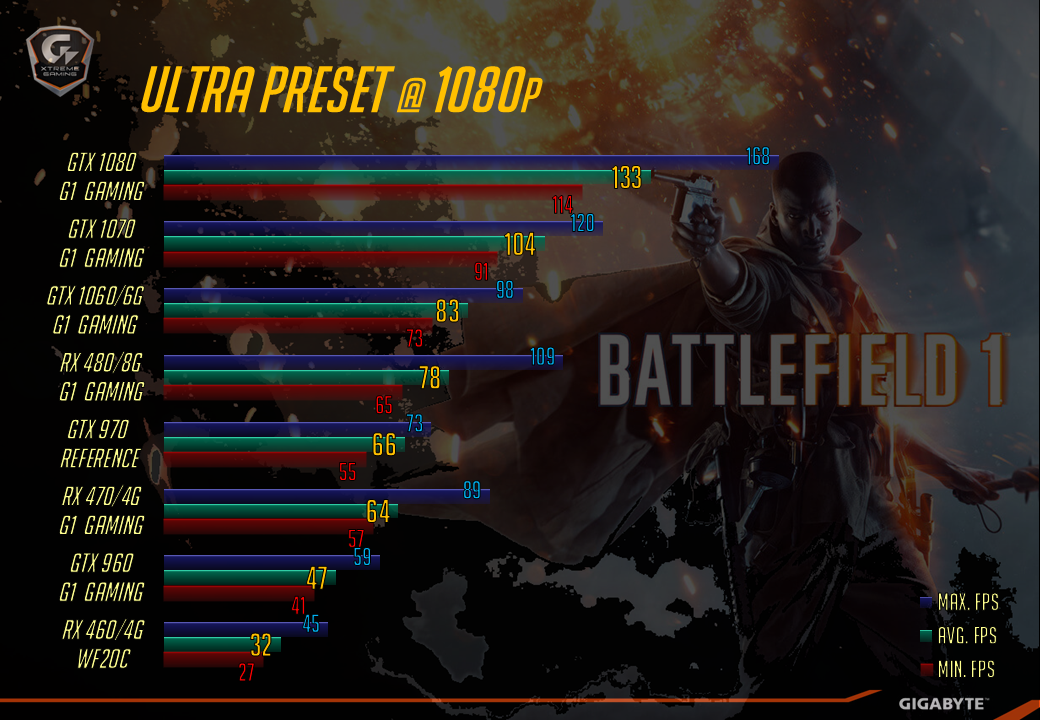 Next, we focus on Ultra preset to specify the maximum and minimum FPS of each model. Though the average FPS of GTX 970 and RX 470/4G is somewhere above 60, the minimum FPS would somehow drops under 60 which could result in poor experience while having a fierce combat. You need at least RX 480/8G or higher to secure 60 FPS overall. Consider that the scene objects and details would vary from maps to maps, it is recommended to equip with a GTX 1060 or higher for more loading buffer.
Ultra preset @ 1440p, 4K
For those who pursue the AORUS experience like us, 1080p is just not enough. Now, let's get down to the 1440p and 4K resolution to see how high these cards can take us to. It turns out only GTX 1070 and GTX 1080 are capable to deliver 60 FPS at 1440p. And unfortunately, no single graphics cards on the chart can do a good job at 4K resolution. It might take GTX 1080 SLI to climb up to the summit of 4K resolution, and we'll get to that once the game is officially released.
Capability for Gaming Monitor@120Hz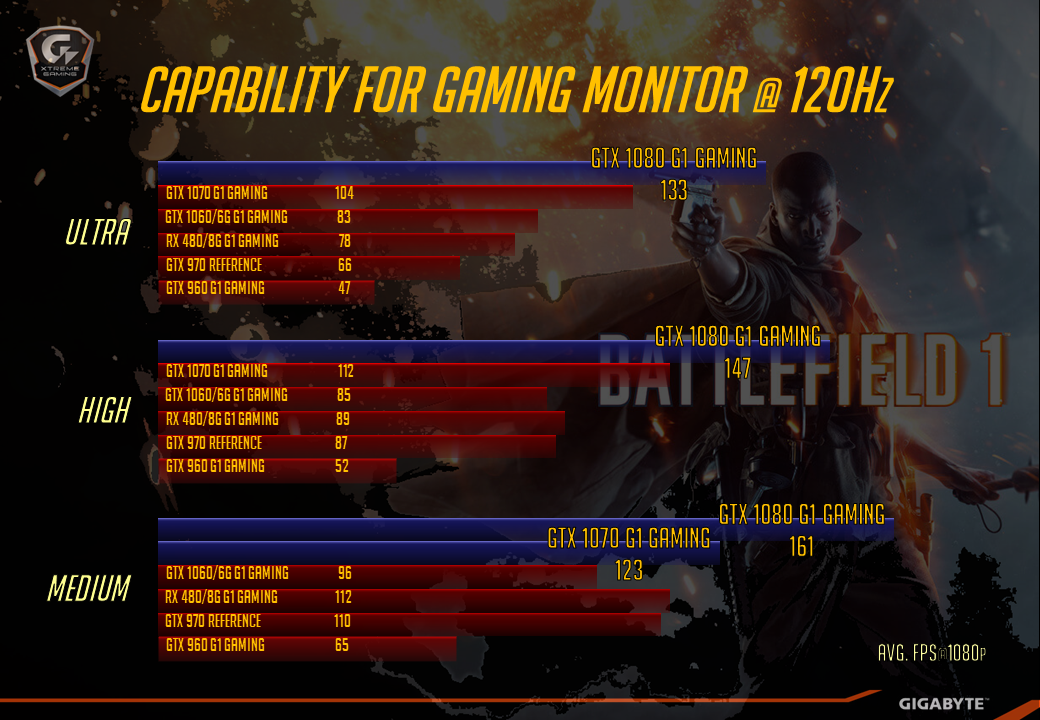 Furthermore, if you are an advanced player with a gaming monitor, the biggest question should be: "Are any of these compatible with my 120Hz screen or what?" And here you are. Obviously, only GTX 1080 can deliver more than 120 FPS at 1080p under Ultra and High preset. GTX 1070 can also do a good job under Medium preset. As for Low preset, well, it's not even an option for an AORUS gamer, is it?
9 Series Performance Comparison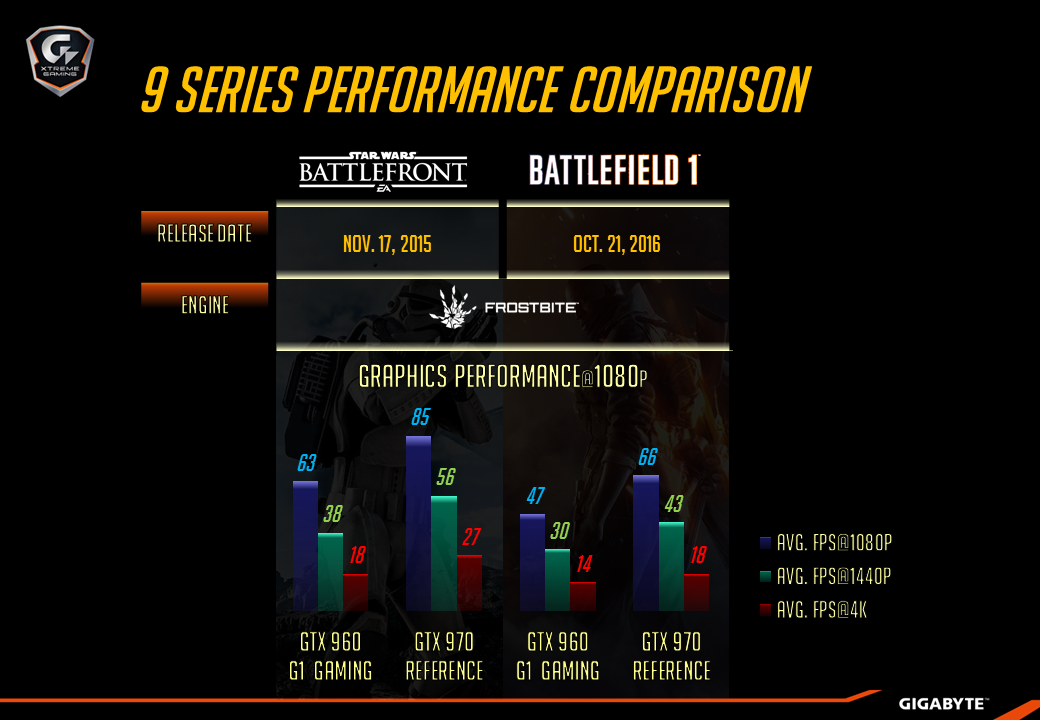 At last, for those who equip with a GTX 9 series graphics card, we also made a comparison chart between Battlefield 1 and Star Wars Battlefront. Despite that they are both made out of Frostbite Engine, there's still a significant gap between the performances with respective title.
In a Nutshell...
For the best experience at 1080p, upgrade your graphics card to GTX 1060 or higher.
You need at least a GTX 1070 to secure 60 FPS at 1440p resolution. And no single graphics cards so far can make it at 4K.
GTX 1070 is definitely demanded to achieve 120 FPS or higher on gaming monitors. Be an AORUS gamer and get one already!
Yes, the last-generation can do fairly good job when you were playing Battlefield 4 or Star Wars Battlefront. But come on, it's time to embrace the latest GTX 10 series family.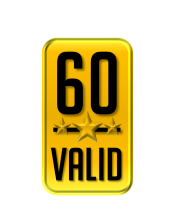 60FPS Valiadtion: GOLD Fantastic job on optimization! Most of the main-stream graphics cards can deliver 60 FPS.
※ The Battlefield series and Star Wars Battlefront are the intellectual property of Digital Illusions Creative Entertainment (DICE) and/or Electronic Arts (EA).
※ All related images used in this article are copyrighted to Electric Arts and their respective owners.
※ XG Blog does not claim to own the copyright of any materials involved.