As one of the very first "Xbox Play Anywhere" games, Gears of War 4 is definitely the most anticipated title for Third-Person Shooter fans in the winter of 2016. With this fourth main installment of the franchise, you get to play as J.D. Fenix, son of the legendary Marcus Fenix, and fight for the survival of all humanity on the planet Sera. We're all familiar with the saying, "Like father, like son." But how well in fact do the latest GTX 10 series and AMD RX series outperform their predecessors? And what's the best "Gears of War"? Let's find out!
Requirement Comparison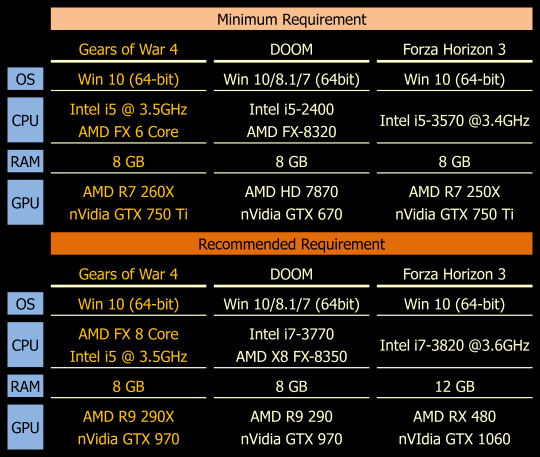 In the beginning, let's check out the official requirements. We, as usual, list it alongside the other two famous titles launched in 2016. They are Forza Horizon 3, the DirectX 12 featured racing game, and DOOM, the rebooted classic sci-fi-themed shooter. As you may see, the requirements are basically identical. So let's see how it really works with the in-game benchmark.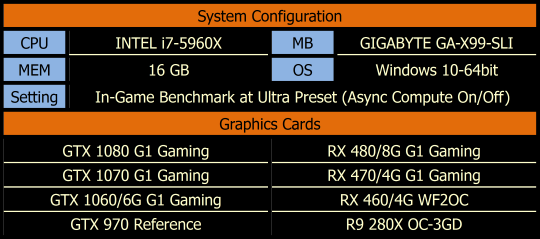 Respective Preset@1080p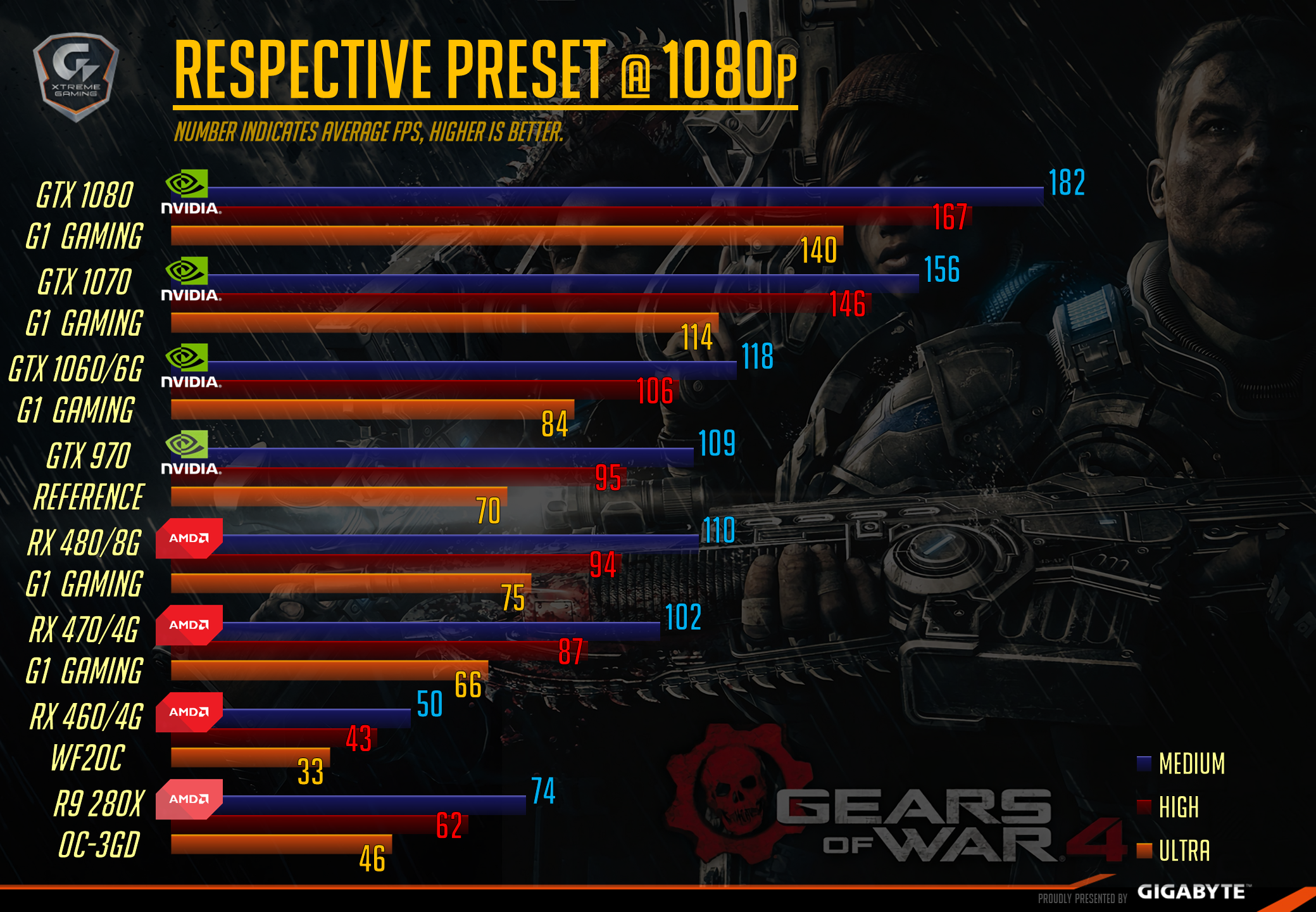 Firstly, let's take a look at the performance with each preset at 1080p. You may notice there are 10 to 20 FPS drops equally between each preset, which shows a great optimization of the game engine. The highlight is RX 480 which outperforms GTX 970 Ref. and can deliver more than 70 FPS with Ultra Preset. If you aim for the best gaming experience at 1080p, AMD RX 480 should be your first choice.
ACE Performance @ Ultra Preset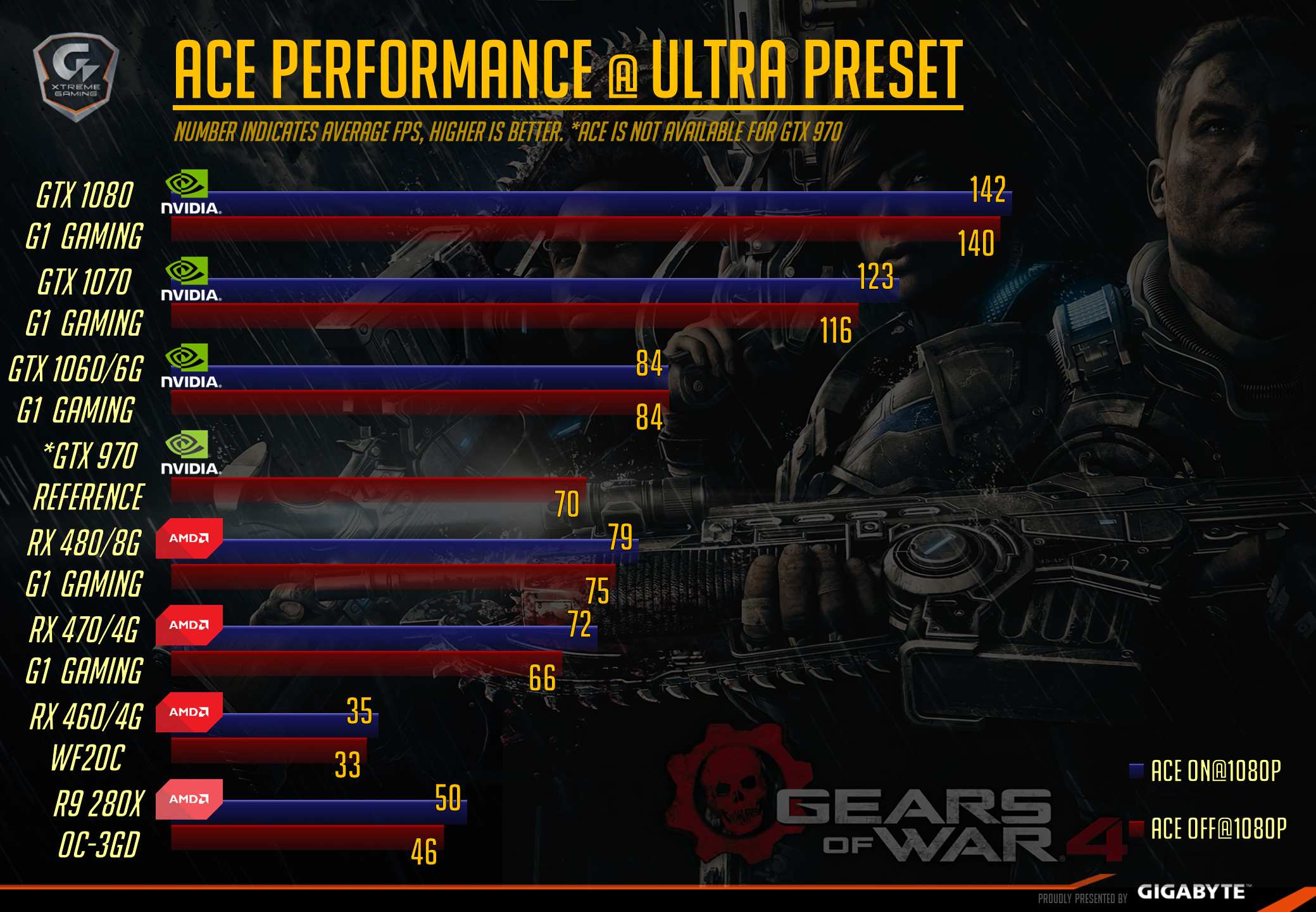 After more than one and a half years since its launch, there are still few games powered by DirectX 12, and even fewer can benefit from "Async Compute". In Gears of War 4, Async Compute can be optional if your graphics card supports DirectX 12. We tested the difference and here is the result. It shows only a minor increase with Async Compute on, and RX 470 profits the most. (6 ÷ 66 ≒ 9%) With Async Compute, RX 470 G1 Gaming can be also a budget choice.
Ultra Preset@1440p, 4K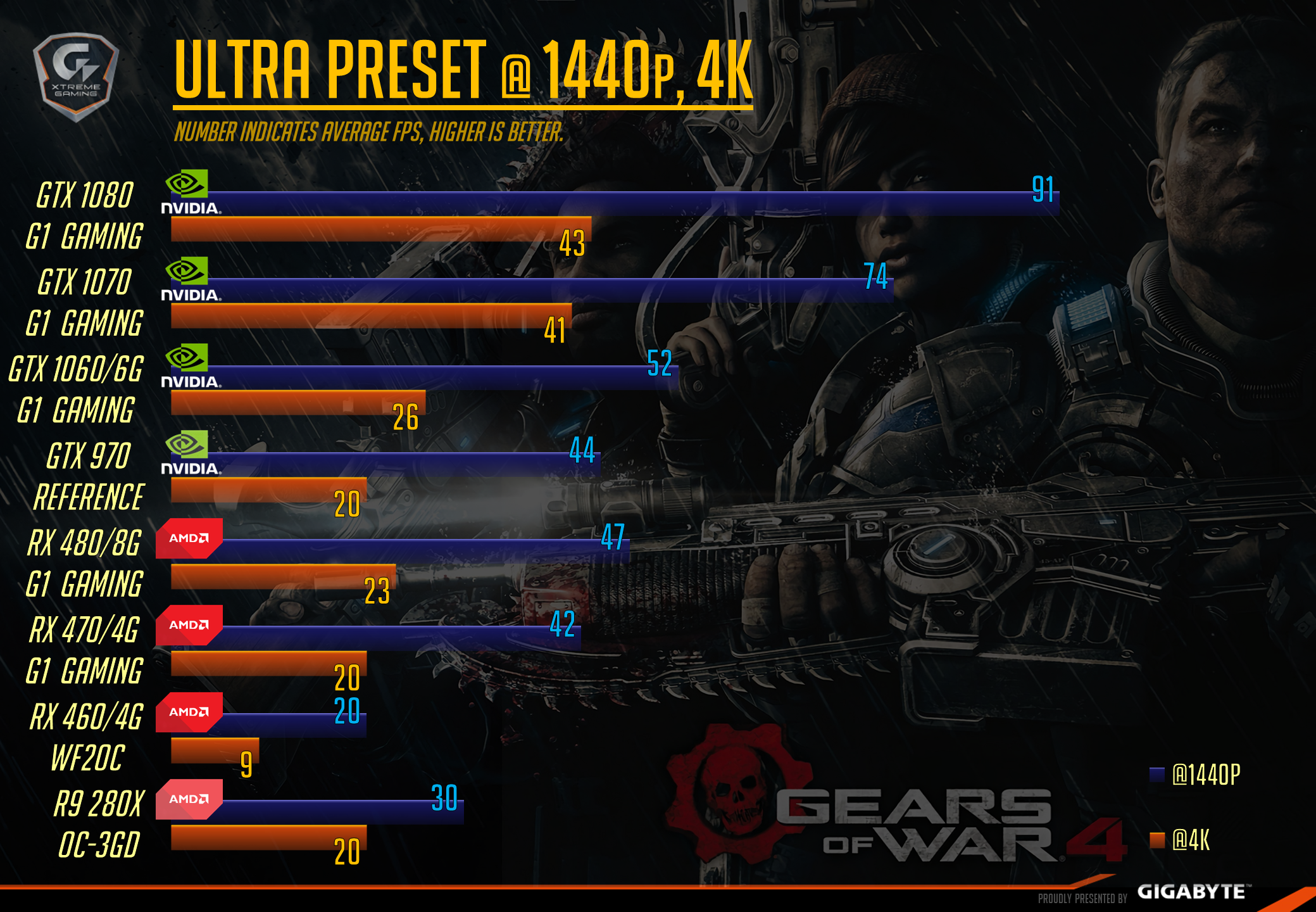 The texture resolution of Gears of War 4 is 4K, and the game supports even higher screen resolution up to 8K. So here's how these graphics cards perform at higher resolutions. Sadly no single graphics card can achieve 60 FPS at 4K resolution, yet most of them can do a fair job at 1440p with more than 40 FPS. Notice that GTX 1070 delivers 70 or higher FPS at 1440p, and suffers a smaller FPS drop at 4K resolution than GTX 1080. If you plan to play Gears of War on your high resolution monitor, GTX 1070 G1 Gaming is the ideal equipment.
9 Series Performance Comparison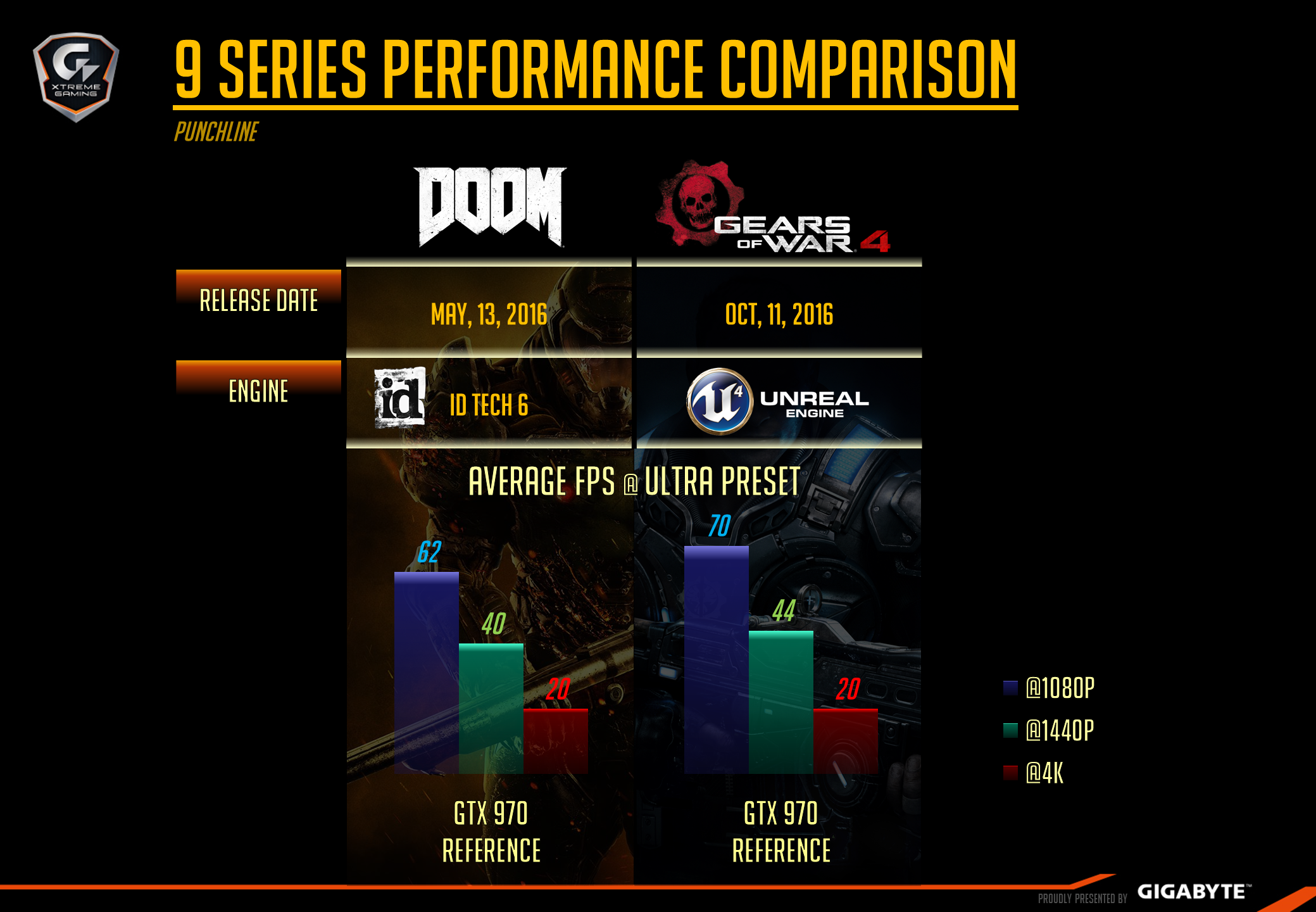 So, if your PC still runs with a GTX 9 series graphics card, say, a classic GTX 970, how would it perform in Gears of War 4? We here compare it with another sci-fi themed shooter game, DOOM, despite that they are fundamentally powered by different APIs. (Gears of War 4 with DX 12, while DOOM with OpenGL and Vulkan.) The result once again demonstrates how the great optimization can bring the legacy back to life.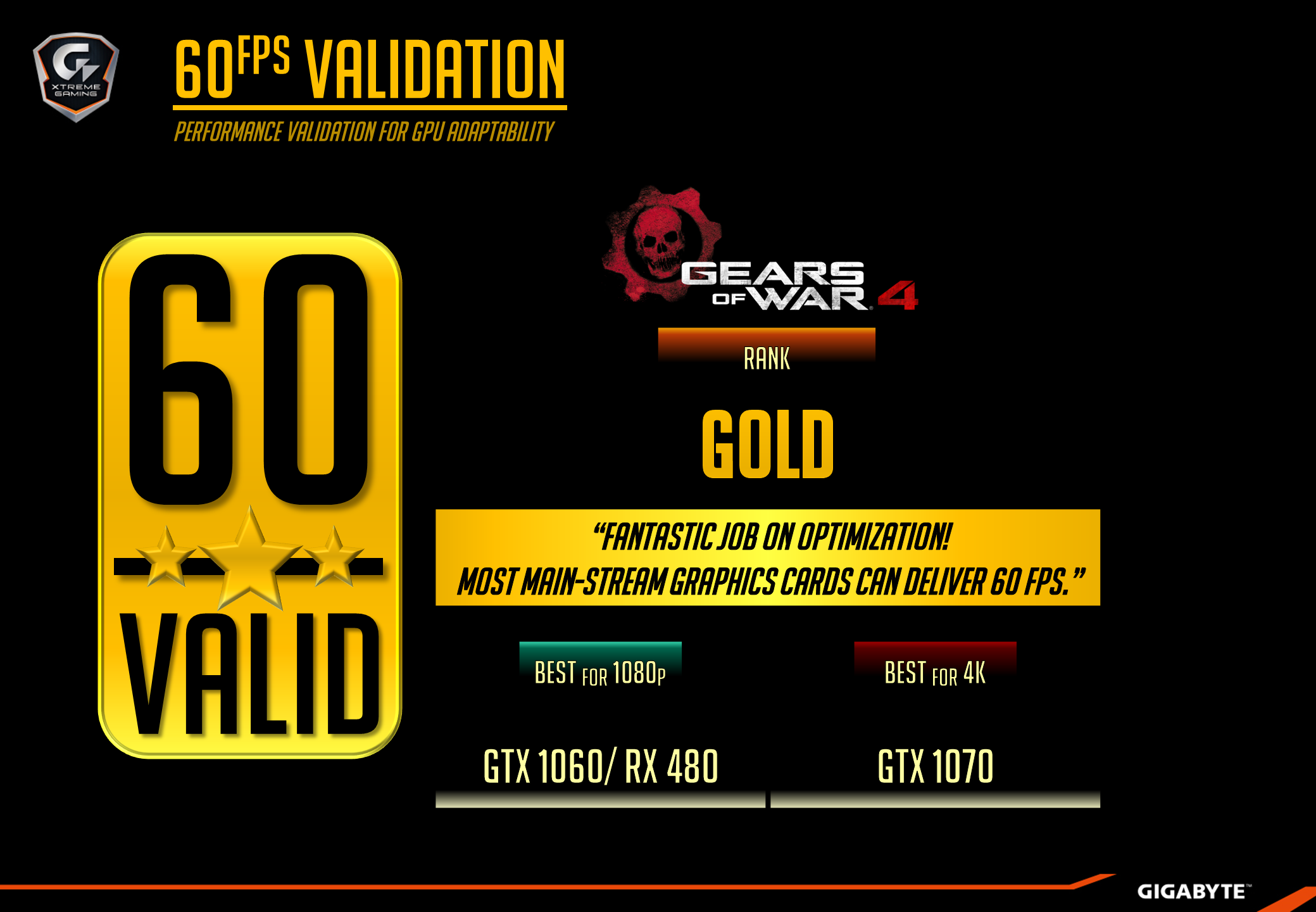 In a Nutshell...
For the best gaming experience at 1080p, RX 480 is a budget choice.
GTX 1070 is the ideal equipment for 1440p or higher resolution.
Async Compute does help a bit. Better than nothing.
Yes, GTX 9 series somehow survive in this round. But it's not available for several DX 12 features, such as Async Compute...