AORUS Z490 Gaming Motherboards: Master the Xtreme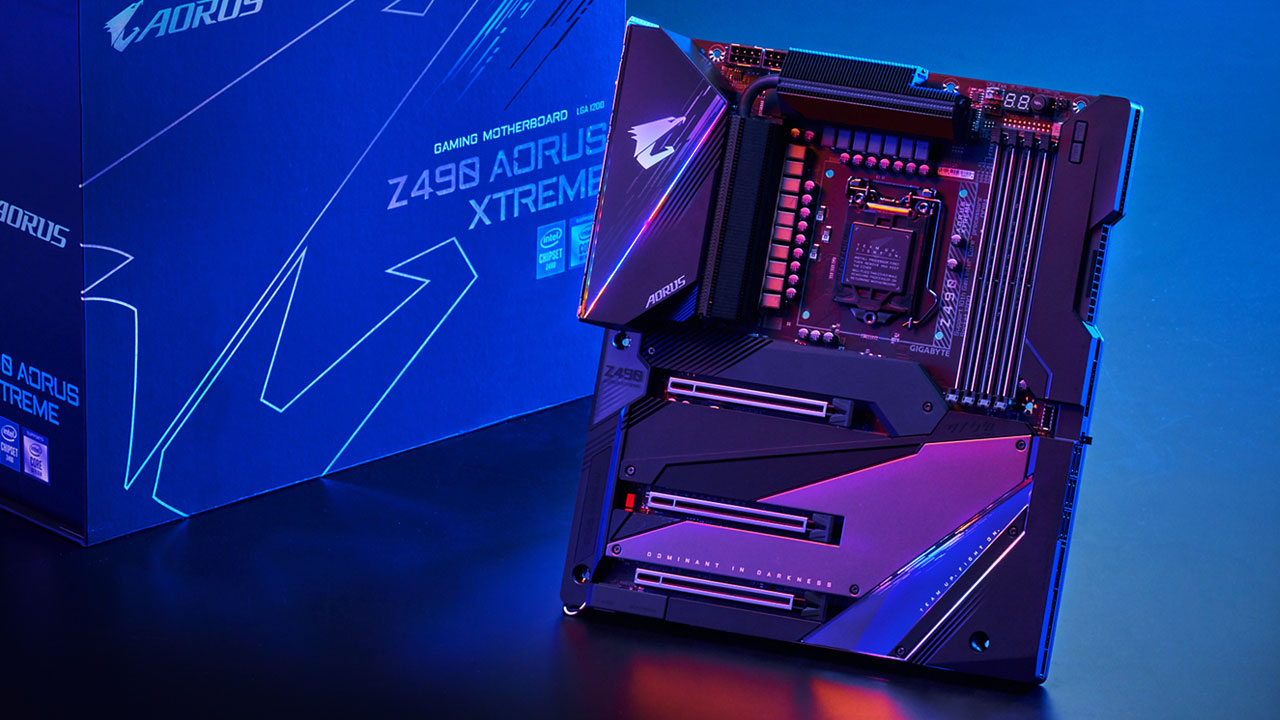 It's finally here, the latest Intel® 10th Gen platform – Z490, and it's bigger and better than ever. Built on a brand new socket, LGA1200, Intel's 10th Gen processors offers an additional two cores, and improved overclocking performance that has yet to be seen on the desktop platform! Of course, there's other improvements that push the envelope of next gen such as, CNVi, support for Wi-Fi 6 connecting you to more—faster than traditional Gigabit ethernet!
It All Starts with Power – Cleaner Power Means More Efficiency
The first step to making a powerful PC is ensuring you can support it with enough, clean, power. Its simple physics, more electricity equals a faster frequency meaning better performance. AORUS lays that foundation out meaning you can worry a lot less about how you tune your motherboard.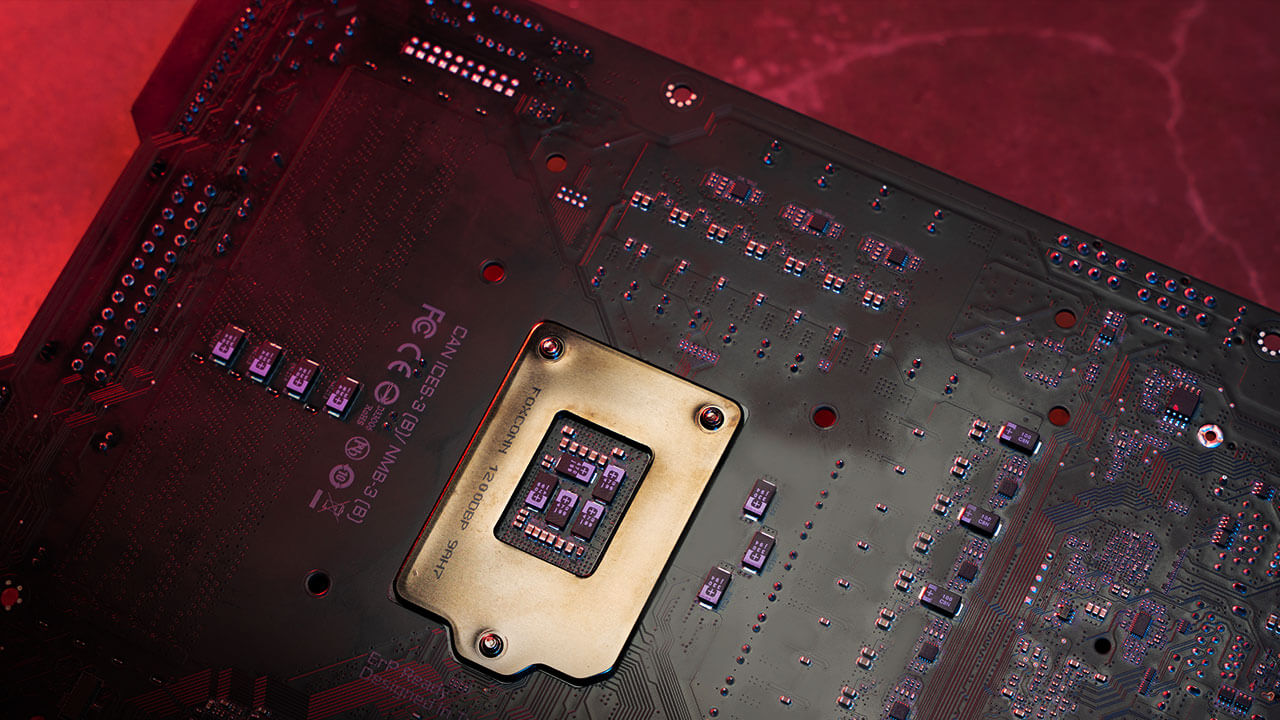 To achieve this, both, a 16 power stage design and Tantalum Polymer Capacitors were implemented. Now these are special capacitors that carry a small footprint, small enough to be mounted directly to the back of the CPU Socket. Its key purpose is to reduce any current ripple as well as enhancing delay and improving transient response.
What does this mean?
The Power stages provide cleaner power with less heat, prolonging the life of your gaming system. The Tantalum Polymer Capaciters allow you to maximize your overclocking capabilities. Before, where you may only have 5% margin of error you now have up to 10%. Not only that, your performance gains are even higher than before. Issues in the past when gaming on an overclocked system such as crashes or blue-screens due to heat or improper voltage values are no longer a concern.
These changes make the AORUS Gaming Motherboard lineup a great choice for entry users looking to overclock and learn with minimal risk. Purchase an i5 unlocked processor and get the same performance as an i7 or i9. Saving you money so you can build a better gaming battlestation.
Did I mention that the memory has now been shielded to improve higher frequencies?
It also incorporates innovative features like Shielded Memory Routing and Tantalum Polymer Capacitor Array, minimizing noise and interference. The DIMMs utilize Surface Mount Technology (SMT) which provide for a reduced routing trace improving signal quality and performance.
How does this help the gamer?
With this technology gamers remove another bottleneck. The faster clock speed, achieved through overclocking, will have lower latency, which means faster data transfers between the RAM and CPU. Thus, faster operation for your gaming pc as you play games or load files. Many gamers overlook how important the memory is to your overall PC, don't be that gamer!
Keeping Your Cool – Prolonging Component Lifespan
Whether in life or in-game its always best to keep your cool. AORUS Gaming motherboards do just that with its Direct Touch Heatpipes, Fin-Array II, and Nano-Carbon Coating. These all sound like a mouthful but their fancy names do make a difference in the system you build.
So, lets break it down and see how each of these are crucial to your Gaming PC.
Earlier on, we mentioned that the best way to improve any gaming system is to provide both cleaner and more power to the PC.
What does this mean?
With more power while under load, the CPU will heat up. As you watch movies, play games, or access your files the SSD will generate more heat. All the while information passing through the Chipset will result in the components and the area around your motherboard to generate heat.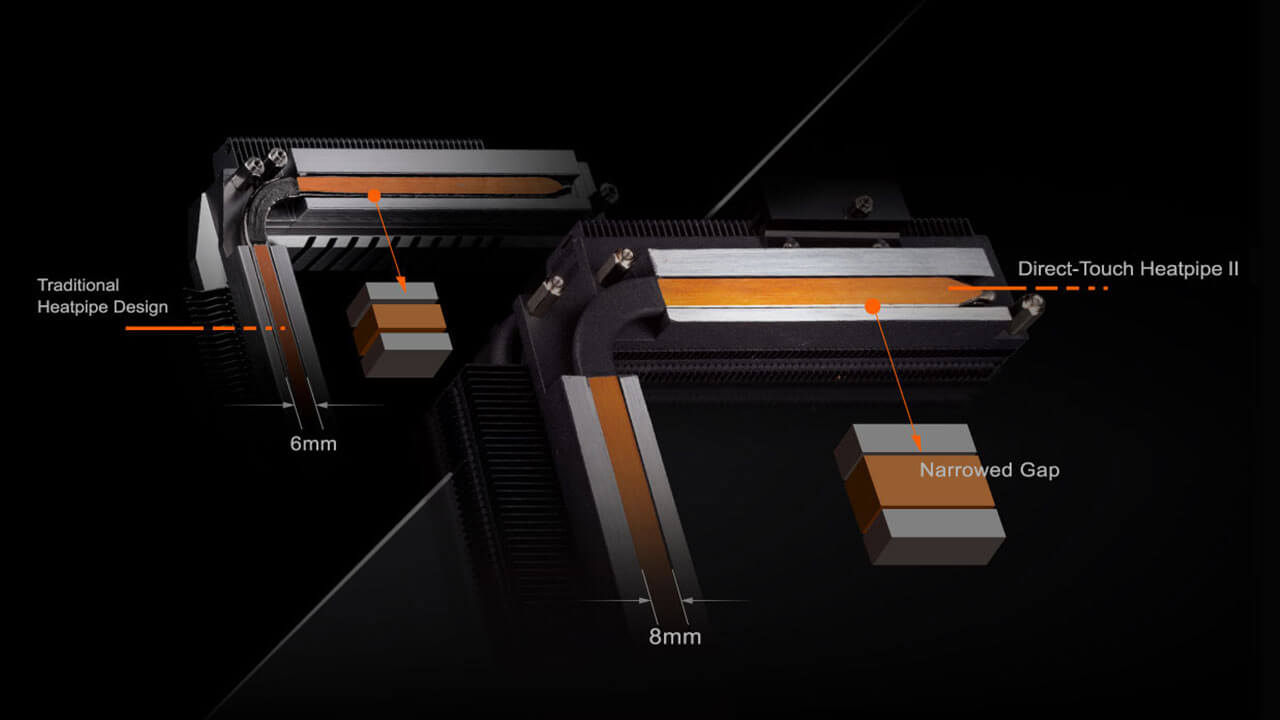 As the CPU and Chipset start to heat up the Thermal Reactive Armor, composed of aluminum quickly transfers the heat from the core components via Direct Touch Heatpipes to the Fin-Array II. This ecosystem simultaneously transfers heat passively through the Nano-Carbon coating found on heatsinks and its aluminum armor dissipating heat 10% more efficiently than other motherboards.
Once heat is pulled away from key components it travels towards the specially designed Fin-Array II, which are designed with additional depth and air guides, called louvered fins, forcing airflow throughout, greatly improving the amount of heat removed from the system. These louvered fins allow airflow to travel from fin to fin creating recirculation zones to improve heat exchange out of your PC.
Thus, with your system running cooler you now have more thermal headroom to push the limits of the PC, which means faster processing, more frames, and less wait times. The reduced stress and load also prolongs the life of your core components ensuring performance when you need it.
Doing More With More – Next Gen WiFi 6 and Studio-like Audio
Regardless of all these autonomous benefits, the features that matter the most sometimes boil down to the connections.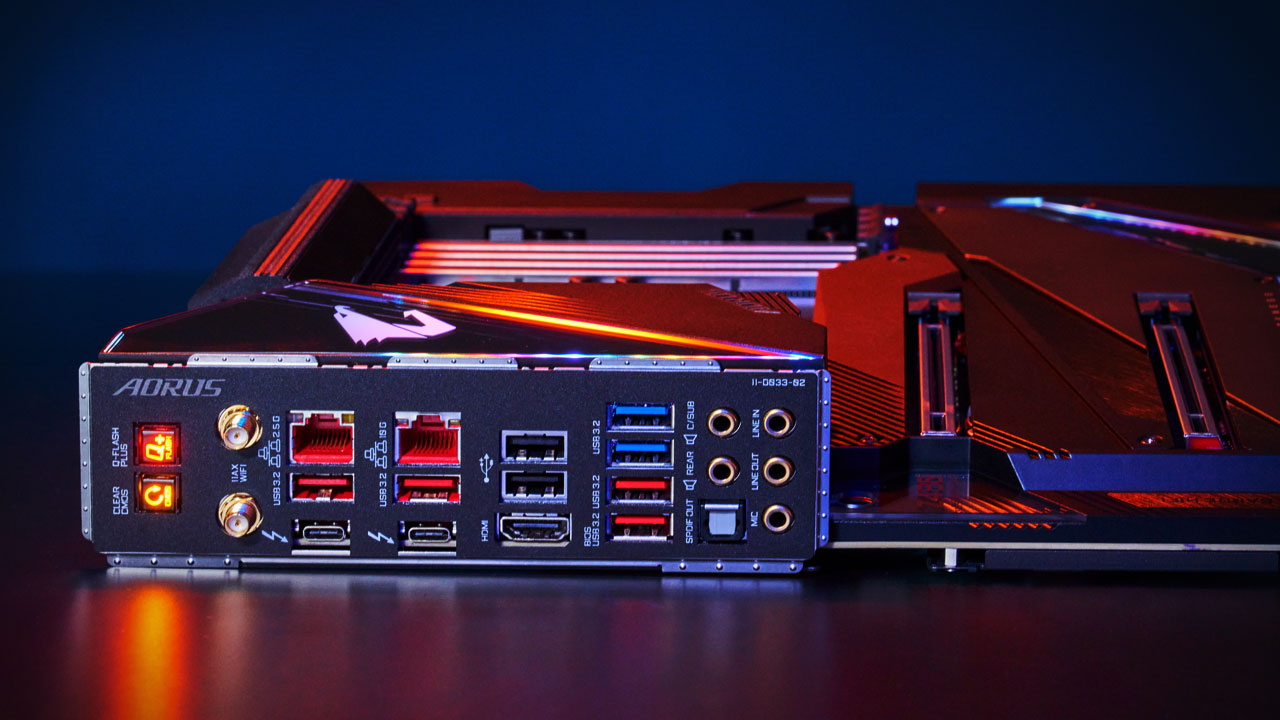 AORUS gaming motherboards are built with onboard Wi-Fi 6, Wireless AX, you can surf, stream, and game faster than before. This is basically having an ethernet connected PC but wirelessly, topping out at over 2.4Gb/s. This is equivalent to 125 Songs, Streaming 140 – 4K Ultra HD Movies - by Netflix Standards, or plainly said approximately 450 megabytes per second. Wi-Fi 6 doesn't just improve speed it also reduces latency for gamers, as well as improves Quality of Service and responsiveness. If you're old fashioned like me and want the stability the AORUS gaming motherboards come with a 2.5GbE, which is just as fast as Wi-Fi 6, nearly double the speed of previous generation ethernet.
Throughout 2020 router manufactures will be launching a plethora of 2.5GbE routers to support Wi-Fi 6, giving users the option to choose between next generation Wi-Fi Speeds or blazing fast ethernet. Its best to have compatible hardware now as compatibility and support is right around the corner. You'll be able to game without lag, while streaming, and downloading videos and files on other devices all at the same time.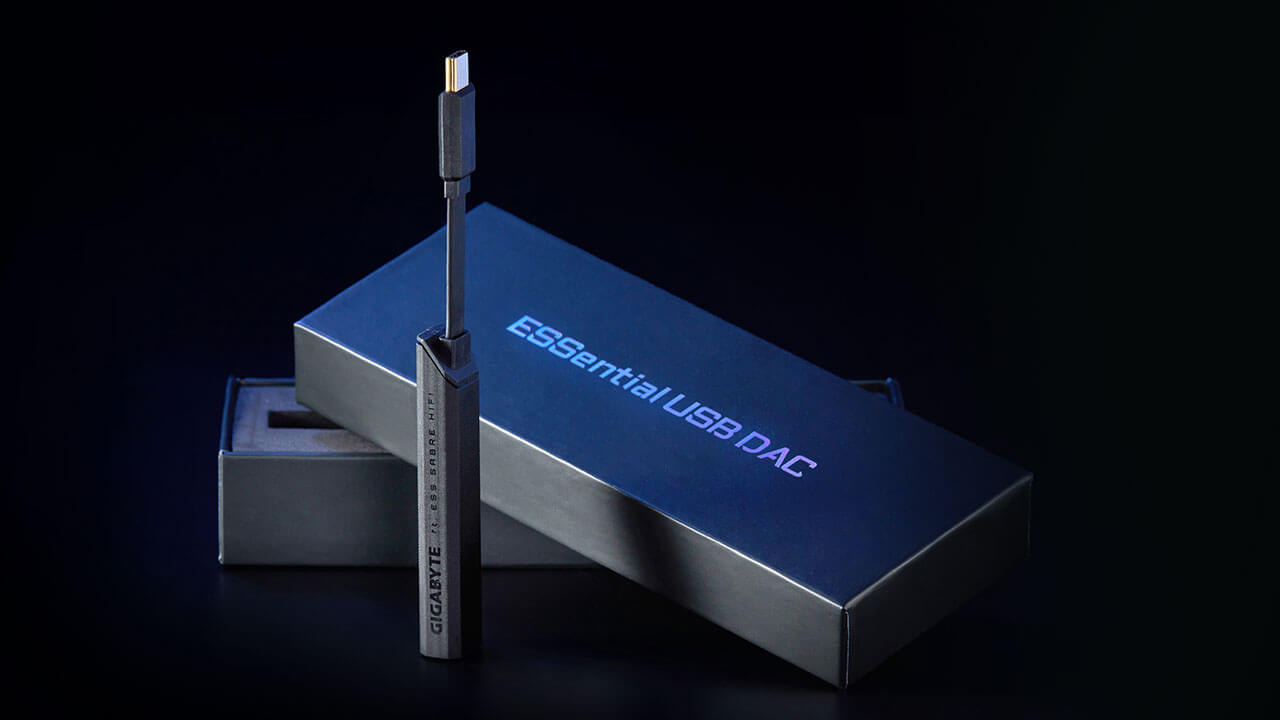 Lastly, for all of you enthusiasts interested in full immersion check out the USB-C DAC included with select motherboards. If seeing is believing, then hearing is experiencing. The USB-C DAC solves the issue of subpar front panel audio ports, connect your USB-DAC to any front USB-C port and you now have a near studio quality audio connection that you can play, record, or share with friends and family. Jam out to your favorite tunes or record the next great hit with this ESSential USB DAC.
Is Now The Right Time to Buy?
Yes, if you're an early adopter and like to have the latest and greatest platform this is definitely the right time. The Z490 solution from AORUS offers massive innovation in power and stability. You can now overclock with minimal risk. The cooling ecosystem has been revamped to ensure longevity and a prolonged life of your components. Last but not least, the connectivity of both the WiFi 6 and ethernet give you blazing fast internet speeds with minimal lag allowing you to game at your best. There are a variety of AORUS Xtreme Gaming Motherboards to pick from each with bells and whistles that any advanced or novice builder can appreciate. If you want an unbeatable gaming desktop look no further as these performance enhancements will give you the most bang for your buck!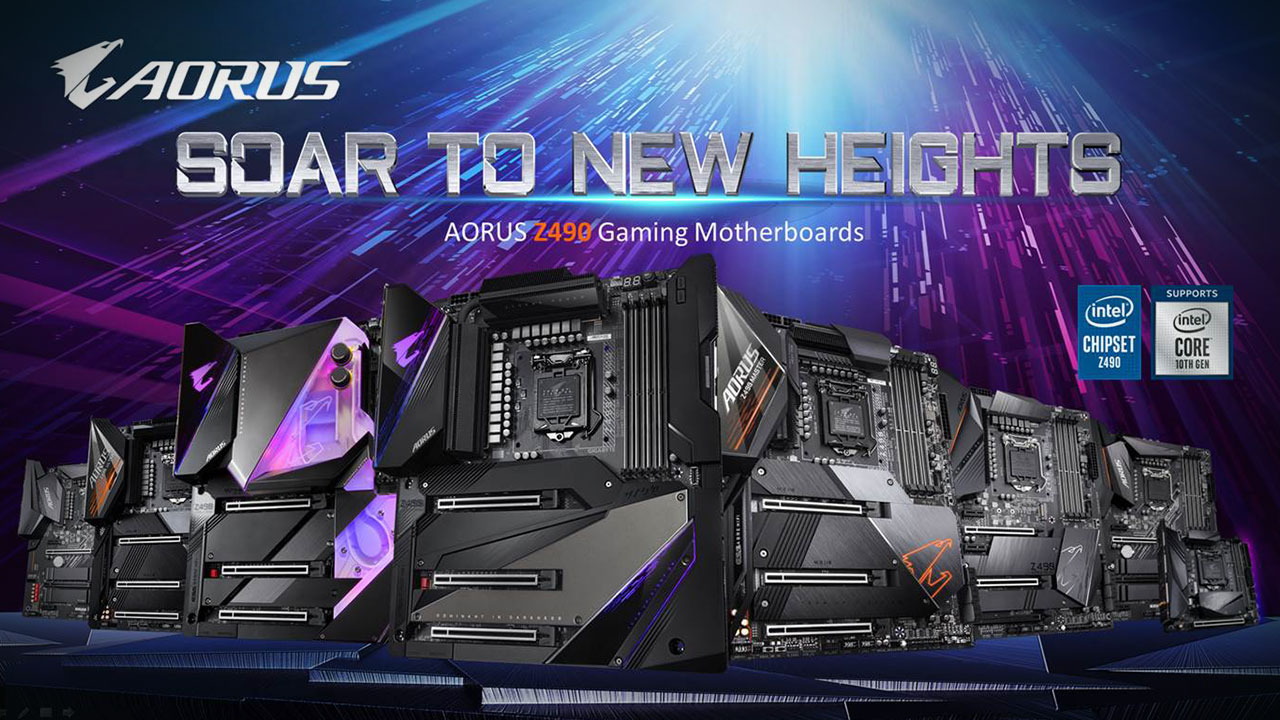 Stay tuned for more, and follow us and see how we maximize the performance of a Z490 AORUS Gaming Desktop.
Learn More:
Z490 AORUS XTREME
AORUS Z490 motherboards sport Tantalum Polymer Capacitors
- Improved stability and performance