7 Things You Need to Know About GIGABYTE AORUS GeForce RTX 20 Series
A quick introduction that helps to shed light on the latest RTX graphics cards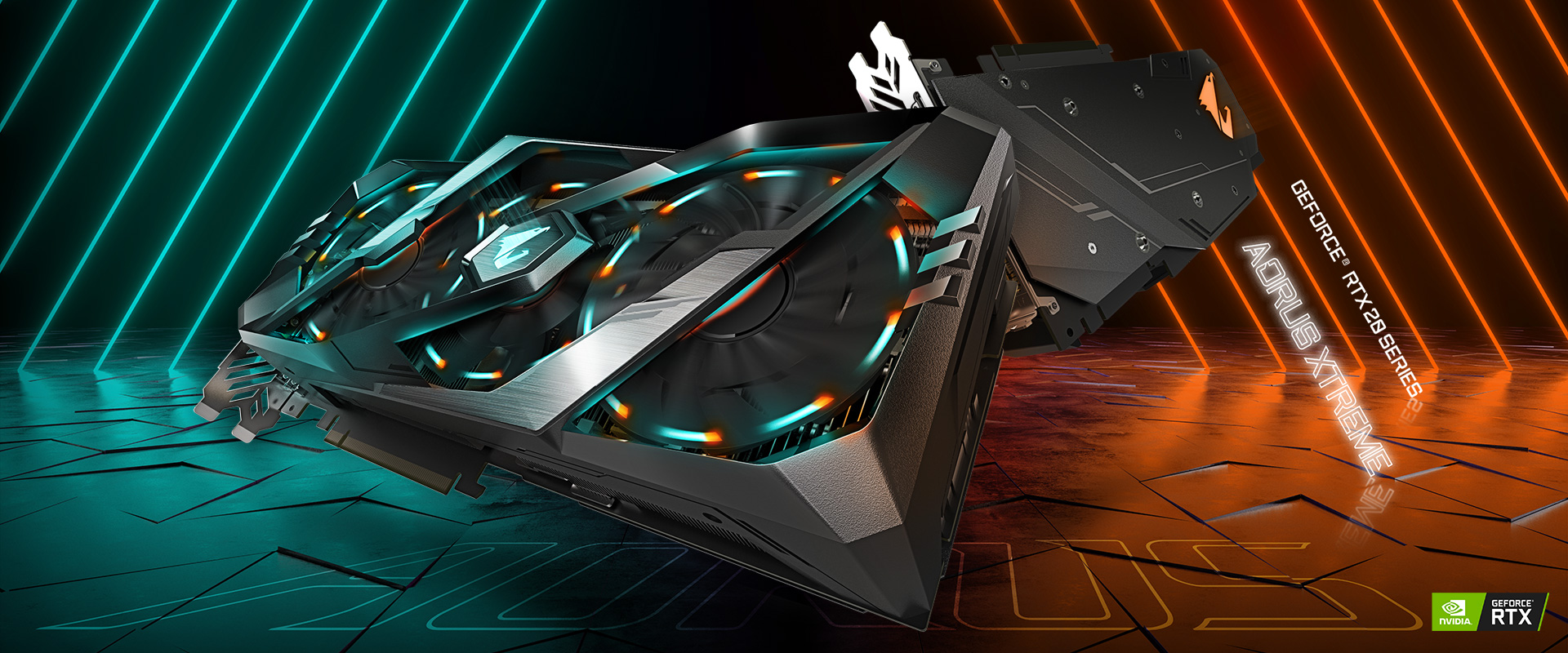 After years of waiting, the time has finally come. NVIDIA launched a new generation of GeForce RTX 20 series GPUs on the day before Gamescom in Cologne, Germany, including the RTX 2080 Ti , RTX 2080 and RTX 2070. It has been two years since the release of the previous generation of the GTX 10 series GPU. During this period, everyone has been speculating when will the next generation of graphics cards be launched? What the naming will be like? Is it going to be GTX 1180? Or GTX 2080?
Wrong! On the launch day, NVIDIA CEO Jensen Huang revealed the answer at last. The new generation of GPU will be named the GeForce RTX 20 Series.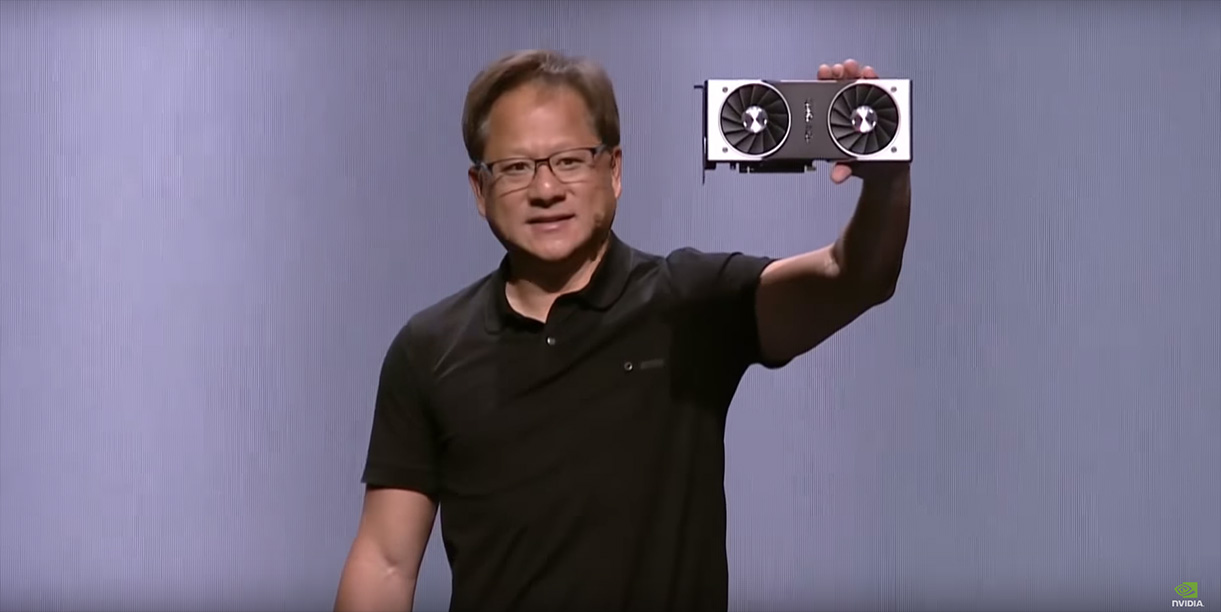 source:Nvidia GeForce YouTube Channel
From GTX to RTX
Let's take a look at the GPU architecture. The previous generation GTX 10 series on the left is based on the Pascal architecture; the latest RTX 20 series, on the right, is powered by the Turing architecture. It is obvious that the size of the new Turing architecture is much larger than that of the previous generation. It is because there are two new computing units added: the RT Core and the Tensor Core, which is dedicated to AI works in games.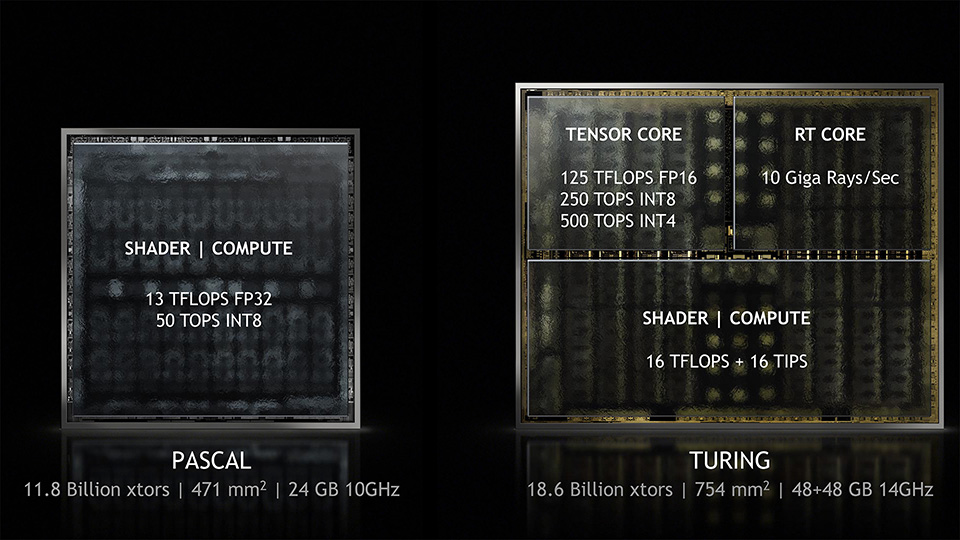 source:Nvidia
The so-called RT refers to Ray Tracing. In other words, the latest Ray Tracing technology and AI Deep Learning application have been added to the GTX platform, making a great leap to the next-gen RTX series. This is the main reason why the name is now changed from GTX to RTX.
But what kind of improvement can such a change bring? Let us dive deeper to find out.
New Ray of Light: Real-time Ray Tracing
source:Nvidia GeForce YouTube Channel
At the Game Developers Conference (GDC 2018) in April this year, Microsoft already announced that DX12 will be imported into DXR (DirectX Raytracing), and the technology of real-time ray tracing flourished since! NVIDIA's RTX, AMD's ProRender rendering engine, EA's Frostbite Engine and SEED R&D, Epic Unreal Engine, Unit Engine, as well as Futuremark and 3DMark have all announced that they will introduce ray tracing. The RTX 20 platform released by NVIDIA kicks up another notch by having a physical engine on the hardware level.
The conventional rendering of lighting effects is pretty much black and white. Parts with light are bright; anywhere without light is dark. It is rather difficult to see all the details in a scene; even with the introduction of the Fake Global Illumination, a technology used to improve the overall brightness, but it still lacks the realism, like the light reflection or other realistic effects.
Bringing Games to Life
In layman terms, ray tracing is a rendering technique that creates a graphical image based on virtual light and how that lighting source would interact with virtual 3D objects along an image plane. This new technology makes light and color performance far more advanced; and more importantly, it is real-time. It can replace traditional rendering of lighting effects in games and create a far more life-like depiction of scenes that are based on how light actually interacts with the real world.
source:Nvidia GeForce YouTube Channel
Stunned by Cinematic-quality Graphics
In fact, ray tracing is often used in sci-fi and action movies to make the CGI effects look more realistic. For these large-budget productions, the technology is implemented offline to render the animation frame by frame by large server farms. In games, however, to achieve real-time ray tracing, it would take a great deal of GPU computing. According to NVIDIA, it requires up to 25TFlops (Terms of Floating Point Calculations).
Take one of the most powerful TITAN V for example, it could only reach 15TFlops. This is why NVIDIA came up with the Turing architecture and RT cores, using dedicated units to improve ray tracing capabilities. With such powerful GPU computing poweress, gamers will be able to enjoy the sound and shadow rendering effects with cinematic quality, which is really exciting for all gamers who are looking for realism in games!
A List of Games with RTX Support
Can't wait to check out ray tracing in person? Well, On the launch day, Nvidia mentioned there will be more than 20 games that will support this technology. Unlisted games will also join the bandwagon; the already published ones will update with patches. Soon you may have one more option called RTX Instant Ray Tracing in the game settings.
Among the major game titles, Battlefield V and PlayerUnknown's Battlegrounds are the most anticipated in the gaming community. Gamers must all look forward to it, hoping to real-time ray tracing in these games soon. Team AORUS will keep your posted with the latest updates and benchmarks.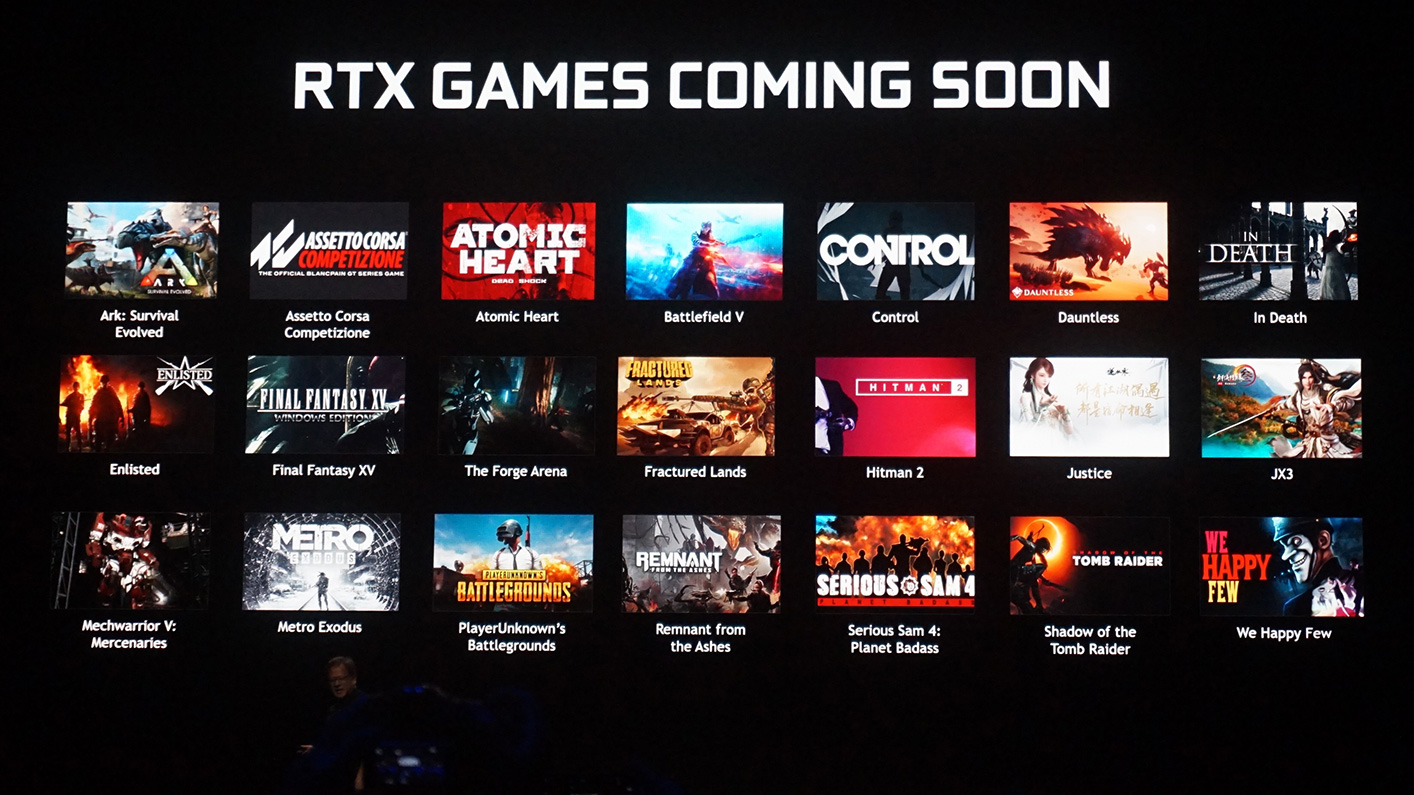 source:Nvidia GeForce YouTube Channel
GIGABYTE AORUS Offerings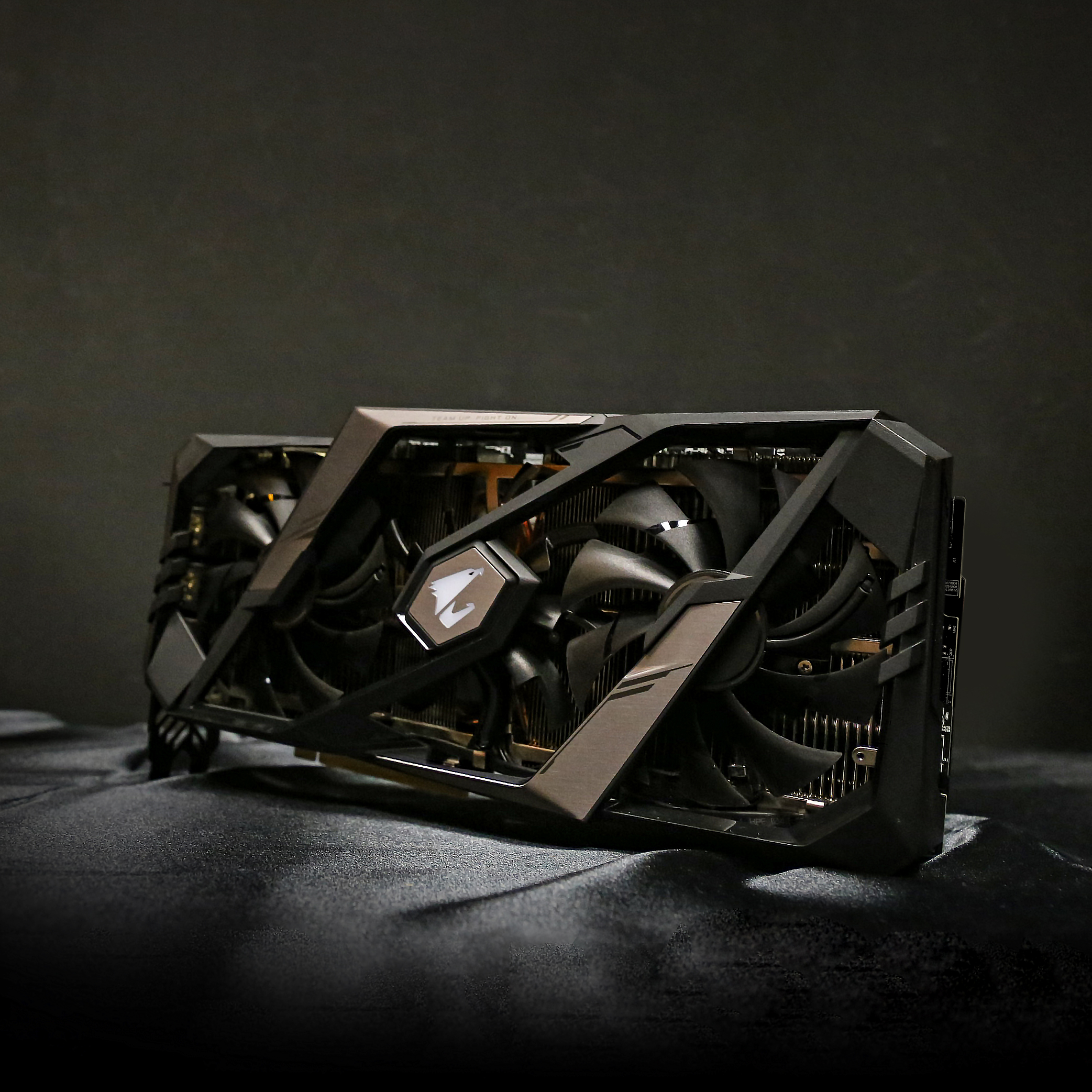 This time, Gigabyte and AORUS will launch a complete lineup of GeForce RTX 20 series graphics cards to meet the different needs and preferences. Let us see what we have in stores for you:
Models
CUDA Cores
Memory
I/O
Performance
GeForce RTX 2080 Ti
Geforce® RTX 2080 Ti GAMING OC 11G
4352
11GB GDDR6
1x USB Type-C™
1x HDMI 2.0b
3x DisplayPort 1.4

Core Clock (TBD)
Memory Clock (TBD)
Geforce® RTX 2080 Ti WINDFORCE OC 11G
4352
11GB GDDR6
1x USB Type-C™
1x HDMI 2.0b
3x DisplayPort 1.4
Core Clock (TBD)
Memory Clock (TBD)
AORUS Geforce® RTX 2080 Ti
(COMING SOON)
Core Clock (TBD)
Memory Clock (TBD)
GeForce RTX 2080
Geforce® RTX 2080 GAMING OC 8G
2944
8GB GDDR6
1x USB Type-C™
1x HDMI 2.0b
3x DisplayPort 1.4
Core Clock (TBD)
Memory Clock (TBD)
Geforce® RTX 2080 WINDFORCE OC 8G
2944
8GB GDDR6
1x USB Type-C™
1x HDMI 2.0b
3x DisplayPort 1.4
Core Clock (TBD)
Memory Clock (TBD)
AORUS Geforce® RTX 2080 (COMING SOON)
(COMING SOON)
Core Clock (TBD)
Memory Clock (TBD)
GeForce RTX 2070
Geforce® RTX 2070 GAMING OC 8G
2304
8GB GDDR6
1x USB Type-C™
1x HDMI 2.0b
3x DisplayPort 1.4
Core Clock (TBD)
Memory Clock (TBD)
Feature Highlights on GIGABYTE RTX 20 Series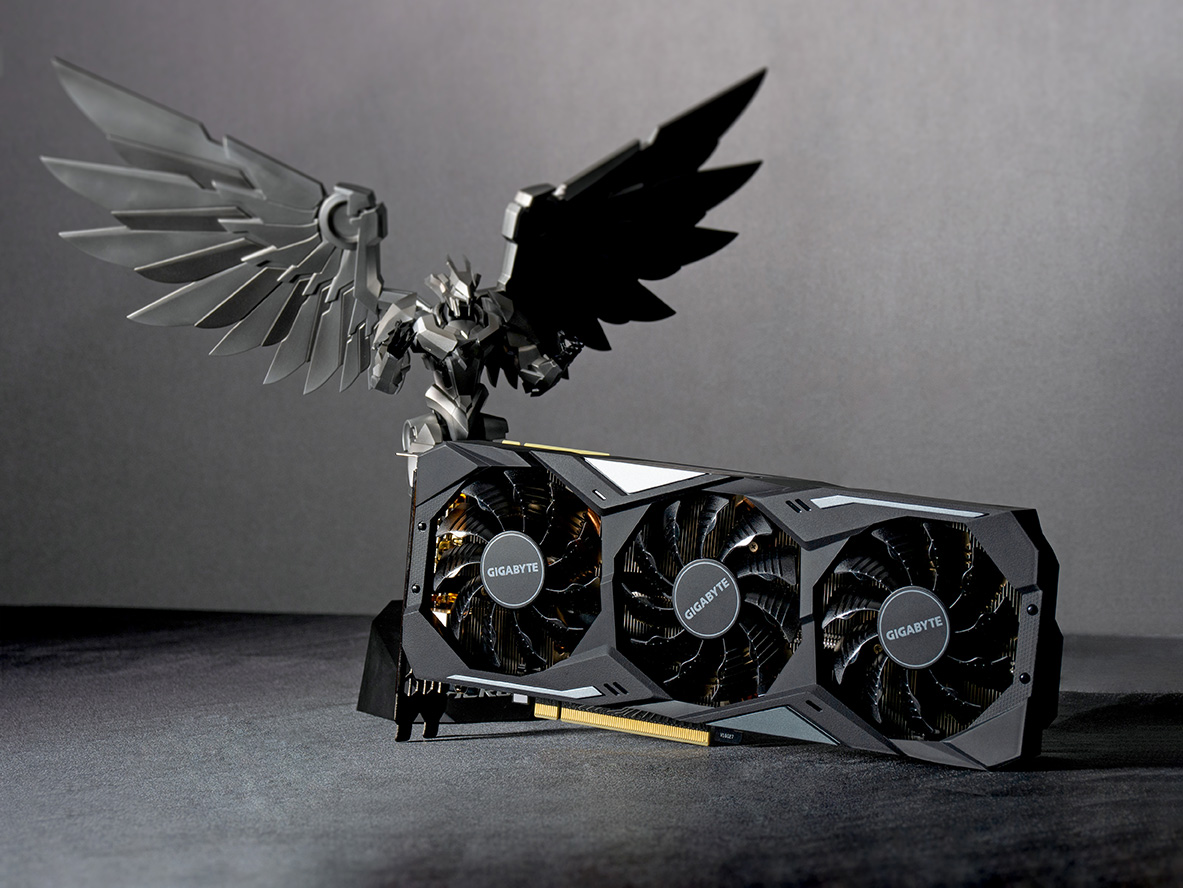 The above 5 GIGABYTE variants feature WINDFORCE 3X cooling system with alternate spinning fan, RGB fusion, protection metal back plate, GIGABYTE certified ultra-durable materials and one-click overclocking, so that all gamers can enjoy the ultimate gaming experience with the extreme performance.
Let's Play It Cool
GIGABYTE WINDFORCE 3X cooling system takes care of every component on the graphics card, and is equipped with 3 unique blade fans, high-efficiency pure copper composite heat-pipes, heat pipes directly touch GPU, and semi-passive fan function. These cooling technologies keep the graphics card in a low-temperature at any time, resulting in higher and more stable performance.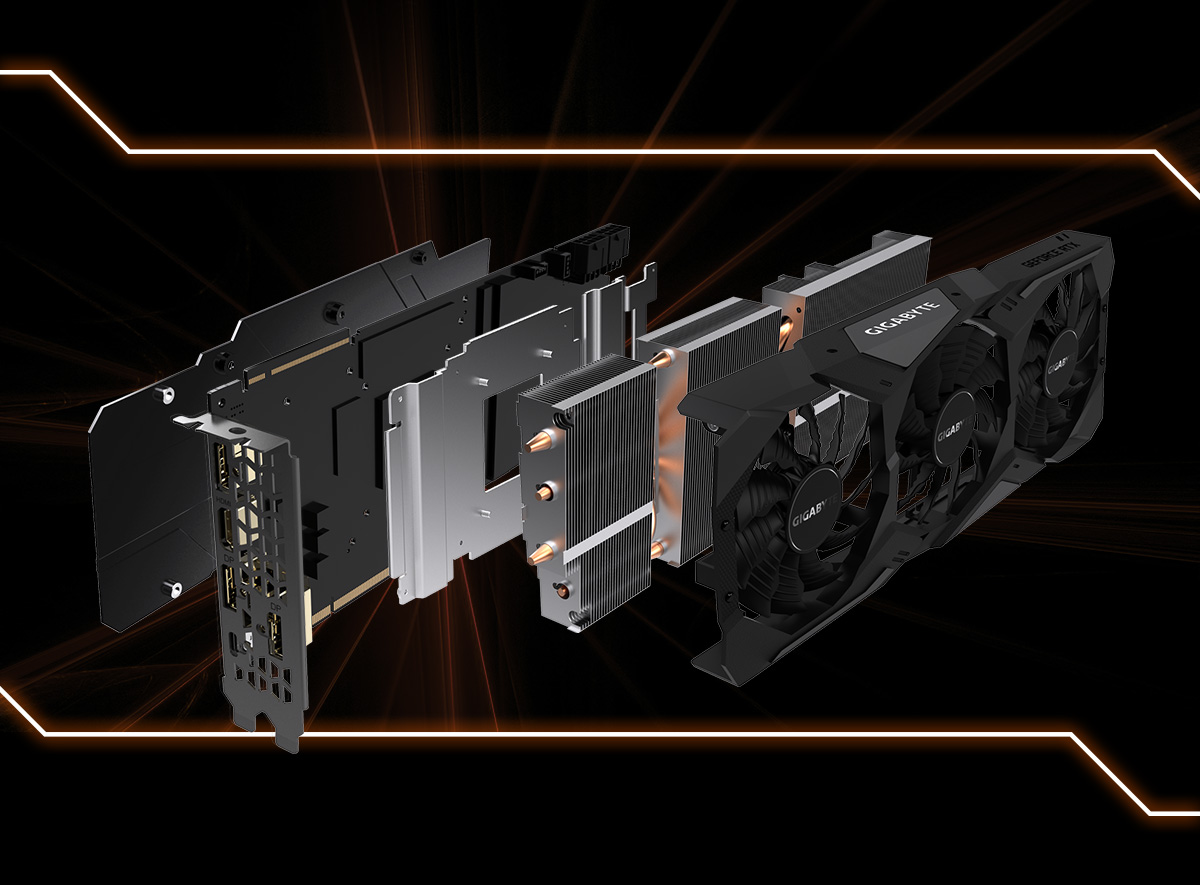 The patented Alternate Spinning is a unique solution to solve the turbulent airflow of three fans. The middle fan spins in reverse to optimize airflow for heat dissipation, enabling more efficient performance at a lower temperature. How cool is that!
For more protection from behind, the back of the graphics card has a metal back plate that not only strengthens the overall structure, but also prevents the PCB from bending or falling parts.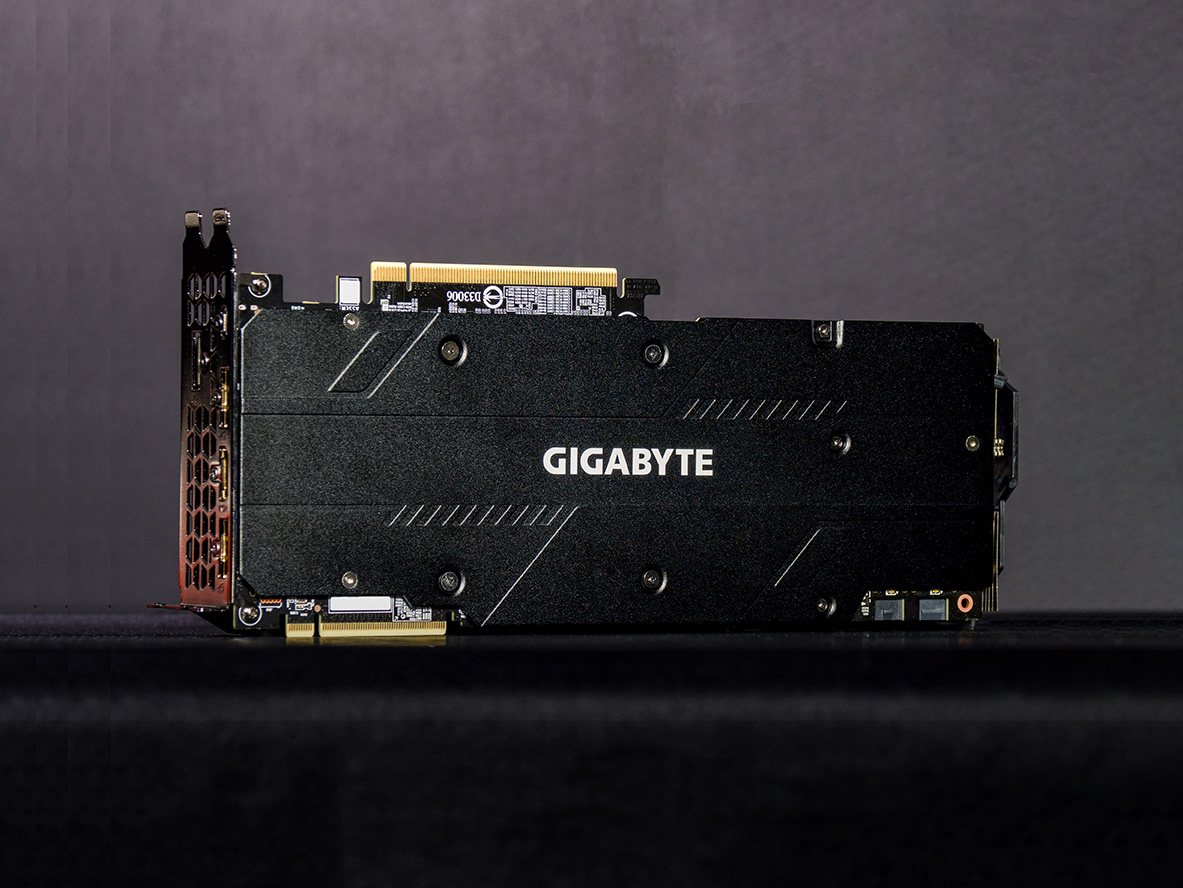 In addition, in order to meet the needs of the gamers, RGB fusion allows users to freely adjust the color of the lights and various special effects through AORUS Engine.
Behold! The New Flashship Arrives
On September 26, the long-awaited AORUS RTX2080Ti/ 2080 series graphics cards made their grand debut, led by AORUS GeForce GTX 2080 Ti/ 2080 Xtreme featuring the new-gen air cooling system and reinvented RGB lighting. The WATERFORCE variant is also on the horizon for enthusiasts thirsting for a liquid cooling solution. Let us see what these high-end graphics cards have to offer to give you the ultimate gaming performance you are looking for from these flagship models.
RGB Reinvented
This time, Team AORUS brings back the angel eyes that so many of you loved from our GeForce GTX 980 Ti Xtreme cards. And we didn't stop there. We took the RGB and invented it by utilizing persistence-of-vision fans to make the lighting much more flexible and diverse for better customization.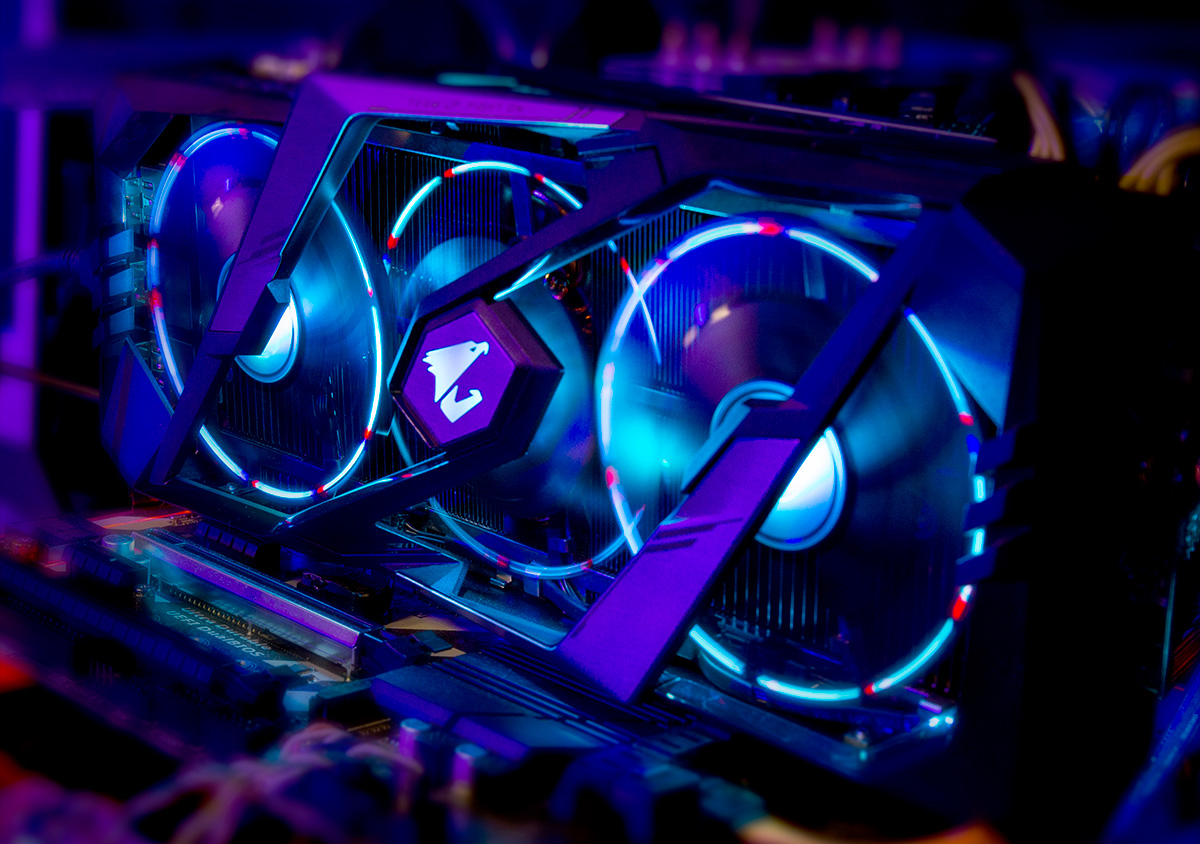 Stack Up Against All Challenges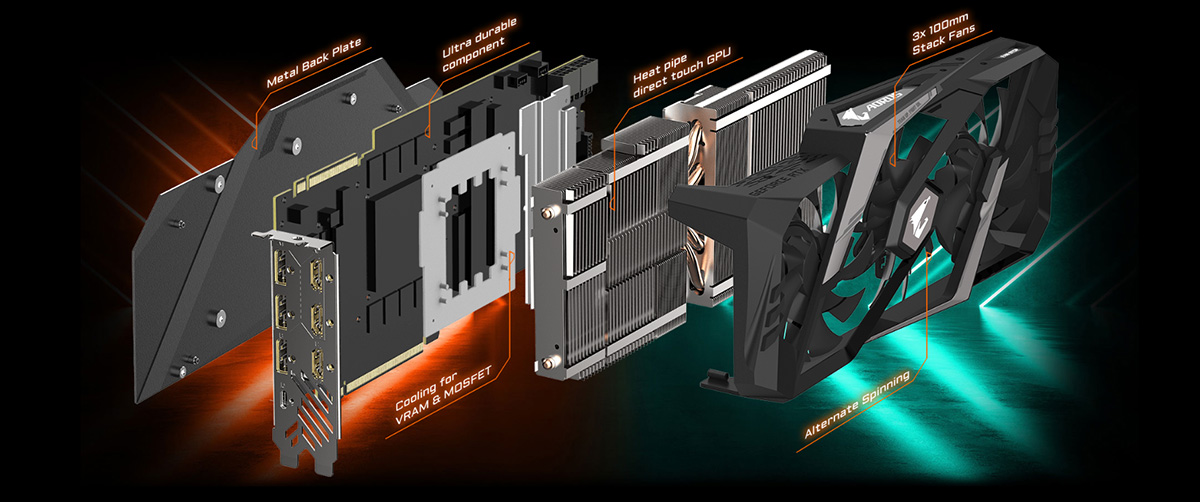 From composite heatpipes to large metal plates, AORUS graphics cards provide a solid, all-around cooling solution for all key components, including the GPU, the VRAM, and the MOSFET, to ensure a stable overclock operation and longer life.
The 3X 100mm stack fans provide larger coverage and stronger, smoother airflow. With the fans stacked up, the card is shorter and easier to install. There is more! The patented Alternate Spinning design turns the middle fan in the opposite direction, so that the airflow in between any of the two fans is the consistent, thereby reducing the turbulence and enhancing the airflow pressure.
The 3D Active Fan provides semi-passive cooling, and the fans will remain off when the GPU is in a low load or low power game. It allows you to enjoy gameplay in complete silence when the system is running light games. The LED fan indicator on the top of the graphics card provides an instant display of the fan status.
The Devil Is in The Detail
What about the benchmarks? The release date? Where to buy? A lot of you must be dying to know the answers to these questions! Stay tuned to our social media and the official AORUS website. We will be sharing the latest details and updates with you as soon as they are ready.
4-Year Warranty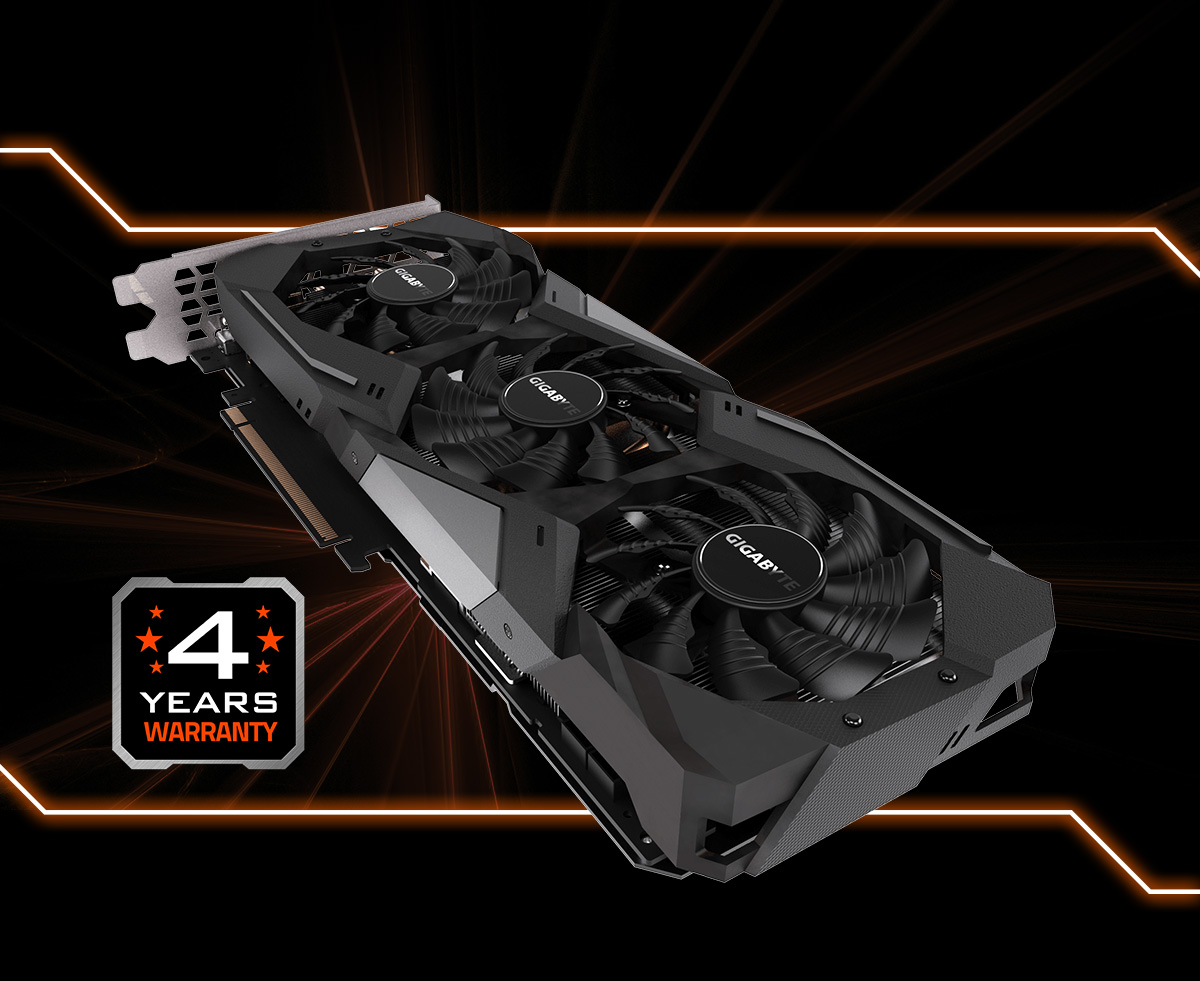 Yes, you heard it right. We treasure your RTX 20 series so much that we are offering a 4-year warranty on the following models, giving you extra peace of mind:
AORUS GeForce RTX 2080 Ti XTREME 11G
AORUS GeForce RTX 2080 Ti 11G
GIGABYTE GeForce RTX 2080 Ti GAMING OC 11G
AORUS GeForce RTX 2080 XTREME 8G
AORUS GeForce RTX 2080 8G
GeForce RTX 2080 GAMING OC 8G
AORUS GeForce RTX 2070 XTREME 8G
AORUS GeForce RTX 2070 8G
GeForce RTX 2070 GAMING OC 8G
Remember to register your product within 30 days of purchase on https://registration.aorus.com/ or https://registration.gigabyte.com/ to enjoy the extended warranty from AORUS!
More info and updates coming soon! Stay tuned.