World's First 16-Phase Direct Power Design
X570 AORUS XTREME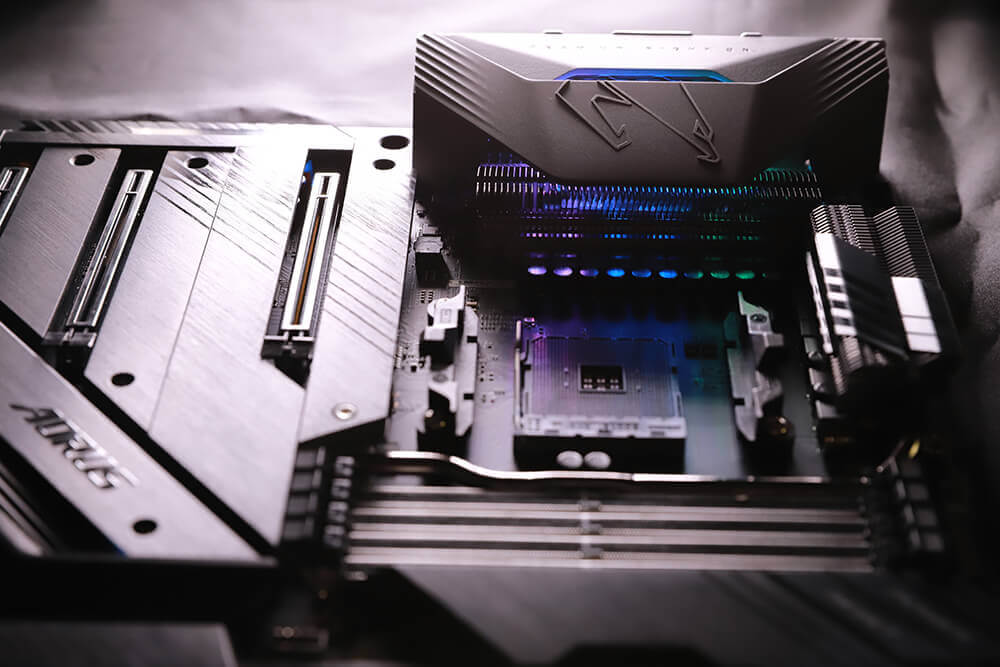 Higher core counts, faster clock rates, everything users desire from high-end CPUs are coming to the market at a blazing pace. As powerful as these new consumer desktop processors can be, whether or not this performance potential will actually translate to significant performance improvements depends highly on your motherboard.
While there are many aspects that can affect performance, two words stand out in particular. Power Design. The question is: can your board's power design provide the best and most precise power delivery? With the X570 AORUS Lineup, the answer to that question is a resounding yes.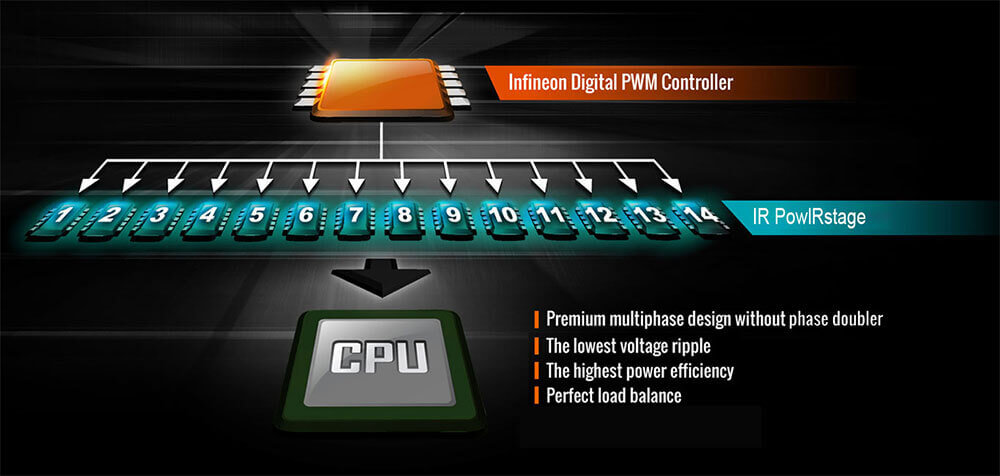 AORUS put a ton of focus this time on power design. This is apparent when you take a look at the ATX boards in this lineup and each of them, from the high end to the mainstream boards, come with at least a 14-phase power design. While a 14-phase power design is impressive in itself and is usually reserved for top of the stack models, the flagship model X570 AORUS XTREME, takes it to a whole new level by sporting the world's first direct 16-phase power design.
A 16-phase power design is something that is at the top of any enthusiast's wishlist and AORUS recognized the need to ramp up its already impressive power design to accommodate the powerful new AMD CPUs. Using Infineon TDA21472 Power Stage MOSFETs, each of the 16 power phases is capable of handling up to 70A of power so with 16 phases that equates to a whopping total of 1120A! It's important to note that this isn't any 16-phase power design. It's a direct 16-phase design and this is achieved without the use of any doublers at all. The direct design means that 16 direct signals are coming from the PWM chip, allowing for more stable voltage. It comes with superior power efficiency, about 4% more than a parallel power design. A 4% edge in power efficiency may not sound remarkable but as was alluded to in the AORUS XTREME Showcase, that's the difference between an 80 Gold plus certified power supply and an 80 Bronze plus certified power supply. Efficiency is essential to performance so don't be bogged down by an inefficient power design!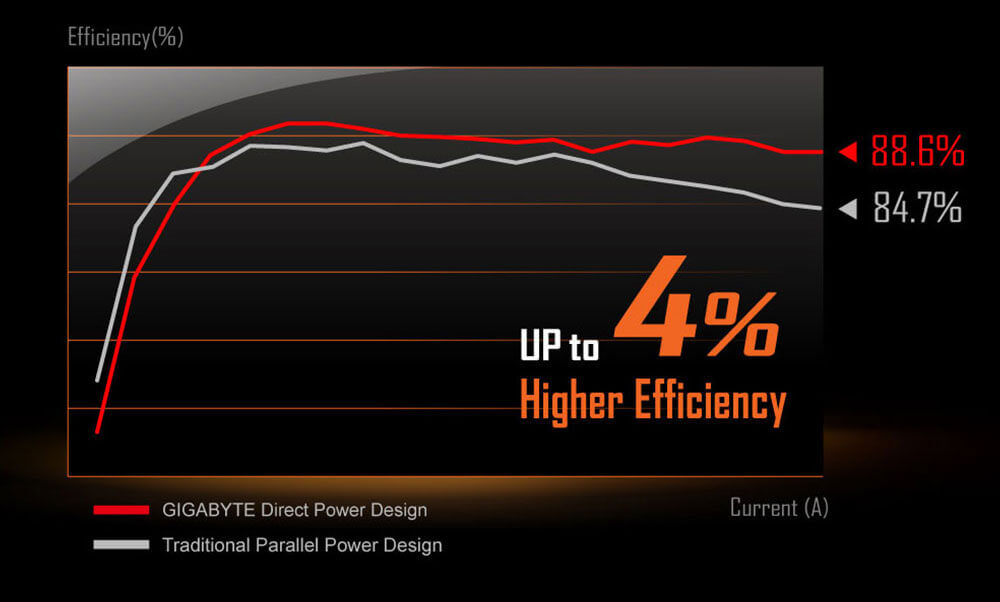 With 16-phases to work with, the power design offers superior thermal balance compared to fewer phase power designs. Simply put, having a greater amount of phases enables the loading to be shared across more phases so that each phase has less to deal with. Instead of overworking each phase, the power design balances the loading between the phases which limits heat production. Excess heat can really slow down performance so the abundant phase count is designed to prevent overheating especially around the CPU area. This design can improve the motherboard's durability and prevent throttling as well as unexpected shutdowns when overclocking. You always want to keep your PC as cool as you possible which is also why the X570 AORUS XTREME cooling armor is designed to cover over 85% of the board. The extensive cooling coverage combined with a 16-phase power design means the board is extremely well-equipped to keep heat in check.
Aside from heat mitigation, performance stability is also a product of a 16-phase power design. Voltage requirements for each task fluctuate so the VRM needs to feed the right amount of power at the right time. As such, voltage ripple should be kept at a minimum. If the voltage ripple is high and all over the place, the less stable the system is. A benefit of having more phases to work with in a power design is that the voltage ripple is significantly reduced. So through the use of 16-phases, X570 AORUS XTREME keeps voltage ripple at minimal, ideal levels.
If you're looking to capitalize on the performance potential of the newest AMD CPUs, the 16-phase power design on the X570 AORUS XTREME is the key to unlocking new era performance with incredible power efficiency and stability.
Learn more:
AORUS AMD X570 Motherboards:
https://www.aorus.com/product-list.php?t=53&t2=57&t3=140
Interested in watching more AORUS X570 unboxing videos?
Please visit the AORUS Official Youtube Channel!
https://www.youtube.com/channel/UCHC5iMVaLktT9u1OymgkRGg
Shop Now!