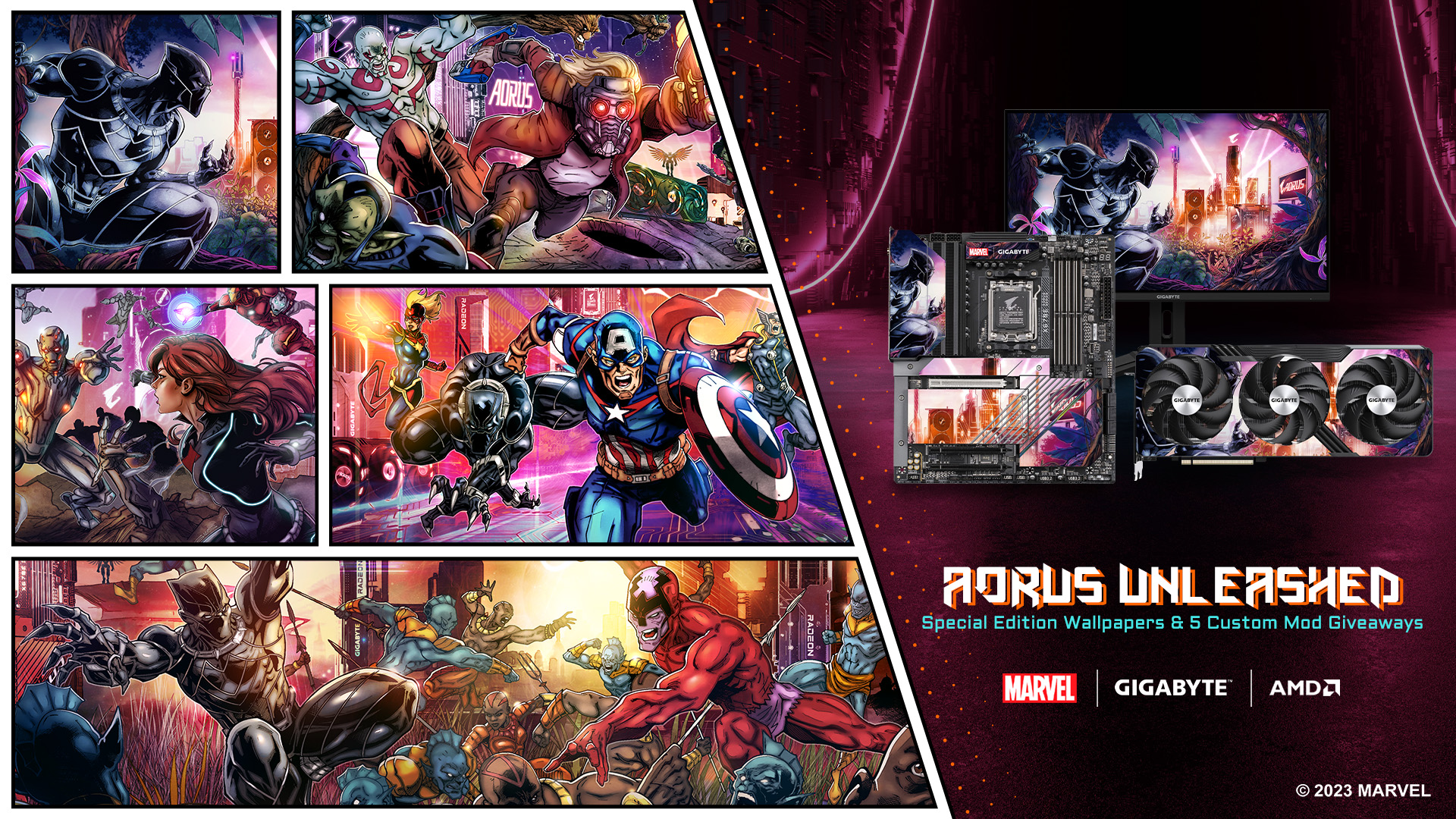 The world's leading computer brand, GIGABYTE, is proud to announce the AORUS Unleashed campaign between its gaming-focused sub-brand AORUS and Marvel; a collaboration with Marvel Entertainment to bring five special edition PC wallpapers and PC hardware powered by AMD X670E motherboards and AMD Radeon RX 7900 XTX graphics cards.
The wallpapers are drawn by Marvel artists and are inspired by Marvel icons, including Black Panther, Avengers, and Guardians of the Galaxy. Each wallpaper is drawn to specifically highlight each hero's iconic scene in an AORUS/AMD inspired landscape. In addition, GIGABYTE will be sponsoring a giveaway of branded products featuring the Marvel-created wallpapers, including 5 X670E AORUS MASTER motherboards, 5 AORUS RADEON RX 7900 XTX ELITE 24G graphics cards, and 5 GIGABYTE M32U gaming monitors. The official giveaway rules and terms can be found on the event website here.
The Power of GIGABYTE X670E and X670 Series Motherboards
The gaming-focused AORUS high-end X670 and flagship X670E motherboards are the highlights of GIGABYTE's most recent AM5 platform offerings. Coupled with direct digital power and cutting-edge cooling solutions, the new AORUS X670 motherboards are all about exceptional performance and system stability. In addition, these AM5 motherboards include next-generation PCIe 5.0 compatibility and support DDR5 memory. The PCIe and M.2 EZ-Latch designs on these boards were created with user-friendliness in mind, which simplifies the PC DIY process.
Built to Game with GIGABYTE AMD Radeon™ RX 7900 Series Graphics Cards
The new AMD Radeon™ RX 7900 Series graphics cards, powered by AMD RDNA™ 3 architecture, feature an advanced AMD chipset design that delivers exceptional performance and superb energy efficiency. This allows any system with these cards to power the most demanding titles in 4K while sustaining high-frame rate.
GIGABYTE M32U as The Last Mile For The Gaming System
The M32U is one of many displays in the array of 4K KVM monitors that GIGABYTE offers. The GIGABYTE M32U gaming monitor has a SuperSpeed IPS panel, the most recent HDMI 2.1, and offers an amazing color accuracy with 10-bit color depth and 90% DCI-P3 broad color gamut. Additionally, it offers a smooth 144hz refresh rate at 1ms MPRT response time for a smooth gaming experience.
To learn more about the AMD Ryzen and Radeon technology, please visit: https://www.amd.com/en/gaming/ultimate-gaming-desktop-platform
—----------------------------------------------------------------------------------------------------------------------------
Press Contacts
Howard Chiu, NA Marketing Director
howardchiu@gigabyteusa.com
Angela Cheng, Social Media and Sponsorship Manager
angelacheng@gigabyteusa.com
Notes To Editors
AORUS Unleashed Website: https://www.gigabyte.com/us/aorus-unleashed/
GIGABYTE Facebook: https://www.facebook.com/GIGABYTEofficial
GIGABYTE Instagram: https://www.instagram.com/gigabyte_official/
AORUS Facebook: https://www.facebook.com/AorusOfficial/
AORUS Twitter: https://twitter.com/AorusOfficial
AORUS Instagram: https://www.instagram.com/aorus_official/
About GIGABYTE
GIGABYTE is an engineer, visionary, and leader in the world of tech that uses its hardware expertise, patented innovations, and industry leadership to create, inspire, and advance. Renowned for over 30 years of award-winning excellence in motherboards, graphics cards, monitors, storage devices and PC peripherals, GIGABYTE is a cornerstone in the HPC community, providing businesses with server and data center expertise to accelerate their success. At the forefront of evolving technology, GIGABYTE is devoted to inventing smart solutions that enable digitalization from edge to cloud, and allow customers to capture, analyze, and transform digital information into economic data that can benefit humanity and "Upgrade Your Life". Please visit https://www.gigabyte.com/ for more information.