10th Nov, 2018
AORUS X9 Claims the 2018 CES Innovation Award As Expected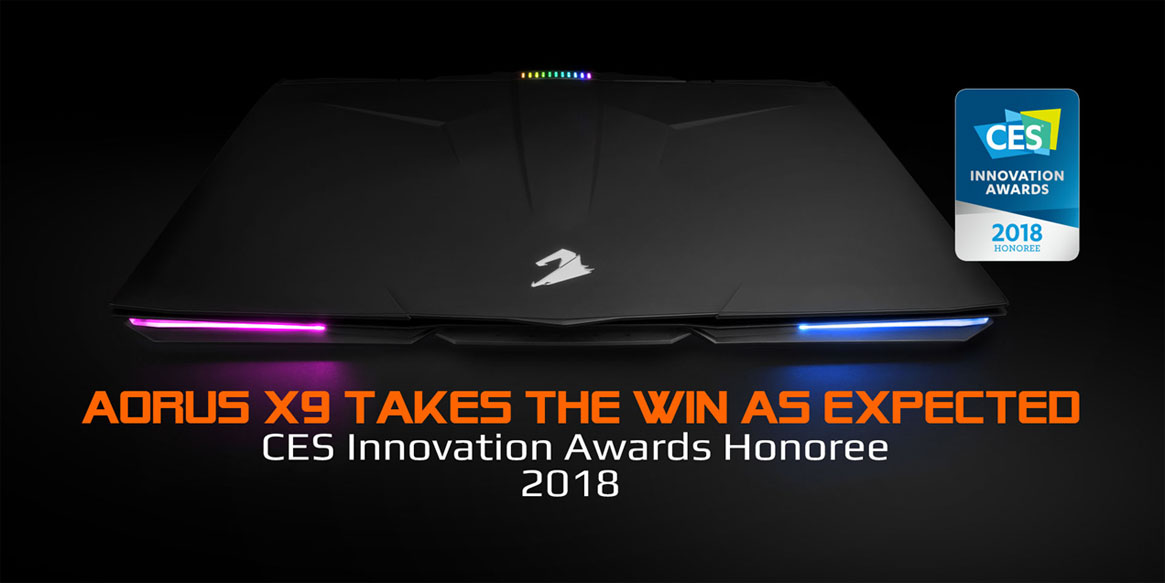 AORUS, the high-end gaming enthusiast brand, announces that the new flagship X9 gaming laptop has taken the CES 2018 innovation award (gaming category). CES is the world's largest annual trade show held at the Las Vegas Convention Center that has been held for over 50 years. Every year, new innovations are showcased, histories are made and defiantly a place to show off the X9.
Following two previous wins with the AORUS X5 gaming laptop, AORUS has submitted the all-new flagship model, the 17.3" AORUS X9. By going back to the AORUS SLI roots, the X9 sports the latest NVIDIA GeForce® GTX 1070 SLI as the graphics powerhouse, taking the title of "the world's thinnest gaming laptop with NVIDIA GeForce® GTX 1070 SLI graphics", fully confident of taking the title yet again.
AORUS is proud to announce that the X9 followed through and done just that by taking the 2018 CES innovation award (gaming category). This makes the 3rd straight year of taking the title with an AORUS series gaming laptop. It really comes to no surprise with such hardcore specs, a host of world first features and an exotic chassis design like no other.
AORUS has taken a different approach this time round, with great emphasis made on the aesthetics and how it impacts cooling. The X9 design takes cues from exotic sport cars, fighter jets and the spirit of a falcon. These cues are also designed to dissipate the heat with the specially fitted quad fans. At first glance, users can see different details throughout. The touch reflects quality, with a near full aluminum construction chassis.
There are two new additions when it comes to RGB lighting, the first is the AORUS HUD which is a functional lightbar that provides important information such as battery percentage, fan speed and temperature. The second RGB lighting is called the AORUS SURROUND, they are light strips that are found along the comers of the X9, which can be synced with the AORUS fusion keyboard and AORUS HUD to create the ultimate RGB lighting experience.
"A good design is something that makes the machine come to life, not only for the looks but also for function, this is what the X9 is all about" says Andy Chu, the AORUS Marketing manager. "The X9 is a beast without doubt, yet, it is still portable, so you can take it with you on a trip with ease, unlike other gaming laptops from our competitors."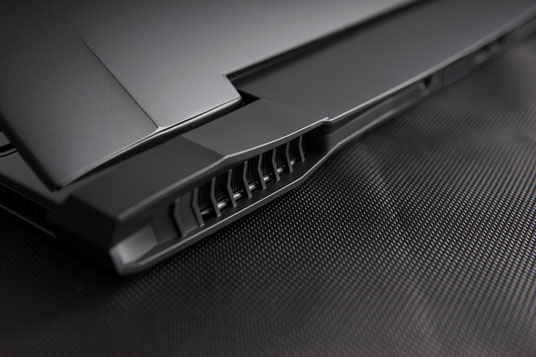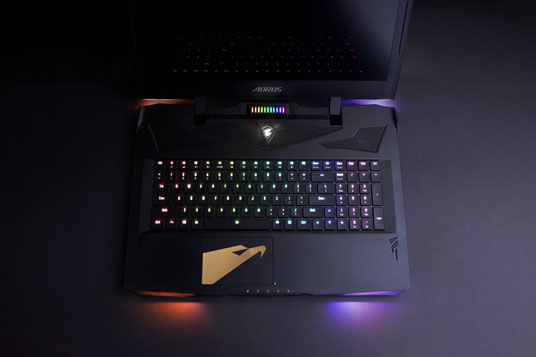 The performance in the X9 is something to behold. You will find an overclockable Intel® Core™ i7-7820HK CPU and the all-new NVIDIA® GeForce® GTX 1070 SLI with a total of 16GB GDDR5 graphics memory. Experience true eye candy through either the 4K IPS 100% Adobe RGB display or the 3K 120Hz display on offer, both displays are color calibrated through X-Rite™ Pantone® calibration.
Mechanical keyboard has always been the first choice by pro gamers. The unprecedented performance and durability are next to none. There is always a compromise in portability when fitting a mechanical keyboard into a laptop. The X9 cuts no corners and fitted true laptop mechanical brown switches into a portable chassis. On top of that, the mech switches are also 16.7 million color backlit, with varieties of lighting effects to choose from. The X9 is the world's thinnest laptop with a laptop mechanical keyboard.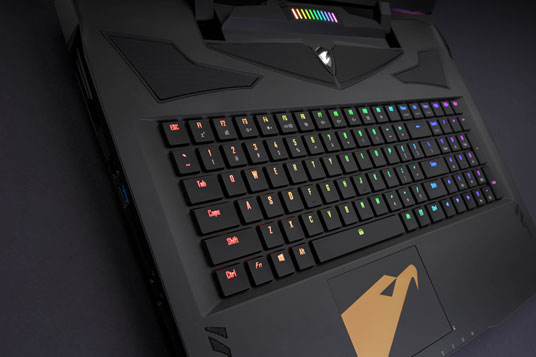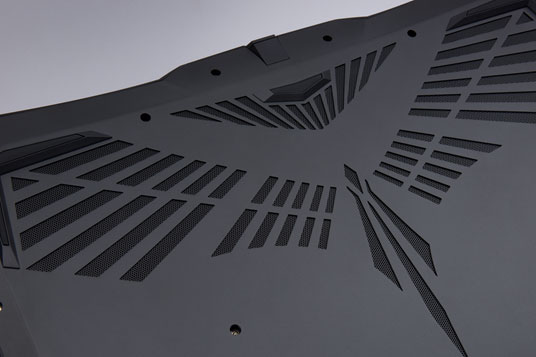 For more: https://www.aorus.com/product-detail.php?p=590
X9

17.3"

CPU

7th Gen Intel® Core™ i7-7820HK (2.9-3.9GHz)

Overclockable Processor

Graphics

NVIDIA GeForce® GTX 1070 SLI GDDR5 8GB+8GB

Display

17.3" UHD 3840x2160 IPS Anti-Glare Display with 100% Adobe RGB (optional)

17.3" QHD 2560x1440 120Hz / 5ms WVA Anti-Glare Display (optional)

Each display on the X9 has been calibrated and certified by a professional calibration solution from X-Rite™ Panetone®

Memory

4x DDR4 2400 (Max 64GB)

Storage

2x M.2 PCIe SSD (512GB+512GB Max) + 1x 2.5" HDD (2TB Max)

Dimensions

428(W) X 314(D) X 23.5- 30.5(H) mm
16.9(W) X 12.4(D) X 0.9-1.18(H) inch

Weight

3.59kg / 7.9lb
*8GB DDR4 *2 / 256G / Exclude HDD
*Product specifications may differ by region. We recommend that you check with local dealers for the specifications and appearance of the products available in your country.
**AORUS reserves the right to make changes without prior notice.