High Thermal Dissipation with more silence, durability, and customization for building the ultimate personalized system

Taipei, Taiwan, February 24th, 2021 – GIGABYTE TECHNOLOGY Co. Ltd, a leading manufacturer of motherboards and graphics cards, today announced the new AIO liquid cooler AORUS WATERFORCE X SERIES. Beyond the success of the AORUS LIQUID COOLER, AORUS WATERFORCE X SERIES deliver 3 radiator sizes of 240/280/360mm which cater to various needs from users for a robust support to the high performance multicore CPUs on Intel and AMD platforms. Besides the compatibility for a multitude of builds, AORUS WATERFORCE X SERIES improve every aspect functions and designs. The 7.8mm Tube Diameter improves the flow by 37% and it is engineered with ceramic axis pump to optimize durability and heat dissipation. The leading Graphene Nano lubricant fan structure also reduces the rate of wear on bearing and carbon deposit by its low coefficient of friction and high lubrication, which extends the life 2.1 times by sleeve bearing fan and avoid the noise from ball bearing on low fan speed to create quieter operation. The renowned LCD display design further integrates more innovative modes and customized settings, including the exclusive Chibi Time, and the support of MP4\GIF\JPG format. Through the newly integrated Micro SD port, users are more free to load preferred materials for display, and paired with multiple lighting modes of RGB FUSION, AORUS WATERFORCE X is the AIO liquid cooler more than you could ever imagined.
"Followed the praise of the previous generation AIO cooling, AORUS WATERFORCE X SERIES keep the notable exclusive design with bunch of enhancements in response to users' feedback." Said Jackson Hsu, Director of the GIGABYTE Channel Solutions Product Development Division. "Besides the features of high durability, high performance, and high compatibility, the advanced customization on LCD display and RGB lighting design of AORUS WATERFORCE X SERIES allow users a full control of their system condition while creating a personal stylish system and exceptional AIO liquid cooling experience.
High thermal dissipation with more silence and durability
Multicore CPUs and higher core counts CPUs are the norm for high-end builds but faster clock speeds can generate excess heat which slows performance. Effective CPU Cooling becomes the key factor to the system performance, so AORUS WATERFORCE X SERIES AIO liquid coolers are designed specifically to handle the heat generated by the latest generation CPUs. The Tube Diameter has been enlarged from 5.1 mm to 7.8 mm which increase water flow by 37 % and made the heat to dissipate quicker and more efficient. The new AIO liquid cooler is equipped with ceramic axis design which provide better resistance to damage and anti-corrosion abilities, enabling a longer life time and improved durability compared to metal axis.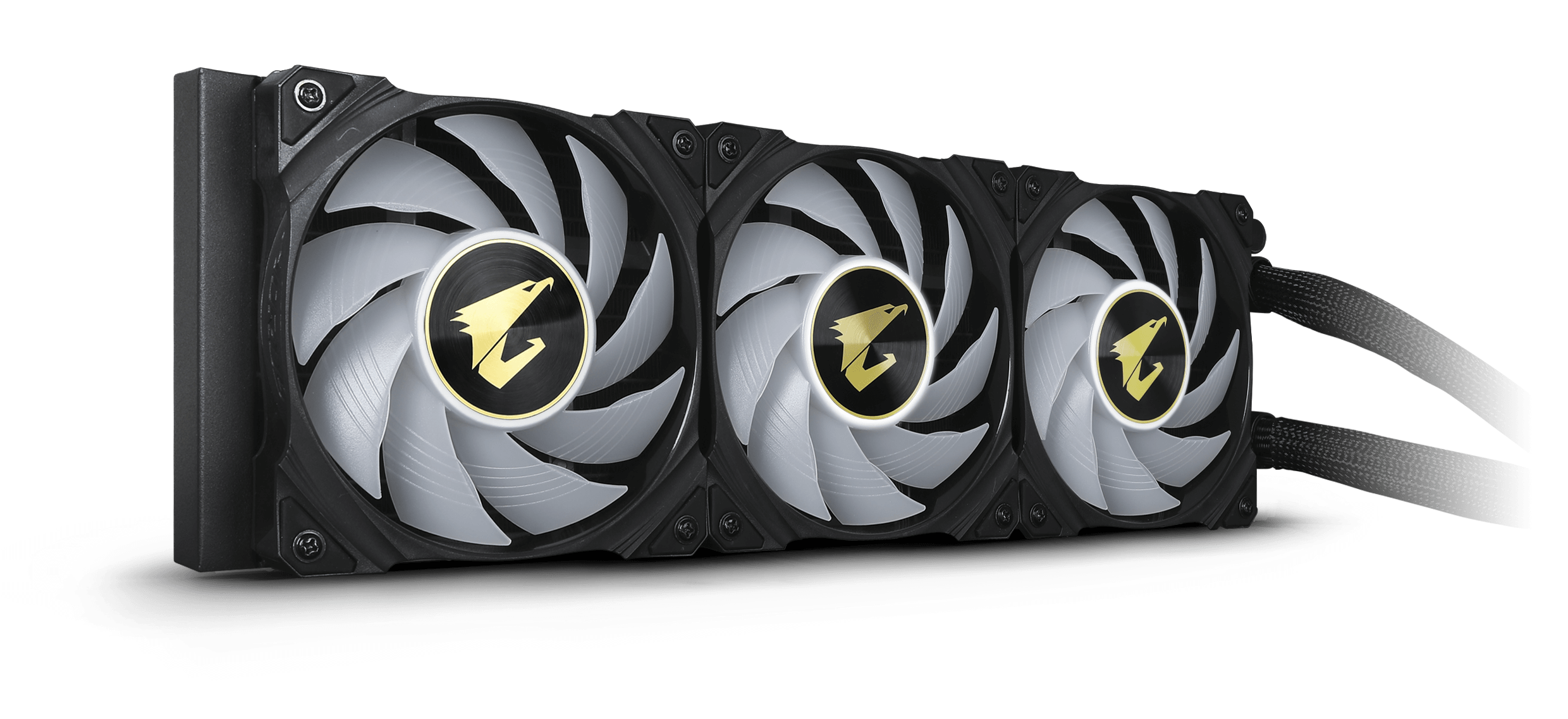 A dual ball bearing fan structure which has superior efficiency and durability is always the best choice to the radiators of liquid cooling solutions, however the vibration and friction noise come along when the fan speed is low. To provide the most silent liquid cooling solution, AORUS WATERFORCE X SERIES phase in the leading graphene Nano lubricant bearing with ultra-low friction and noise to decrease about 15% noise than previous liquid coolers under the same stability and low fan speed. After extensive testing, 120mm fan blades have paired with the 360mm radiator for the best synergy in delivering the most efficient heat dissipation with minimal noise. The fan keeps the noise at minimum level even when running at the highest speed. In the real test of Cinebench R23 heavy loading test, even the 105W high TDP AMD Ryzen™ 9 5950X CPUs can run all-cores at 4.6GHz on 16 cores pairing with AORUS WATERFORCE X 240. This demonstrates the premium performance of AORUS WATERFORCE X SERIES from GIGABYTE.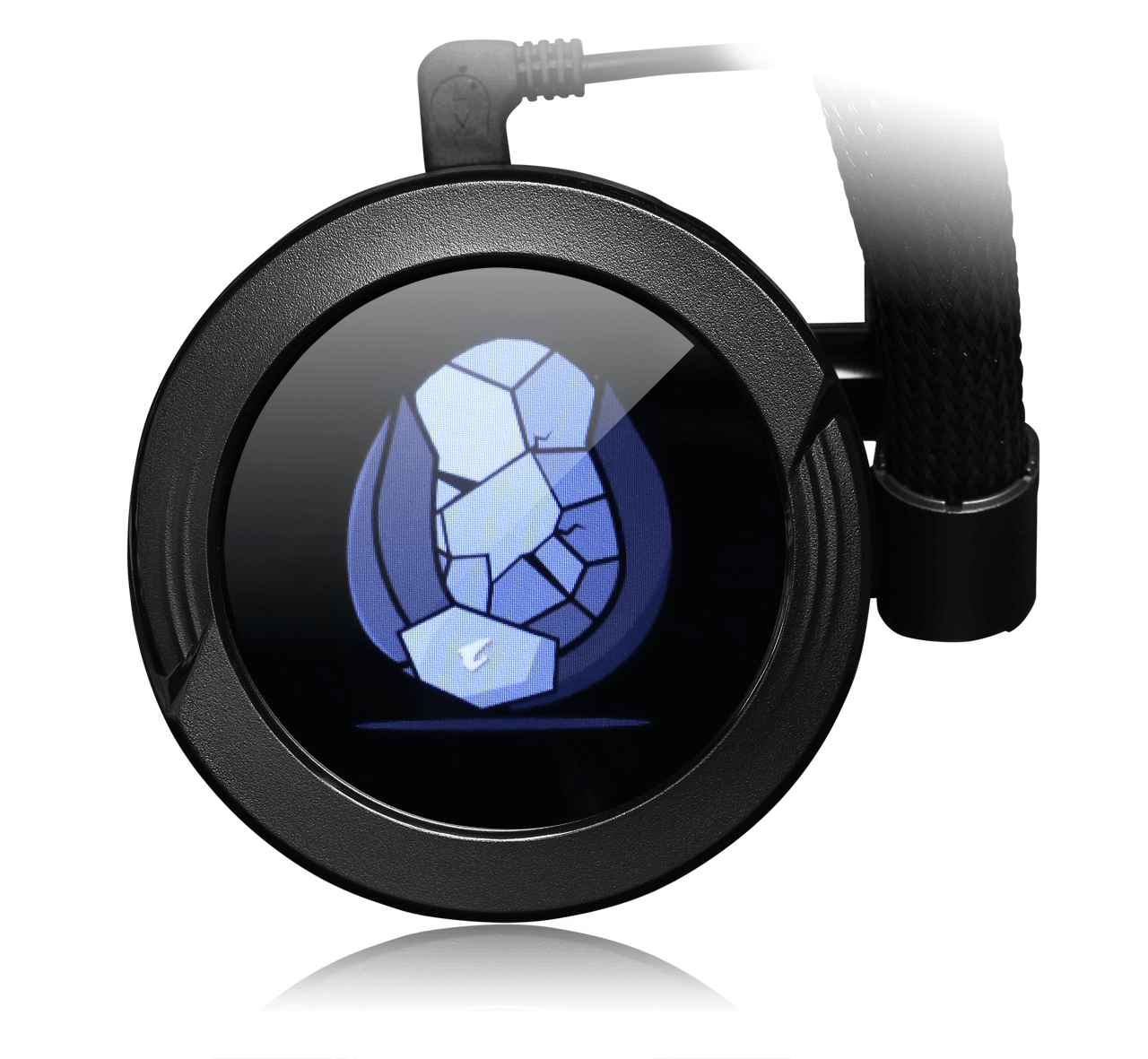 Display your one of a kind
AORUS WATERFORCE X SERIES continue to feature an impressive circular LCD display of gaming aesthetics. Other than four default modes of the Enthusiast Mode, Function Mode, Text Custom Mode, and Image Custom Mode, several exciting functions are added. The Image Custom Mode is improved for more format support of MP4/ GIF/ JPG, as well as the new exclusively "Chibi Time" mode, and the support of multilingual custom text input. With the new unique Display Rotator which is designed to be manually rotatable by 330 degrees, users are free to adjust displayed text and images with preferred angle easier than before. A special highlight on AORUS WATERFORCE X SERIES is the innovative design of integrated Micro SD port, which breaks the limitation of display on liquid coolers caused by insufficient capacity. Users can now store all their favorite images or videos of supportive format, and upload them to the LCD display by LCD control panel within RGB FUSION 2.0. The unlimited SD card capacity free the creativity of users, and create a perfect fusion of the AORUS gaming motherboards, peripherals, and stylish exterior with variety of display for building a distinguished stylish system.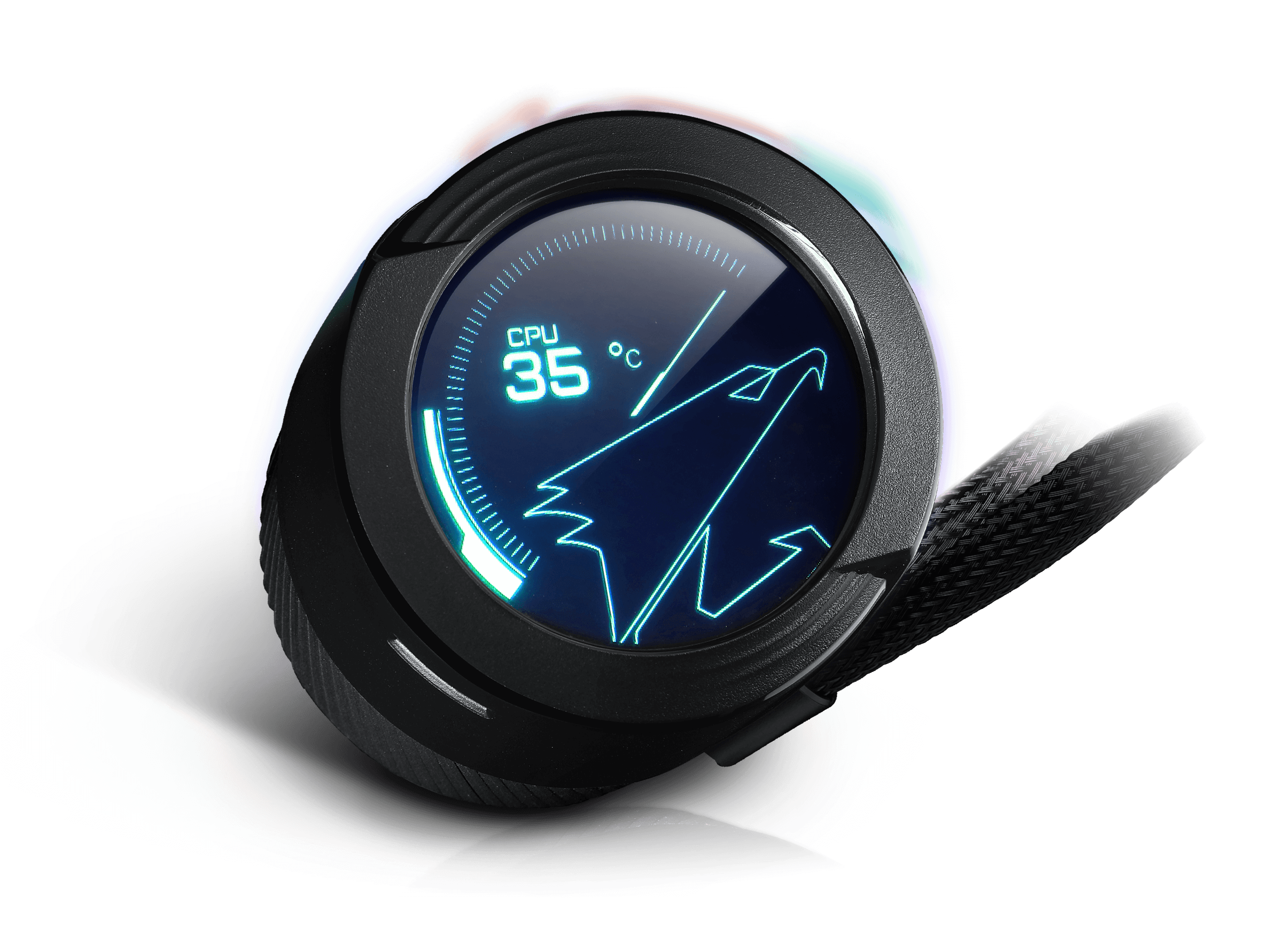 With RGB Fusion 2.0 software of AORUS WATERFORCE X SERIES, users can adjust the text, image, and videos displayed on the LCD, as well as the multiple integrated ARGB digital LED lighting modes, creating personalized gaming systems with fluid lighting effects. Furthermore, the RGB Fusion 2.0 allows users to sync up the RGB functions on their peripherals, and support multiple fans to synchronize lighting pattern by the new accessory ARGB CABLE header. Besides the fascinating lighting, RGB FUSION 2.0 also allows users to control CPU model name/clock rates/water, CPU, VRM temps, while AORUS ENGINE provides a robust control on the heat dissipation of cooler and CPU by instant control on fan RPM/pump RPM. AORUS WATERFORCE X SERIES delivers the most stylish liquid cooling system with both functionality and recreation beyond your imagination.
AORUS WATERFORCE X SERIES presented in 3 radiator sizes, 240/280/360mm, which all have been tested and fitted with the proper fan blade sizes and fan speed settings to ensure the best match for high cooling efficiency, and with perfect support for the extreme performance of multicore CPUs on the Intel and AMD multicores platforms.