GIGABYTE partners with MAINGEAR for a Customized Motherboard, Graphics Card, and Case that turns tough assembly into easy installation and a stealth-inspired aesthetic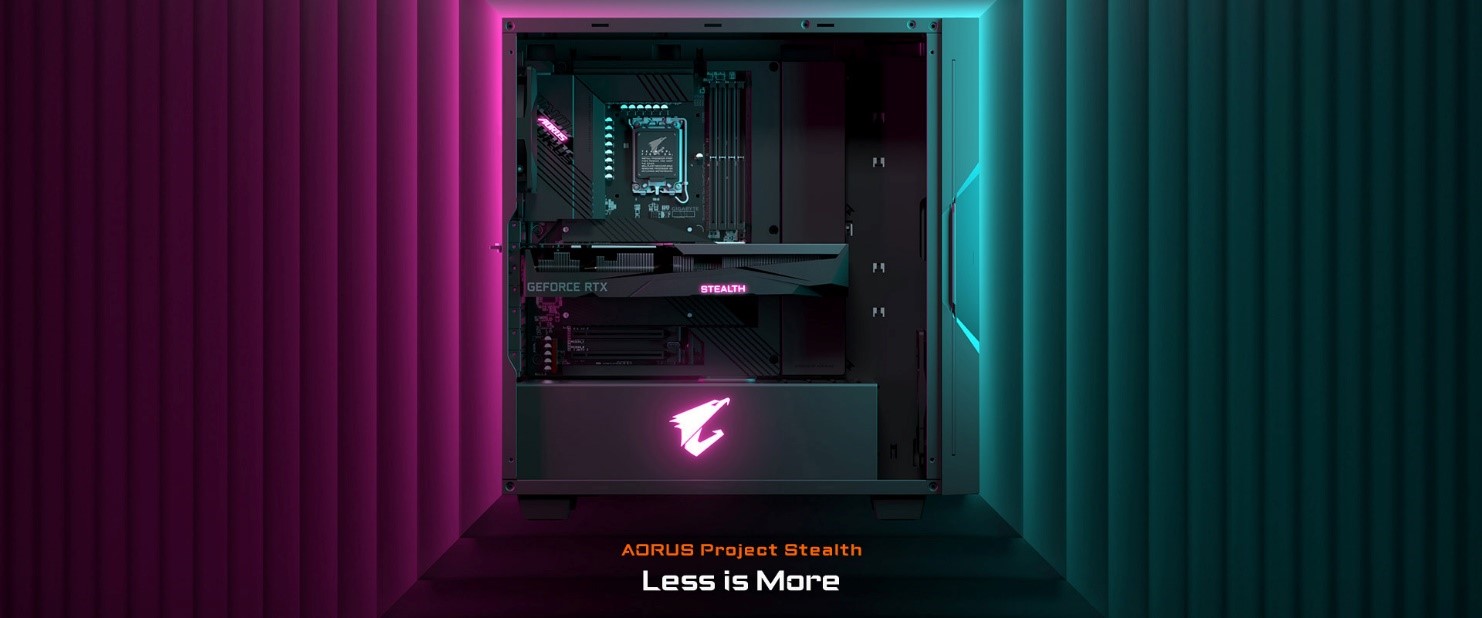 May 20th, 2022 – GIGABYTE TECHNOLOGY Co. Ltd, announced today a new technology partnership with MAINGEAR, developing the newly developed Project Stealth computer assembly kit and MAINGEAR Stealth custom gaming PC's.
Through the perfect combination of standard ATX compatible components with non-proprietary connectors consisting of a custom motherboard, graphics card and case, Project Stealth eliminates the headaches of cable clutter, installation challenges, and obstructed airflow. The innovative design makes assembling a clean and sleek PC build easier than ever before
When it comes to PC builds, beginners or experienced users alike might find it a difficult process. Since most cables are designed to connect to the front side of motherboards, cable chaos inside the case becomes a major concern in a system build. Others may also struggle with inserting USB, audio, PSU connectors, and front panel headers on the motherboards due to limited interior space in the chassis.
In response to these challenges, GIGABYTE developed Project Stealth, utilizing MAINGEAR's revolutionary patent and design that shifts all connectors to back of the motherboard. Through this innovation, Project Stealth provides an exceptional solution composed of the Z690 AORUS ELITE STEALTH motherboard, RTX 3070 GAMING OC STEALTH graphics card, and AORUS C300G STEALTH case.
Z690 AORUS ELITE STEALTH moves all sockets like ATX power, CPU power, fans, USB, audio, front panel, etc. to the back of the motherboard, designed to simplify cable management and installation. RTX 3070 GAMING OC STEALTH combines an underside PCIE power socket design with the best-of-class gaming performance. With this exclusive motherboard and graphics card design, users can line their cables up to achieve a stylish, and sleek build with a clean look that compliments both tower coolers and AIO liquid coolers. To tie it all together, the AORUS C300G STEALTH case features custom cutouts, providing seamless integration with both the motherboard and graphics card, enabling easy cable routing for clean aesthetics and ease of assembly.