Intel's Core series processor platform for the laptop is updated almost every year. Whenever a new generation is released, it usually comes with the enhanced core functions and graphics performance. The advanced circuit design and high processor frequency deliver higher performance while lowering the power consumption of the processor and the built-in graphics card. Intel's yearly CPU update varies according to different generations and processor classes, from the adjustment of manufacturing process or the core number to the improvement of each generation's frequency and the circuit design optimization.
All GIGABYTE laptops are equipped with high-performance Core™ H i7 processors (or above). The latest 10th Gen high-end Core™ i9-10980HK has a maximum turbo frequency of 5.3 GHz, which outperforms all the current laptop processors on the market. For the other two 10th Gen Core i7 processors, the maximum turbo frequency is 5 GHz. With the innovative design of Thermal Velocity Boost technology, the clock speed can be additionally increased by 200 MHz if the CPU is below or at the temperature of 65°C. In addition, the Intel® Core™ i7 10875H processor with 8 cores and 16 threads is 20% more effective than the Intel® Core™ i7 10750H processor with 6 cores and 12 threads. This is also a critical point for the player to consider when purchasing the 10th Gen i7 laptop.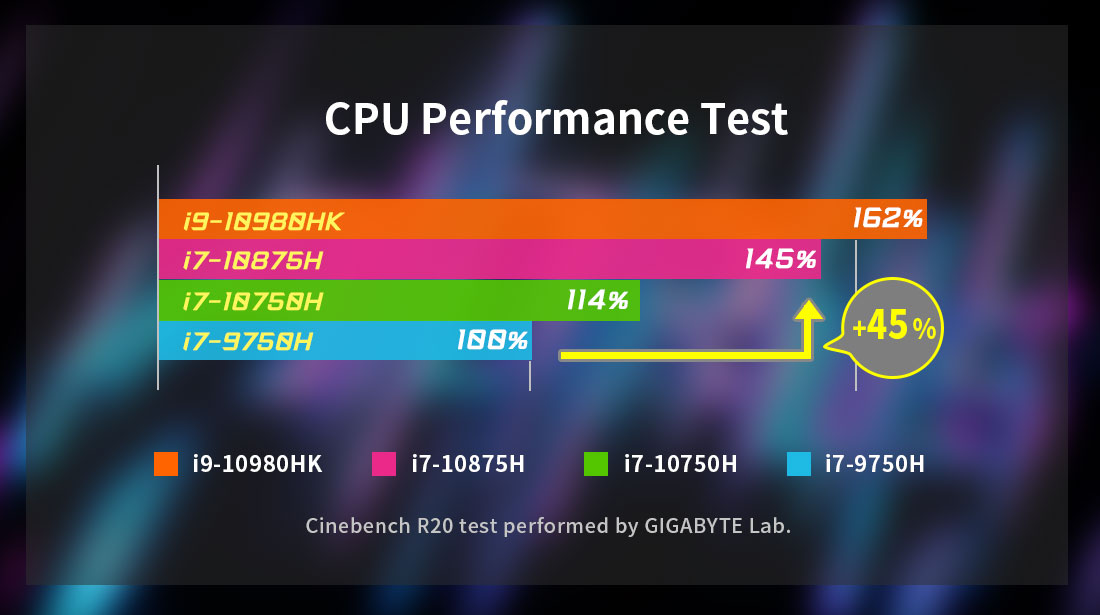 The system memory of the 10th Gen Intel Core™ H platform supports higher frequency setting of DDR4-2933MHz, increasing the CPU performance by 3% at least. The wireless Internet connection speed has finally been upgraded from 802.11ac to the latest 802.11ax (Wi-Fi 6). The maximum speed of Wi-Fi 6 reaches 9.6 Gigabits, which is nearly 40% faster than the last generation ac standard.
GIGABYTE's unique WINDFORCE Infinity cooling technology allows the 10th Gen CPU to have better performance while enhancing the heat dissipation. The WINDFORCE Infinity combines 5 heat pipes and a high-performance heatsink, along with two 71-blade high-speed fans, which increases the overall heat dissipation by 30%. The GIGABYTE laptop is equipped with Intel 10th Gen high-end processor. The overall performance of Intel® Core™ i7-10875H performance is 45% higher than that of Intel® Core™ i7-9750H.
Experience the extreme speed of Intel's 10th Gen CPU laptop
>> Creator laptops: AERO series / Professional gaming laptop: AORUS series