The laptop is usually equipped with the GeForce series independent graphics card, which can be divided into the MX series of entry-level, GTX of intermediate level and RTX series of high-end level. Basically, the gaming laptop and creator laptop usually require the GTX/RTX series graphics cards. The difference between GTX and RTX is that RTX has better performance, and features real-time ray-tracing technology. RTX has better performance in rendering the game image, video editing software adjustment and ultra-high resolution video editing.
Similar to the Intel's CPU code, a string of numbers come after GTX and RTX for NVIDIA card-naming scheme. The greater digit indicates the better performance.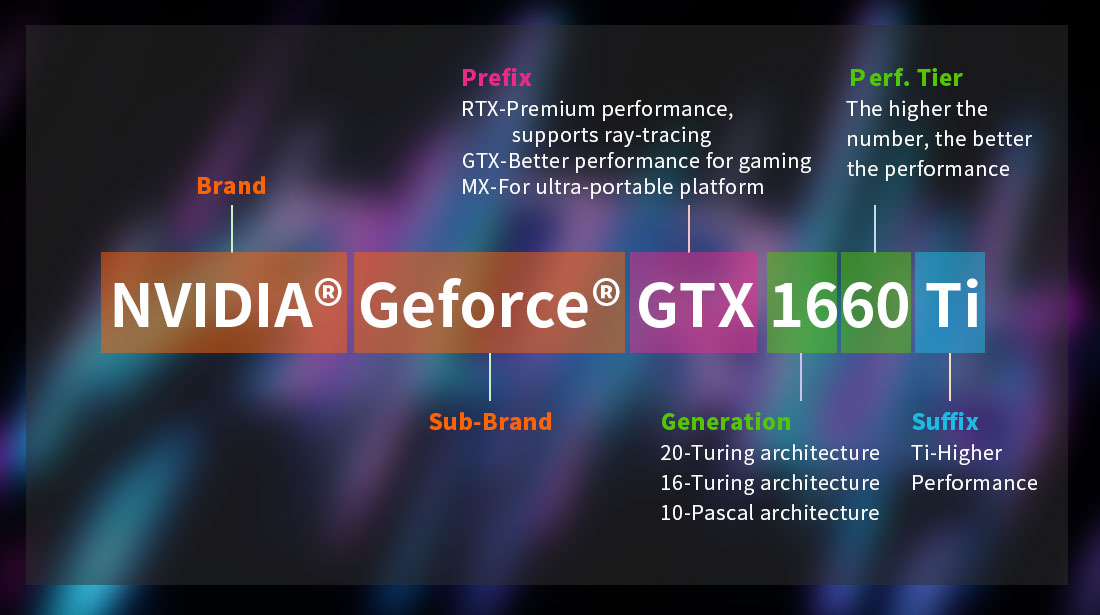 The first two digits that come after GTX refer to the "Generation", which can be categorized into 10 series (Pascal architecture), 20 series with ray-tracing technology (Turing architecture), and 16 series released in 2019 to replace the 10 series chips of intermediate level (Turing architecture). Therefore, in the second quarter of 2020, the 10 series products are excluded from the NVIDIA's latest laptop graphics card portfolio.
The last two digits stand for the performance tier. It ranges from intermediate-range 50, 60, 70, all the way to 80. The greater digit indicates the better performance.
The suffix "Ti", which comes after the GTX / RTX numbers, represents the enhanced version. "Max Q" represents the power-saving and low power consumption design. For now, the latest high-end graphics card released in 2020 is suffixed with "Super", meaning a significant improvement of the performance and specifications than the original one.
Experience the extreme speed of Intel's 10th Gen CPU laptop
>> Creator laptops: AERO series / Professional gaming laptop: AORUS series