Intel has launched the latest 12th-Gen processors 'Alder Lake', and everyone is curious about its performance. So, today we are going to show you the benchmark of the Alder Lake processors under daily tasks, content creation, and gaming.
We tested three models: the flagship i9-12900KF, the premium i7-12700KF, and the mid-level i5-12600K. The motherboard paired with the 12th-Gen processors is Z690 AORUS PRO, which is equipped with robust 16+1+2 phases of direct power and exclusive Fins Array II VRM thermal module.
You may find a more detailed spec of our test bed below:
CPU
i9-12900KF
i7-12700KF
i5-12600KF
Motherboard
Z690 AORUS PRO
CPU Cooler
AORUS Liquid Cooler 360
RAM
AORUS DDR5 4800 8G*2
Storage
AORUS Gen4 SSD 1TB
Graphic
GIGABYTE RTX 3080 Gaming OC
Power Supply
AORUS P1200W
Operating System
Windows 10
The Test Bed for Intel 12th-Gen Processors
Single- & Multi-Core Performance Test: Cinebench R23

Let's take a look at the single- and multi-core performance of 12th Gen under Cinebench R23. You can see that there's about a 20% increase in the single-core performance compared with last gen. The spotlight is on the new i9 – with a whopping 2039 points of single-core performance, it tops all consumer processors.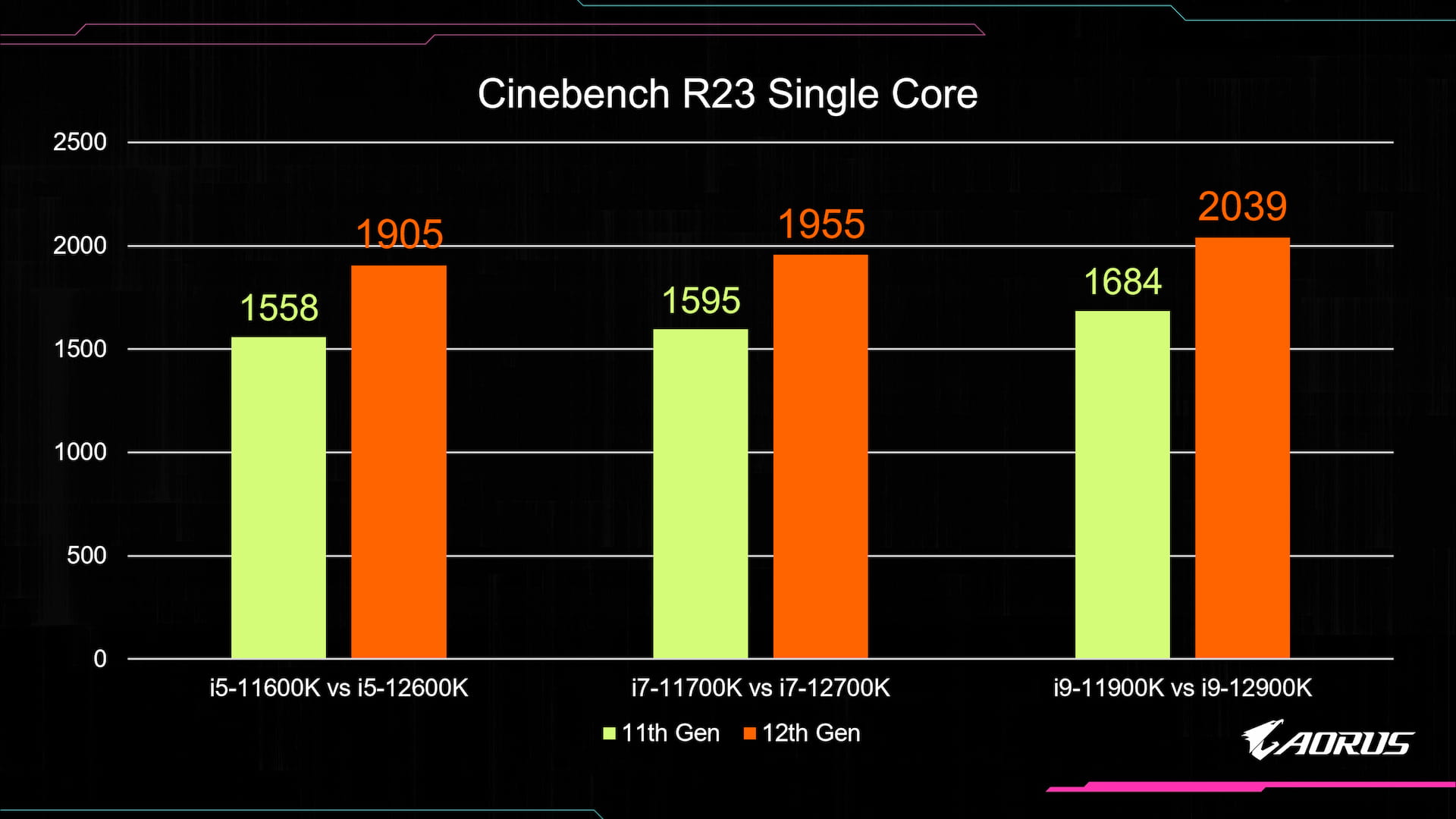 The Cinebench R23 Single-Core Performance
The multi-core performance of 12th Gen really shines, thanks to its newly added Efficiency Core, the so-called 'small core.' Compared with last gen, there's at least a 50% performance boost, and you can expect a 77% boost on i9.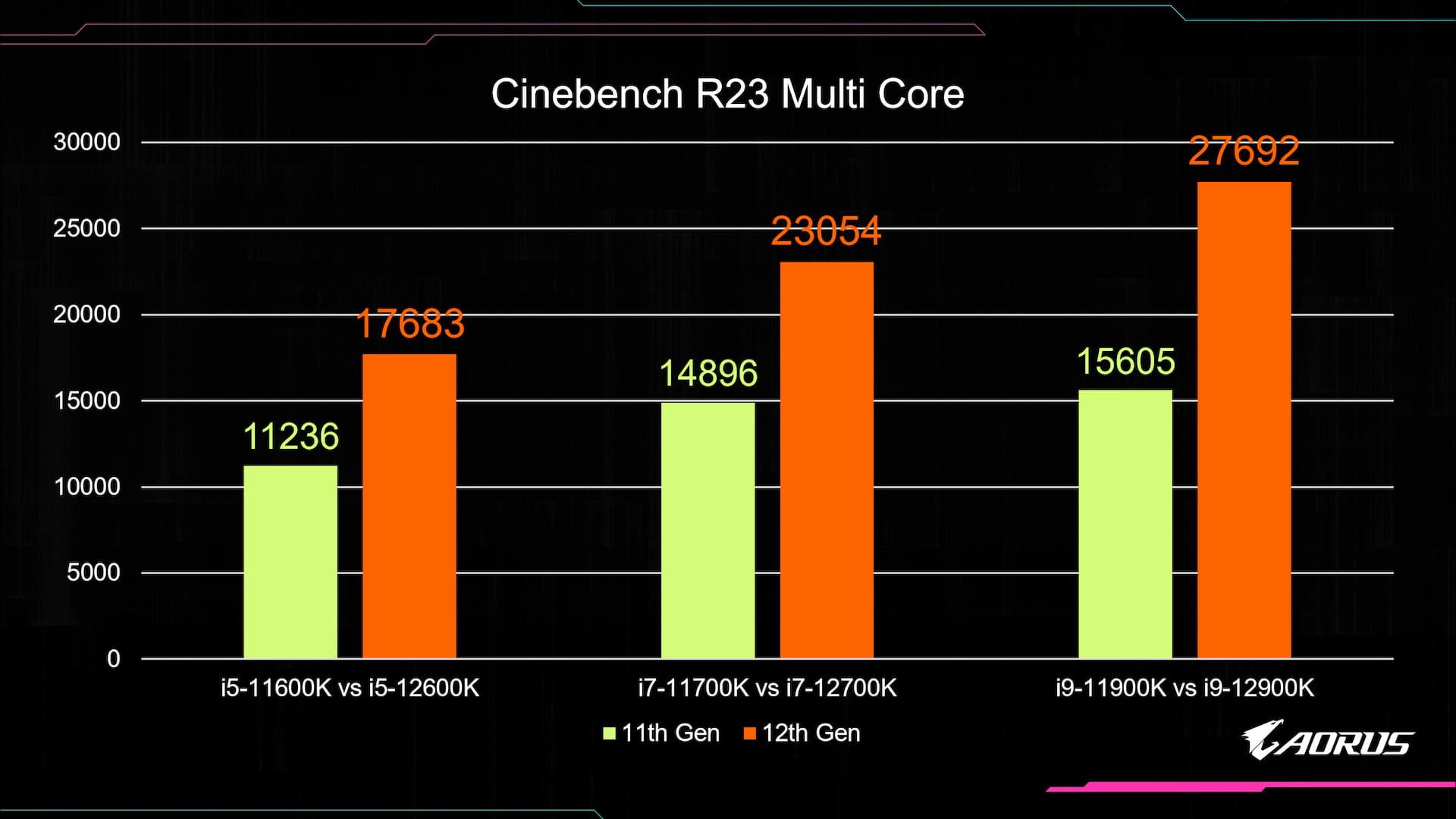 The Cinebench R23 Multi-Core Performance
The result seems quite promising under the benchmark. Now let's see how it is going to be translated into real-world scenarios.

File Compression & Decompression Test
The first test is the file compression and decompression. Compared with the last gen, the 12th-Gen processors are 5~13% better in file compression and even better with file decompression, which goes up to 20%.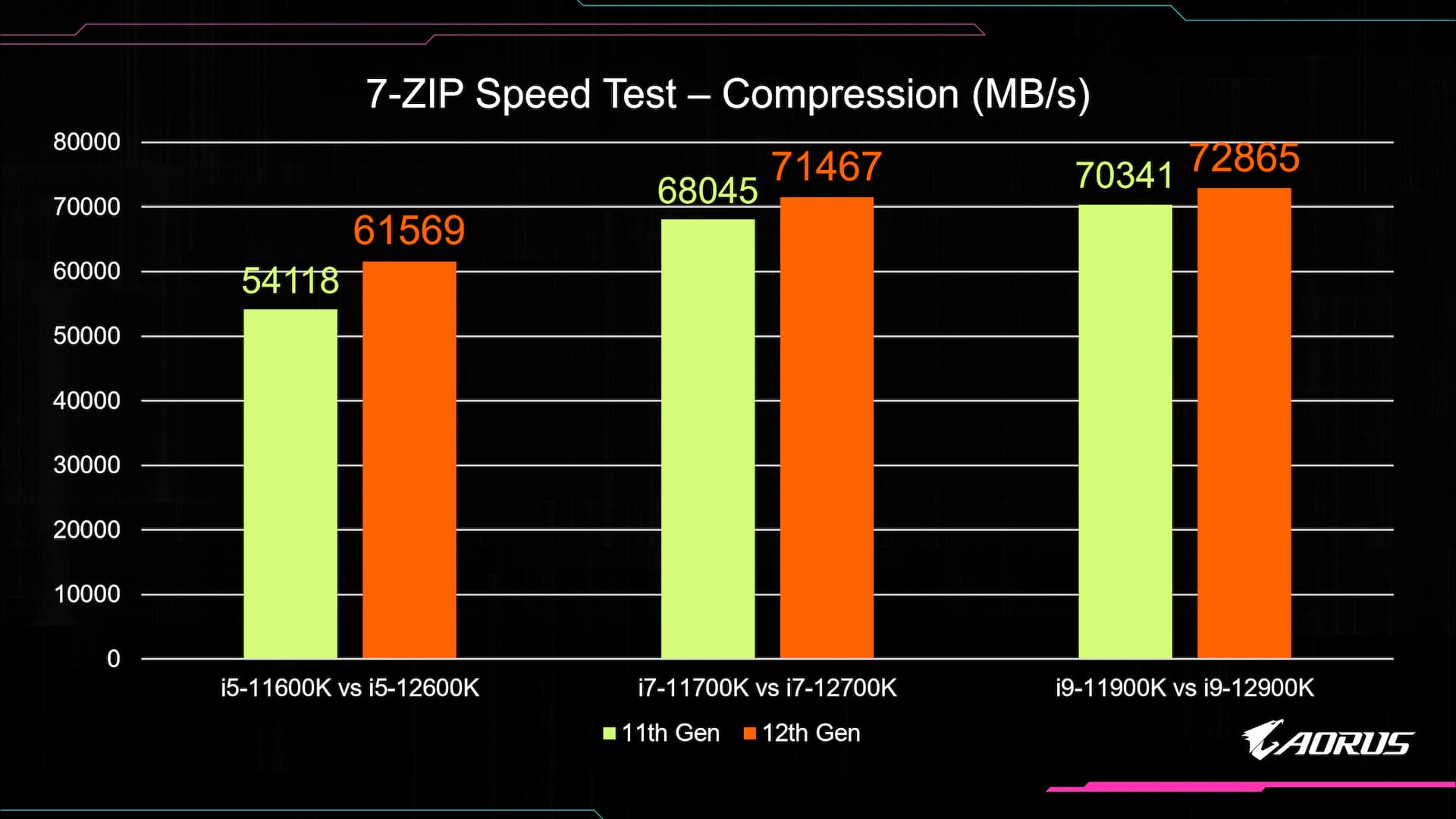 The Compression Speed Test of 12th Gen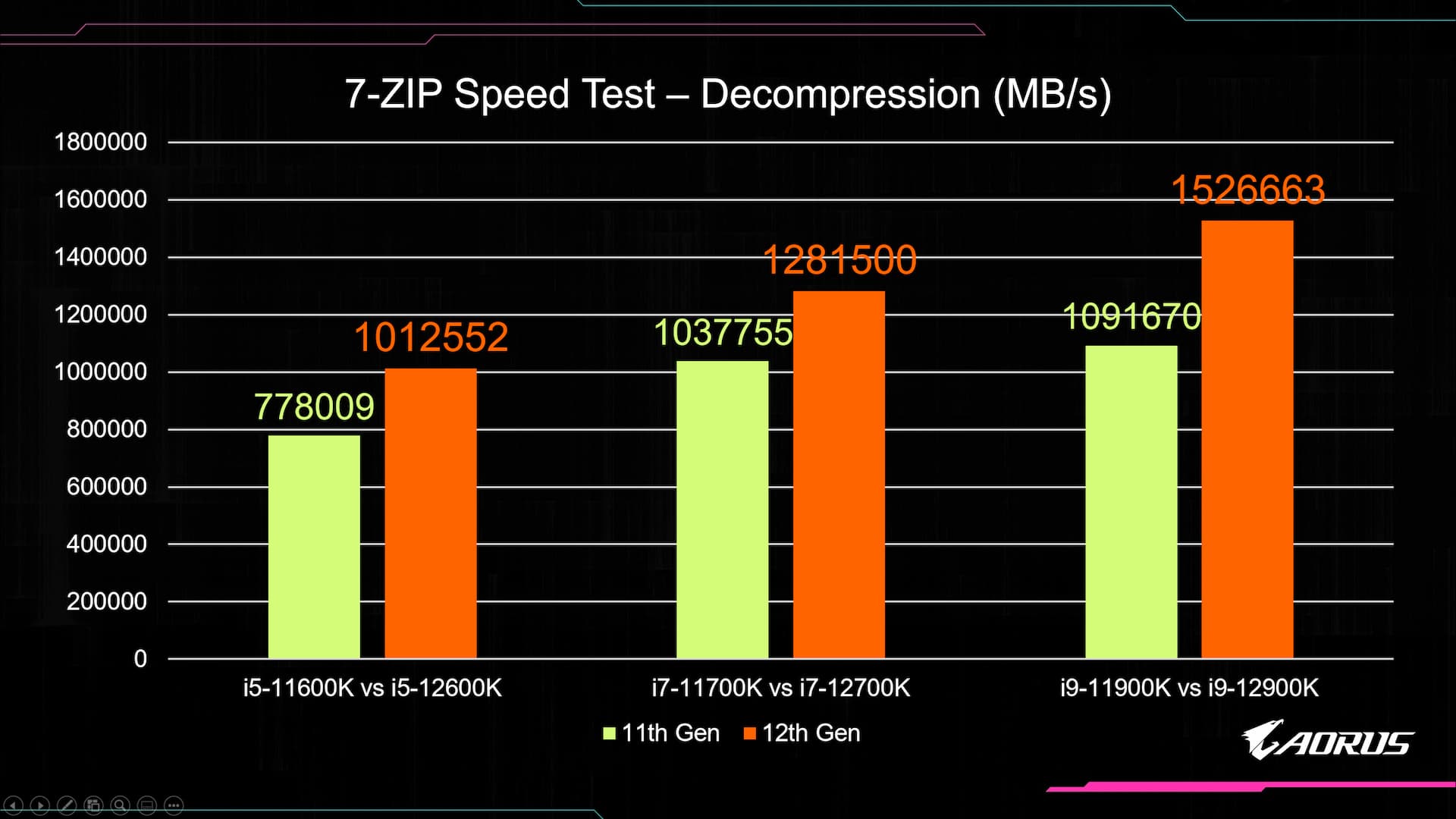 The Decompression Speed Test of 12th Gen
Video Encode/Decode Test
Next is the video encode/decode test. We used x264 FHD benchmark for the test, and you can see the huge leap made by the 12th-Gen processors – they are up to 40% faster in comparison.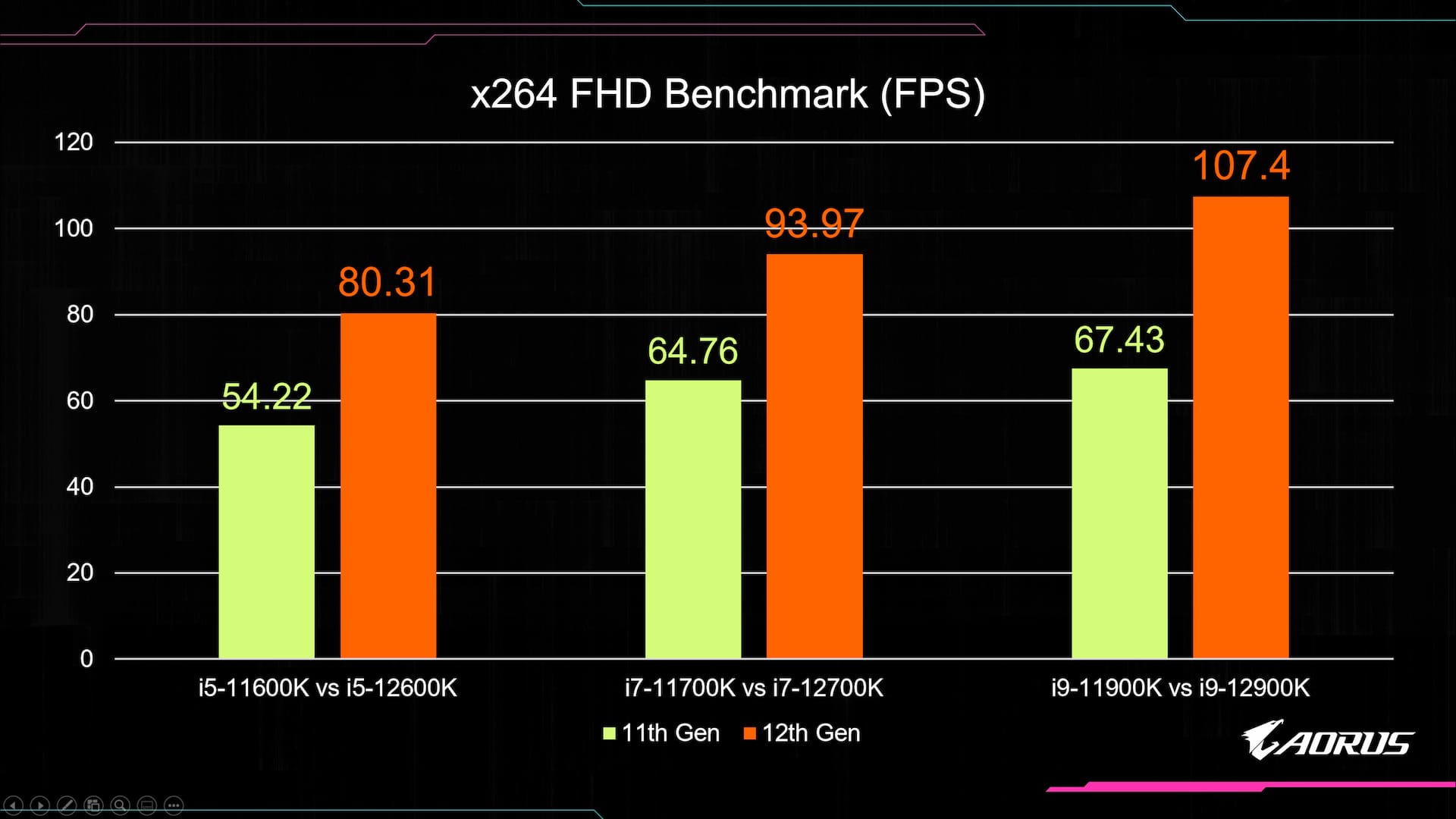 x264 Video Encode/Decode Test
We also tested the x265 to check how 12th Gen performs under newer video encode/decode methods. We see a similar performance improvement of at least 40% compared to 11th Gen.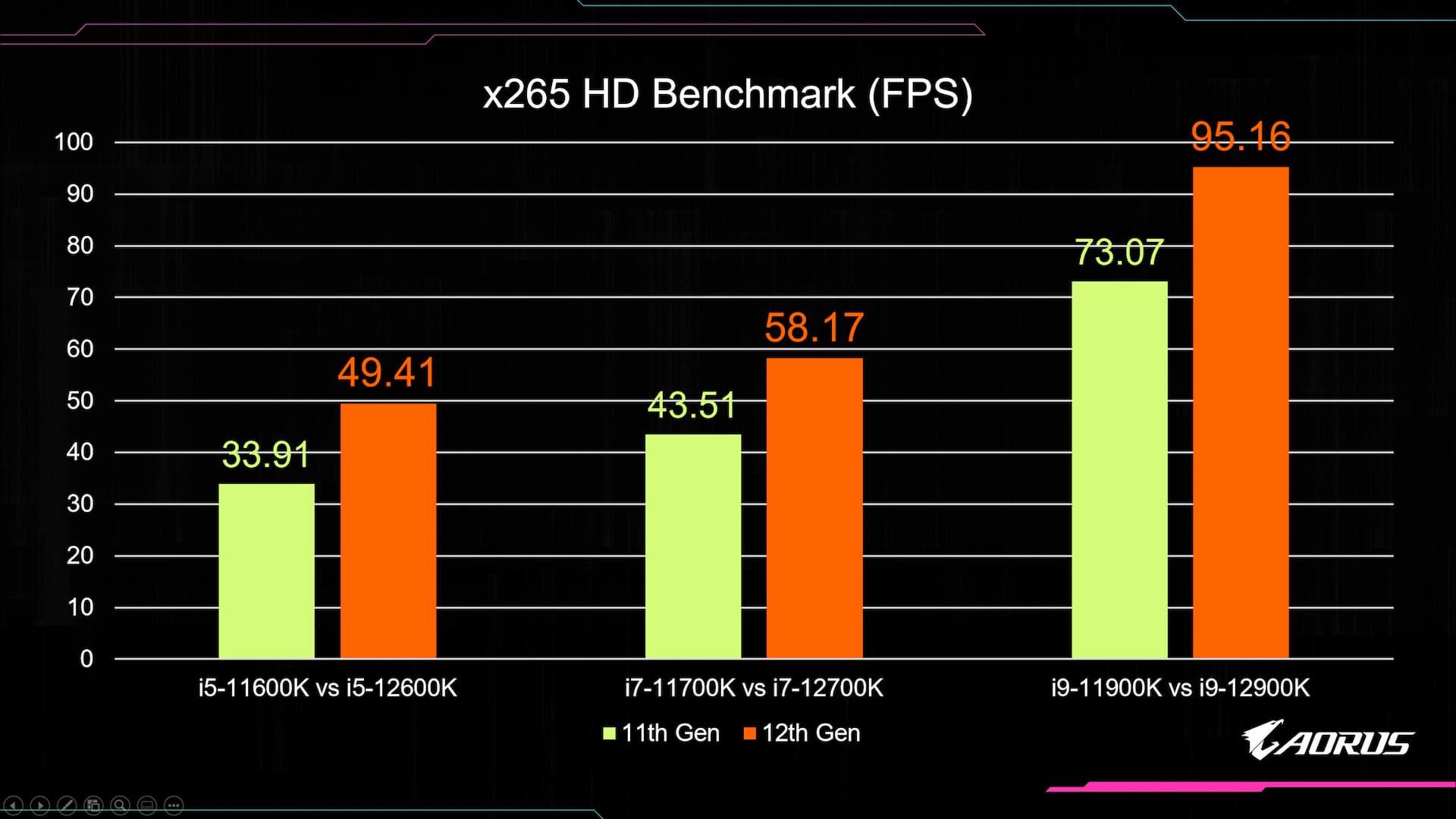 x265 Video Encode/Decode Test
3D Rendering Test
Finally, let's look at the performance of the 12th-Gen processor under Blender, the popular open-source 3D rendering software. You can see that it could shorten 30% of the time needed for rendering under each scene, which guarantees much more efficient content creation.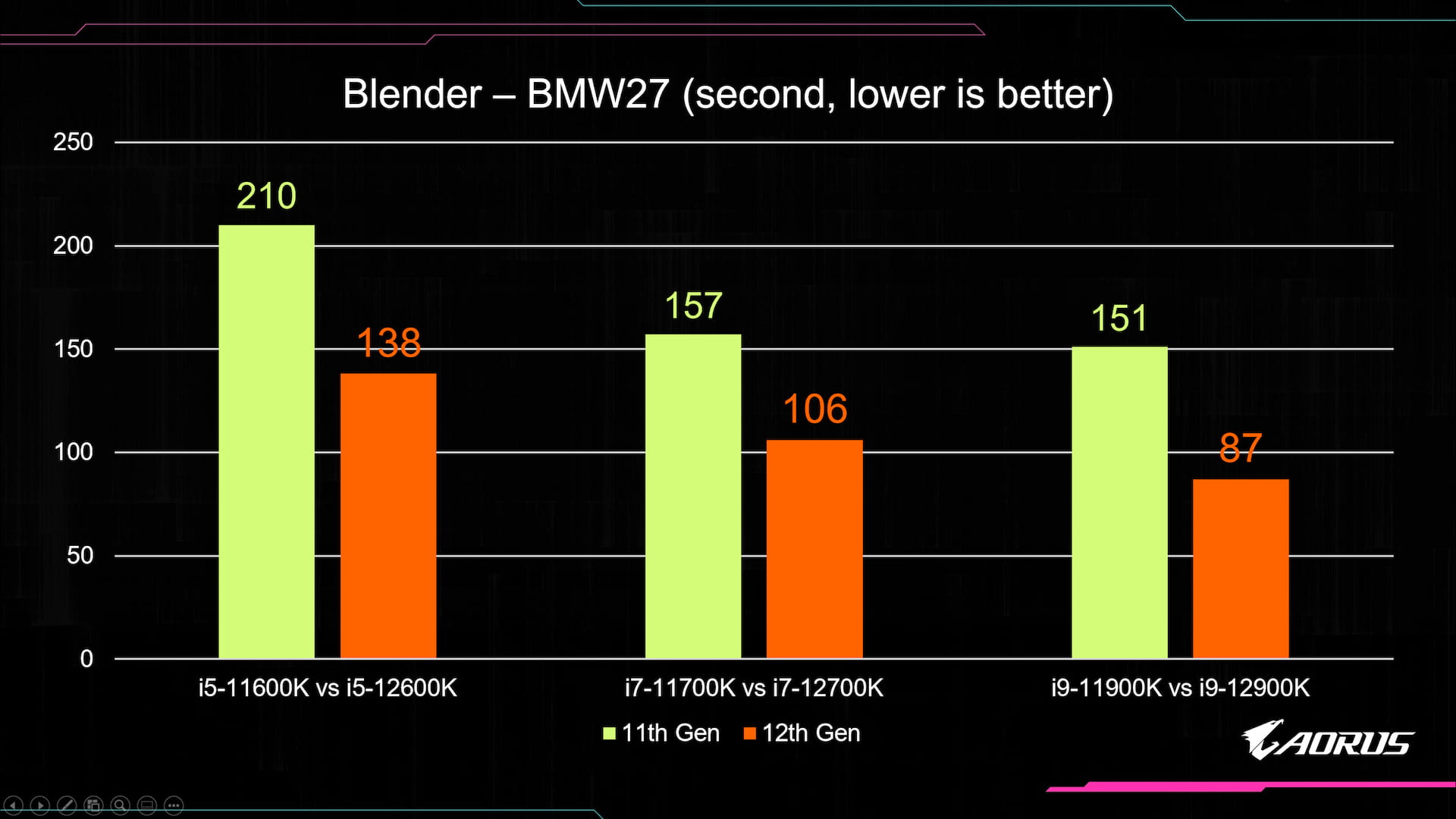 Blender 3D Rendering Benchmark Test (Scene: BMW27)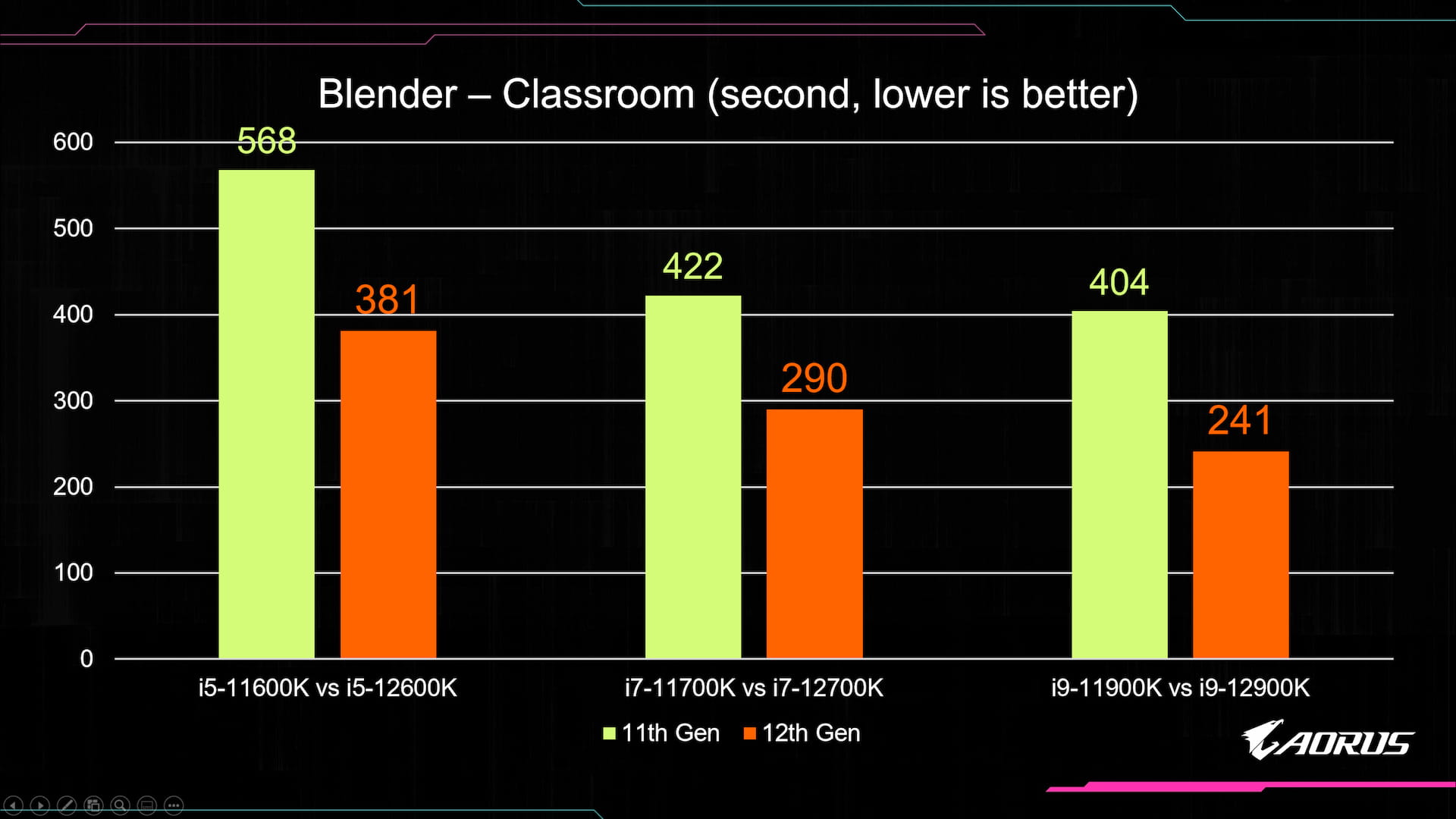 Blender 3D Rendering Benchmark Test (Scene: Classroom)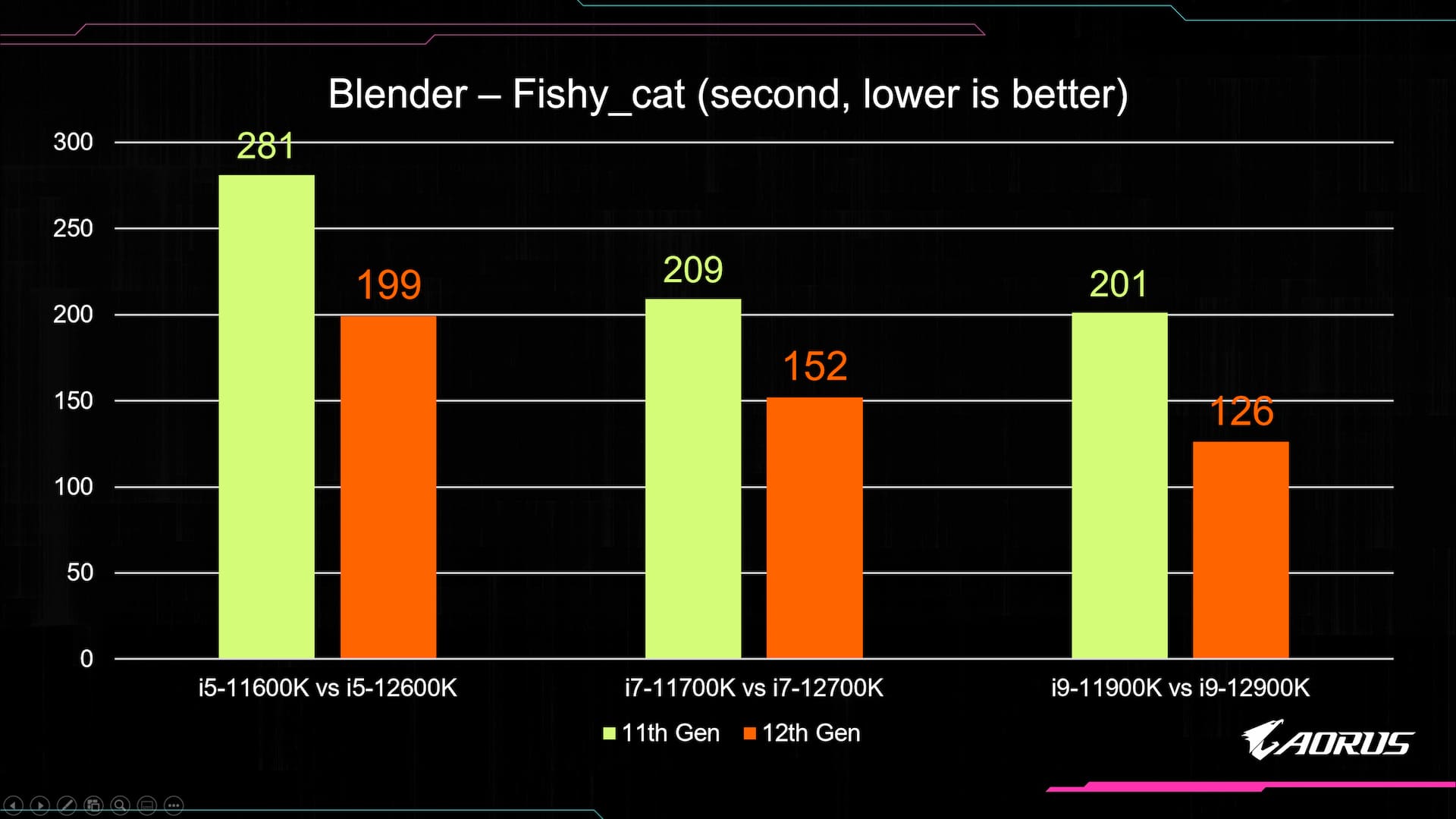 Blender 3D Rendering Benchmark Test (Scene: Fishy_cat)
Now, moving on to the part many of you have been waiting for – the gaming performance.

3DMark Tests
We began with 3DMark Time Spy. The overall score of the 12th Gen is about 5~9% better compared to the last gen, and there's no doubt the CPU score shows a boost of over 20% on the 12th-Gen processors.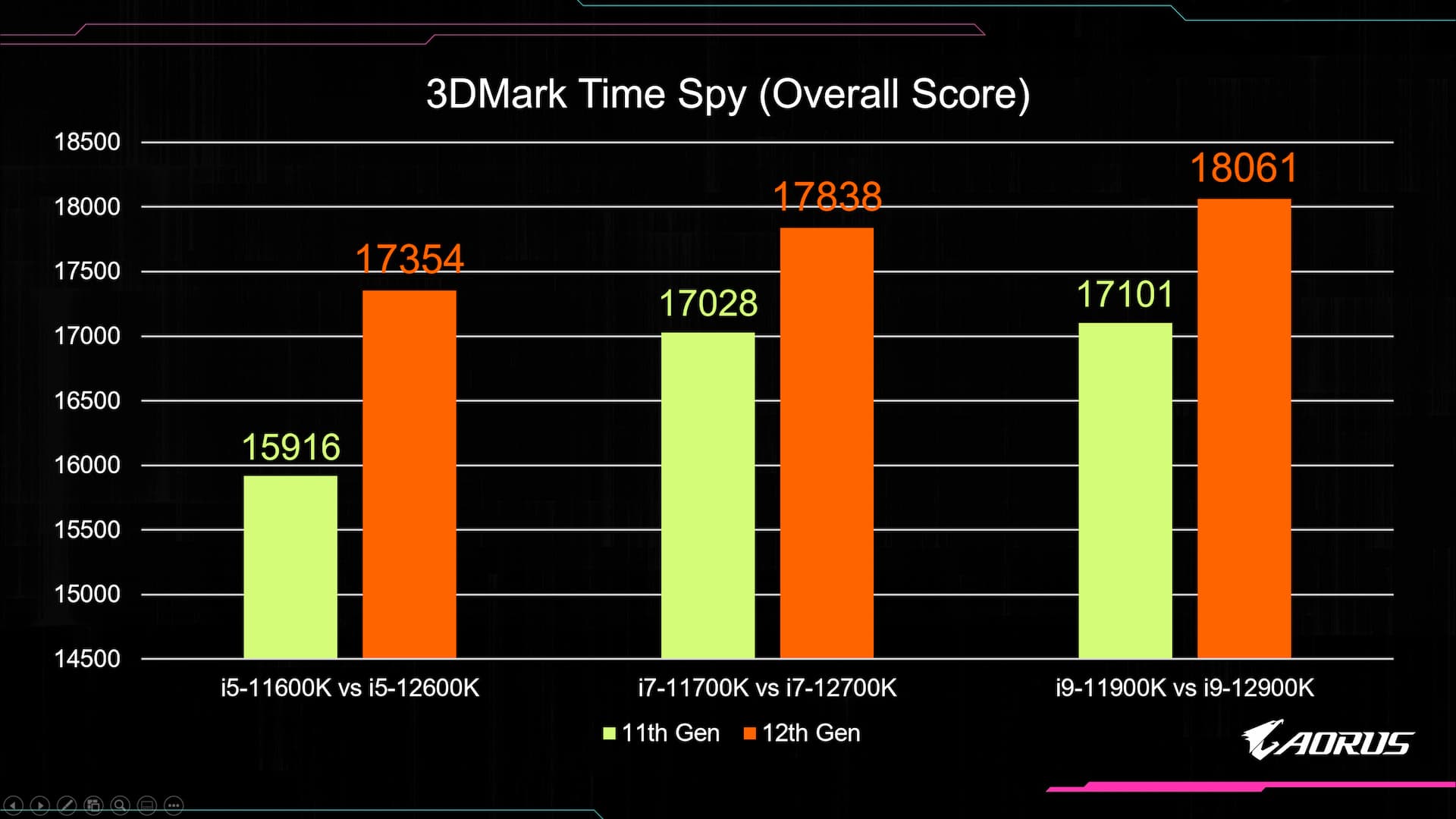 3DMark Time Spy: Overall Score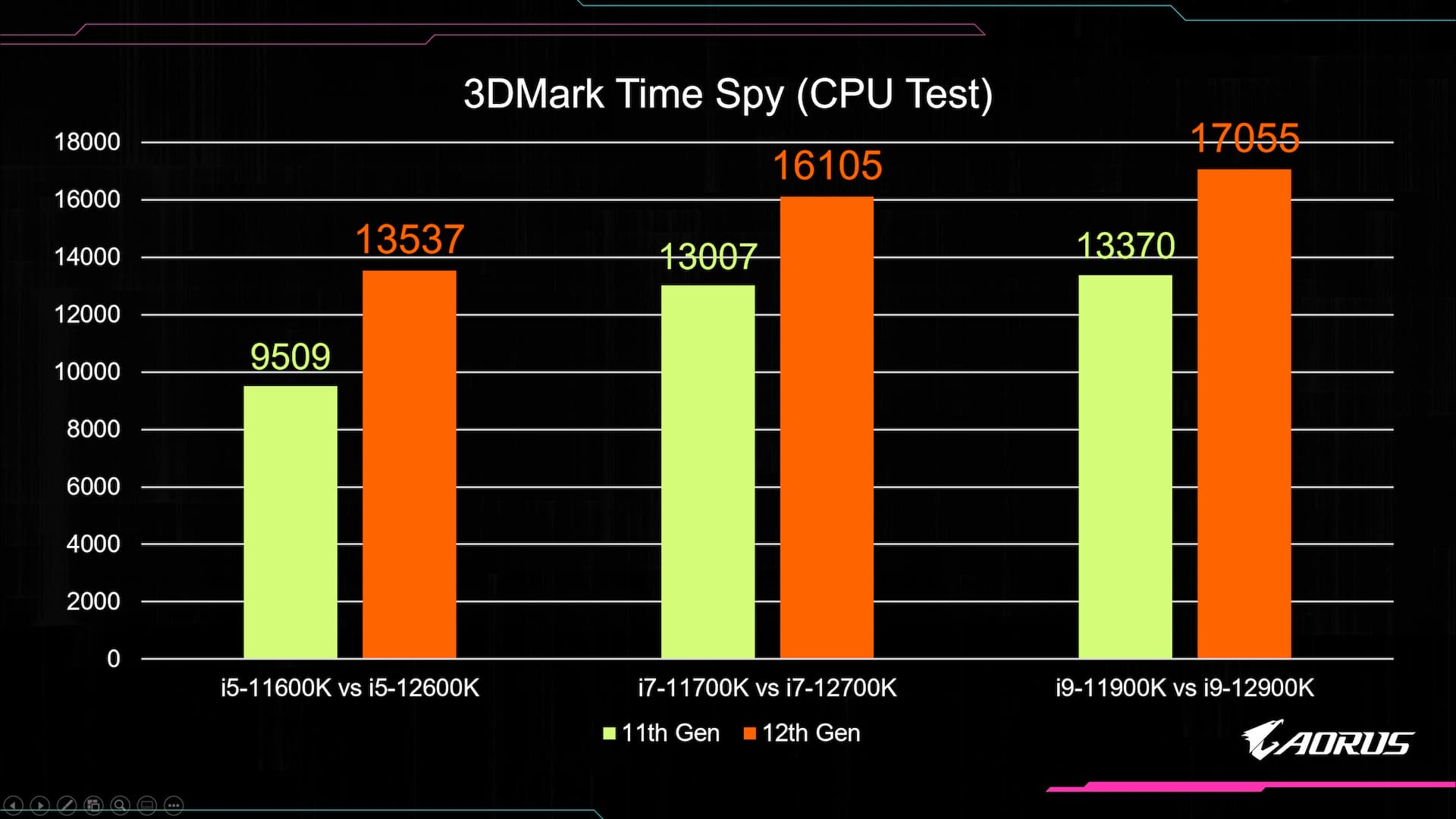 3DMark Time Spy: CPU Score
Next up, Fire Strike. You should pay close attention to this test because it somehow represents a 1080p gaming performance, which is quite sensitive to the CPU. The result is pretty amazing, with a 30% performance leap on an average and even an increase of up to 50% with the i9 processor.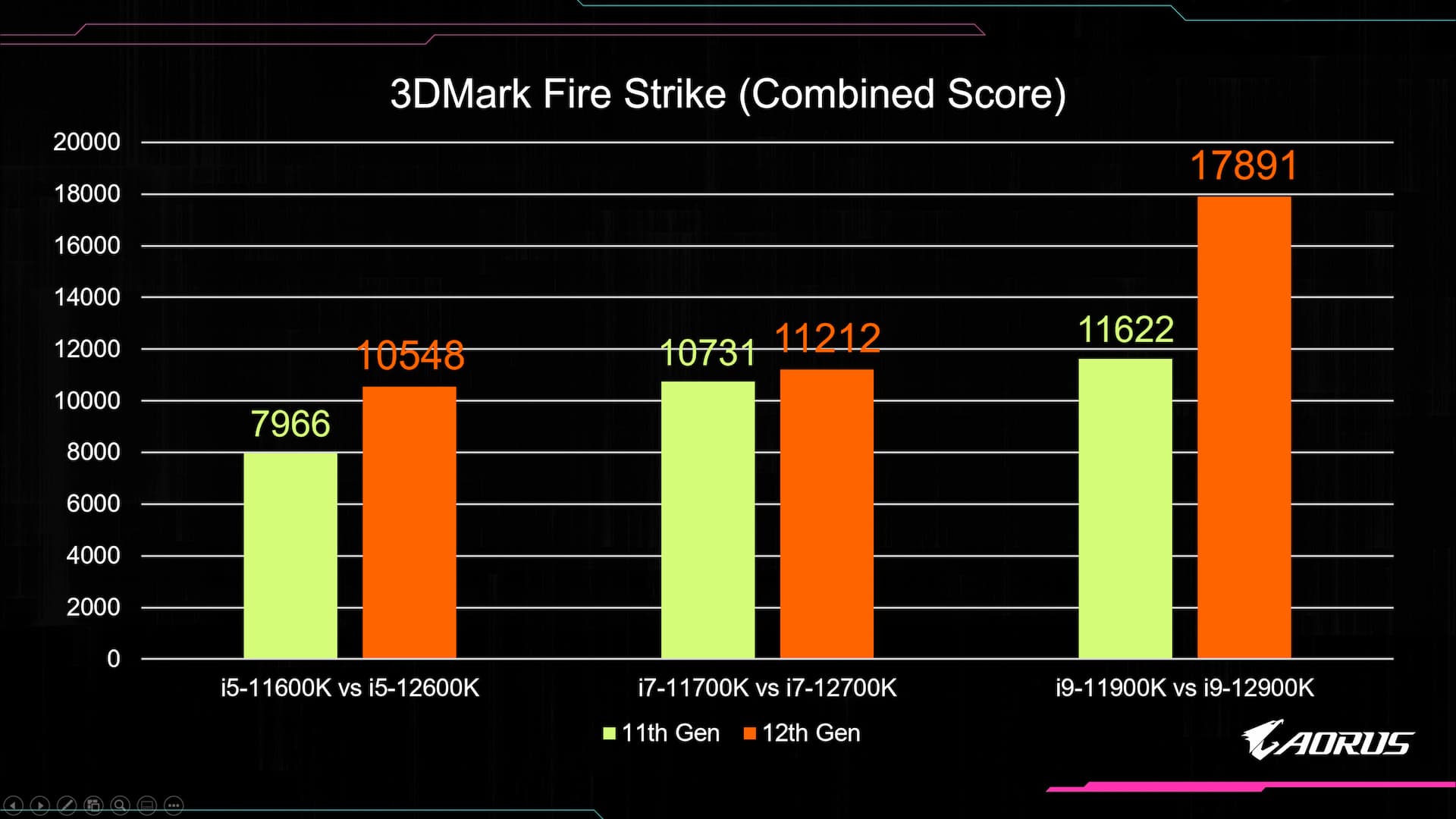 3DMark Fire Strike: Combined Score
The Game Tests
Now, the moment you have been waiting for – the game tests. A quick note: Given the time constraints, we've only conducted the game tests with the i9-12900K. We will keep you posted on the i7 and i5 performance when they become available.
Compared with i9-11900K, you can expect at least 5% of FPS boost under each title. For the classic first-person-shooting game CS:GO, we saw something even more amazing: a 40% FPS increase! It means that even by upgrading to the 12th-Gen CPU, you could enjoy a performance boost equivalent to that of a GPU upgrade, which is really impressive.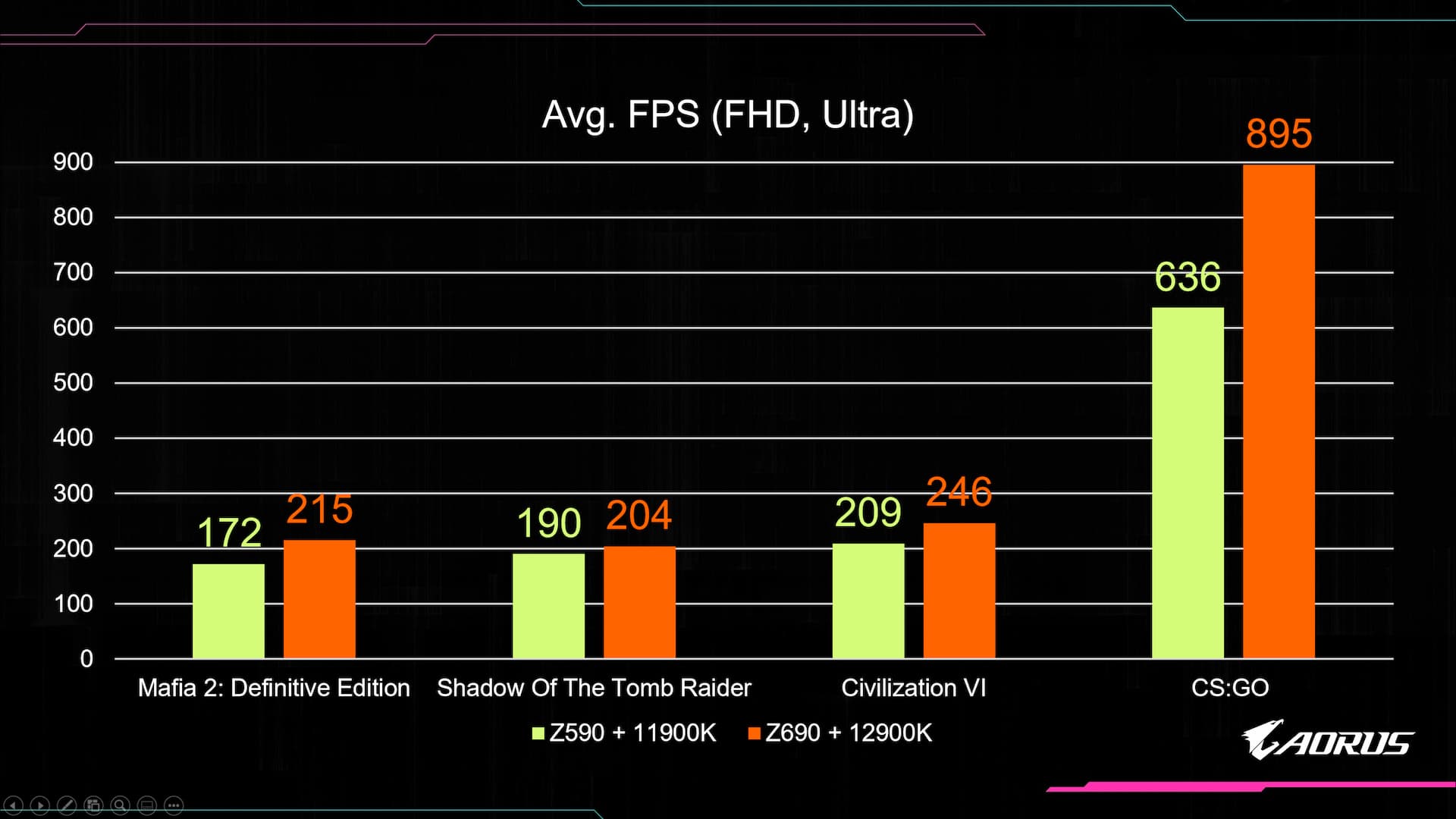 The Game Tests Result
Now let's move on to something more extreme. The robust power & thermal design of AORUS Z690 motherboards can further push your 12th-Gen processor to the limit, and at this juncture, we're going to show you how much performance you will gain under CPU & memory overclocking.

Benchmark: CPU & RAM Overclocking
We overclocked the i9-12900K to two cores 5.4G and another two cores 5.2G with Z690 AORUS Xtreme. Using Cinebench, we can see that an additional 4% of single performance was gained when overclocked. These kinds of performance boost in Cinebench could turn into a 3% FPS boost in each title.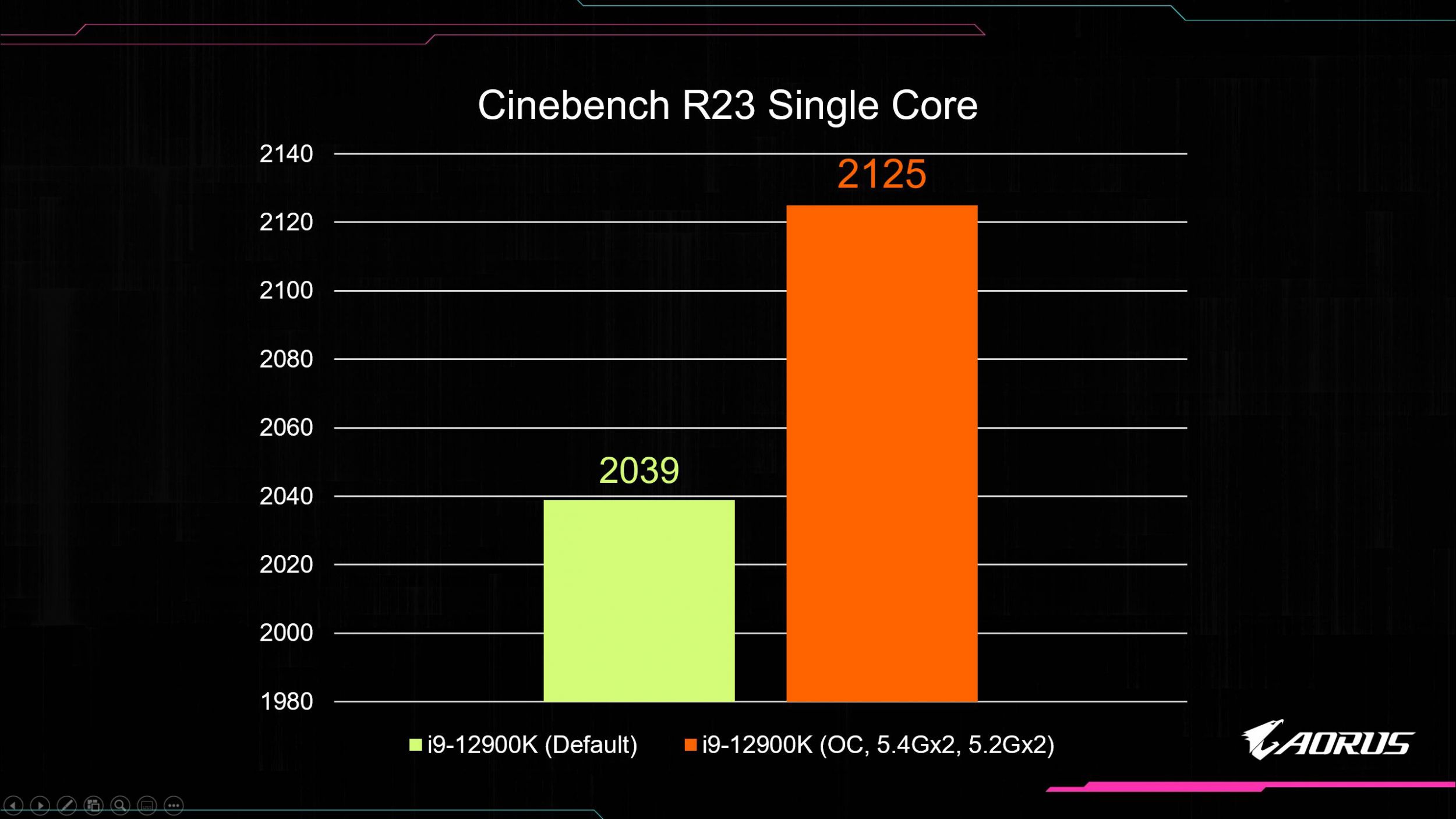 Cinebench R32 Single Core after CPU OC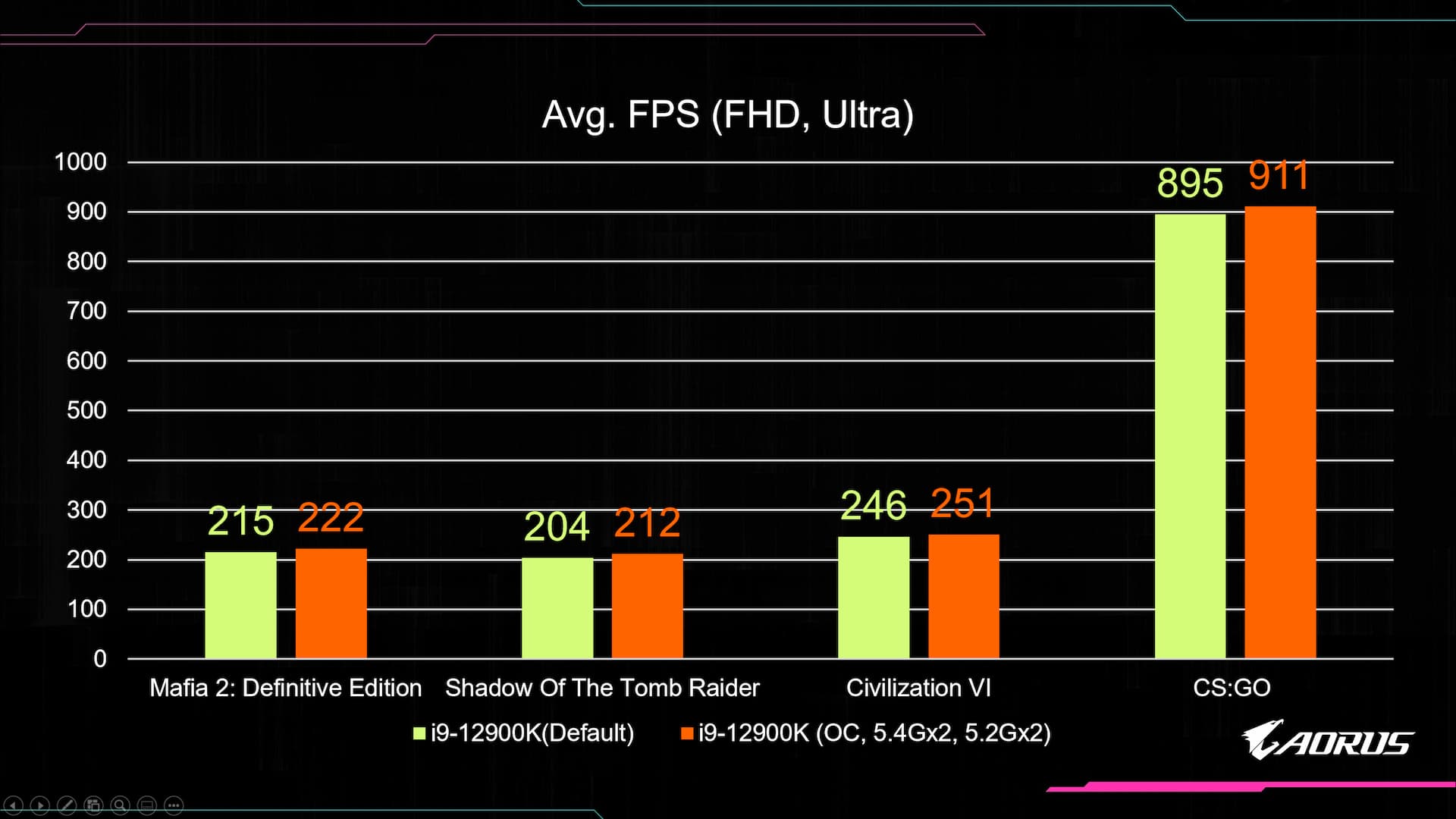 The Game Tests Result After CPU OC
Besides CPU overclocking, let's also take a look at how much additional performance could be expected from memory overclocking. After we overclocked the RAM from 4800 to 6200 Mhz, you can see that the PCMark score goes up to 9146 points. A similar level of performance boost could be found within 3DMark as well.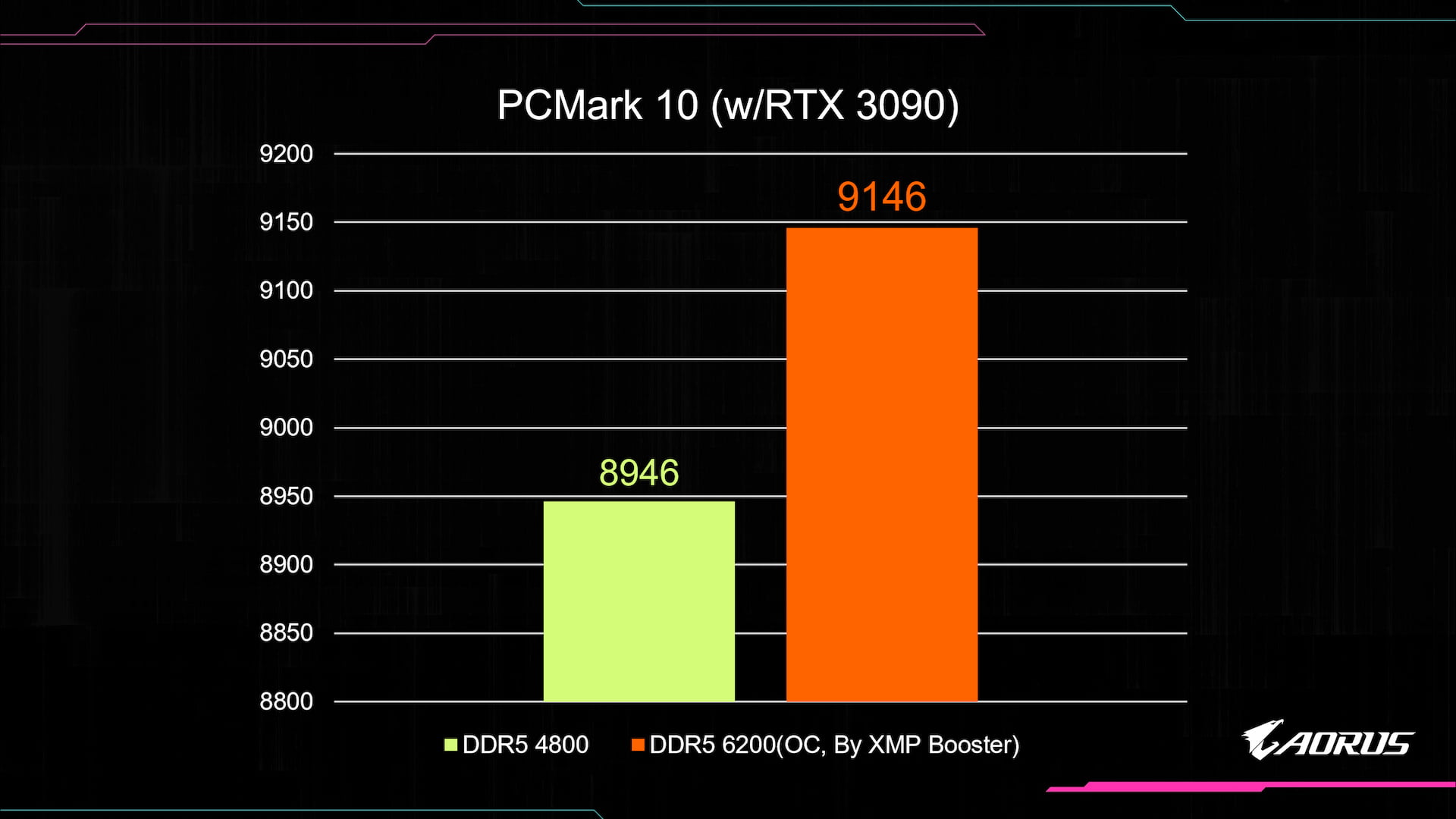 The PCMark 10 Test After RAM OC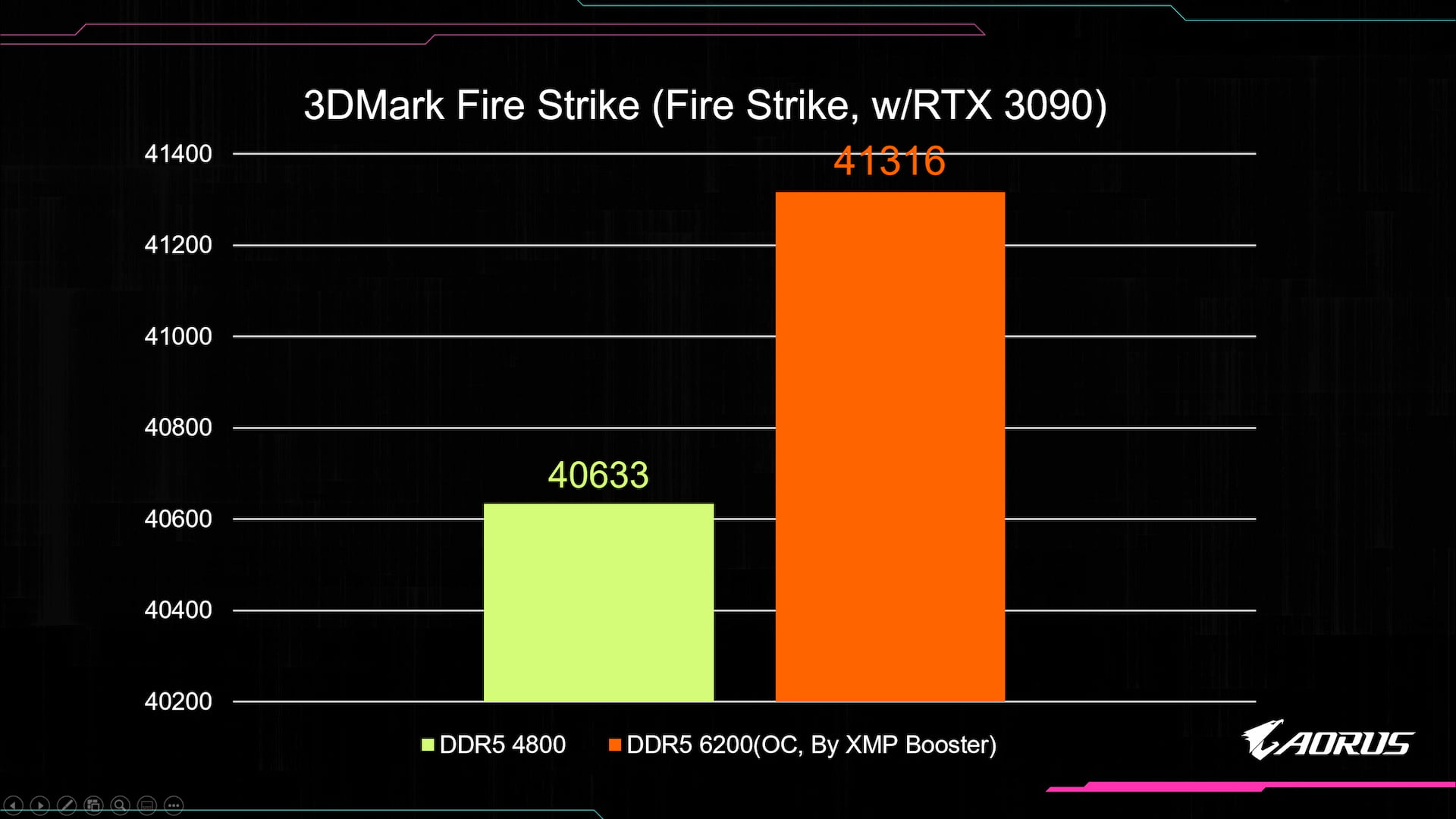 The 3DMark Fire Strike Test After RAM OC
Conclusion
To wrap things up, the 12th-Gen processors shine not just in single- and multi-core performance benchmarks but are also able to provide promising real-world performance including daily tasking, content creation, and gaming. If you want to have the best performance out of your 12th-Gen processor, you need a solid foundation to build on. The Z690 AORUS PRO we used for the test did just that with the robust 16+1+2 direct power design and cutting-edge Fins-Array II cooling technology for VRM. So if you're looking for a board that could push your 12th-Gen processor to the limit, the AORUS Z690 motherboards are definitely your best choice.

Learn More:
- Things you need to know when buying a Z690 motherboard
- 5 things you need to know before you buy an Intel 12th Gen CPU
- Beginners 101 – What is a Motherboard?
Tips for choosing:
- 5 Tips When Purchasing Your New Motherboard
- Beginners 101 – 5 Tips for purchasing a CPU cooler
- Beginners 101 – 5 Tips When Purchasing RAM