Introduction
AMD has recently announced their latest Ryzen™ 7000 processors offering, powered by the new Zen 4 architecture and sporting the new socket AM5. This release means that AMD will be firing on all cylinders with their addition of support for PCIe 5.0 and DDR5, bringing them in-line with the latest Intel offerings.
The new AM5 and Zen 4 release brings AMD into a new era of computing that provides all of the performance and horsepower that anyone could need, especially when looking to put together a new computer build.
So, what exactly is the new AM5 and Zen4 lineup from AMD? Well, let's take a bit of a dive into it and see exactly what it is all about.
AM5
With the upcoming release of the new Ryzen™ 7000 processors, AMD also upgraded the socket that is being used. This socket has been completely redesigned from that of the socket AM4 and offers a number of benefits from its new design.
Firstly, AMD is getting rid of the old Pin Grid Array (PGA) socket layout that they have used in the past and are instead going for a Land Grid Array (LGA) design instead. You may be familiar with LGA socket design with the Intel CPU range.
The new socket AM5 aims to provide a higher power output than its predecessor, with up to 230w of power delivery. This increased power output means that you will be able to get even more power and performance out of your computer. This is great for those that like to squeeze a little extra performance out of their PC with some overclocking.
Some of the big additions that AM5 makes possible is the inclusion of DDR5 memory and PCIe 5.0 support with up to 24 lanes for storages and graphics. In addition it also supports USB 3.2 Gen 2x2 and NVMe 5.0 M.2 SSDs. This offers the latest and greatest performance that is currently available for gamers. Being able to utilise these latest technologies means that you are left with a gaming rig that is an absolute powerhouse of a system.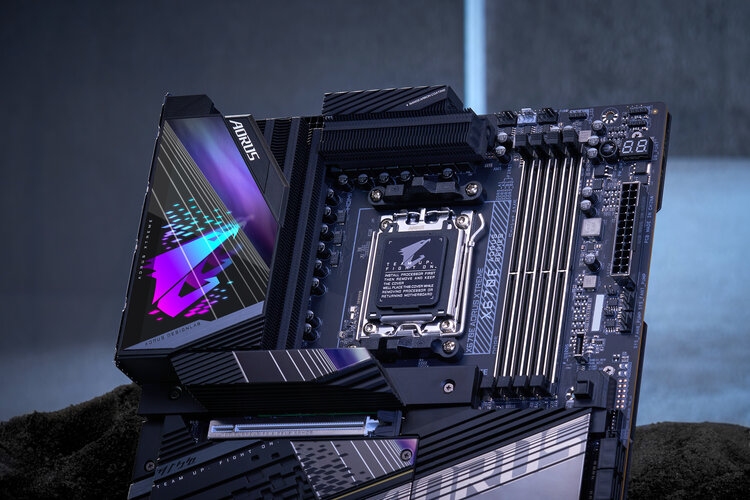 DirectStorage
The new AM5 motherboards also support Microsoft's DirectStorage feature. DirectStorage allows for gamers to get the most out of their NVMe 5.0/4.0 M.2 SSDs when it comes to gaming, enabling incredibly fast loading times and greater gaming performance.
In order to provide for faster loading times, the new DirectStorage API from Microsoft moves decompression from the CPU across to the GPU. As a result, this speeds up the entire decompression process and ensures that the files are exactly where they need to be when it comes time to render them. In addition this also frees up the CPU to focus on other tasks, further improving performance.
DirectStorage brings similar storage performance for games like we have seen with the latest Xbox Series X console. With games becoming more complex and demanding it is more important than ever to be able to get the fastest performance possible out of them.
AMD EXPO
Another key feature of the new socket AM5 is what is being called AMD EXPO™. This stands for EXtended Profiles for Overclocking technology and is similar to Intel Extreme Memory Profiles (XMP) technology.
By utilising EXPO ready memory, EXPO allows for incredibly simple, one-click memory overclocking, providing easier and safer overclocking. The inclusion of EXPO is perfect for those gamers that want to push additional performance out of their RAM but have not felt comfortable enough in the past to do manual overclocking, voltage modifying, and timing tweaks.
The benefit of tweaking RAM timings and frequencies is that you are able to get smoother performance across a varied range of tasks and activities, not just in gaming. By including a one-click method to achieve this, AMD has opened the door up to users to truly get the most that they can out of their DDR5 memory kits.
New AM5 Motherboards
The new socket AM5 is going to mean that you will need a new motherboard. There will be 4 segments of two chipsets that will be available for motherboards and will give gamers the choice to choose the motherboard that fits them best in terms of feature set, performance, and budget.
AMD X670 Extreme: This is the top dog in terms of motherboard offering for AM5. With PCIe 5.0 support for both graphics and storage, motherboards such as the X670E AORUS XTREME and X670E AORUS MASTER are the enthusiast boards for those looking to get the best performance possible. These boards will often have the most connectivity options available.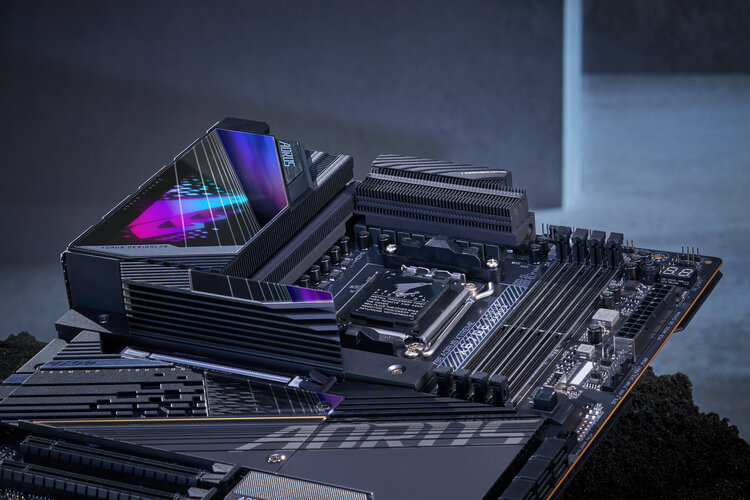 AMD X670: The X670 chipset offers enthusiast level overclocking options with PCIe 5.0 support for storage and optional graphics support. This is a great choice for those that want incredible performance but don't need all of the bells and whistles.
Zen 4 and Ryzen™ 7000 Series Processors
With Zen 4, AMD is making the move to a TSMC 5nm process die, allowing up to 16 cores and 32 threads. This improvement is something that is nothing but good news for gamers and content creators alike.
Zen 4 offers a peak clock speed of 5.7GHz, providing a 16% - 17% higher clock rate compared to the previous generation CPUs from AMD. These new Ryzen 7000 series processors are geared towards delivering higher performance with better efficiency.
When it comes to Instructions Per Cycle (IPC), the new Ryzen 7000 series sees an improvement of 13% over the previous Zen 3. While clock speed determines how many cycles a CPU can do in a second, instructions per cycle is how many things a CPU can actually do per cycle. By having a CPU with a higher IPC this means that your computer is going to be able to complete more tasks.
The new CPUs being released by AMD have integrated RDNA 2 graphics. This provides stunning onboard graphics and is actually the same graphical architecture found in the Radeon RX 6000 series GPUs, the Steam Deck, PS5, and Xbox Series X/S.
AMD is releasing a number of different Ryzen 7000 series processors, all of which are aimed at delivering incredible power for your PC. With a large range of CPUs being made available, gamers and content creators will be able to find a CPU that suits their budgets and requirements.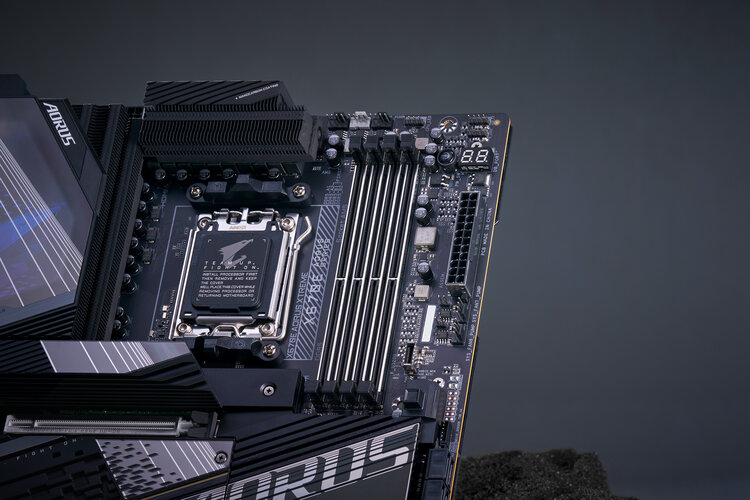 The following AMD Ryzen 7000 series processors will be made available:
Ryzen 9 7950X
Cores / Threads (Power + Efficiency): 16/32

Base / Boost Clock (GHz): 4.5/5.7

Cache (L2 / L3): 80MB (26+64)

Memory: DDR5-5200
Ryzen 9 7900X
Cores / Threads (Power + Efficiency): 12/24

Base / Boost Clock (GHz): 4.7/5.6

Cache (L2 / L3): 76MB (12+64)

Memory: DDR5-5200
Ryzen 7 7700X
Cores / Threads (Power + Efficiency): 8/16

Base / Boost Clock (GHz): 4.5/5.4

Cache (L2 / L3): 40MB (8+32)

Memory: DDR5-5200
Ryzen 5 7600X
Cores / Threads (Power + Efficiency): 6/12

Base / Boost Clock (GHz): 4.7/5.3

Cache (L2 / L3): 38MB (6+32)

Memory: DDR5-5200
PCIe 5.0
PCIe is the interface standard that is used for connecting the high speed components that make up your gaming PC. These include components such as your graphics card, sound card, stream capture card etc.
With the new release from AMD comes the support for PCIe 5.0 which is the latest PCIe standard and this is going to be a game changer for gamers going into the future.
PCIe 5.0 is what is replacing the previous PCIe 4.0 standard, and with this change comes a heap of extra performance. The most notable improvement is that PCIe 5.0 brings vast speed improvements. PCIe 5.0 essentially doubles the speed of PCIe 4.0 by supporting up to 128GB/s of bandwidth, 32GT/s of gigatransfer, and a frequency of 32GHz.
AMD Ryzen 7000 processors support up to 24 lanes of the PCIe 5.0 directly. This is going to lead to the availability of PCIe 5.0 M.2 SSDs in the near future which will see incredible storage performance being able to be delivered. The increased sequential performance of PCIe 5.0 will also prove to be a great boost for Microsoft's DirectStorage offering, allowing it to take advantage of the additional throughput.
PCIe 5.0 offers double the data transfer speeds with PCIe 5.0 NVMe storage when compared to current NVMe Gen 4 drives. This means insanely fast data transfer that will not only provide improved storage performance but will help improve performance of the games that you play. Developers will be able to truly utilise this increased speed to develop games that are more intuitive, seamless and demanding.
One of the key issues with PCIe 4.0 is that, although it can handle most of the hardware that is available at the moment, PCIe 4.0 will become the bottleneck when it comes to the development of new and improved hardware moving forward. Newly released computer hardware in the future is going to need the additional throughput and speeds that PCIe 5.0 offers in order to be able to deliver remarkable performance that we could only dream of a couple of years ago. This is especially true when thinking about new GPU hardware that will be released moving forward.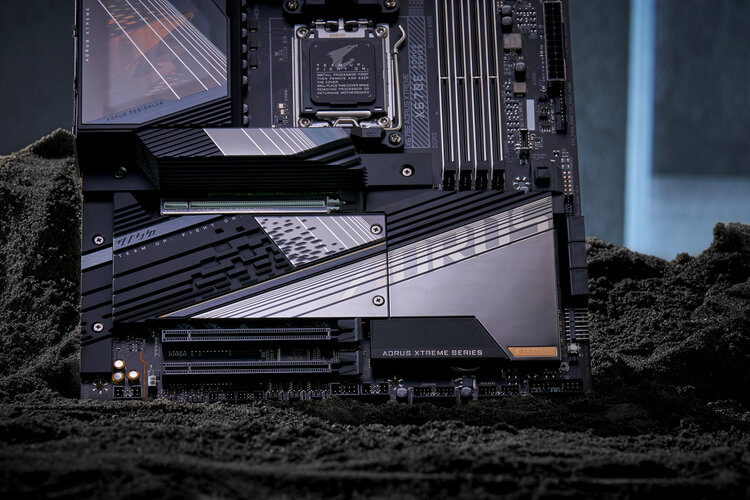 DDR5
DDR5 memory is the latest standard for computer RAM and brings incredible performance for more intensive workloads and applications. DDR5 basically out performans DDR4 in every way and provides all the performance needed for gamers and content creators.
DDR5 provides twice the bandwidth than that of DDR4 whilst also reducing the power consumption required. The improved bandwidth means that RAM is able to process things much faster which is especially important for more memory-intensive applications such as gaming and content creation.
When it comes to the frequency available for your RAM, DDR5 starts off at a very respectable 4800 Mhz and gets faster from there with the new AM5 socket supporting 5200Mhz by default.
If you are someone that utilises a lot of memory then DDR5 offers you support of up to a whopping 512GB of RAM.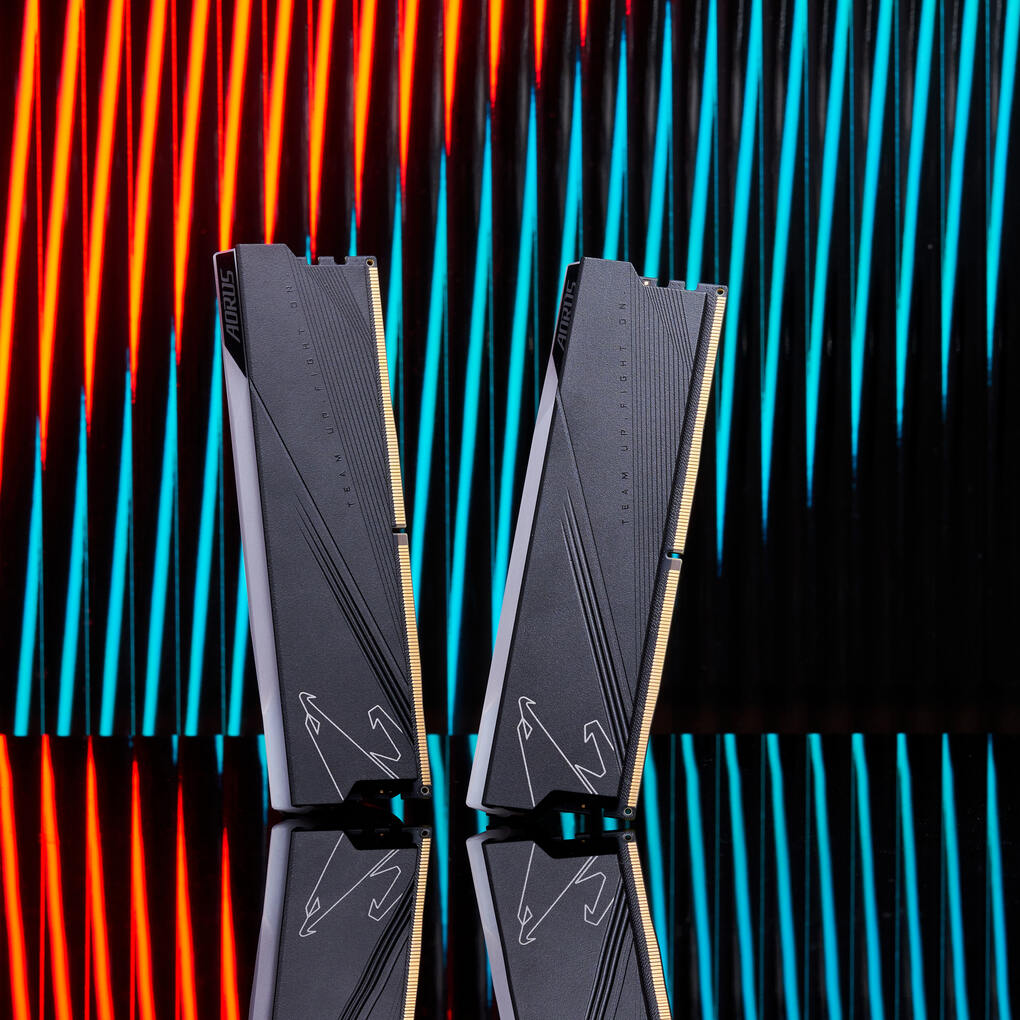 Learn More:
-DDR5 and PCIe 5.0 - What Are They and What Does It Mean for Gamers?
-AORUS NVMe Gen4 SSD: The Top Choice SSD for the PCIe 4.0 Era
-The Key to Stability: The Power Design of GIGABYTE Motherboard