With the recent announcement of the new socket AM5 and Zen 4 architecture from AMD, the new Ryzen™ 7000 series processors are shaping up to be absolute monsters. The great news about this is that now is the perfect time to start planning for that new PC.
Whether you are a PC gamer or a content creator, these recently announced AMD Ryzen processors will provide you with computing performance like you haven't seen before. This new generation of CPU will provide you with greater gaming performance and improved workflow performance as a creator.
So, today we are going to dive in and see what exactly is needed to take advantage of this next-level performance.
AM5 and Zen 4
Just recently, AMD announced that they are launching their latest generation of CPUs, the Ryzen 7000 series. With this new generation of CPU comes a host of big changes from their previous version which will not only see improved performance results but also the inclusion of support for new technology standards.
In order to deliver on this performance and feature set AMD has completely redesigned its socket and CPU design with the introduction of AM5 and Zen 4.
AMD has moved away from its previous Pin Grid Array (PGA) socket and has made the move to a Land Grid Array (LGA) layout instead. If you have been an Intel user previously you will notice that this is a similar design that is common with Intel CPUs.
This move to an LGA layout is required in order to be able to not only deliver the high performance of the Ryzen 7000 series processors but also to be able to deliver a higher power output than that of previous Ryzen processors. This is great news for those that want some of the most powerful CPUs available and also for those enthusiasts out there who like to indulge in some overclocking to push performance limits even further.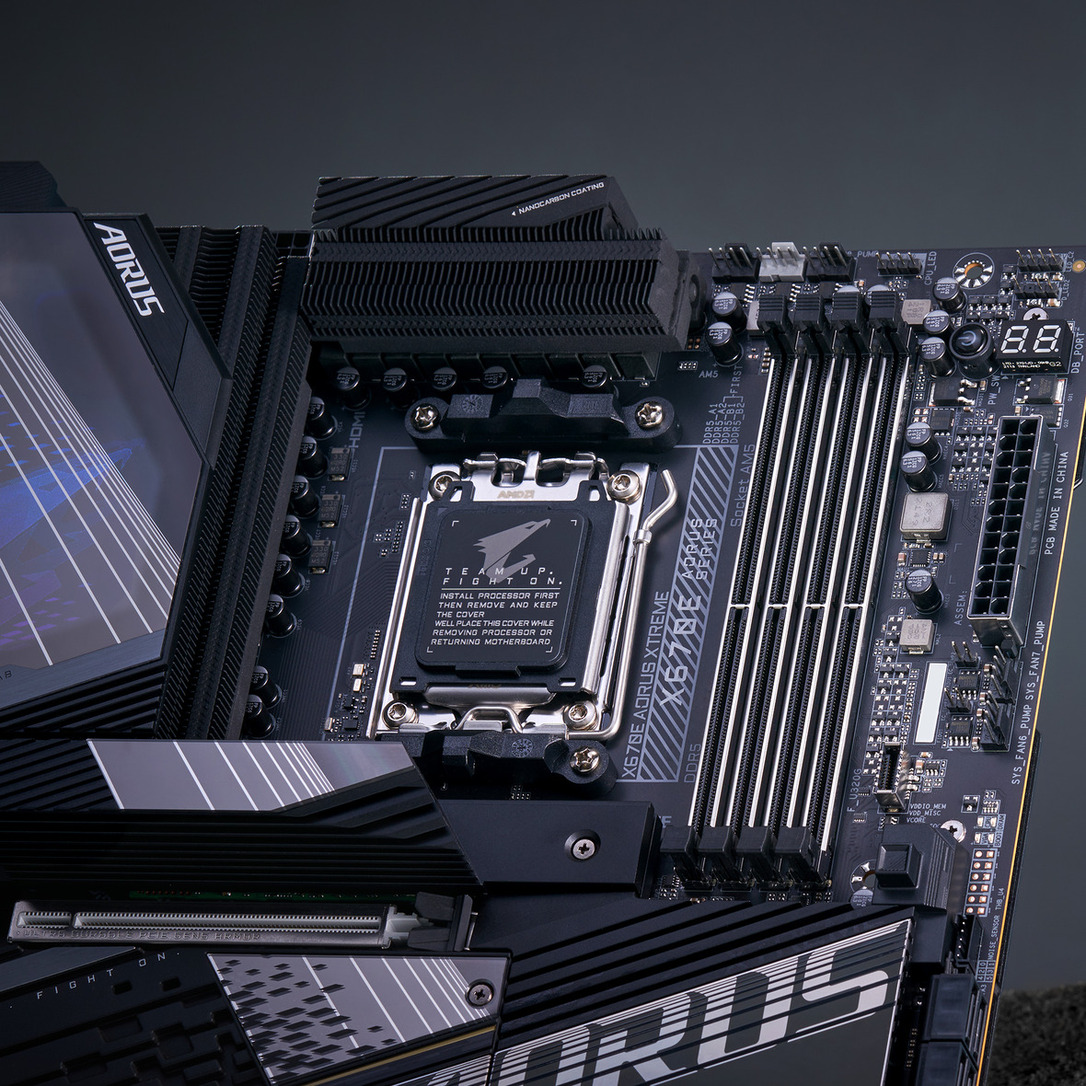 Other big changes to be introduced with AM5 and Zen 4 is that AMD motherboards will now be able to support DDR5 and PCIe 5.0. This is a huge deal for those that are looking to put together an incredibly powerful computer that supports the latest technologies. DDR5 memory and PCIe 5.0 components, such as GPUs and storage, will see much faster speeds and higher throughput as well as greatly improved efficiency.
Zen 4 is the latest architecture being utilized by AMD for their Ryzen 7000 series processors. This sees AMD making the move over to a 5nm process die which provides up to 16 cores and 32 threads. This provides both greater performance and efficiency when compared to previous-generation CPUs.
With clock speeds of up to 5.7GHz, gamers and content creators will see up to 17% higher clock rates when coming from older Ryzen processors. These new CPUs truly are aimed at high performance and incredible efficiency which is exactly what gamers and content creators need.
When it comes to integrated graphics, the new Ryzen 7000 CPUs have packed in one heck of a treat for you. This is the inclusion of RDNA 2 graphics being integrated. This not only provides amazing onboard graphics performance but it is actually the same architecture that is being used in the latest Radeon RX 6000 series GPUs, and high-performance gaming consoles such as the Steam Deck, PS5, and Xbox Series X/S.
Benefits for gamers and content creators
As we mentioned before, the new AM5 offerings from AMD are the perfect choice for gamers and content creators that want to increase the performance of their gaming rig and workspace.
Firstly, when it comes to raw processor power, the new Ryzen 7000 series will offer the perfect mix of performance and efficiency. This leads to greater FPS in games as well as faster computing for content creation tasks such as image editing and video production.
In addition to the increased clock rates that we spoke about earlier, the new CPUs have also increased the Instruction Per Cycle (IPC) that is available. For those that don't know, IPC dictates how many things a CPU can perform per cycle. Increasing the IPC with the Ryzen 7000 series processors CPUs in your computer being able you to perform more tasks, more quickly. In fact, Zen 4 sees an improvement in IPC of around 13% than that of Zen 3.
This increased IPC will be particularly beneficial for content creators and perform more demanding and intensive tasks on their computers.
DDR5 RAM will be able to be used with the new AM5 motherboards which both gamers and content creators will be able to take advantage of. DDR5 memory offers greater bandwidth than that DDR4 while also being incredibly energy efficient. As a gamer that helps to lead to increased frame rates in the game and a smoother all-round gaming experience.
As a content creator, you are likely going to be performing demanding and memory-intensive tasks with applications such as Adobe Photoshop, Adobe Premiere Pro, DaVinci Resolve, Unity, etc., and DDR5 memory is able to handle all of this for you. In addition to improved performance, you are able to utilize substantially larger amounts of RAM, up to 512GB in total.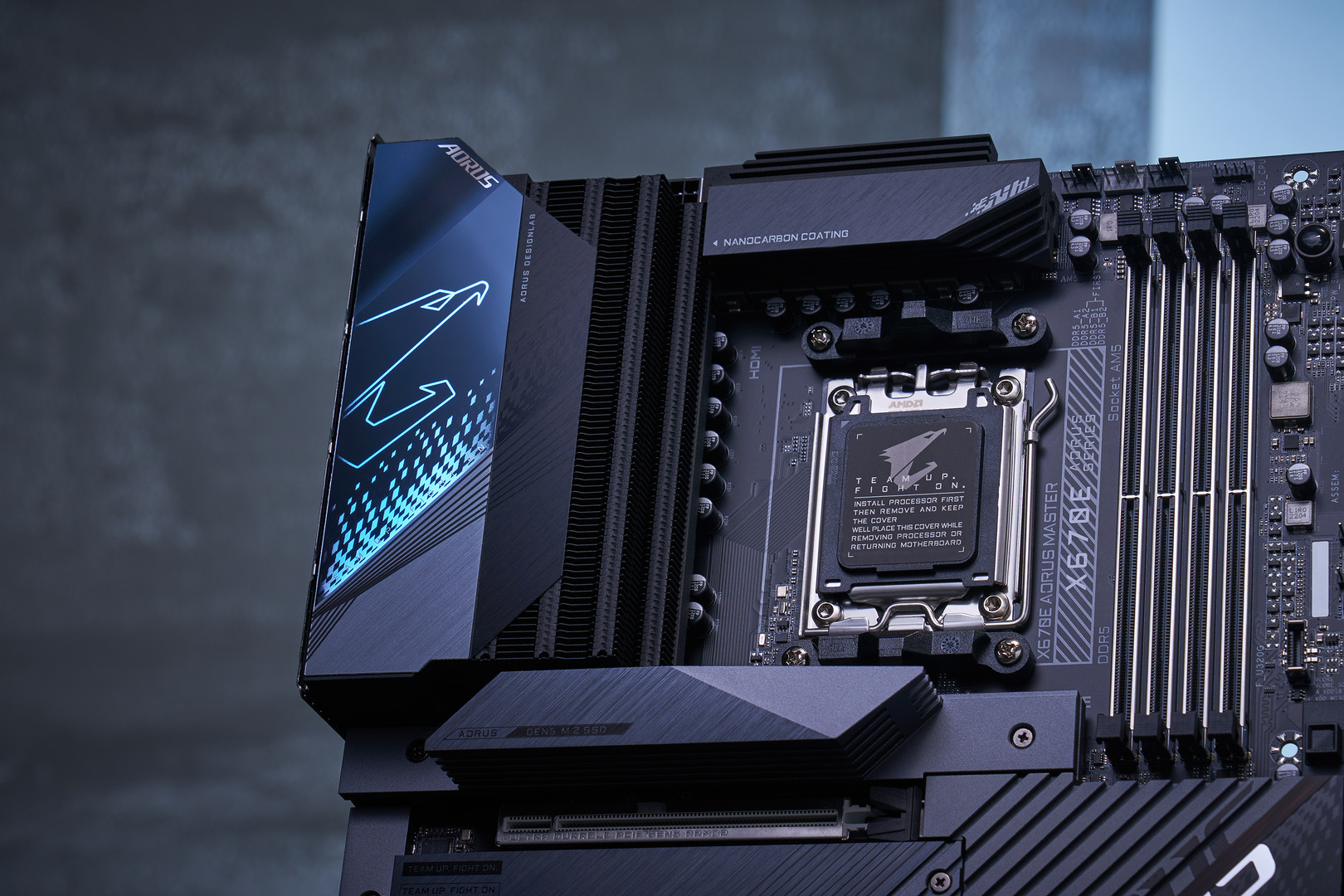 As well as DDR5 support, AM5 motherboards will also be able to provide you with PCIe 5.0. PCIe 5.0 is the new standard for PCIe and offers greatly enhanced performance over PCIe 4.0. PCIe is what is utilized for components such as graphics cards and capture cards, all of which require high amounts of throughput.
As new hardware such as graphics cards become available, they will require increased throughput and transfer speeds which just are not possible with the PCIe 4.0 interface. This is what PCIe 5.0 solves. With PCIe 5.0 supporting up to 128GB/s bandwidth, 32GT/s of gigatransfer, and a frequency of 32GHz, it really opens up the possibilities for hardware manufacturers to develop incredibly high performing hardware of the future.
PCIe 5.0 is also going to be able to support new NVMe M.2 SSDs which will provide blazingly fast performance for gamers and content creators. Content creators will see incredibly fast read and write speeds which is critical when working with either larger files such as 4K video raw files or multiple smaller files.
For gamers, one of the key benefits they will see is when it comes to loading speeds in games. The increased performance of PCIe 5.0 will complement the addition of Microsoft's DirectStorage API which moves decompression from the CPU across to the GPU. This speeds up the entire decompression process and provides you with insanely fast loading speeds, which is similar to that used in the latest Xbox Series X console.
What to look for when building your AM5 system
To make the leap to the new AM5 platform, gamers, and content creators will need to consider a few things before purchasing and building their new computers.
CPU
The first thing that you are going to need to do is to choose the CPU that you want to use. Obviously, you are going to want to choose a CPU from the Ryzen 7000 series range. For those serious about gaming and content creation, if possible you want to choose the CPU with the highest number of cores and threads that you can fit in your budget.
Thankfully, AMD has made a range of CPUs available, so you should be able to find one that fits within your budget.
Ryzen 9 7950X
Ryzen 9 7900X
Ryzen 7 7700X
Ryzen 5 7600X
Motherboard
Next, after choosing the CPU, you will want to choose the motherboard that you are wanting to go for. The new AM5 lineup will offer 4 segments of 2 motherboard chipset options in the form of X670 Extreme, X670, B650 Extreme, and B650.
X670 Extreme
If you are looking for the top-of-the-line, best-of-the-best when it comes to AM5 motherboards, the X670E series is the way to go. X670E supports both PCIe 5.0 for graphics and storage. These are the motherboards for overclockers.
The X670E AORUS XTREME and X670E AORUS MASTER is the perfect example of AM5 motherboards that is overflowing with features and packs in some of the best performance around.
Sporting Direct 18+2+2 and Twin 16+2+2 phase digital VRM, dual channel DDR5, next-generation 4*PCIe 5.0 x4 M.2 and 2*PCIe 5.0 x4 + 2*PCIe 4.0 x4 M.2 connectors for storage, enhanced VRM power stability thanks to Fins-Array III & M.2 Thermal Guard III, the X670E AORUS XTREME and X670E AORUS MASTER truly is the master when it comes to computing performance.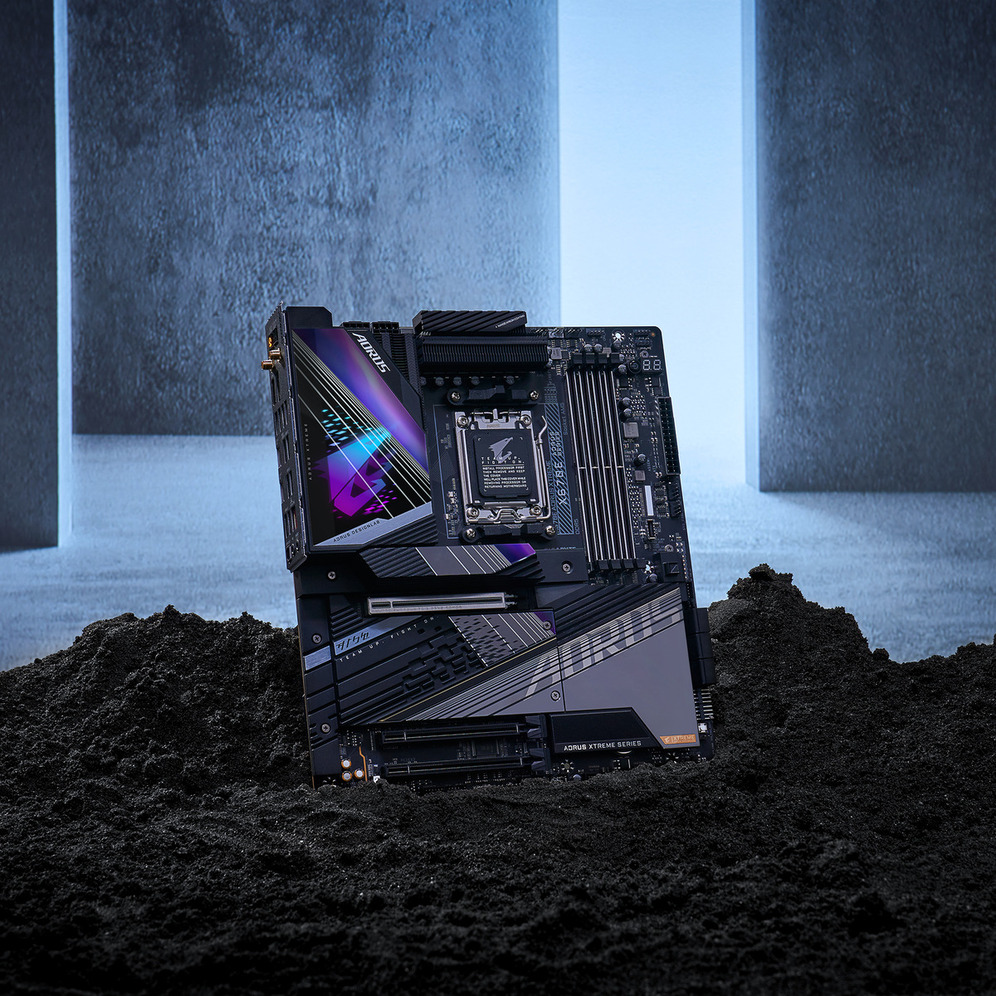 X670
When it comes to enthusiast-level AM5 motherboards, this is where the X670 chipset comes in with PCIe 5.0 support for storage and optional graphics support. This is a great choice for those that want incredible performance but don't necessarily care too much about overclocking.
The X670 AORUS Elite AX is one of the X670 AM5 motherboards that GIGABYTE is offering. It offers 16+2+2 phases digital VRM configuration and SPS 70A for the Vcore power design, and Infineon XDPE192C3 PWM controller. With dual-channel DDR5 memory and PCIe 5.0 storage support, this is a great option for those looking for a high-performing PC build.
B650 Extreme and B650
The B650E and B650 motherboards are great options for those that are looking to get into the new AM5 platform whilst working on a budget. Budget, however, does not mean that it doesn't perform great, in fact, these boards are beasts for their price.
They are perfectly aimed at users that don't care about overclocking and may not need PCIe 5.0 support (although it is available).
RAM
When it comes to RAM, gamers and content creators alike will benefit from going the DDR5 route if they can. Ideally, you want to choose RAM that is compatible with the new AMD EXPO™ that is being made available as part of the new socket AM5 and Zen 4 launch.
AMD EXPO™ is AMDs answer to one-click memory overclocking and offers an incredibly easy way to overclock your memory to get even better performance out of it.
AMD EXPO™ stands for EXtended Profiles for Overclocking and is a technology designed to allow users to achieve high-end memory overclocks when paired with Ryzen 7000 series processors. This is similar to Intel's Extreme Memory Profiles (XMP) and it provides a safe and proven way to overclock your RAM. This is fantastic for users that may not be comfortable enough with manually overclocking their memory.
When it comes to how much RAM you want, generally you can get away with 16GB of RAM, but as a gamer or content creator more RAM is always better. Try and aim for 32GB if you can.
GPU
For your GPU, being a gamer, content creator, or both, you will want to go with the best GPU that your budget will allow.
If you are a gamer that is looking to play the latest games at 1440p 144Hz you will want to try and look at something like the RTX 3070 series graphics, such as the AORUS Radeon RX 6800 XT MASTER TYPE C 16G.
If 4K gaming is something that you are more interested in, or if you are a content creator that produces high-resolution video, then you might want to look at something like an AORUS GeForce RTX 3080 MASTER 10G, or the AORUS Radeon RX 6900 XT MASTER 16G.
Choosing a GPU, such as the ones above, will provide you with incredible performance both while gaming and creating content, and will also allow you to you drive larger resolution displays.
Tips for choosing:
- Beginners 101 – 5 Tips When Purchasing a Power Supply
-DDR5 and PCIe 5.0 - What Are They and What Does It Mean for Gamers?
-AORUS NVMe Gen4 SSD: The Top Choice SSD for the PCIe 4.0 Era
-The Key to Stability: The Power Design of GIGABYTE Motherboard