Locked inside a chassis, screwed in place with no chance to move, restrained by a number of power cables, with little to no fresh air available during a number of years. This is the life of a long-lasting motherboard. How can we make it better?
Part of what makes it last for a long time is the quality of power and thermal design, known to be two critical areas of the motherboard. Can you imagine the amount of engineering resources put in place to develop the best solution? One to be used in millions of units that will impact millions of lives? It's madness!
We are living through very exciting times when AMD motherboards are the platform of choice to introduce significant design and engineering changes that will impact the entire industry moving forward. As a passionate AMD fan, do you notice you're breathing faster, your heartbeat is racing, and your hands started sweating? "What's new? What's new?" - You ask in excitement. Relax dear friend, and focus because this is a serious topic and we will lay down the blueprint for the perfect cooling solution. It's safe to say you are thinking about Smart Fan 5 but we'll not be talking about that today, pinky promise.
X470 AORUS GAMING 7 WIFI Thermal Design
Have you ever heard of VRM issues being discussed in some dark corner of the Internet? Issues caused by less than ideal number of power phases and/or suboptimal cooling solutions considering the applied load. The VRM design on the X470 AORUS GAMING 7 WIFI with 10+2 power phases got you covered, no matter what.
How happy are you with the overclocking potential of the 2nd Gen AMD Ryzen processors? The rise in popularity of AIO water cooling solutions, it's possible to bring all 8 cores of the new 2700X to 4.2GHz or more for everyday use. Combine that with high-speed DDR4 memory, and you have a Michelin level recipe for VRM issues (high current, no air flow).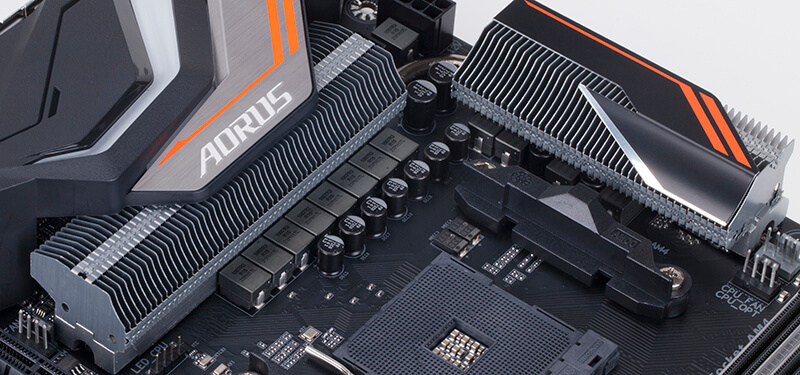 How would the perfect cooling solution look like? We can hear you saying "- Good looking while maintaining high-performance levels" and we couldn't agree more. So this is what we came up with: Fins-array MOS Heatsink + Direct Touch Heatpipe.
This brand new design has its roots in one of the most advanced flying creatures nature has ever seen, the eagle. We built a more robotic version of it, AORUS style, with an armored first layer of feathers with elegant strips of light. Think of the fins as the sleek feathers, the heatpipe as the structural bones and muscles doing the heavy work.
Stacked-Fins Heatsink
Together with the wing-shaped I/O armor, the fins-array is the most visible part of the cooling solution on this motherboard. The benefits of fins have been proved time and time again when it comes to heat dissipation: CPU heatsinks, VGA heatsinks, radiators, you name it.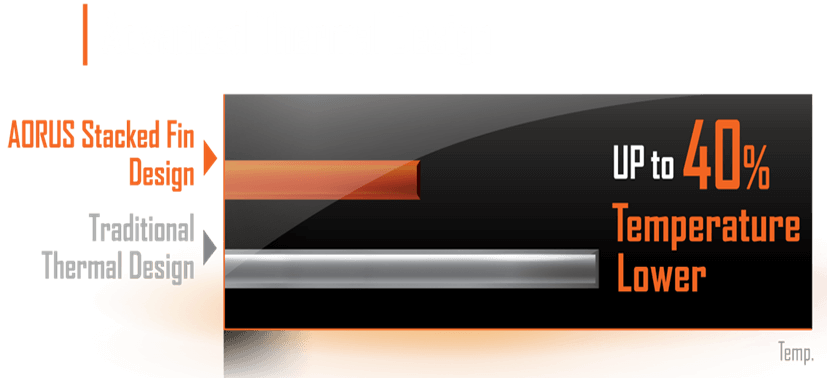 The surface area is around 300% greater than the one of a monolithic heatsink. This way, every little breeze will be maximized allowing for temperatures up to 40% lower, so important when you are overclocking or the system is under very heavy loads. Even if, at first sight, it looks like a small area, don't be fooled, it packs more than 100 fins! 102 to be precise! Heat will be gone in no time!
Direct Touch Heatpipe
As important as having a good dissipation area is to have a good contact surface between the heat source and the heatsink. Facilitating that, we have implemented a direct touch heatpipe. You don't really see it but you know it's there, giving its all for you.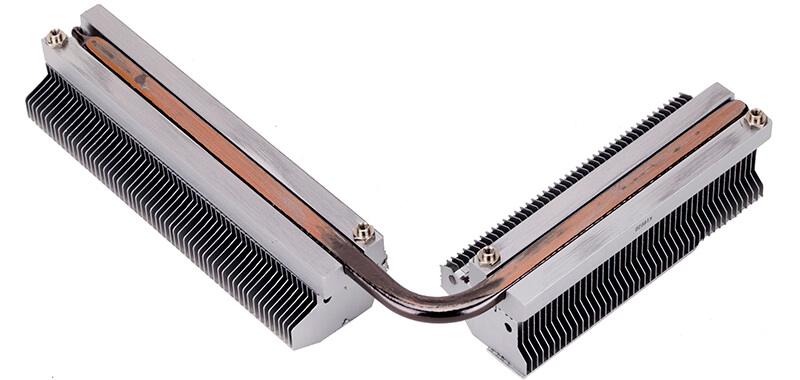 Mom used to say, you don't look good, but the inside is what matters. Indeed the interior is very important and the fantastic performance of the Stacked Fins Heatsink is enabled by a heatpipe on its lower surface and touching the VRM components. This heatpipe runs through the entire VRM area, connecting both heatsinks and thus promoting the efficiency of the entire solution.
Other small details include the usage of a good thermal pad as well as having the heatsink screwed tight to a base plate, locking everything in place with optimal pressure.
Join us as we upgrade to the X470 AORUS GAMING 7 WIFI, here's where you can read more about this motherboard: https://www.aorus.com/product-detail.php?p=777

Be sure to follow us on Social Media
Facebook | Twitter | Instagram