On April Intel just launched the latest 8th-gen Core i processor, featuring more cores and higher clock speed. There're totally two i7 processors: i7-8750H, i7-8850H and first i9 processor on the mobile platform: i9-8950HK. i7-8750H will take the place of former i7-7700HQ and is expected as the model which will be adopted most in the market and i9-8950HK features more powerful spec than its predecessor i7-7820HK. How about i7-8850H? It's the brand new processor and you will found it on AORUS X5 and X7 gaming laptop.
But does it really perform better than i7-8750H?
Let's take a look at the comparison chart below first:
| | | |
| --- | --- | --- |
| | i7-8750H | i7-8850H |
| # of Cores | 6 | 6 |
| # of Threads | 12 | 12 |
| Frequency | 2.2~4.1Ghz | 2.6Ghz~4.3Ghz |
| TDP | 45W | 45W |
| Overclock | No | Yes |
So now you can easily get the real difference of 8850H compared with 8750H: It not just features higher clock speed but most important of all, the capability of overclocking.
But you guys may get confused with it: Isn't only the K-SKU processor overclock-able? On former Kabylake platform, yes only the model marked as K could be overclocked, such as i7-7820HK. However Intel had slight change of that on the new Coffeelake platform: not just i9-8950HK but i7-8850H is also overclockable. Intel doesn't explain further why they made this change. But for end user, it's totally not a bad thing because now they have more options for overclocking on the laptop.
The New AORUS Gaming Laptop
The new 15 inch gaming laptop X5 V8 and 17 inch one X7 DT v8 are now equipped with i7-8850H overclockable processor and user who just step in the OC world could easily overclock the CPU with self-made software OC Gauge; For those OC masters they could use XTU (Intel Extreme Tuning Engine) to perform more detailed setting. At last, do realize the risk of overclocking and think more before doing it!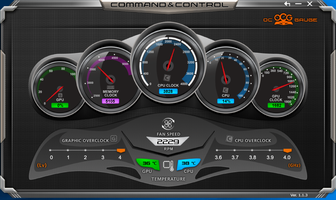 Learn more
X5 V8: https://www.aorus.com/product-detail.php?p=744&t=35&t2=&t3=
X7 DT V8: https://www.aorus.com/product-detail.php?p=745&t=35&t2=&t3=