Tilted by enemy flankers?! Not with AORUS Audio! If they try to pull that sneaky beaky like flank, use the sound of their footsteps against them and shut them down with that flickshot! Utilizing in-game sound gives you a tactical advantage and with AORUS Audio, you can outplay your opponents more consistently! Not only is AORUS Audio awesome for gaming, it's also perfect for users who enjoy watching movies or producing music on their PCs. AORUS implements an array of audio technologies to bolster the audio experience of our motherboards to audiophile level quality. Technologies such as an ALC 1220VB audio codec, high-end capacitors, ESS SABRE DAC, are reasons why AORUS Audio provides an audio experience like no other boards out there. Let's take a look at these various audio technologies and how they contribute to producing crisp, crystal-clear audio quality!
ALC 1220VB Audio Codec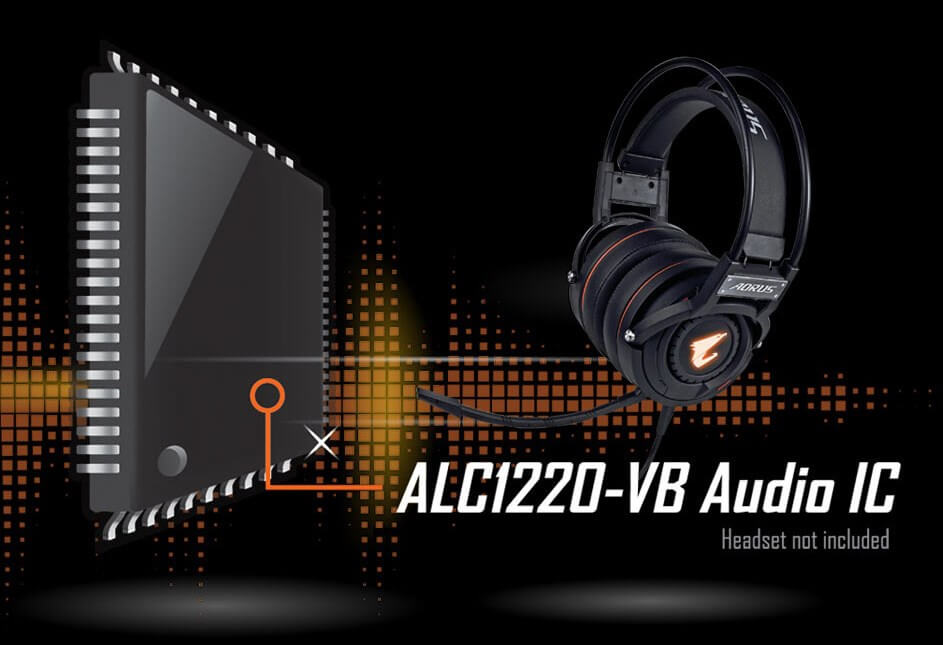 ALC1220-VB with 120dB SNR HD Audio brings to the table crystal, clear audio quality. The improvement in audio performance compared to previous generations is especially noticeable from the front-line output. Better noise levels, dynamic range, and THD (Total Harmonic Distortion) for the front-line audio makes ALC1220-VB one of the best in the sound game. Communicate with your teammates clearly so that you guys can ace the enemy and avoid any communication mishaps that may occur from poor audio quality. If you enjoy streaming and are striving to be the next streamer icon, the awesome audio clarity helps you broadcast your voice more clearly. Smart Headphone Amp auto-detects impedance on your head-worn audio devices to prevent annoying issues such as low-volume or distortion and provides optimal high-fidelity audio so you can listen to music the way your favorite artists intended for it to be listened.
High-End Capacitors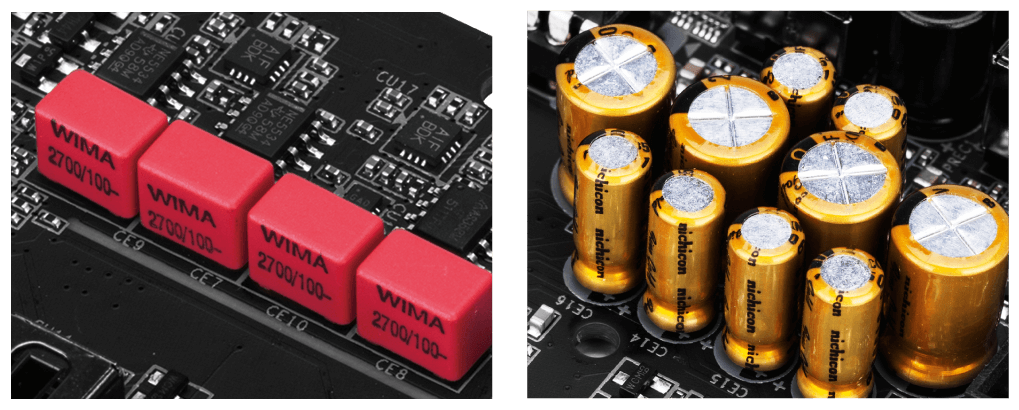 To enhance the nuances of the onboard audio quality by providing richer, deeper bass along with clearer high frequency sound, WIMA and Nichicon capacitors are integrated on AORUS motherboards. These are the type of capacitors that can be found in high grade audio equipment so it's only appropriate that they are also implemented on AORUS boards to truly bring that professional sound quality that audiophiles are accustomed to enjoying.
ESS SABRE DAC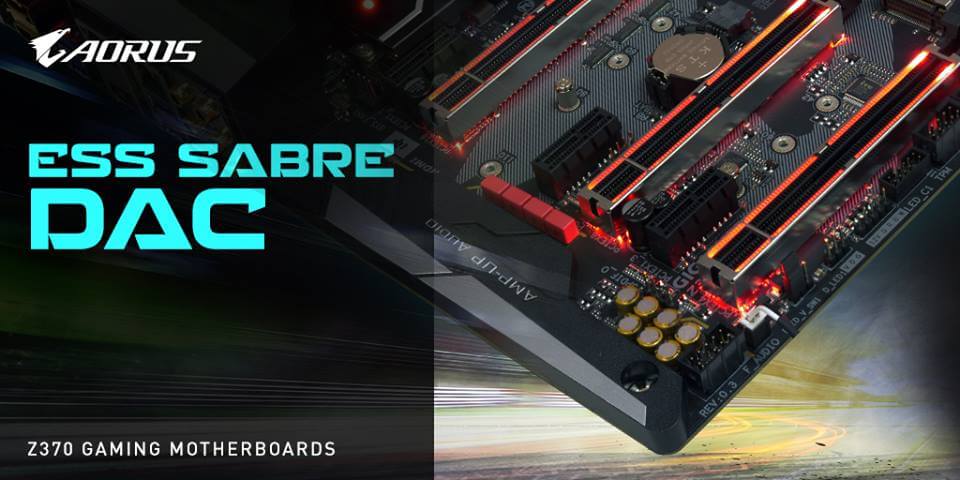 ESS SABRE DAC is top-of-the-line audio technology that elevates your audio performance to the next level. Usually found on audiophile devices, the integration of ESS SABRE DAC on select motherboards such as the Z370 AORUS Gaming 7 shows that the audio on these boards are built to satisfy even the most hardcore audiophiles. For those of you who have attended a live concert or symphony performance, you're going to love this technology. ESS SABRE DAC takes the sound environment of a concert and integrates it into your motherboard. Sure concerts are amazing fun but if you are craving those concert vibes and trying to avoid rubbing elbows with sweaty concertgoers yelling at the top of their lungs in a claustrophobic environment, ESS SABRE DAC brings that concert level audio experience to your PC!
AORUS Audio
AORUS Audio is the way to go not only if you're looking for audiophile level quality but also if you just value better sound in general. We can talk about the audio all day but you have to try it for yourself to experience that AORUS sound quality! If you're interested in learning more about AORUS motherboards, hop on over to the AORUS website: https://www.aorus.com/product-list.php?t=53