So, you are in the process of putting together a brand-new gaming build or upgrading your current build so that you can play the latest and greatest video games. Excitement levels are set to maximum and you are ready to pull the trigger and get building, but then the common question arises… What is the best buy graphics card, also referred to as a video card?
With so many options available to you it can be daunting when it comes to choosing the most suitable graphics card for your requirements. This is where we aim to make your gaming PC building experience a little easier, thanks to our 5 tips to consider when purchasing your new graphics card, you will be able to find the best buy graphics card.
Let's jump right in!
Be conscious of budget
The most important thing to remember when purchasing your new graphics card is your budget. At the end of the day, you only have so much money to spend and that money often needs to be shared between other hardware purchases.
Be conscious of your budget!
You do not want to overspend on your graphics card if you don't have to thanks to the fact that there are so many video card options available nowadays. There are many fantastic cards that offer brilliant performance for their price such as the AORUS GeForce GTX 1660 Ti 6G.
Something like the AORUS GeForce GTX 1660 Ti 6G can get you up running in all of the latest games and will see you fragging away for a very long time.
If you do require something with a bit more of an FPS kick but are tight on budget, perhaps think about compromising on other hardware you may be looking to purchase and use the money saved there to put towards a before GPU.
Think about what you want to get out of your new graphics card
One of the most important things to consider is what exactly do you want to get out of your graphics card? There is no point buying the most expensive card available if you only want to do light gaming at 1080p and on the other side of the scale there is no point buying the cheapest video card you can find if you want to do 4k gaming or virtual reality.
Think about what kind of games you want to play and let that help inform your purchase.
If you are only wanting to do 1080p gaming and are only needing around 60 FPS then you don't need to purchase the latest and greatest card out there. Something like the GTX 1660 will do a great job for you and will come in at a much more affordable price.
If you are wanting to game using multiple gaming monitors r at a higher resolution then you will need to look at something with a little more firepower such as the AORUS GeForce® RTX 2070 SUPER 8G.
If you pursue the ultimate ability of gaming or you can't wait for any second when editing, render your works, then you probably need AORUS GeForce RTX™ 3090 XTREME 24G.
Learn More: Unboxing AORUS RTX 3090 EXTREME
One bonus tip for you is to always leave yourself a little wiggle room with the performance of the GPU. Being able to squeeze a few extra FPS out of your GPU will provide you with more gaming options and will give you a little bit of extra future-readiness.
Consider Size and form factor
Size really does matter when it comes to computer hardware, and the graphics are no exception. Graphics cards come in all different shapes, sizes, and most importantly, length.
You don't want to spend your hard earn money on a graphics card just to find out that it doesn't fit inside your case.
Take note of what form factor PC build you have and find a card that will fit. If you have a low-profile computer case then you will want to look for a low-profile graphics card. If you are using a mid-tower or full-tower case then you have more options available to you but also ensure that you double-check the length.
Computer cases such as the AORUS C300 GLASS provide internal measurement specifications on their product pages to make this process much simpler for you.
Determine your connectivity requirements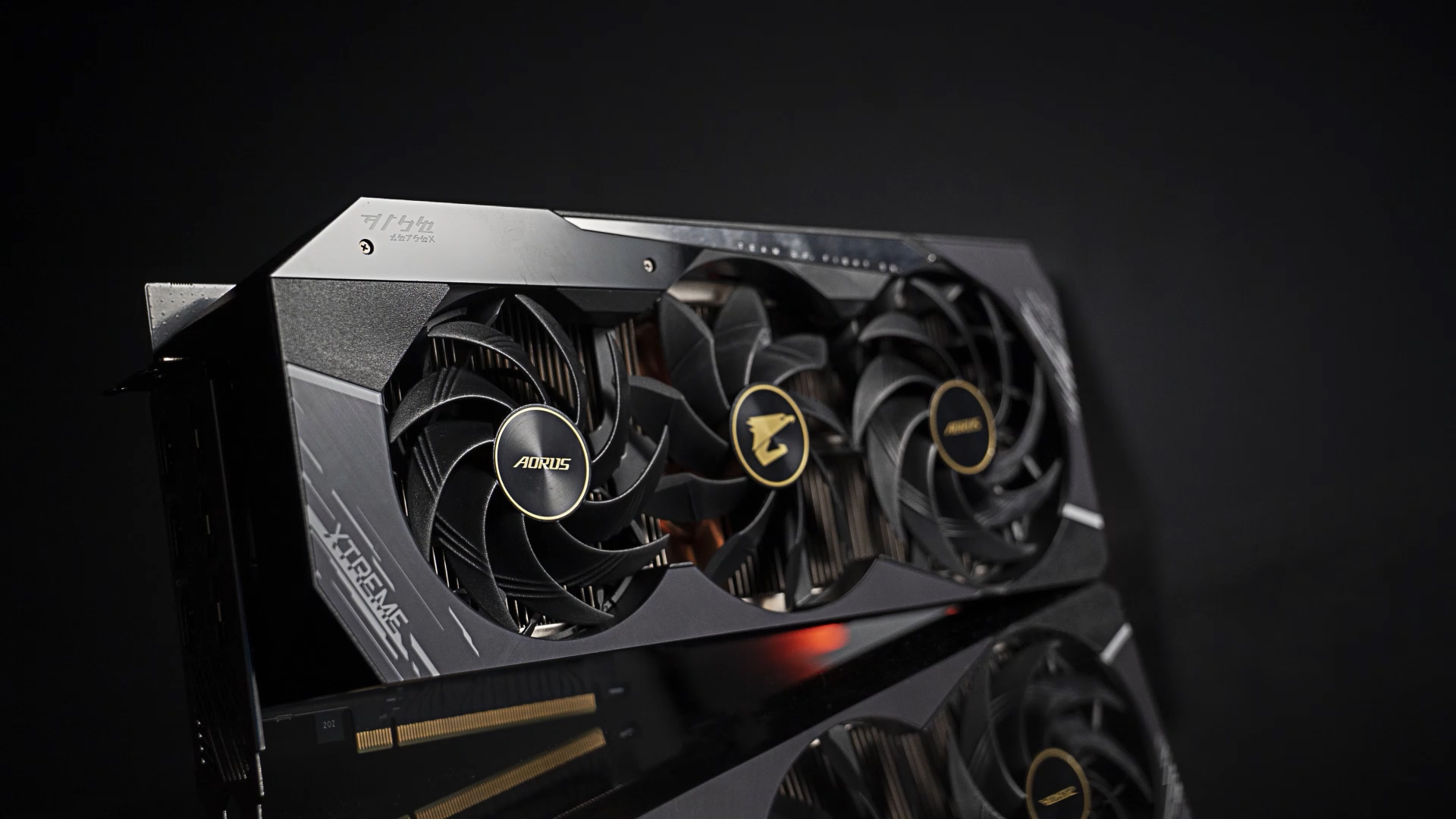 Take the time to think about what display devices you want to connect to your gaming PC. Think about how many you want to connect and what connection do you need for them.
All too often gamers go to connect their monitors just to find out that the GPU and monitor don't share the same connection types. Always double-check the connections that you require.
Are you going to be running a multi-monitor gaming setup? If so ensure that your graphics card supports multiple monitors and also ensure that the card you choose has enough grunt to make use of your dual AORUS CV27Q Gaming Monitors.
Virtual reality provides an incredibly immersive gaming experience and thanks to the advancements that have been made VR gaming is more affordable and accessible than ever. If you are wanting to dive into the world of VR gaming, special consideration needs to be given to your graphics card selection.
VR headsets require multiple connection options and there is a minimum specification requirement for the graphics card so ensure to check that your graphics card choice supports VR gaming.
Ray Tracing – The next level of gaming
If possible, pickup up a graphics card that supports ray tracing. Ray tracing is the latest advancement in graphics when it comes to PC gaming. It provides a more immersive and realistic gaming experience thanks to its ability to create incredibly realistic lighting effects.
Ray tracing produces dramatically lifelike shadows and reflections thanks to an algorithm that allows it to trace the path of light and then simulate the method in which that light interacts with the world around it. This results in an immersive PC gaming experience unlike anything before.
In order to take advantage of ray tracing you will need to have a graphics card that supports the technology such as the AORUS GeForce RTX 2080 SUPER 8G or AORUS GeForce RTX 30 Series.
Conclusion
The thought of building a brand-new gaming PC is incredibly exciting. If you follow these 5 simple steps you will be able to choose the best buy graphics card that ticks all of your requirements.
With the right graphics card, you will be able to enjoy all of the games that you love and be able to play the newest games on the horizon.
Learn More :
-Unboxing AORUS RTX 3090 XTREME
-Beginners 101 – What is a Graphics Card?
-Beginners 101 – What is a Motherboard
-Beginners 101 – What is SSD and HDD Storage
Tips for choosing:
-Beginners 101 – 5 Tips When Purchasing RAM
-Beginners 101 – 5 Tips When Purchasing SSD and HDD Storage
-Beginners 101 – 5 Tips When Purchasing a Power Supply
-Beginners 101 – 5 Tips When Purchasing a Computer Case
-Beginners 101 – 5 Tips for purchasing a CPU cooler
-Beginners 101 – 5 tips to get started as a video game streamer