What's a Gaming Laptop?
Due to safe social distancing, more people find themselves at home, devoting their free time to PC gaming. In the past, people preferred to only play PC games only on desktop PCs due to their more-powerful performance. However, with the breakthrough of silicon tech, laptops can now deliver a similar high-end performance which can run AAA titles for a smooth gaming experience. Nowadays, gaming laptops are commonly used for both work and play and are a perfect match for handling any type of environment.
Performance: The Core of Gaming Laptop?
PC gaming has come a long way with its close-to-real textures and stunning gameplay visuals. However, many of the new AAA games require more GPU power than ever before. So if you're looking for a gaming laptop, any model with an NVIDIA GTX or RTX GPU will be your "go-to" choice. If you really care about the graphic quality in-game such as lights, shadows, reflections…...etc., it's suggested to go for the higher-end of RTX GPUs like the RTX 3080 Ti or RTX 3070 Ti. As for the CPU, although it's not as critical as GPU for PC gaming, it's still the data source of GPU, which will affect GPU performance if it's not powerful enough. As a result, it'd be better to opt-in the model featuring Intel Core i7 or i9 H series processors. Compared to the U series, the H series processor possesses higher performance (15~20% higher) and more processing cores, which is the perfect matchup with an RTX GPU.
But everything comes with a price: the powerful GPU & CPU means more heat will be generated. The heat problem will become more critical in the limited chassis space of a laptop: it will cause CPU & GPU throttling which will lead to stuttered gameplay, game crash, or even shorter lifespan of critical electric parts on the laptop. So it's suggested to choose the model with multiple heat-pipes & dual fans. Some gaming laptops even feature CPU/GPU sharable heat-pipe which will increase thermal efficiency. While running games, the GPU shares more load, and with a shared heat-pipe there will be more heat conducted via the pipes and thermal efficiency will be enhanced as well.
RAM & Storage
Besides CPU & GPU, RAM & Storage are also critical when it comes to having a smooth gaming experience on a laptop. When it comes to the RAM, it's suggested to go for the model with at least 16GB in size which is composed by using dual-channel, ensuring enough space & speed for game loads. As for the storage, choosing models with SSDs is a must. Compared with HDD, SSD features a much-faster accessing speed, this is important because PC games nowadays get extremely big in size, and only with an SSD can the game be loaded in the fastest time. However, it would be better to go for the models which offer good SSD upgradability, such as having dual M.2 slots, for storing more games.
Network Performance
Network performance is also important for a gaming laptop. No one likes to see network lag or disconnection while gaming. Even though the network bandwidth provided by your ISP (Internet Service Provider) is high, it would be a total waste if the laptop doesn't support next-gen connectivity. So it's suggested to choose the model with the next-gen connection such as WIFI 6E which provides the optimal network for competitive online gaming.
Display: Smooth Gameplay Matters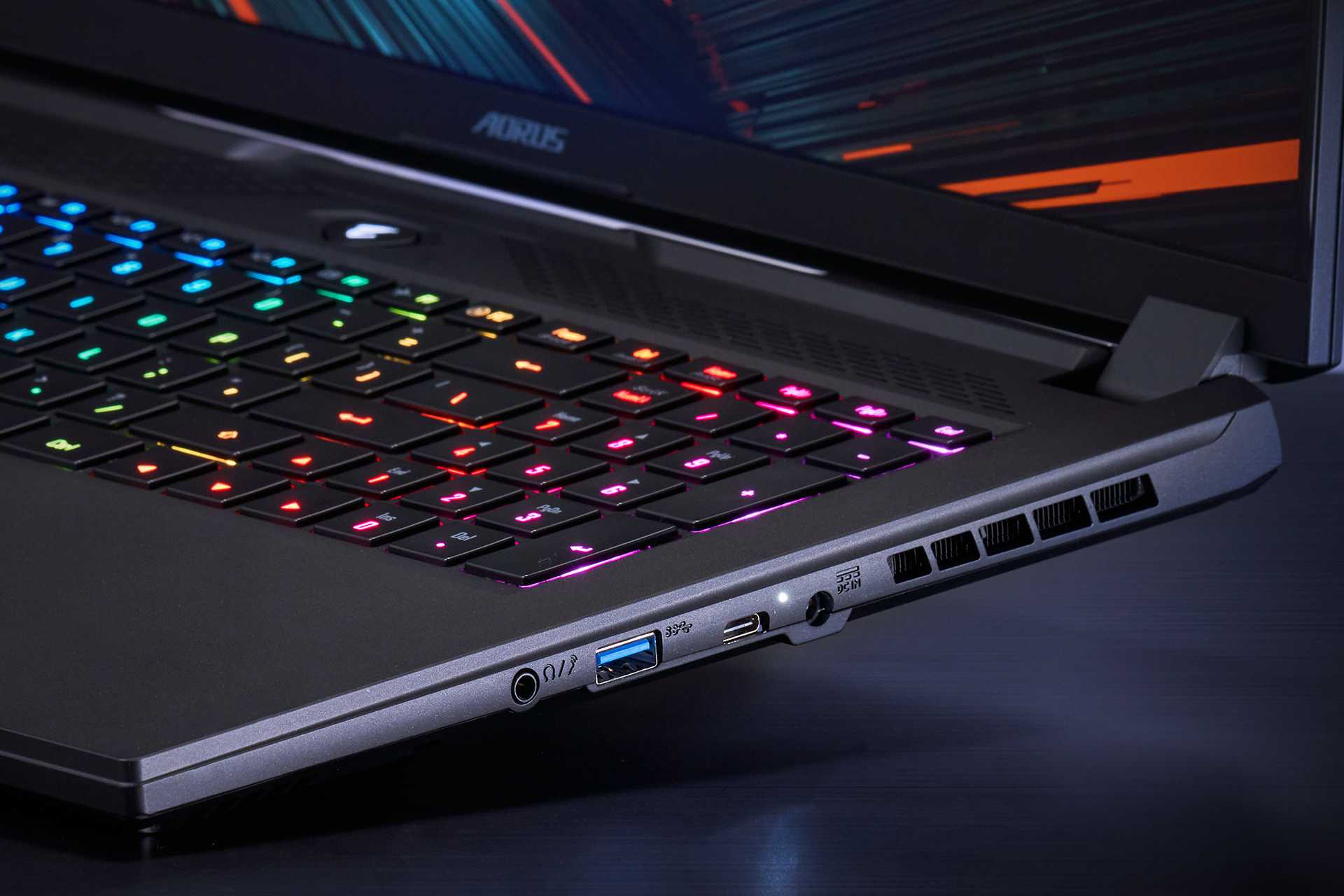 Having the right display shows how great the hardware performance benefits the gameplay. This is another important choice when choosing a gaming laptop. There are three important criteria for display: smoothness, color gamut, and color accuracy. Among these criteria, smoothness is the most critical one, especially in competitive online gaming. Choosing the model with a higher display refresh rate like 144Hz or even 360Hz ensures that you will have the highest competitive edge possible. Color is another important factor when looking for the right display. Having a wider color gamut means more color can be seen while gaming, so the model with color gamut NTSC 72% or wider is preferred. Color accuracy is the last factor for immersive gaming: without accurate color reproduction by the display, you will never get the truly immersive experience that game developers want to present to you. So it would be better to choose the gaming laptop with a more color-accurate display (featuring less Delta-E index).
Keyboard: Look & Feel
Having the right keyboard really makes the gaming experience noticeable when using a gaming laptop. Models with a responsive membrane keyboard or mechanical keyboard, promising better keystroke while gaming or documentation. If you're a fan of fancy keyboard backlighting, just go for the models featuring RGB backlighting which allows you to customize each individual key for a fully personalized style.
Portability: Bring Your Gaming Gear Around
One of the main benefits of using a gaming laptop instead of a gaming desktop is portability. In the past, t gaming laptops usually featured a higher weight and size, but with advancements in hardware and cooling technology, gaming laptops are now more portable, allowing you to easily move it around. Going for the model featuring lower weight, which is around 2kg and the battery life of around 8 hrs meets the perfect balance between great performance and acceptable portability.
GIGABYTE AORUS Series Laptop: The New Rival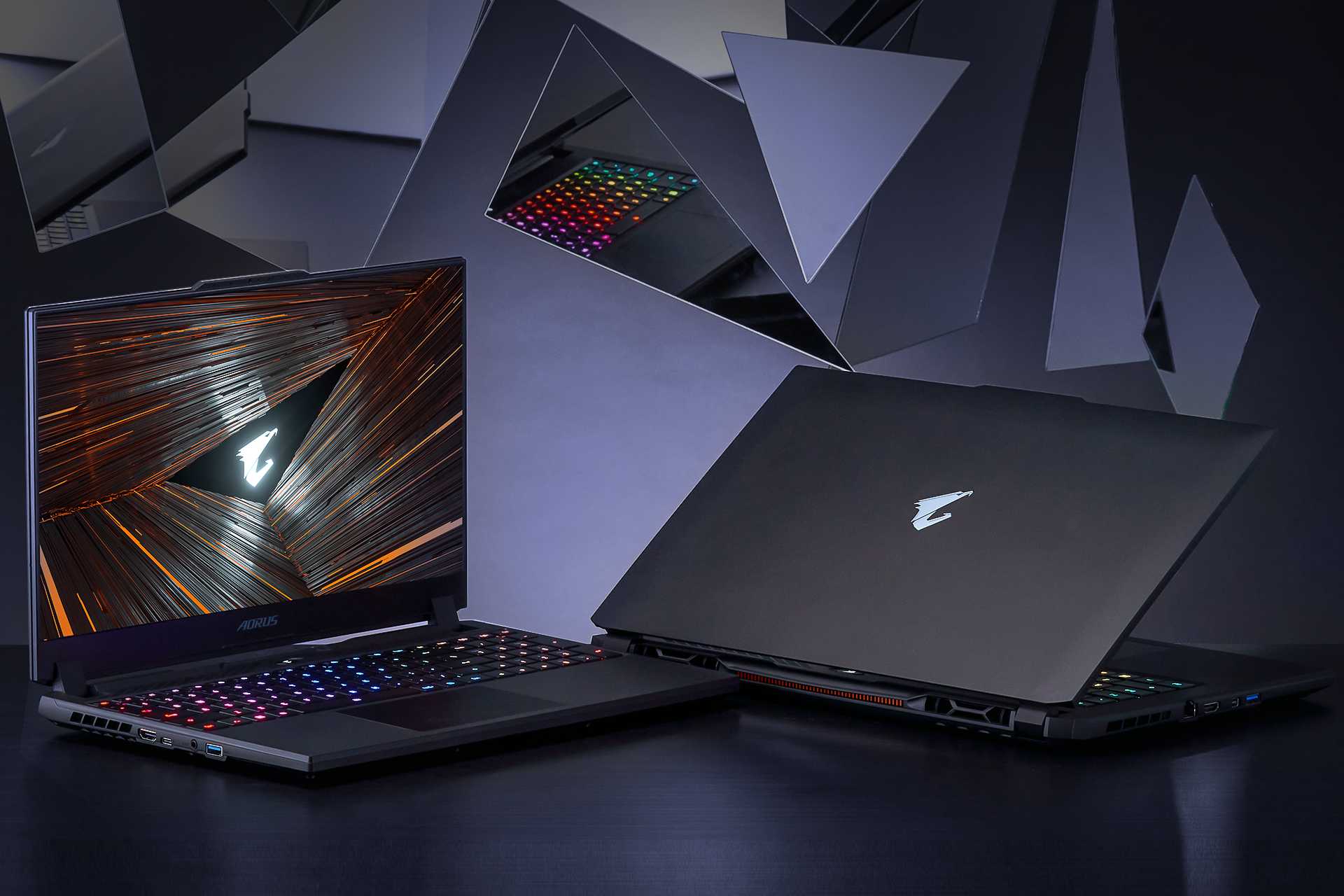 So now that you know how to choose your ideal gaming laptop, the AORUS series lineup from GIGABYTE is the one of fewest providing satisfying performance, display, and portability. All of the AORUS series laptops including AORUS 17, AORUS 15 and AORUS 5 come standard with an Intel Core i7 H series processor and NVIDIA RTX 30 series graphics, delivering an exceptional gaming experience.
Thanks to the advanced cooling design, you will hardly see throttling of the CPU or GPU on the whole lineup of AORUS laptops. Paired with great hardware, is the stunning display from the new AORUS laptops featuring 360Hz, and an NTSC 72% display. Furthermore, the new AORUS laptops are the only laptops that have been per-unit calibrated before shipping out, guaranteeing exceptional color accuracy.
All of the AORUS laptops feature a per-key RGB backlit keyboard, allowing you further customize your laptop with your unique style.; It's also equipped with a WIFI 6E network adapter, allowing for the lowest ping possible while competitive gaming online. All of these features are squeezed into the chassis that only weighs around 2kg (AORUS 15 & AORUS 5), as well as providing a 99Whr battery which provides the best performance and portability.
In conclusion, if you're looking for a gaming laptop with great performance, decent display, speedy network, and awesome portability, you definitely should take a look at the AORUS series laptops.
--------
Learn More:
- 5 Things Need to Know before Choosing Your Creator Laptop