If you have played the Fallout series, you must know the Vault Boy!

SimpleModz used it as the theme of this Fallout PC mod. The blue and yellow colour appearance plus the cute Vault Boy figurine might make it look adorable, but don't forget it is also a beast for gaming! The GIGABYTE RTX 3070 GAMING OC it uses is a significant upgrade to your gaming experience.
Read our interview with the modder and check out more beautiful photos of Project Vault Boy!
How did you get into the world of PC modding?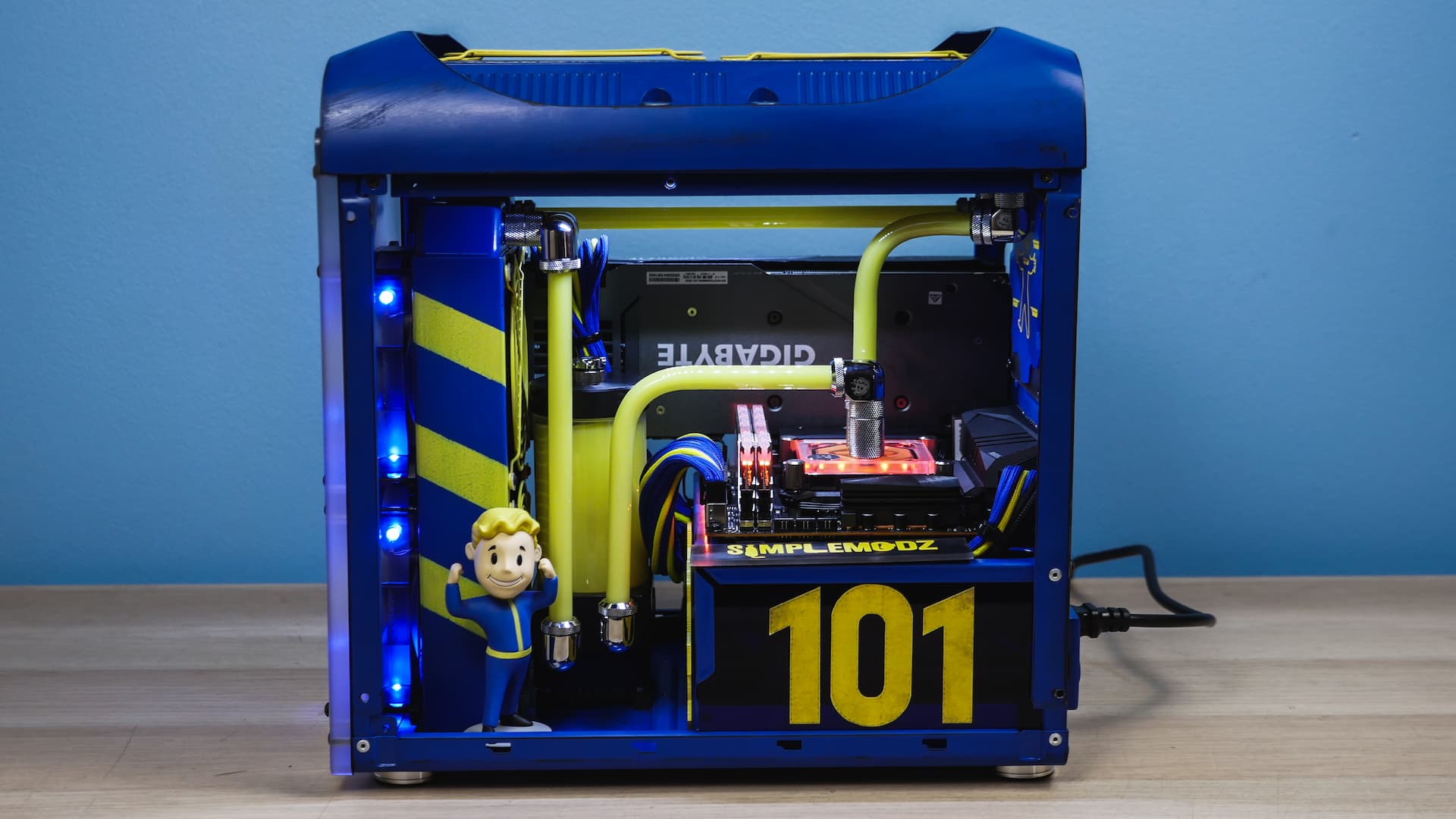 I've been a case modder since 2014 and mainly got into it after building my first gaming PC and then spending countless hours on tech forums looking for further upgrades and things to do to it.
PCs are just like cars to those who are really passionate about them, and as with modifying and upgrading cars, the upgrades never end and you always want to do more.
It was kinda the same for me back in the day after building my first gaming PC, I just wanted to keep building it and do more to it. My first PC was a simple air-cooled system with no lights and things like that. I then started adding more lights, tidying up the cables better, making some custom cover panels, and things like that. Meanwhile, I kept checking out tech forums to see what everyone else was doing and that's when I discovered the world of custom water cooling and the art of case modding.
Not long after with less than a year after building my first PC I went ahead and custom water-cooled it with a full custom soft tubing kit. This was still not enough and I then changed to a different case and kept upgrading it with a better graphics card, a bigger water cooling system, then I did my first water-cooled SLI set-up and again not long after that I changed cases again and built my first hardline water cooling loop.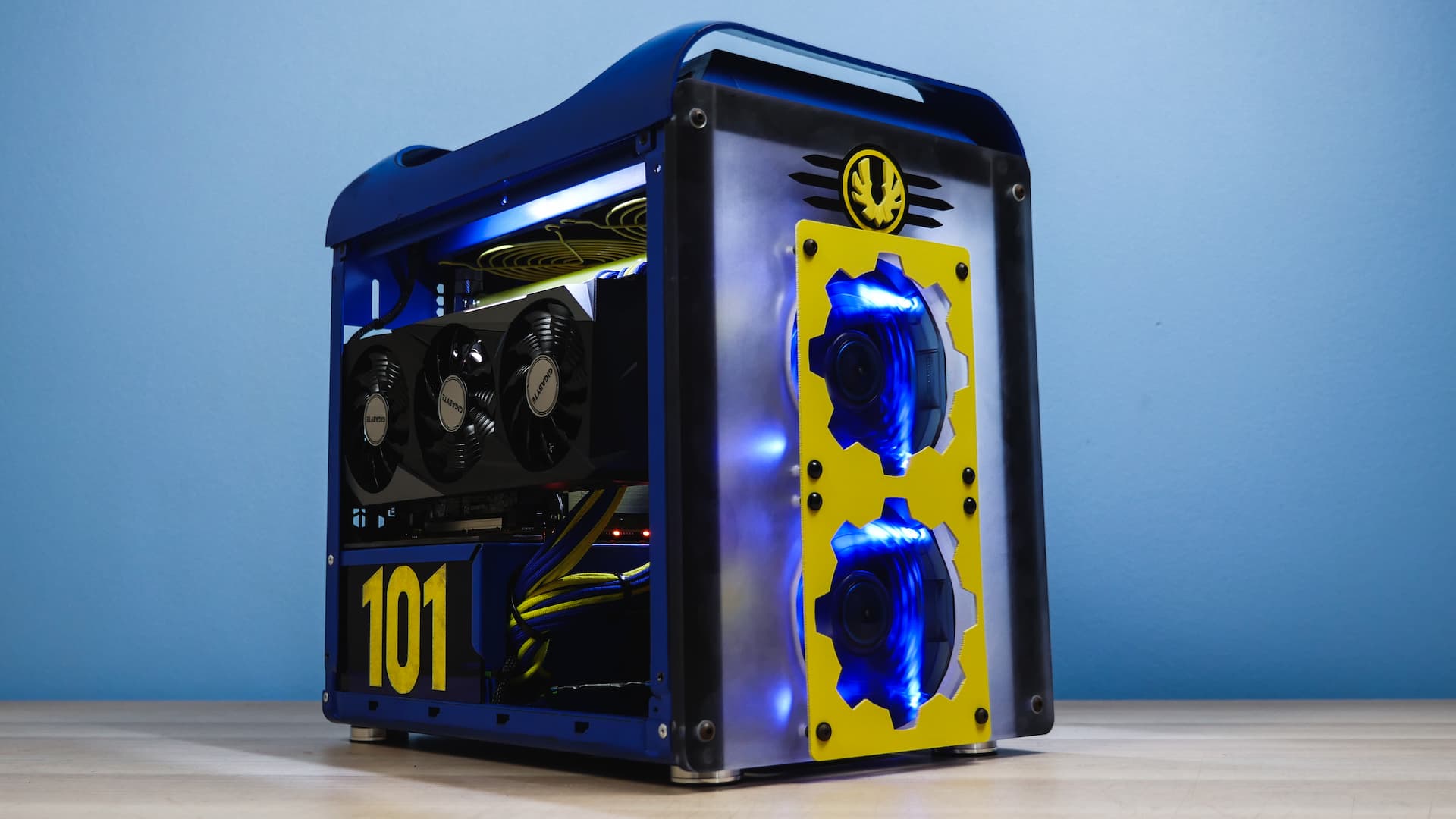 I was finally somewhat satisfied with that system but wanted to keep building and customizing PCs. So that's when I thought to go all out and have my first go at fully modifying a case and theming it after one of my favorite video games – Fallout.
And that's how the Vault Boy system was born in 2014. It was my first case mod and still one of my most popular case mods, which is why I decided to recently rebuild it, given I still had the original case after all these years.
The parts were all second-hand bought and I had no tools or experience, to begin with. I just learned by doing and using the passion that I had for building PCs.
The hobby kept growing more and more and now I work on some of the craziest high-end custom computers together with many brands such as AORUS, Intel, and NVIDIA who show such great support for my passion.
What's the game you like to play the most?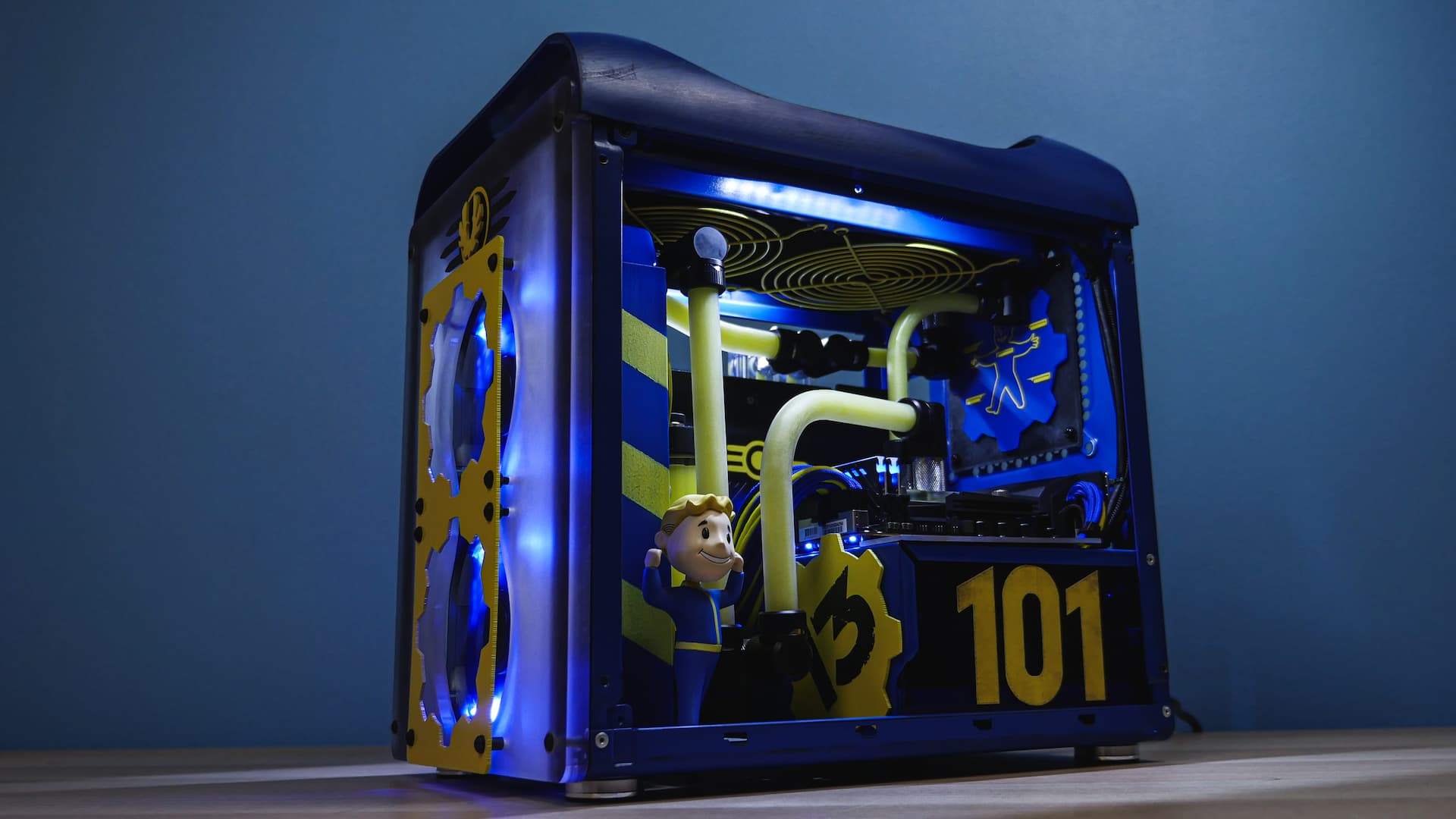 I think the Vault Boy gives it away that one of my all-time favourite video games is Fallout, mainly Fallout 3 and New Vegas. However, I enjoy mostly any single-player game with a good story and gameplay mechanics. I do tend to prefer first-person titles and most recently I've been really enjoying playing Cyberpunk 2077. I've also done a case mod for Cyberpunk 2077 and have an even crazier one upcoming yet to be released.
Can you tell us about the concept behind this Mod?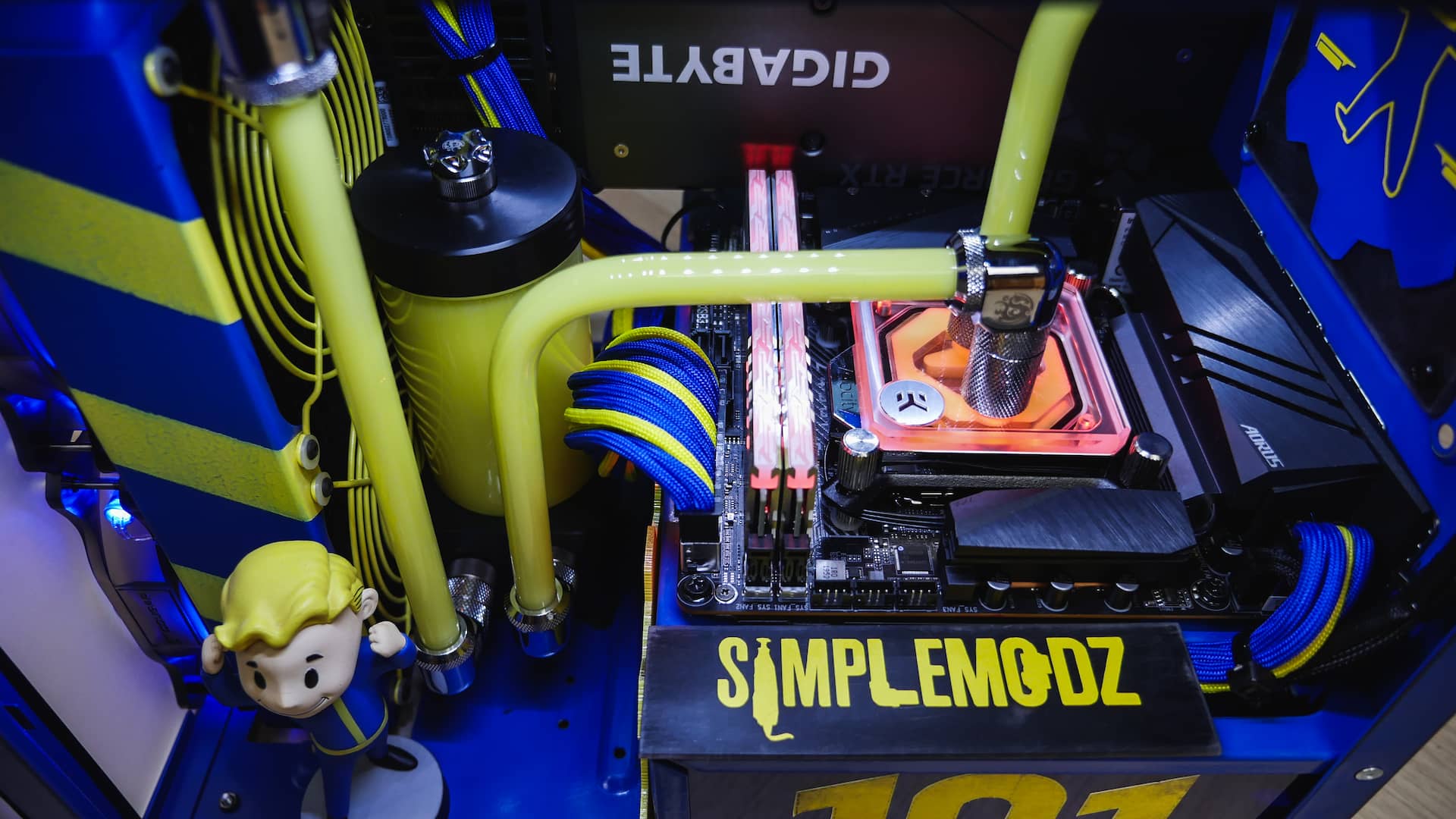 I went with Fallout as the theme given it was my favourite game at the time and I mainly chose the Vault Boy character as I love the way they expressed the Vault Boy in the Fallout series, plus the colours of course. I thought it will look great to have a themed PC in the Vault Boy colours. Furthermore, the idea to use the Bitfenix Prodigy case was that I was always attracted to small mini-ITX PCs, and being able to squeeze as many high-end parts and water cooling gear as possible inside. The Bitfenix Prodigy was one of the most popular cases at the time and it did exactly that – came out great in the Vault Boy colours and I was able to fit everything I wanted inside it, with a bit of modifying :D
Did you have any interesting or challenging moments during the modding process?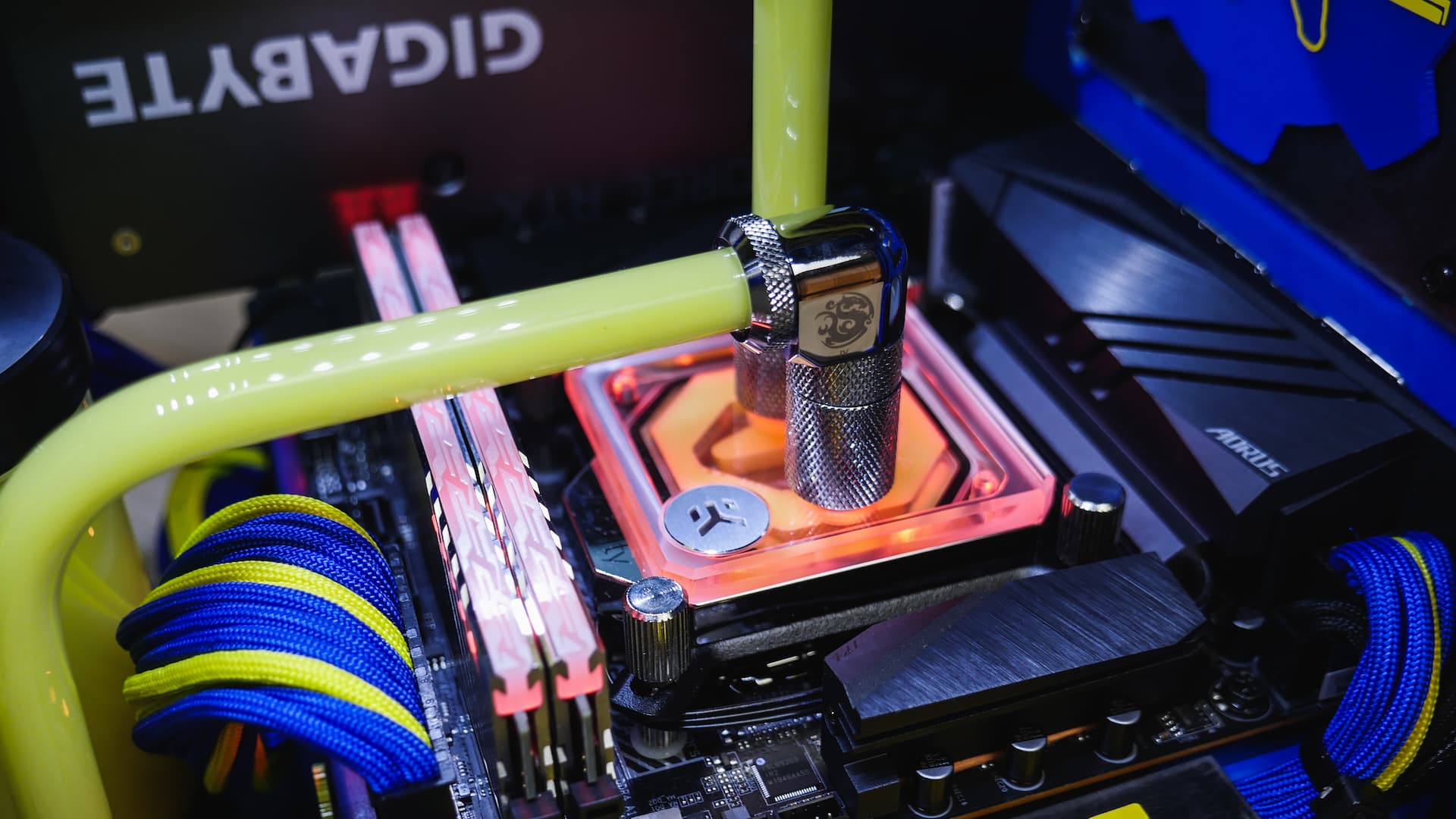 I think for this project mainly everything was a challenge given it was my very first case mod and the very first time I was using various power tools such as the Dremel rotary tool and also the first time I ever spray painted too. However, all this goes to show that with the right passion and will for certain things, anyone can pick up something like this and have a go at it. And that's exactly what I intended at the time – never in my dreams, I would have thought it would get me to where I am today and evolve the way it has.
Do you have any feedback or comments on GIGABYTE GeForce RTX 3070 GAMING OC?
I used the GIGABYTE RTX 2080 SUPER GAMING OC WATEFORCE WB graphics card initially in the Vault Boy rebuild and it was great to be able to fit an off-the-shelf graphics card which was already good to go for custom water cooling, plus it was still able to fit inside an already 6-year-old case that I first built and modded back in 2014. It's great that GIGABYTE offers these ready-to-go custom water-cooled graphics cards for both the GIGABYTE and AORUS graphics card models.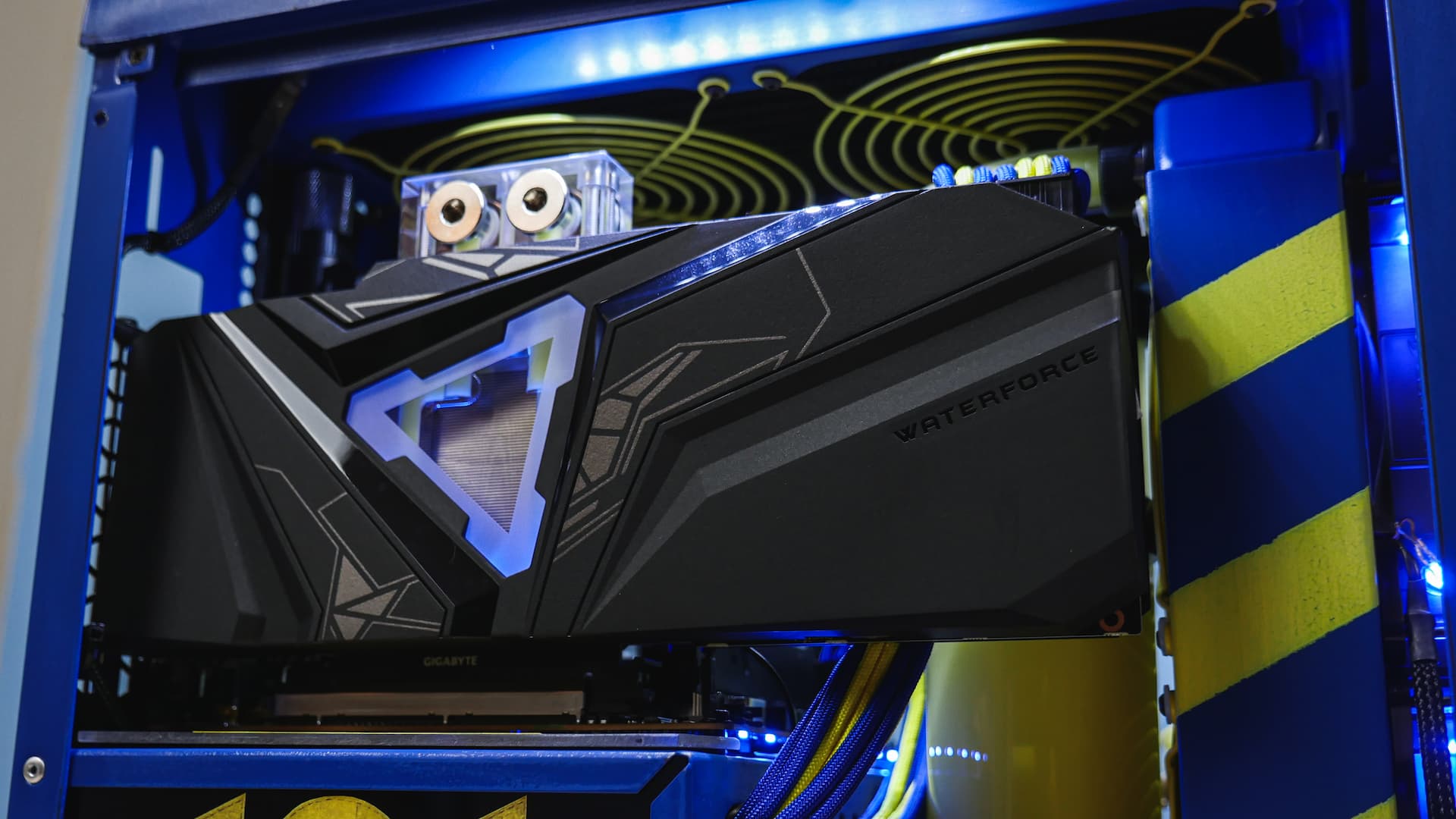 Similar to the current version of the Vault Boy, this was changed to a GIGABYTE RTX 3070 GAMING OC once RTX 30 series were released. And again it was great to see this graphics card able to simply fit inside this 6-year-old case with no further modifications needed.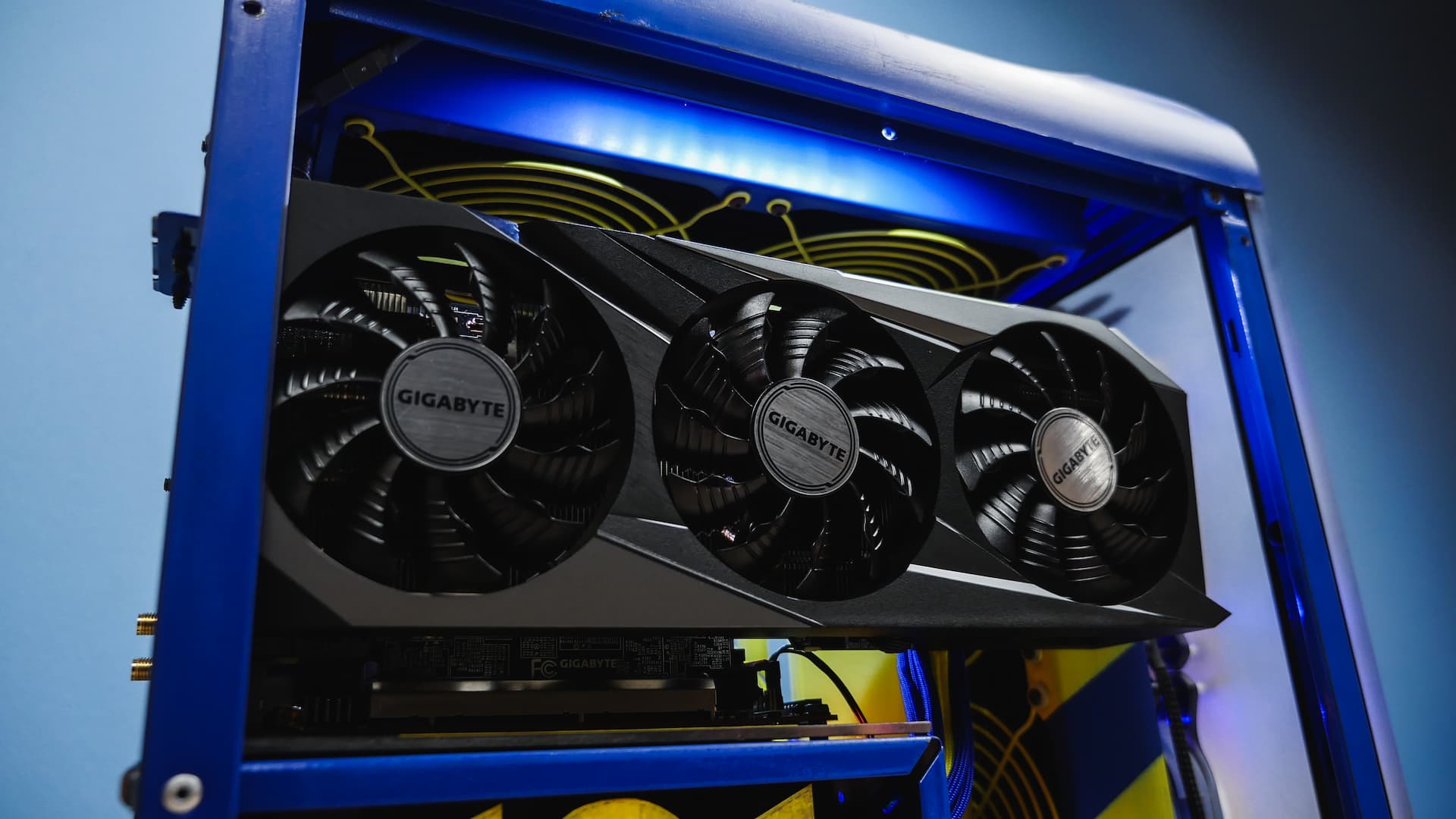 In a world of graphics cards being supermassive in size now, it's good to still see great cooling solutions offered on smaller models as well – especially for mini-ITX cases.
What's something about modding you want to try in the future?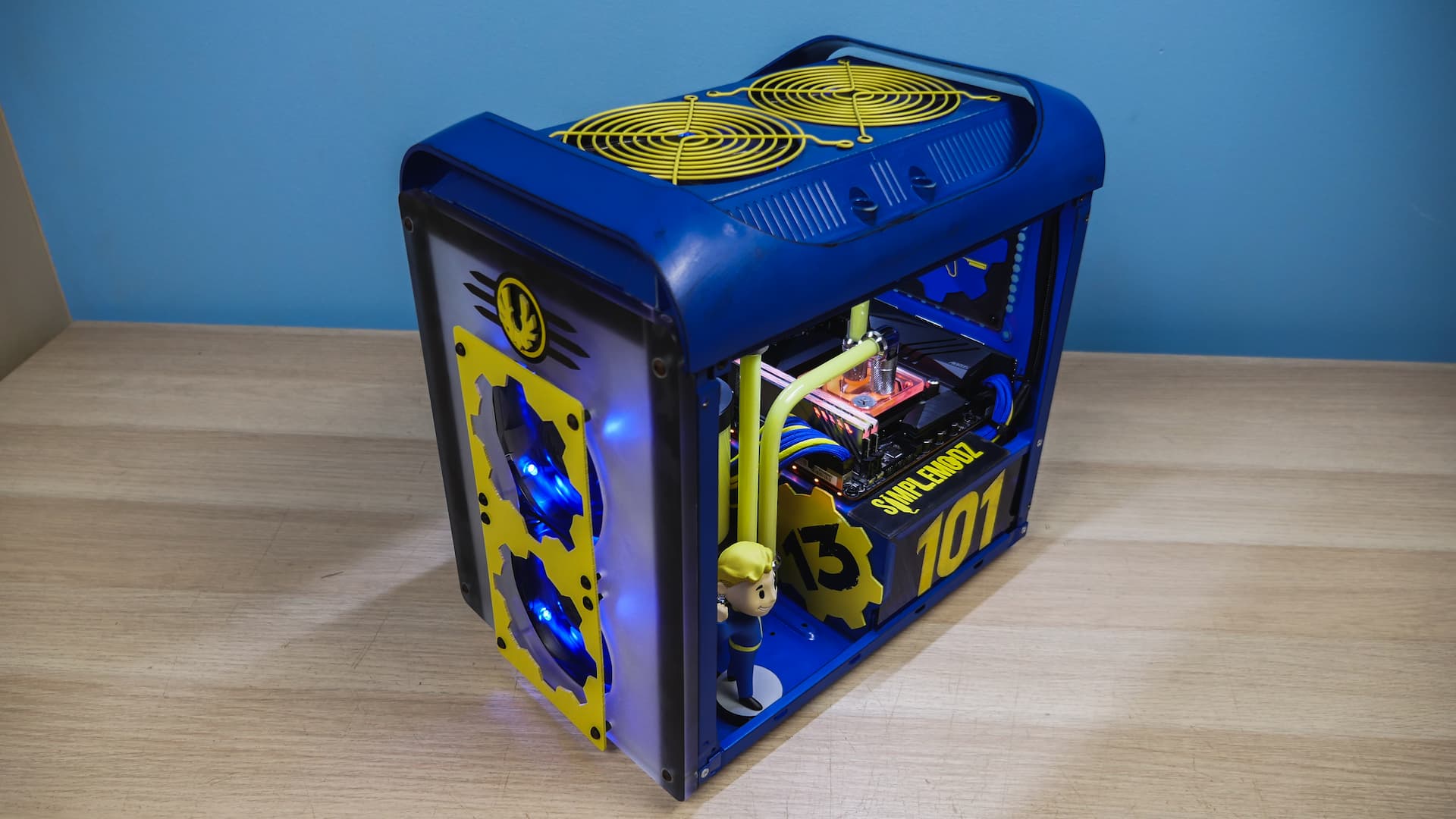 I have quite a few ideas I'd love to try – create a fully scratch-built open bench system where the water cooling runs through the entire structure holding all the hardware parts together with custom distro plates and reservoirs, or work on a mineral oil-cooled PC, or a custom desk with resin to try and blend nature with tech – I can probably keep going with ideas here – just need the time! :D
Check out the Spec List:
CPU: Intel Core i5-10600K
Graphics Card: GIGABYTE RTX 3070 GAMING OC
Motherboard: Z490I AORUS ULTRA
Memory: AORUS RGB DDR4 16G 3200MHz
SSD: 1TB Seagate FireCuda 510 PCIe NVMe M.2 SSD
PSU: 550W SilverStone Strider Gold Series PSU
Case: Bitfenix Prodigy
Cooling: Custom water cooling by EK Water Blocks, Alphacool, and Bitspower
Custom Cables: Icemodz
Want to see more? Check out the video below: