Wearing a pair of black-rimmed glasses with his signature dimples on his face, Cheng Hsuan Lin can be serious or may laugh out loud from time to time. He is the director and founder of the nationally renowned "27Design Studio", the leading team for motion designs. He has participated in the production of many nominated films in several Golden Melody Awards, as well as in the animation designs for Disney Channel. This year, Lin once again worked with GIGABYTE AERO Laptop, to collaborate on completing a feature showcase video project, in which people can see the reviews and feedback on the latest AERO Laptop from a filmmaking professional behind the scenes.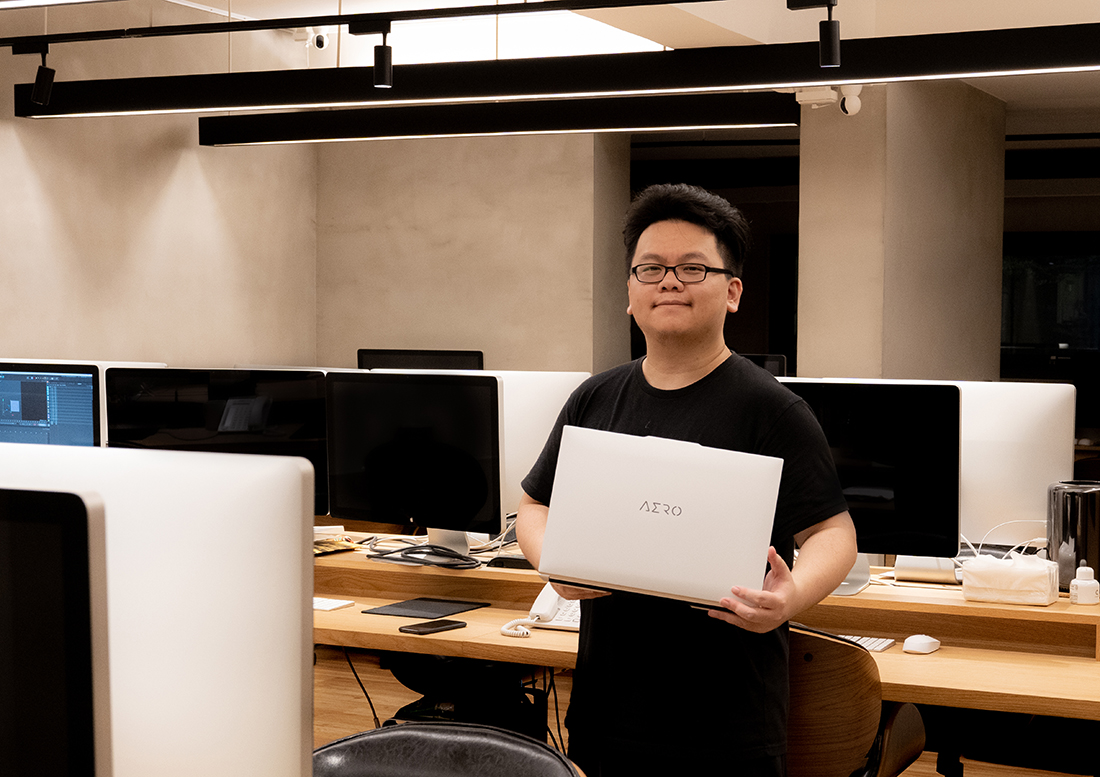 Ever since the outbreak of the coronavirus disease, the world has started to pursue a kind of "new life movement", breaking traditional boundaries between time and place. Therefore, new work patterns have been brought into existence, unlike stereotypical ones in the past. Designers mainly struggled to work from home due to the limitations of desktop computers with monitors and hard drives. However, they have begun to invest in "creator laptops", which are specifically designed for professional creators as their working tools when they work from home or as their rendering workstation computers for their studios. We are extremely honored to have Cheng-Hsuan Lin, the founder of 27Design Studio, share his thoughts and feedback after he used the latest AERO 16 Creator Laptop launched earlier this year, as well as his story behind the "screens" when he was collaborating with GIGABYTE on a feature showcase video project.
Eye-Opening: From a Casual Observer to a Diehard Fan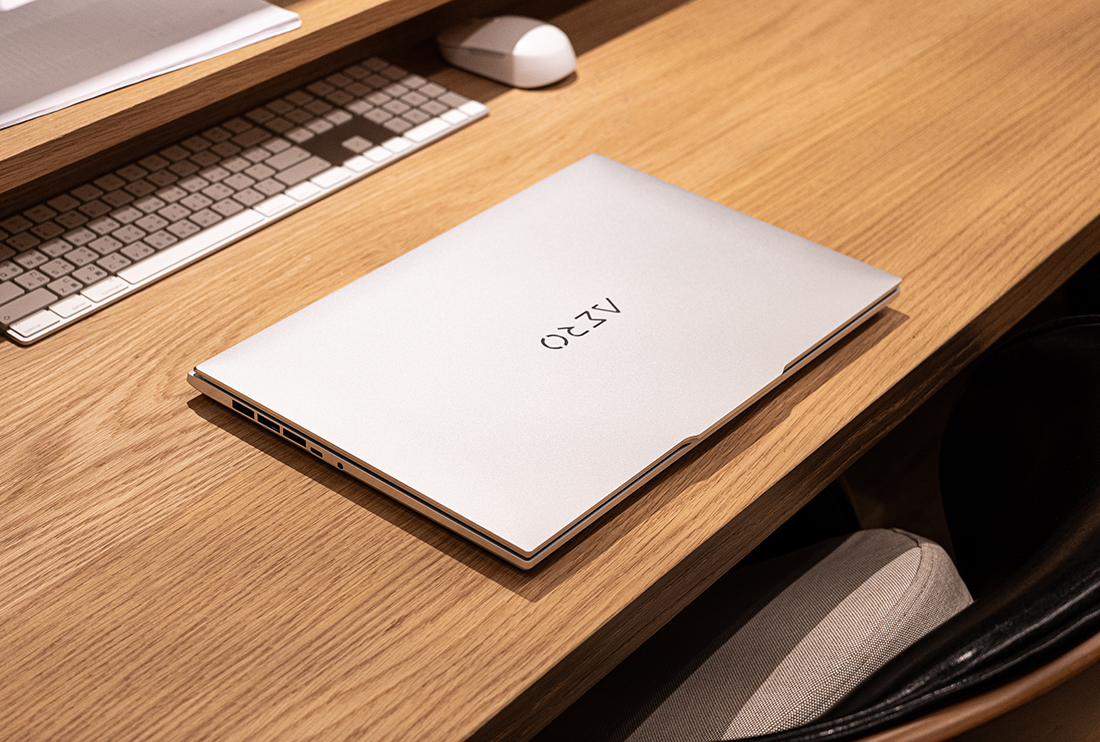 In the past, Cheng-Hsuan Lin had the impression that GIGABYTE is merely a domestic traditional technology brand, and the only products that captured his attention were mostly computer components such as graphic cards, motherboards, etc. It was not until last year when Lin has his first accidental encounter with the AERO 15 OLED Creator Laptop by chance, and then he had his second experience with the AERO 16 Creator Laptop that's when he started to appreciate the rapid development and improvement of GIGABYTE. "Although it's a bit shallow for a designer to say so, but to be honest, what I do most of the time after unboxing a laptop is to feel the touch and quality of the metal body that has been CNC anodized," said Lin with a timid smile. In fact, at the stage of R&D development of the product, GIGABYTE always values the opinions of the market users and observes the details held dear to the creators. Different from the models of the previous generations, the GIGABYTE laptop is presented in the silver aluminum-alloy unibody appearance this year. In comparison to high-performance laptops with tough metallic paint commonly found in the market, the GIGABYTE laptop has a more delicate touch on its technical details, bringing a greater user experience significantly in terms of laptop design. Moreover, Lin has also mentioned that the display area of the screen of the AERO 16 Creator Laptop is wider now. The usual 16:9 ratio has been enlarged to be 16:10; the users might have a better experience while watching the entertainment content. In addition, the hinge of the laptop has been reinforced, which further enhances screen stability. What's even more fascinating is that there is an independent layout for a brand-new webcam on the upper edge of the screen. This has transformed his impression of the declarations made by companies who say that their laptops have thin bezels on four sides. He is surprised that GIGABYTE truly presents a full-screen display to users by optimizing the 4-side ultrathin bezel-less display to the utmost.
Portable Rendering Workstation That Accelerates Creation Process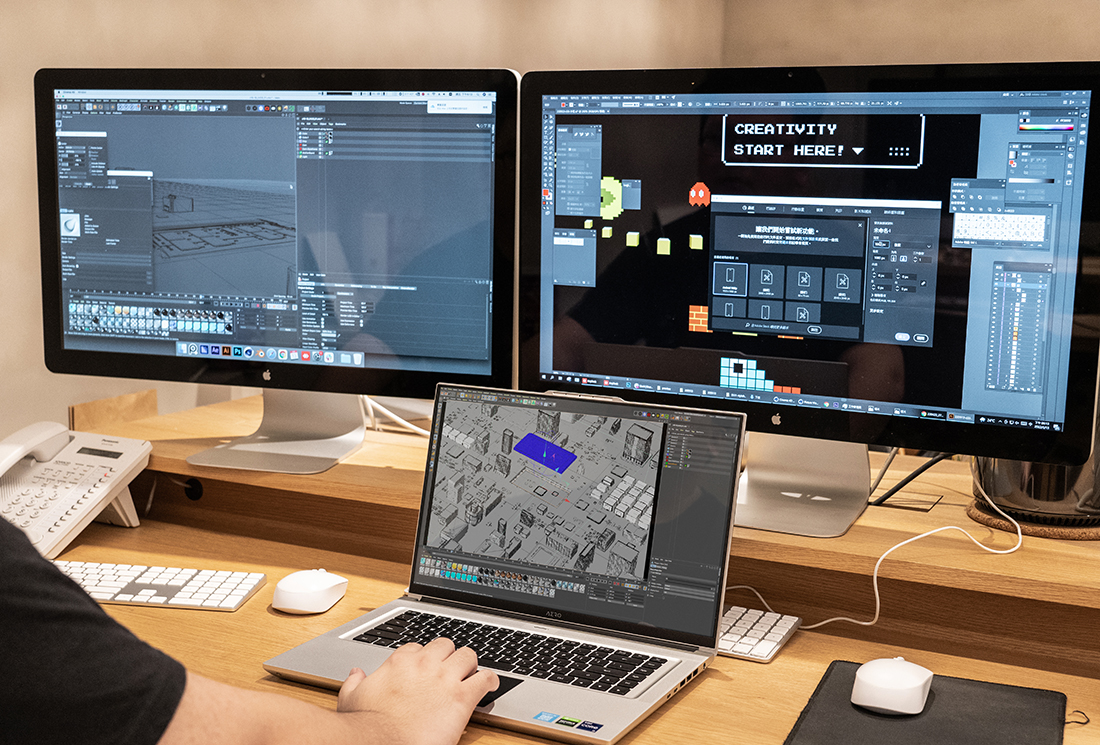 According to Cheng-Hsuan Lin, the process of producing a large-scale 3D creative film includes concept planning, scriptwriting, style setting, design production, motion production, and video integration. A video whose length is roughly 60 seconds, takes about five to six weeks to produce. The whole process heavily relies on team efficiency and hardware capacity. As for the creation of this visual film by collaborating with GIGABYTE, Lin mentioned that "we produced it based on the scale as the same as those for Golden Melody Awards". About 20 people from the company staff were mobilized to assemble It piece by piece. This included constructing storylines and then stacking the special features of the screen. The whole process was a conversion from drafts on paper all the way to the presentation on a full 4K screen step by step. Moreover, Lin also pointed out that all the performances must be activated during the process of "rendering" when they were performing such tasks. It'd be impossible for them to design and render on a computer at the same time because a person often had to utilize several computers simultaneously. However, ever since AERO Creator Laptop has come into the picture, designers can conveniently switch between desktop computers and laptops on their workbenches, thanks to its high-end CPU and independent studio platform that are rare in this line of business. It serves as a personal workstation or a render farm. Designers will no longer have any work delays if they must perform 3D rendering tests. They will have much more time to craft design details and become more flexible in the process of creation. "It's extraordinary to equip such a power-consuming display card like 3080 Ti on a laptop," said Lin genuinely.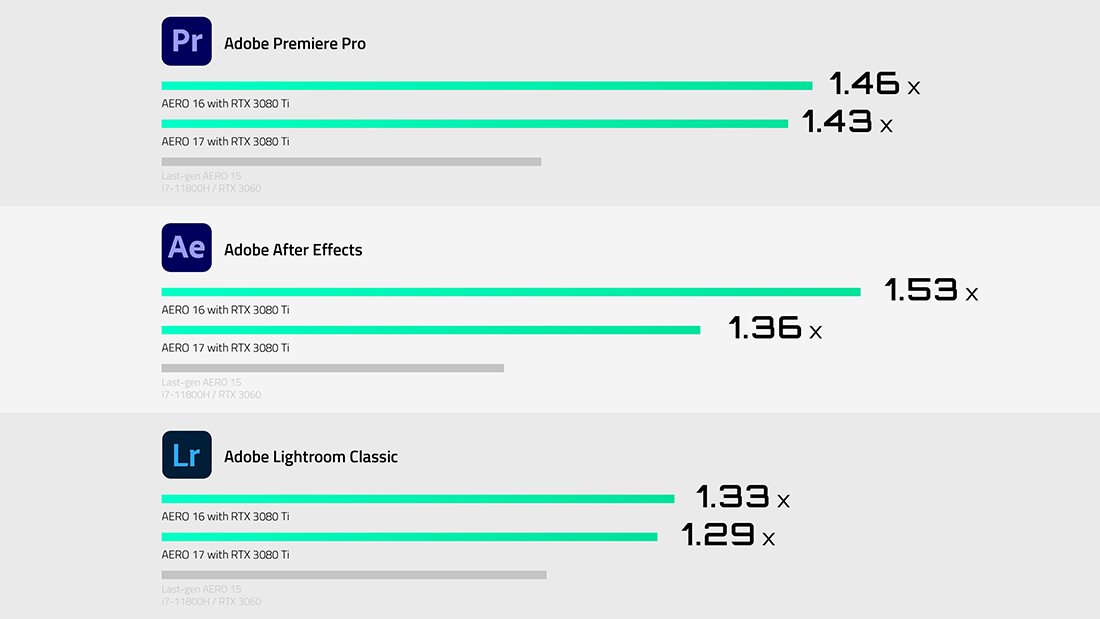 Furthermore, Lin also shared with us that he often carries out on-site events or stage projects, "Opening ceremonies usually require live projection; however, rehearsal time is usually limited, and our files have to be tested to see whether any adjustment should be made. As a result, we often find that even the same work may turn out to show different presentations and details between the one we see in our studio and the one we watch on-site. For example, there may be projectors on-site with special measurements or LED ratios, and the projection may be dozens of times larger than that on a computer monitor. We often need to adjust details because of different resolutions or deal with incompatible built-in software or extensions of the computers prepared on the scene. So, we used to edit the files by sending the hard drives right back to our studio via "physical transmission", or directly carrying our hosts and monitors backstage, wasting a lot of time and effort. After trying AERO Creator Laptop, I got the first thought that we can bring two or three AERO laptops to larger sites to solve all the problems we commonly encounter. The whole working process is totally different from the ones we used to imagine and prepared for."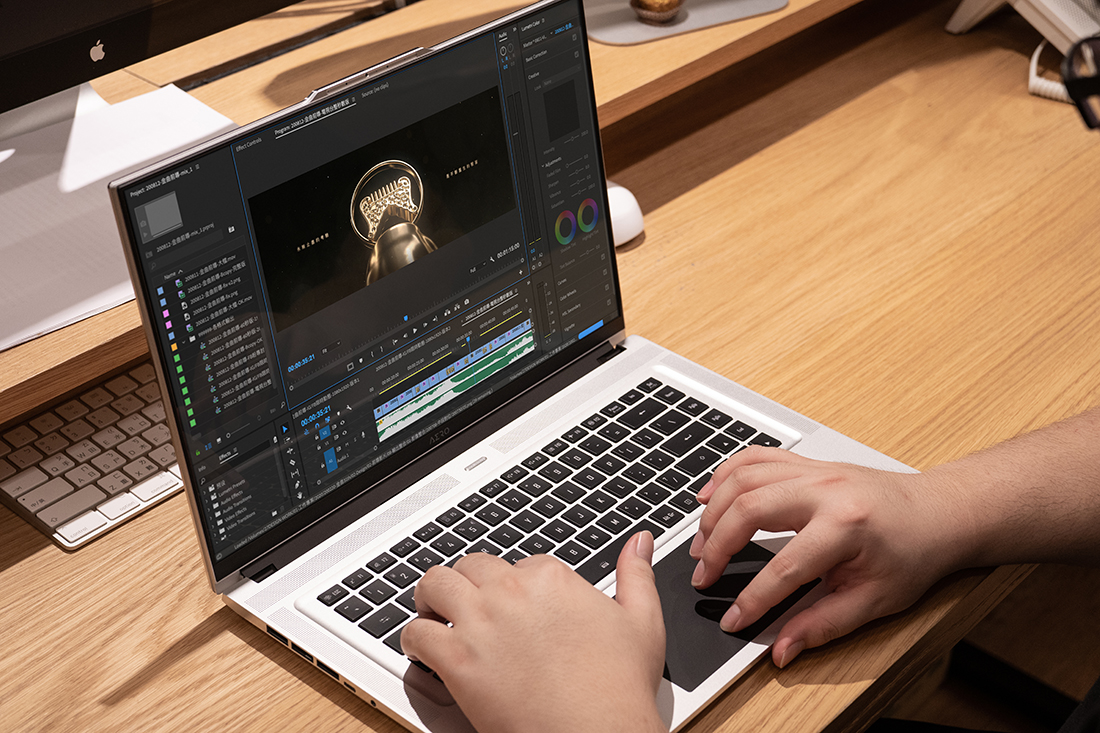 Seeing Is Believing: Fast Focus Wins Trust
In addition to project production, Cheng-Hsuan Lin also needs to go out to offer proposals and double-check the content with his clients. Therefore, he could be kind of a "neat freak" because he is particular of screen quality. The monitors in his studio are from the same brand, model, and period of production, for fear of the problem of screen color differences. Nevertheless, he resignedly talked about one problem that he often encounters. That is, when updating his results' progress or when holding a meeting at his client's office, even though the color details of his video projects are already saturated, the color display on the projector screen looks very awkward and the dark or grayscale details are omitted. This is an embarrassing problem that can't be solved even if he uses another computer monitor. However, since the AERO 16, Creator Laptop has the advantage of a 4K+OLED screen and X-RiteTM Factory Calibration and Pantone® Validated Dual Certification and its strict color accuracy of Delta E < 1 is lower than the average in the industry. It also provides a wide color gamut of 100% PCI-P3, high contrast ratio of 1,000,000:1, brightness of 500 nits, and VESA DisplayHDR™ 500 True Black certification. Whether it's used for daily work or brought out for content inspection, users can proudly say, "please refer to the display on this laptop," so that clients are more convinced of the professionalism of their designs. People can experience how much effort GIGABYTE puts into its screen quality to truly meet creators' needs. What's more, the current generation model of the AERO 16 Creator Laptop offers a viewing area greater than that of the previous 15.6-inch screen by 12%, due to their different screen ratios. This allows the users to stock more software tools in the extra workspace when they are performing video creation, making it less time-consuming and easier to operate.
The Story of "AERO. Creativity Starts Here"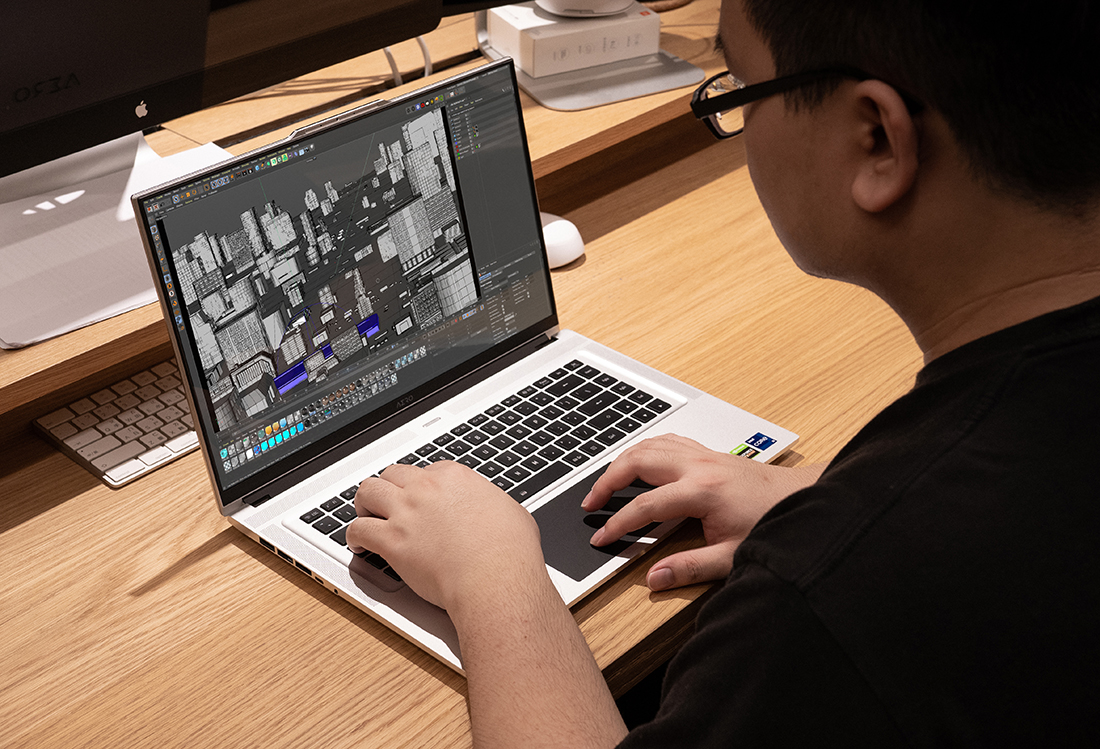 It's the first time this year that GIGABYTE collaborates with 27Design Studio on a video project. It took a lot of time from the case proposal and product introduction to coming up with ways for presenting the core concept of "Creativity Starts Here", as well as how videos can be played with better performance on AERO laptops. Cheng-Hsuan Lin mentioned that after using two generations of models of AERO Laptops, he has profoundly experienced how GIGABYTE customizes the laptops for meeting creators' needs. Whether it is in terms of design, hardware, or software, GIGABYTE always pays much attention to diverse groups of creators. Therefore, when coming up with the story, he decided to draw inspiration from the concept of "Creating Diversity". Through different creation spaces and the charecteristics are designed as per the needs of the designing careers. Integrated with powerful functions and features such as color accuracy, realistic color display, and vivid texture details, AERO Creator Laptop has been exalted for its birth and how it creates astonishing masterpieces.
If Possible, I Would Like to Tell GIGABYTE…
I'm very impressed with the novel I/O port design of the latest product. There are two Intel® Thunderbolt™ 4 and one USB-C ports, which are adequate for creators. It can connect three output screens at most, so it'll be more comforting to a person's eyes when he/she is working on multiple projects. Common WACOM pen tablets are also highly compatible. I was surprised that GIGABYTE offers the AERO HUB (a four-in-one hub for USB Type-C) that comes along with the laptop this year. Lin expressed that this is "really generous". Moreover, the overall matching color and style indicate that it is a product of integrated design and development. The commonly-seen I/O ports such as network port, HDMI, and USB Type-A can be stored in a small hub of the size similar to a small building block, so it's more portable for people to go out to make a case proposal or engage in on-site jobs. There is even an exclusive container for the hub, for which I once again appreciate the attention to detail GIGABYTE has on product development and design.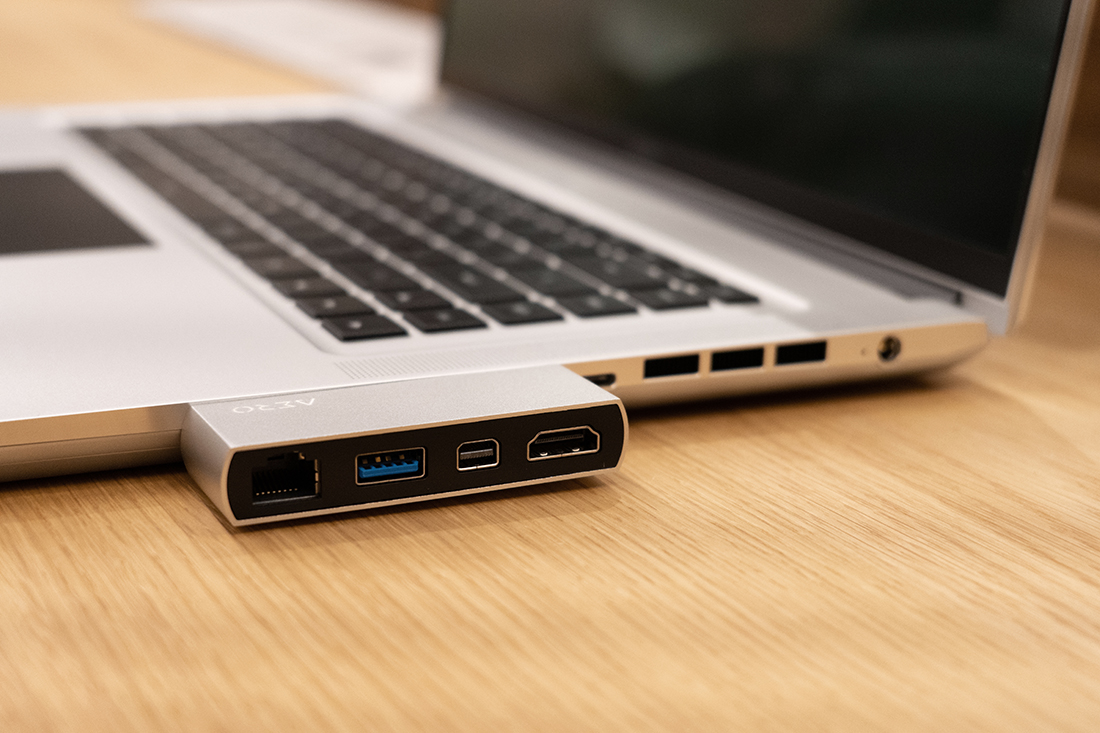 With the interview coming to an end, we couldn't help but wonder how customers really feel about our products. When asked if there is an opportunity for Lin to participate in product development and what kind of product functions he expects most, Lin replied, "I hope that I am not going too far! If possible…I hope that the size of the power adapter can be smaller. Even though it's usually plugged in when we use it in the studio, it can still be quite troublesome to carry around. Allow me to present some imaginary ideas—what if the power adapter is integrated with the hub? Maybe it'll be less annoying for me to carry around if it also combines other functions (he said so and laughed out loud)." On the other hand, Lin also mentioned that even though the control settings of the latest GIGABYTE Control Center look great, however, when it comes to a better experience, he wished for a smaller pop-out window in terms of mode-switching or auto notification detection. It's quite easy for him to open a new window by mistake.
Epilogue: Select Creator Laptops by Targeting Needs
In addition to managing the 27Design Studio, Cheng-Hsuan Lin has been devoting himself to education in recent years. He founded "Motioner", an information platform for promoting motion graphic design. In the seminars or talks held by him, students often asked the question, "What kind of laptop should we purchase to meet the needs of rendering?". Ever since he tried AERO Creator Laptop, he considers the GIGABYTE AERO laptop series as a satisfactory solution. In addition to the applications in a workplace, such laptops are also suitable for college students who usually commute between dorms and classrooms, no matter if they are studying or creating content. Convenience plays an important role in both circumstances. What's more, a good laptop offers a smooth experience in the process of creation, not to mention that it is still durable even for students in their senior year or even for future careers. It contributes to such a high return on investment, so please don't hesitate to buy it.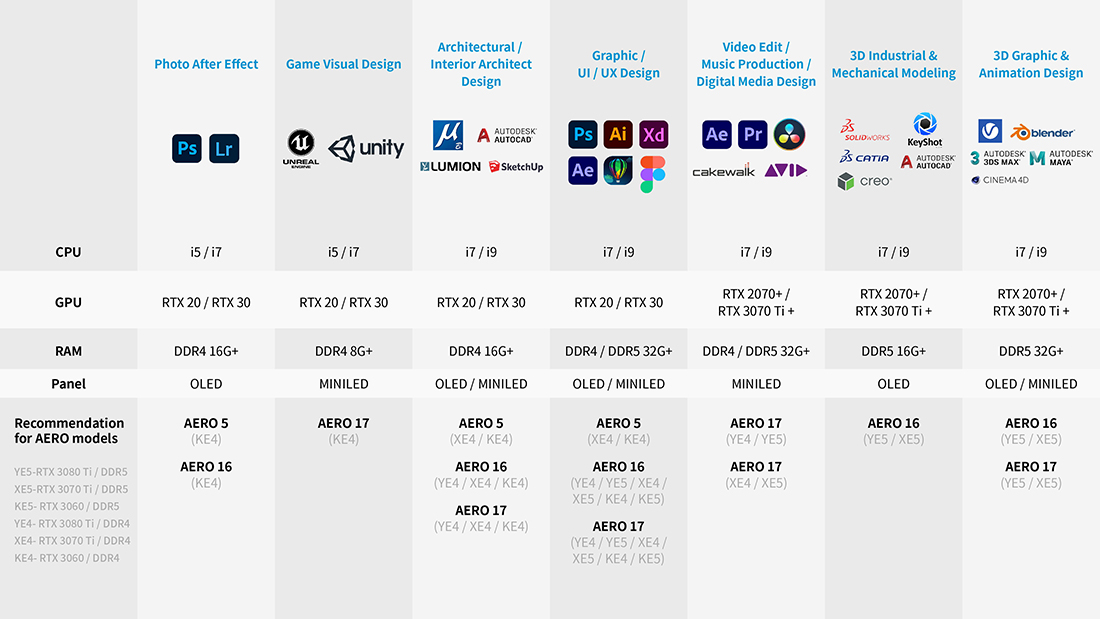 *Product specifications and product appearance may differ from country to country. We recommend that you check with your local dealers or retailers for the latest specifications of the products available in your country. GIGABYTE reserves the right to make changes without prior notice.
*All performance tests may change due to differences in testing environments.
【About 27Design Studio】
Being famous for its great strength in interdisciplinary integration, the 27Design Studio has always focused on visual and motion designs for many brands for a long time. It provides various customers with a complete set of one-stop services from visual to motion designs that match its name "Er Chi (dual-dwelling)" in Chinese. The works of 27Design Studio can be found across all fields, and it has created animations and visuals for more than 100 international brands such as Disney, IKEA, McDonald's, Gogoro, Pinkoi.com, Subway, Gamania Digital Entertainment, etc. The 27Design Studio had once served as the visual coordinator for the 31st Golden Melody Award Ceremony. It also produced many large-scale projects such as National Days in the years from 2017 to 2021, as well as World Flora Exposition, Universiade, Taiwan Lantern Festival, Taiwan Design Festival, Creative Expo Taiwan, and Citizens Sports Games, and the 30th, 29th, and 25th Golden Melody Awards. Its works present diverse and comprehensive styles, and each of its creations offers an impressive visual feast for everyone. It also won many recognitions from international design awards such as iF, Red Dot, Golden Pin, MUSE, and IDF.