Artificial intelligence (AI) has become a hot topic among big data and the IT industry in recent years. While AI sounds very exciting and mysterious, how does it help us in practical terms in our lives?
Earlier, GIGABYTE Technology Co., Ltd., cooperated with Microsoft Azure to launch the first AI laptop, which adjusts computer settings based on your needs, achieving better results than managing the complication yourself, turning great performance into a certainty.
AI laptops, real or fake?
Most laptops achieve AI dynamic adjustments through the Operation System (OS) to provide the user with multiple Power Schemes to choose from. However, the users often don't know what these settings are or which mode they should select for certain programs.
GIGABYTE cooperates with Microsoft Azure, using the cloud big data technology to make the AI truly in control; the user no longer needs to understand the CPU, know how to optimize settings, or deliberately adjust the fan speed for better ventilation. Performance can be optimized by a single button.
Assuming the user agrees to it, GIGABYTE laptops can automatically detect the programs that they are using and uploads the program to Microsoft's Cosmos DB for machine learning, after which it sends back the optimal system settings corresponding to the program, including CPU, GPU and fan settings, and apply them to the laptop, meaning that the AI adjusts the laptop to a more suitable setting for the user without complicated manual adjustments.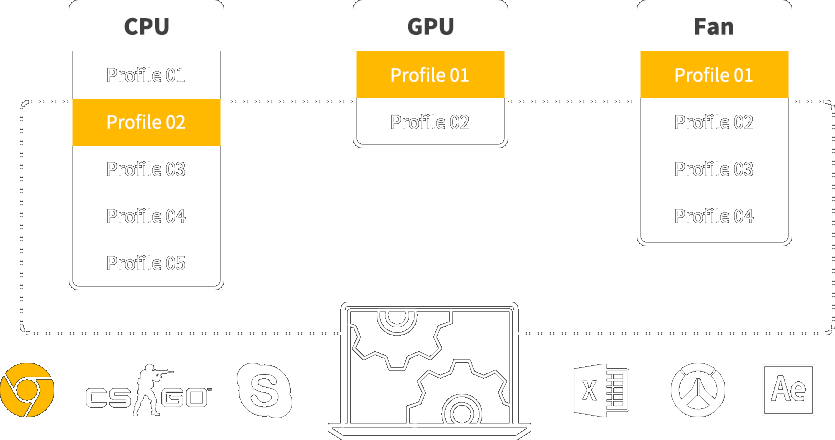 The entire Azure AI Mode is separated into two scenarios –
Plugged-in Mode
Under the Plugged-in Mode, Edge AI Mode and Azure AI Mode are quite different. Under the Azure AI Mode, the user's settings are uploaded to cloud for the Azure platform to analyze and learn in order to continually provide users with more precise system settings. On the other hand, Edge AI Mode only memorizes these settings in the user's computer.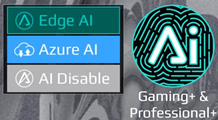 Battery Mode
There are few laptops on the market that provides setting adjustments under the Battery Mode. Either the performance is good, but it only lasts for 1~2 hours, or the computer lags even while surfing the Internet or watching 720p videos with longer battery life and waited time.
GIGABYTE's AI Mode allows for the selection between the Performance Mode, Balance Mode and Battery Saving Mode, where the user can choose from performance-oriented or battery life-oriented depending on the different scenario.
While gaming, streaming, watching 4K videos or doing 3D presentations for the clients, users would necessarily need better laptop performance for 3~4 hours.
While relaxing in a café and needing the longest battery life, setting the laptop to the most efficient mode provides more than 8 hours of battery life. All of these setting can be done by a single button.

Without further ado, let us look at the actual differences between the performances of different AI settings.
Battery Modes are not all the same
When plugged-in, GIGABYTE's Azure AI Mode is 3%~10% higher efficient, depending on different application software and scenarios, if set to Edge AI Mode enabled by default compared to AI Disable.
Compared to overclocking, it provides better performance in addition to lower power consumption and fan noise – the most suitable choice for normal users unfamiliar with computers, great performance is available by a single button.
In Battery Mode, GIGABYTE AERO and AORUS series laptops can change between three modes. Generally speaking, switching between the Performance Mode and Battery Saving Mode gives you two different choices.
| | | |
| --- | --- | --- |
| Mode | Performance Mode | Battery Saving Mode |
| Screen Brightness | 50% | 30% |
| Performance | 60%~80% | 30%~50% |
| Battery Life | More than 3 hours at maximum | More than 8 hours |
When set to Performance Mode under the Battery Mode, screen brightness is reduced to about 50%, while performance is at around 60%~80%, depending on different scenarios. There are almost no other laptops on the market that can provide similar performances while still having more than three hours of battery life at the same time.
If AI set to the Battery Saving Mode, screen brightness will lowered to 30% while performance is around 30%~50% depending on different scenarios. This setting is still enough for users to play normal games, do Office work with efficiency or watch 1080p videos online. At maximum, this setting allows AERO or AORUS series laptops to last more than 8 hours (duration differs depending on the situation and loadings).
In the next part, we'll show you the benchmarks of AI performance on well-known games and applications.