Member Submission
Thanks to JEET for sharing the review article with AORUS!
Hello, my name is Jeet Nilesh pandit, I am a 9th-grade student studying in India. I love reviewing gaming products from Gigabyte AORUS. This is the review of Gigabyte Aorus 17X.
Aorus is now launching many new products and upgrading their products. This is the most powerful gaming laptop which I have reviewed till date. If we talk about its specifications, the following are the specifications of the laptop:
Windows 10 Home
Windows 10 Pro
World's First Laptop with OMRON Mechanical Key Switch
NVIDIA® GeForce® RTX 20 SUPER™ Series / NVIDIA® GeForce RTX™ 20 Series
10th Gen Intel® Core™ i9/i7 Processor H-Series
WINDFORCE infinity Cooling System
17.3" FHD 300Hz / 240Hz / 144Hz High Refresh Rate Panel
ESS Sabre Hi-Fi Audio DAC
Support "Graphic switch" technology
32 gigs of RAM
1 terabyte PCI express SSD
2 terabyte hard drive
After looking at these specifications I was honestly surprised and I personally felt it quite powerful.
In the box, you will find the laptop in the AORUS own slipcase for protection of the laptop, two 330watt power supplies, and a soft cleaning cloth.
The laptop has a matt black stealth-like finish going over the lid. I will say that it is a fingerprint magnet so you will have to clean it quite often to make it look stealthy. It comes with a 3 millimeters ultra-thin display.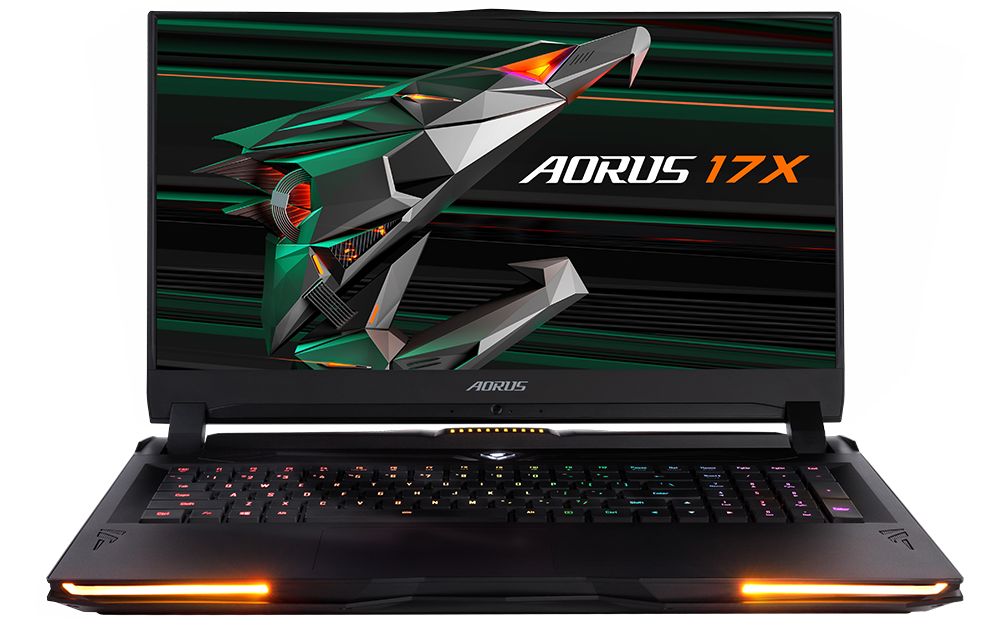 The laptop weighs around 3.8 kilos and the dimensions are 396 millimeters by 293 millimeters and with a thickness of 38 millimeters.
On the left side, you will find USB Type C, Thunderbolt 3, USB port, and microphone and earphone jack.

On the right side, you will find a USB Type C, an SSD card reader, and two USB 3 ports.

If we talk about the keyboard it comes with an OMRON mechanical keyboard. The keyboard feels tactile and it has full-size RGB backlit keys with the numeric pad. It has a 2.5mm key travel and 1.6 mm trigger point. You can even change the lighting of the keyboard with RGB fusion 2.0. 17X comes with a bolt of atmospheric lightning on the front and back of the laptop frame.
The Aorus 17X is fitted with a windforce infinity cooling system. The bottom of the laptop has dual fans, 5 heat pipes, a vapor chamber, and 4 heat exhaust vents. I tested various games and in the conclusion, the FPS rate was surprisingly 100-200 FPS, well, that is crazy.
This laptop is really powerful and amazing but also quite expensive.
Read more reviews from JEET:
【Member Submission】THE ALL NEW AND POWERFUL GIGABYTE AORUS 15P Review
Submission Here to win the reward!
Not a member? Join Membership now to get AORUS points!