NVIDIA has just announced the launch of its latest mainstream graphics card, the GeForce RTX 4070, targeting practical gamers seeking an exceptional gaming experience. With its impressive performance, the RTX 4070 delivers outstanding results at 1440p with ray tracing enabled, and it can even handle 4K gaming smoothly when needed. Moreover, the card supports NVIDIA's DLSS 3 technology, which leverages AI-generated frames to further accelerate ray tracing performance.
If you are in the market for the RTX 4070, GIGABYTE has you covered with five different variants to choose from. Each model has its own unique set of features that cater to the different needs of various gamers.
Master Your Game with AORUS MASTER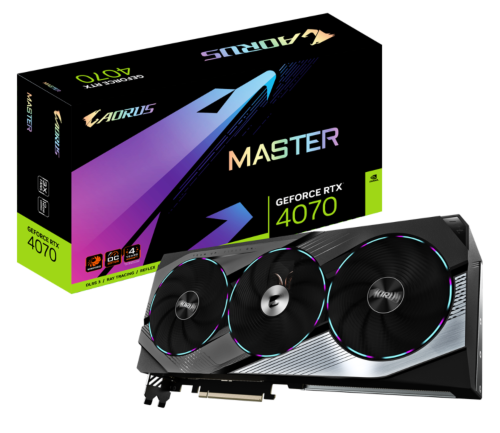 The AORUS GeForce RTX 4070 MASTER 12G is the perfect graphics card for gamers who demand exceptional performance and a premium look. This state-of-the-art card boasts the new WINDFORCE Bionic Shark Fan design, which provides up to 30% more static pressure while reducing noise levels by up to 3dB compared to regular fans operating at the same RPM. Moreover, it features a larger heatsink module with angular fins, providing more surface area and cooling capacity than ever before.
The MASTER offers a full suite of extra features, too. The graphics card comes with an upgraded version of the signature triple-ring RGB lights, RGB Halo. The PCB is coated with an aerospace-grade coating to provide extra protection against humidity and dust. Additionally, it features a dual BIOS system to let you choose between performance and silent modes. The ULTRA DURABLE certified components and an upgraded metal backplate ensure that this card will last for years to come.
Create Unique Builds with AERO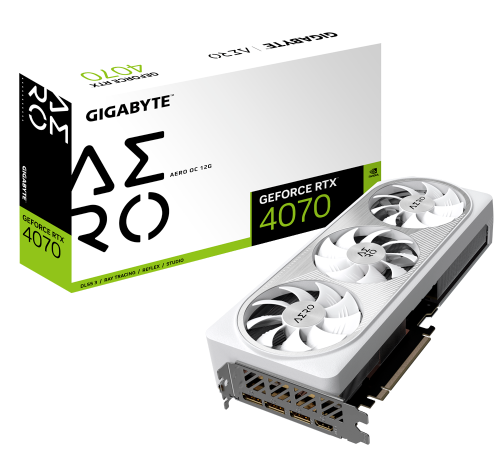 The GeForce RTX 4070 AERO OC 12G is the perfect graphics card for those who prefer a minimalistic style and want to build something unique, thanks to its silver and white design. On the cooling side, the WINDFORCE cooling system, with alternate spinning, a large copper plate with direct touch to the GPU, heat pipes, and cooling vent, ensures that your AERO runs as cool as possible.
Additionally, the onboard dual BIOS switch allows users to choose the SILENT mode for a quieter experience without requiring software installation. The graphics card also comes with an upgraded metal backplate, providing a more durable structure, along with excellent power phase design and ULTRA DURABLE certified components that enable the graphics card to operate at lower temperatures and higher performance.
Game in Style with GAMING OC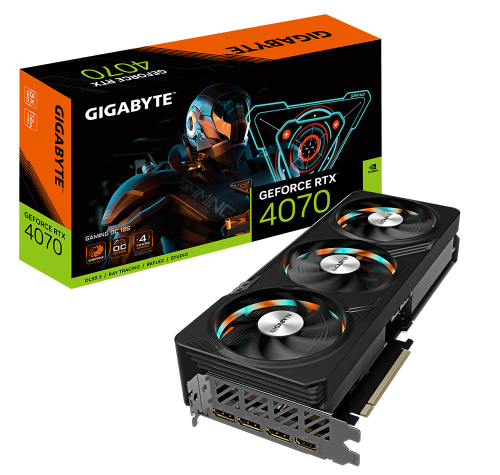 The GeForce RTX 4070 GAMING OC 12G is a classic and popular choice from GIGABYTE. Its sleek design in matte black, decorated with some gaming elements, makes it a versatile choice that can adapt to various PC build styles.
Under the hood, the GAMING OC card features the WINDFORCE cooling system to ensure maximum heat dissipation. It also includes graphene nano lubricant on the fans, an onboard dual BIOS switch, an upgraded metal backplate, excellent power phase design, and ULTRA DURABLE certified components.
In addition, the GAMING OC card inherits the RGB Halo from AORUS and has RGB lighting on the card's side as well. This allows gamers to customize the colorful RGB effects and create a unique PC style that matches their preferences.
Let Performance Soar with EAGLE OC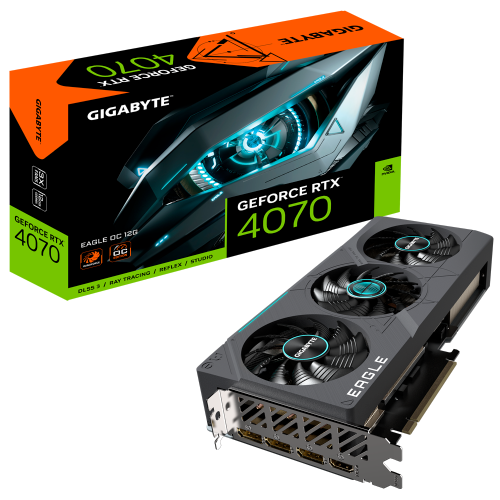 The GeForce RTX 4070 EAGLE OC 12G incorporates futuristic design elements, resulting in a unique and personalized identity. Its size advantage makes it compatible with most PC cases. Additionally, the RGB lighting adds to the card's aesthetic appeal, making it a perfect addition to your gaming rig.
The EAGLE OC also shares the same triple-fan WINDFORCE cooling system as the GAMING OC to ensure quiet and cool operation. For increased durability, the card also features graphene nano lubricant on fans, an onboard dual BIOS, an upgraded metal backplate, excellent power phase design, and ULTRA DURABLE certified components, all contributing to both stability and durability.
Gateway to Next-gen with WINDFORCE OC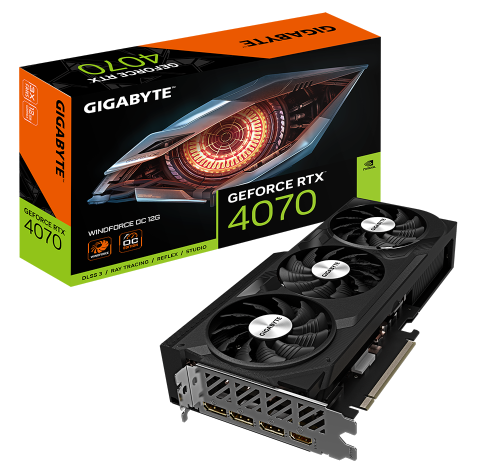 The GeForce RTX 4070 WINDFORCE OC 12G offers an excellent opportunity for gamers who want to experience the performance of the RTX 4070 GPU without breaking the bank. Despite its simple design, it comes with all the essentials and premium features needed for smooth operation for gaming or creation, such as the triple-fan WINDFORCE cooling, metal backplate, and ULTRA DURABLE components. The WINDFORCE OC is perfect for builders with a more subtle sense of style, or those who don't need RGB lighting in their rig. With a single 8-pin PCIe power connector, the WINDFORCE OC is easy to install into any existing build.
Learn More:
- Hitting The APEX With The New GIGABYTE AORUS GEFORCE RTX 40 Series GRAPHICS CARDS
- 5 Tips When Purchasing Your New Motherboard