Analyzing the performance and battery efficiency of different AI settings
We use AERO 15 OLED to be our testing model, using the latest high-performance hardware combination of Core i7 10875H and the RTX 2070 SUPER graphics card plus 16GB RAM, to see the performance and efficiency of the four modes – Edge AI ON, AI Off, AI Battery Performance Mode and AI Battery Saving Mode.
In every set of testing data, AI Off is the index for comparisons among Edge AI On, AI Battery Performance Mode and AI Battery Saving Mode as percentages in order to let readers clearly understand what different AI settings can provide in terms of user efficiency.
In the same mode, performances are similar using AERO 17 HDR, AORUS 15G or AORUS 17G, being a good reference for comparisons.
AI testing: 3D simulation performance enhancement
For 3D performance, we use 3D Mark Fire Strike (DirectX 11) and 3D Mark Time Spy (DirectX12) to see what different settings can do for 3D simulations.
The graph below shows that activating the AI gives us 6%~9% performance enhancement, which is one of the best among other laptops of similar specifications.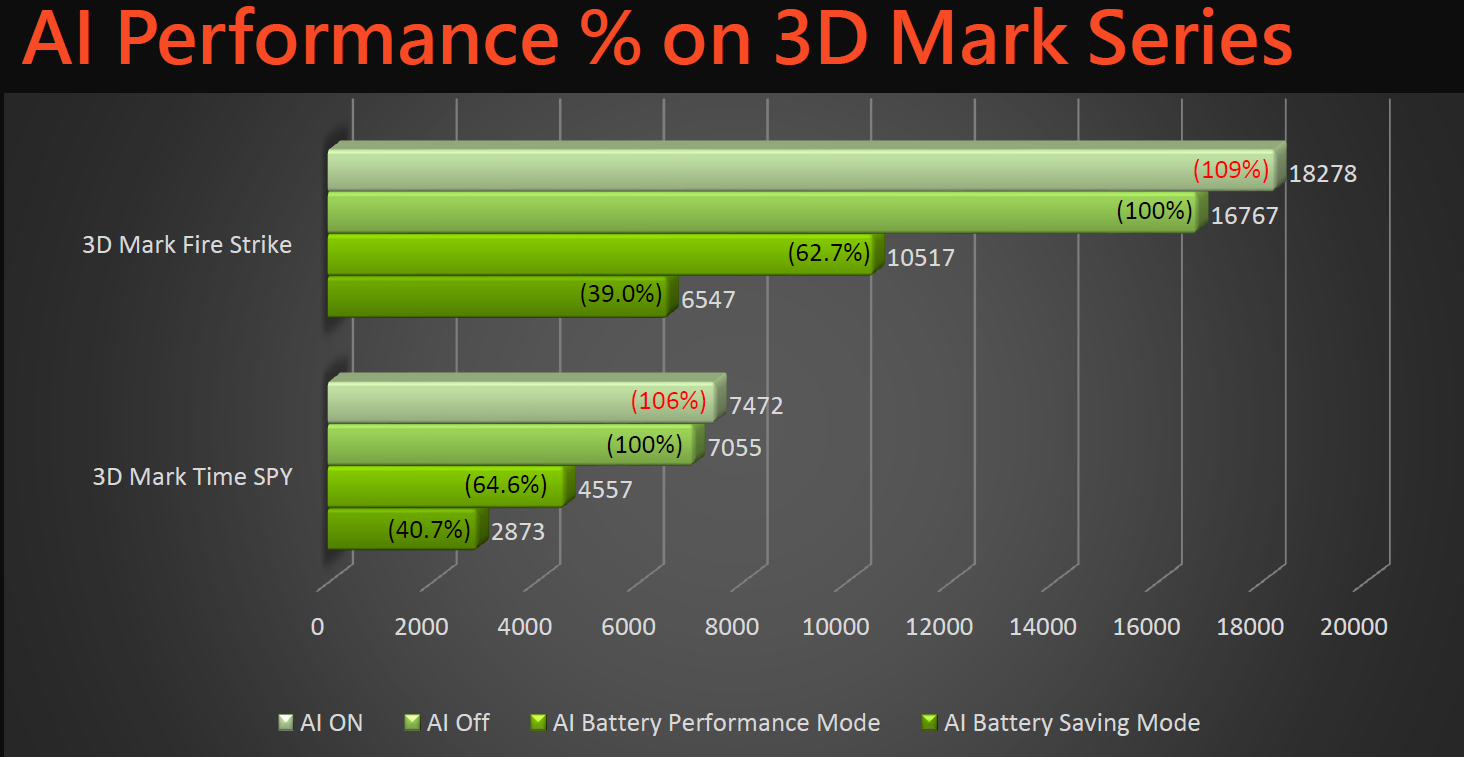 Under Battery status and using AI Performance Mode, performance is at around 62.7%~64.6%, allowing for a GTX 1660 Ti-grade smooth performance for most 3D applications.
Under Battery status and using AI Battery Saving Mode, performance is at around 39%~40.7%, giving us workable 3D performances surpassing GTX 1050 while optimizing the longest battery life on this laptop.
AI on CPU performance
Now let us look at CPU performance comparison with different AI settings.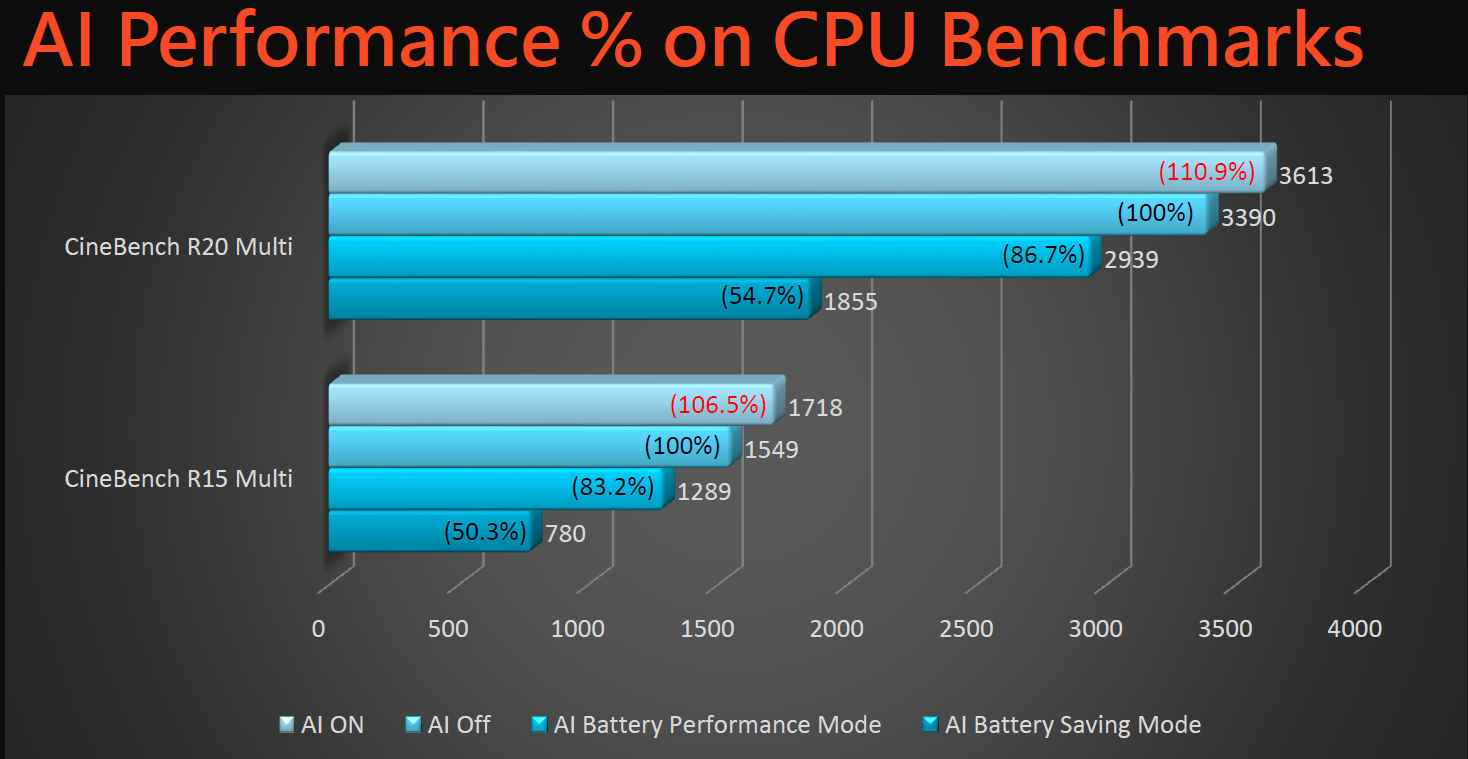 The testing uses CineBench R20 and R15, two software most often used for CPU performance testing by media, and runs OpenGL with a multi-core CPU for performance testing.
Under Edge AI On while plugged-in, CPU performance raised up to 106.5%~110.9%. For 10875H, this even surpasses the performance of the last-generation Core i9 CPU.
In Battery mode and under AI Performance Mode, performance is at around 83.2%~86.7%, approximately equal to a Core i7 10750H CPU at full speed. Such performance allows for excellent video format-changing and post-production abilities in Battery Mode, in addition to smooth performances while presenting proposals to your clients!
In Battery mode and under AI Battery Saving Mode, the performance is roughly equal to the baseline of a four-core Core i5 CPU or a U-series Core i7, but the lifespan is extended to more than 8 hours – excellent and durable.
Battery Mode with AI Boost: no more low fps while gaming
The most practical use for a gaming laptop is definitely gaming, while that of a content creator's laptop is testing the performance of the 3D games they designed. Let us consult the graph below to see how different AI settings can do on Ubisoft's classic series, "Assasin's Creed Origins", with graphics settings being set to the highest frames per second (fps).
Actual Testing: Assassin's Creed Origins
Under AI Off, we get a smooth experience of 88 fps, while Edge AI On raises it up to 96 fps - 109.1%. Let us then look at Shadow of Tomb Raider, a game with more special effects. At default under AI Off, we get 73 fps, while turning on AI On gives us 76 fps, with a performance about 104.1%, meaning that the game is already squeezing out the performance so that the improvement space is quite little.

Let us look at Assassin's Creed Origins fps under the two AI modes in Battery Mode. AI Performance Mode gives us 57 fps, which is 64.7% of what we have while plugged-in and still be able to play the game smoothly.
Battery Saving Mode allows for a stable 30 fps, a basic and smooth user experience – truly smart gaming fps control.
Game Testing: Shadow of Tomb Raider
Now we turn to the fps test for "Shadow of Tomb Raider" under the Battery Mode. We can see that we still have 56 fps in AI Performance Mode, while AI Battery Saving Mode gives us 30 fps on average.
Although the two games differ more on fps at peak performances, in battery mode, smart AI software control allows for a smooth experience maintaining 55~60 fps in Performance Mode with the most power-efficient setting maintaining a basic 30 fps.
None of these are possible just by user adjustments; GIGABYTE's power of Azure AI Mode is shown in these precise and excellent gaming experiences. Also remember that, this is the frames in FHD and the highest quality; if the user lowers the quality settings, fps and smoothness can also be greatly enhanced!
AI testing: VR experience as good as top-tier gaming equipment
Lastly, we'll see how Azure AI Mode can do on HTC VIVE level VR. Here we use VR Mark for performance testing as measured by fps under four different settings. While plugged and under AI Off, this high-level laptop's VR function allows for 187.95 fps on the screens for both eyes, with a super high score of 8621.
Under Edge AI On, it reaches 194.75 fps, with a grade of 8933, matching that of top-tier gaming PCs. Right now, 120 fps is more enough for VR glasses screens; for more delicate scenes and situations where 144Hz refresh rate is necessary, it can also provide excellent performance that further surpasses the actual requirements.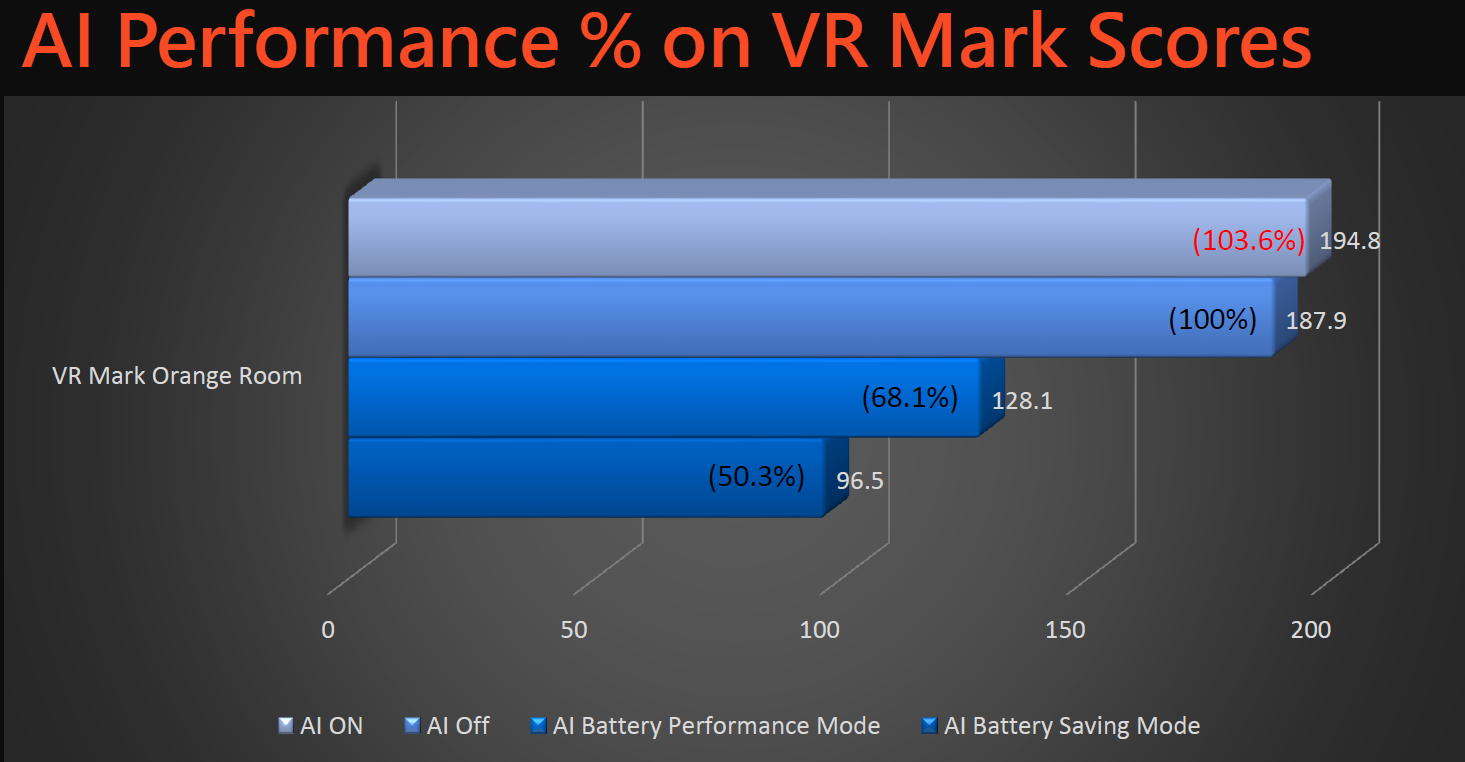 In the Battery Mode, AI Performance Mode can provide screens in both eyes with a high 128.04 fps, slightly higher than the 120 fps, which is higher the basic requirement of over 90fps.
This means that GIGABYTE's AERO and AORUS series laptops are among the rare ones that can provide stable and smooth VR experiences under the Battery Mode – even without plugging, whether it is to let your friends experience VR gaming and 3D displays, or to present VR proposals to your clients. It is truly a mobile work station!
When the AI setting is set to Battery Saving Mode, you still get 96.46 fps in addition to being very power-efficient, with no problems at all while using software for real-time computing and watching the screen.
However, you might get dizzy while using the VR equipment due to the low fps. In terms of long battery life, this kind of VR performance is extremely awesome!