Do you know that Rockman has accompanied us for almost 30 years!
AORUS coops with Suchao Modding & Design on Project AORUS Capsule that pays tribute to the Capsule in this classic game. Just like the Rockman get upgraded by going to the capsule, the AORUS RTX 3080 MASTER in the AORUS Capsule makes your PC setup more powerful!
Share with us your thoughts about this extraordinary scratch build after reading the interview in the comment section!
How did you get into the world of PC modding?
I first get into this PC modding in 2012. That was when I saw the first PC modding website in Thailand. From that moment, I have the idea of assembling my own PC with the least budget possible, and it also needs to be unique. My first PC modding cost me only 400 THB.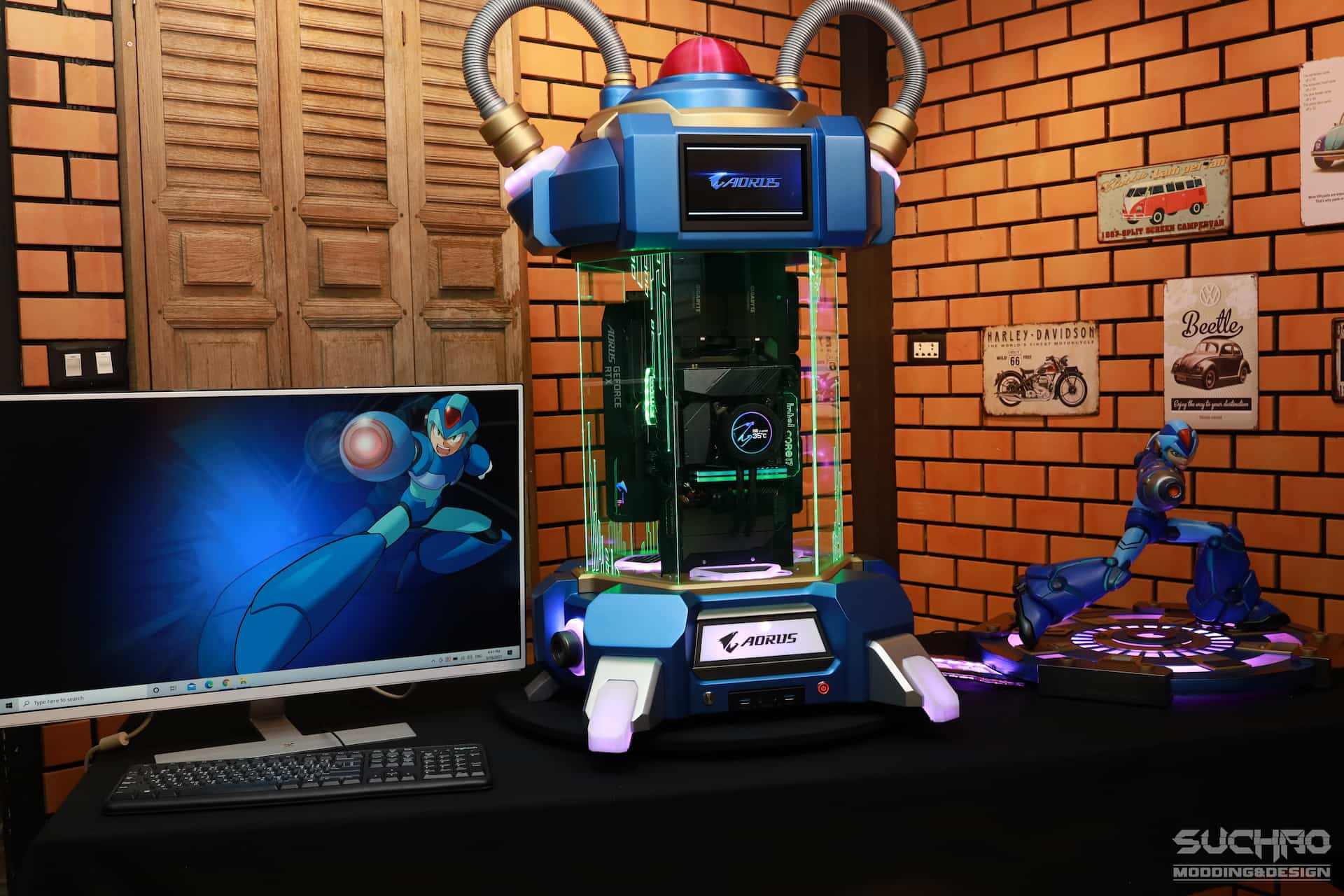 What's the game you like to play the most?
Oh, my favorite game. Haha, I stop playing games for like 4-5 years now. But my favorite game is God of war (The first one on PS2). The reason why I like it is that the movements of the character are so incredible. Moreover, every boss fight was amazing, and if I think of coming back to gaming, God of War will be the first choice.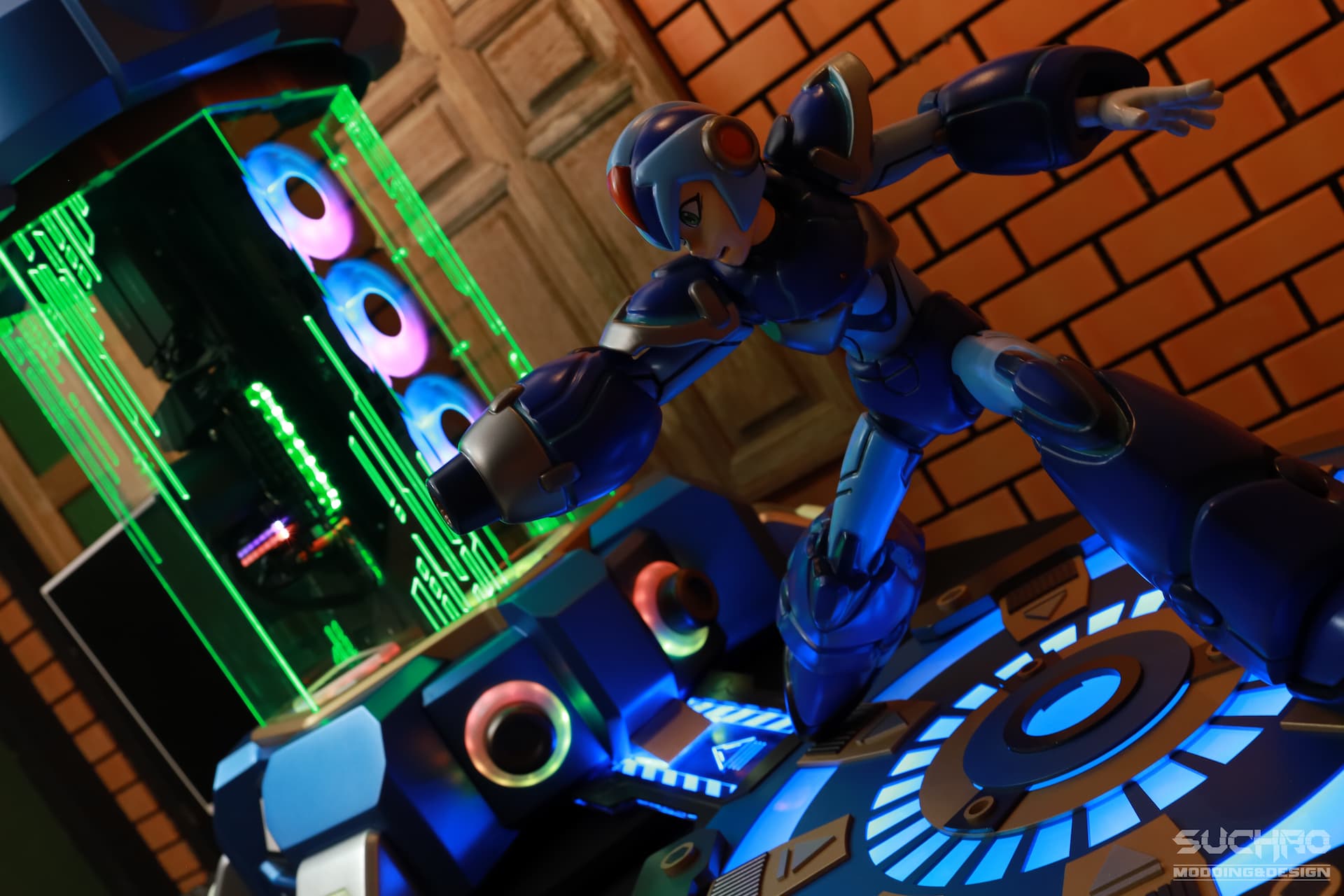 Can you tell us about the concept behind this Mod?
The concept of Rockman comes with technology, coolness, and freedom of the player. A unique setting in Rockman is that the player can choose to fight any boss first, it doesn't have to be in a straight line. When you defeat one boss, you will receive that boss's particular weapon to fight with another boss. Also, the most iconic item for Rockman is the Capsule for upgrading your Rockman. With the "Aorus Capsule" project containing so much over-the-limit hardware, it gives you an advantage over your opponent. You can show it with coolness and technology at the same time.
Did you have any interesting or challenging moments during the modding process?
The most interesting thing about this "Aorus Capsule" is the design to show the hardware and be able to see it 360-degree. Also, the lighting will attract everyone to take a look at this PC. Lastly, the 7.5-inch screen which will show the logo of every brand. This screen can even be used to show any info just like a monitor for the case itself.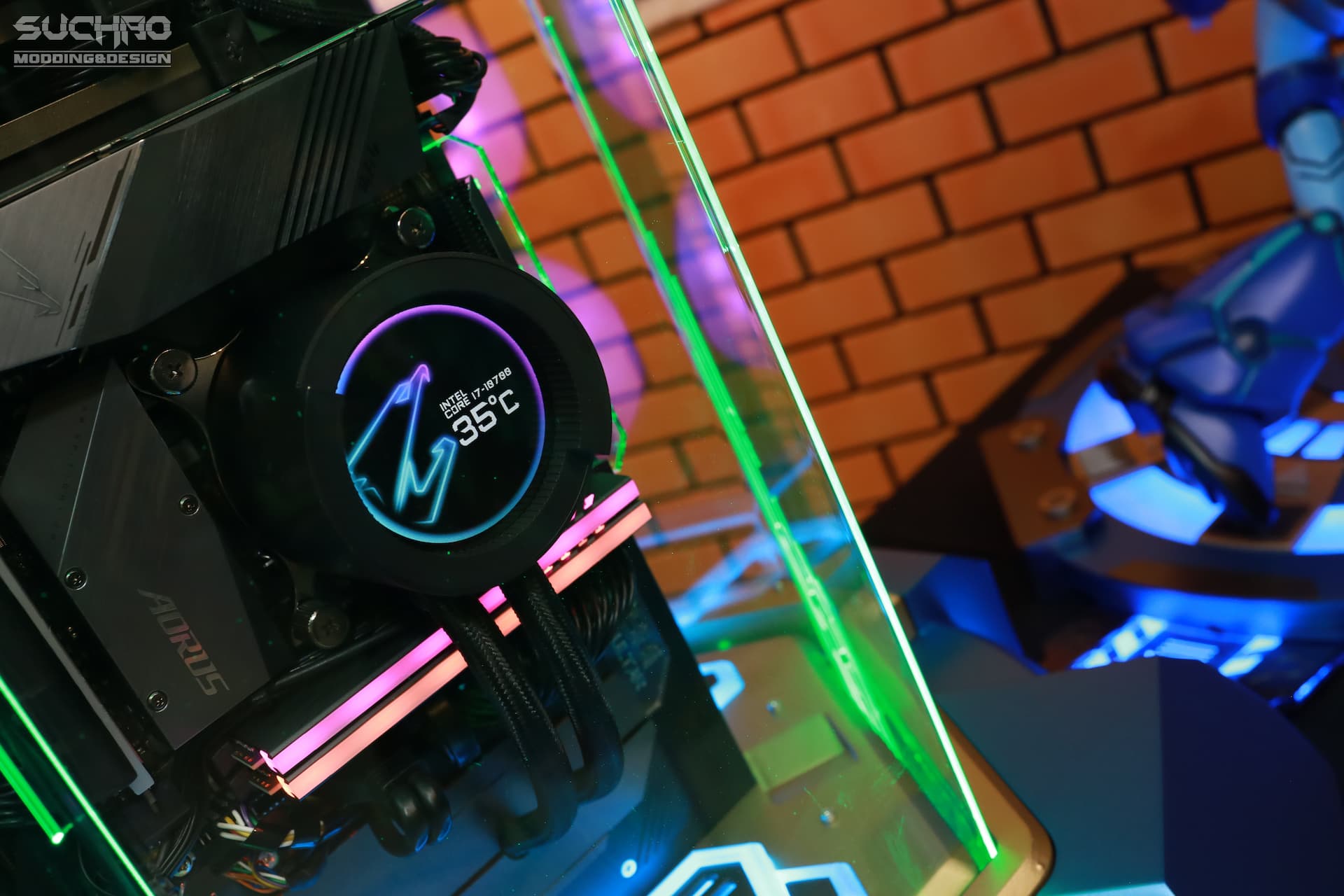 The obstacle I encountered is that due to the COVID-19 pandemic in Thailand, it took me longer to assemble the modding because we have to stay in our own house for the lockdown. But don't worry, this PC has already been sterilized.
Another unexpected thing is that I received a call from Aorus to create this beautiful PC hahaha. This surprised me a lot. Even though I have worked with Aorus on so many projects for Computex from Battleship, Forklift, Thai elephant to AR45, but there was a gap between 2017-2020 when we didn't have any collaboration which is partially due to the COVID-19 situation. Today I am very happy to work with Aorus again. Thank you!
Do you have any feedback or comments on AORUS GeForce RTX 3080 MASTER?
My first feedback is the I was very impressed by the design of the packaging. It had a 3D texture with a very colorful vibe of Aorus, and the packaging was very solid so that it could protect whatever was inside the box. When I unboxed it, I saw the dedicated craftsmanship of the product. With the new lining, heatsink, and the 3 fans of this Graphics Card, I told myself this had a lot of details going on. Especially the LCD Edge View display that made me feel worth the price.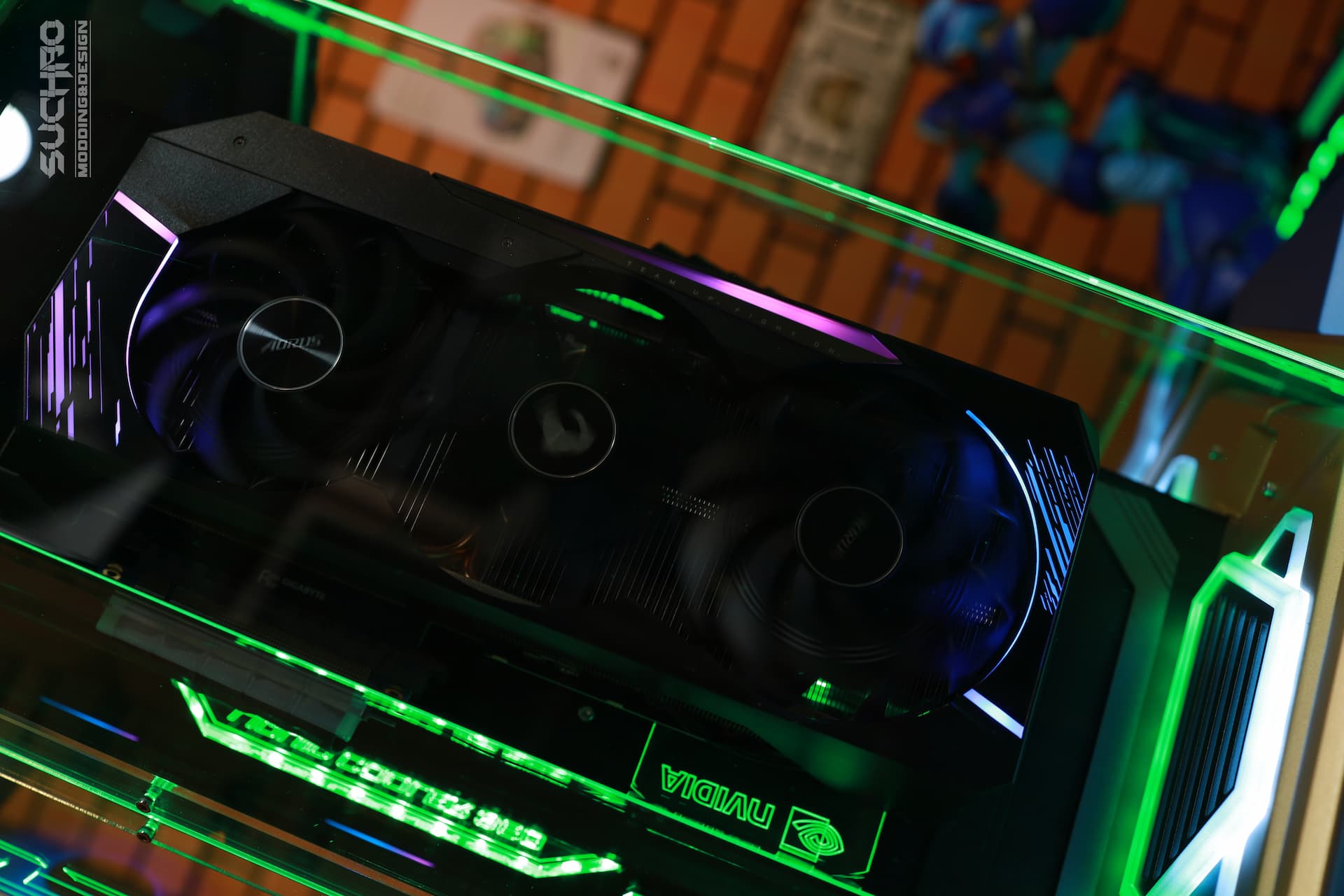 What's something about modding you want to try in the future?
I want to do a review in a Modder style, it would look different from a normal reviewer.
The next thing is to try doing only hardware modding. For example, motherboard, Graphics Card, monitor, headphone, and keyboard to add up the value of them.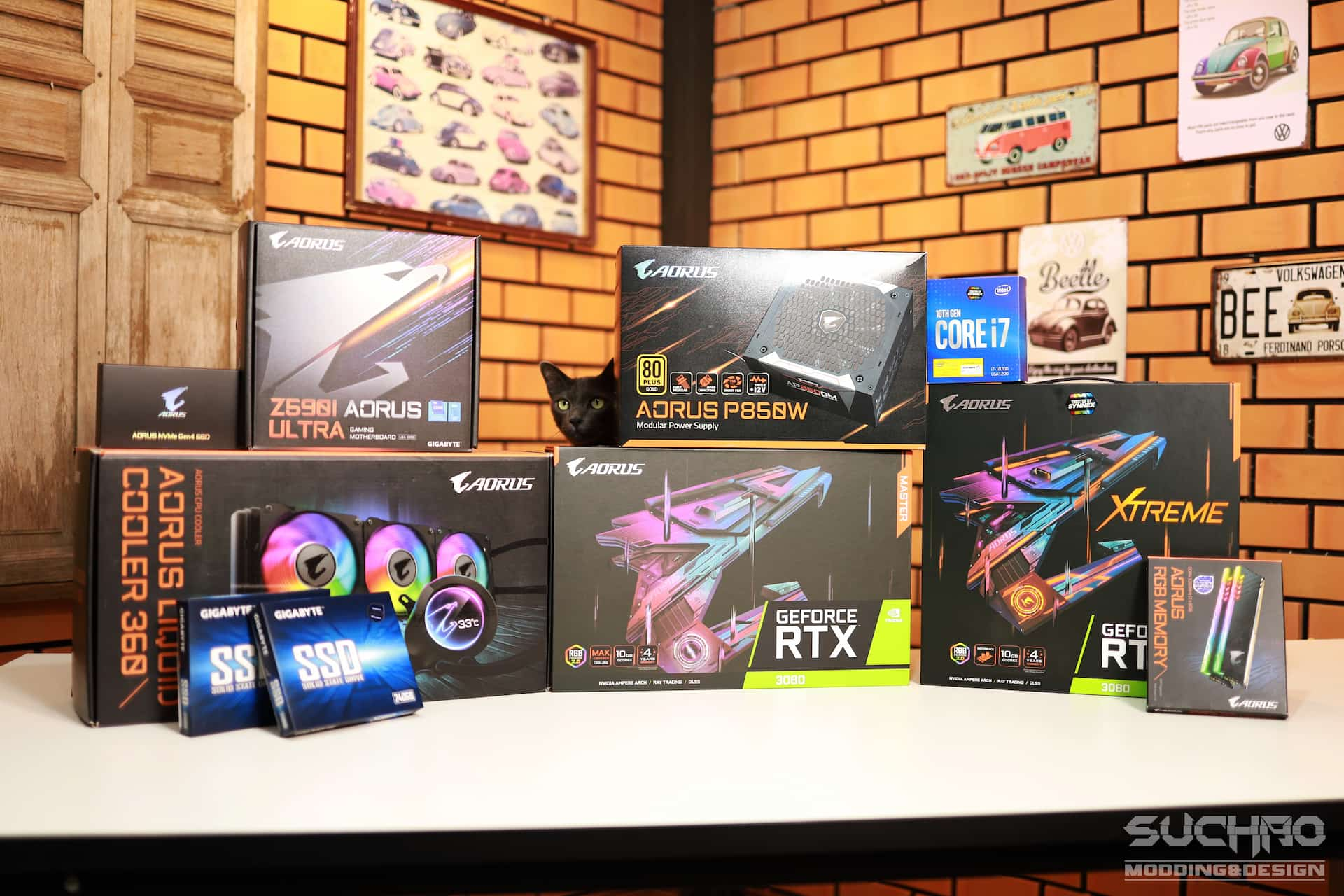 The last thing is cooking Pad Thai!!! If I ever get bored from Modding the PC or if it's really my time to turn down, I want to be a chef and make money from it. Originally, my family owns a restaurant, but they have stopped running it for a long time. That's one of the jobs that you can meet many new faces, and I think that selling food can also make a decent profit because everyone needs to eat when they are hungry. But the most important thing is that the food has to be delicious for the restaurant to make a profit, and I happen to make delicious food !!! hahaha
Spec List:
CPU: Intel 10th Gen Core i7-10700
Graphics Card: AORUS RTX 3080 MASTER
Motherboard: Z590I AORUS ULTRA
Memory: AORUS RGB Memory 16GB (2x8GB) 3200MHz
M.2 SSD: AORUS NVMe Gen4 SSD 500GB
SSD: GIGABYTE SSD 240GB
Cooler: AORUS LIQUID COOLER 360
PSU: AORUS AP850GM 850W 80 PLUS GOLD
Not enough? See more in the video!