With an ever-expanding list of games that support 4K resolutions and the latest generation of computer hardware and gaming consoles putting a strong focus on 4K gaming, now is the perfect time to dive into the bliss of ultra HD gaming.
Only a small number of years back, it was both challenging and expensive if you wanted to play your favorite games in 4K. This was because few games supported the higher resolution and the hardware's power was a primary limiting factor. Unless you had thousands of dollars to spend, 4K gaming was not a viable option.
Thankfully, this has vastly changed over the past couple of years thanks to the release of more powerful and affordable PC hardware, consoles from Sony and Microsoft that have a 4K gaming focus, and the availability of a large number of 4K displays.
Now is a great time to get started gaming in 4K, and we will take a look at why exactly that is and how you can get started.
The benefits of 4K gaming
When it comes to 4K gaming, there are several benefits from gaming at an ultra HD resolution. These all help to give you a more immersive and enjoyable gaming experience.
Higher quality images
4K monitors deliver superior and improved image quality over 1080p and 1440p monitors. With this resolution, enjoy more crisp, clear, vibrant, and detailed images. You will also find that colors are generally more vibrant, which leads to the images becoming more natural & realistic.
When it comes to gaming, it is an absolute dream to play at a resolution of 3840x2160. You will notice details in the graphics like you never have before. These increased graphic details give you an overall more immersive and enjoyable gaming experience.
Next-gen consoles
The latest PlayStation 5 and Xbox Series X consoles are designed to be 4K powerhouses. They offer incredibly powerful gaming performance that shines when playing games at 4K. Thanks to the inclusion of HDMI 2.1, games are able to play games at a 4K resolution whilst also enjoying higher refresh rates such as 120Hz.
The fantastic thing about these next-generation consoles is that it is incredibly simple and affordable to get into. Unlike with PC gaming, where you need to purchase various high-performance hardware to build the computer, all you need to do to enjoy 4K gaming is buy the console and a 4K capable display. Once you have these two things, you are good to start gaming, and you won't have to worry about upgrading anything again.
Future-proof
4K is already known by a lot of people to be mainstream, and because of this reason, it is something that will not be going away any time soon.
Video games, movies, and TV Shows are going all in on the ultra HD resolution, so the AORUS 4K display lineup will ensure that you can take advantage of future releases as they become available.
Enjoy more than just gaming
With a quality 4K display, you can do more than just play video games. With most streaming services now offering 4K video, you can enjoy the beauty of 4K movies and TV Shows.
Streaming services such as Netflix, Disney Plus, Hulu, Amazon Prime, and YouTube offer a wide variety of 4K video streaming. Just as with gaming, 4K video helps increase the enjoyment of watching the latest blockbuster. This is thanks to the incredible detail and color vibrancy you experience, drawing you further into the movie, and increasing the overall watching experience.
What monitor should you use?
In order to dive into the world of 4K, the most important thing to consider is what display you should use. There are countless 4K display offerings out there at the moment, ranging from monitors of various sizes and quality, and televisions that have high price tags.
AORUS aims to make this selection process much easier by offering a large range of displays that all offer outstanding 4K quality and are suitable for all gamers and budgets.
Make sure you get a quality 4K monitor
When it comes to 4K content, one of the most important things to consider is the display that you are going to use. There is no point in outputting 4K video if the display itself is not able to handle it correctly.
All images that are displayed have to remain smooth and fluid no matter what the scene or situation, whether it is a slow-paced scene or during heavy action gameplay that's packed with animation. The last thing you want is to experience ghosting and input lag when trying to enjoy your new 4K setup.
Because of this, you must pay attention to the features and specifications when scouting for a 4K monitor. With this in mind, GIGABYTE AORUS has created a range of 4K display offerings that suit everyone's budgets and requirements.
FI32U
The product is among the most sought-out products from AORUS that sports a 4K IPS screen @ 144Hz. It's built with 4K PC gaming and future and upcoming consoles in mind.
Thanks to its support for HDMI 2.1, you can get the best 4K gaming performance and high refresh rate support possible from this display, offering magnificent gaming experiences. In addition to hush refresh rate gaming, it also provides exceptional response times and no instances of input lag and ghosting.
The FI32U supports FreeSync VRR to provide top-notch tear-free gaming moments anyone could ask for, delivering truly stunning image quality right out of the box.
The included RGB Fusion 2.0 allows you to add a little more flair to your gaming setup, allowing you to personalize the RGB color theme to suit your environment.
Notable specifications include:
31.5-inch SS IPS panel
90% DCI-P3/ 123% sRGB color saturation
1000:1 contrast ratio
1ms GTG response time
144Hz refresh rate with 120Hz for consoles
VESA Display HDR400
HDMI 2.1

FV43U
Another display from AORUS that offers unparalleled 4K gaming performance is a monitor with a 10-bit display plus 97% DCI P3 color field. With this, you can benefit from richer color gradation selections plus improved efficiency.
The VESA DisplayHDR 1000 is guaranteed to provide brilliant display qualities compared to the competition.
This is a 43-inch product with a 4K VA panel @ 144Hz refresh rates. The main design and use of the product are for next-generation consoles such as the PlayStation 5 and Xbox Series X. This is a great alternative to the expensive TVs that generally don't offer ideal response times and come in at a much higher price tag.
Included with the display are two HDMI 2.1 ports for devices such as the Xbox series or a PS5. The FV43U also comes packed with Space Audio which helps provide you with some of the most immersive audio possible when watching Movies and TV, as well as playing video games.
Notable specifications include:
43-inch VA QD display
97% DCI-P3/ 150% sRGB/ 99% AdobeRGB color saturation
10bits (8bits+FRC) display colors
4000:1 contrast ratio
1ms MPRT response time
144Hz refresh rate with 120Hz for consoles
VESA Display HDR1000
HDMI 2.1

FO48U
It's a 10-bit display with a 98% DCI P3 color zone. This results in a more accurate display since it gives a larger range of color gradations.
Your gaming experience will be improved by the greater bandwidth provided by the most recent HDMI 2.1 port, allowing you to game at 4K 120Hz. The higher refresh rate provides smoother visuals for scenes that are more high speed. A perfect example of this is playing a competitive FPS where every frame matters.
Its OLED panel offers true color and showcases perfectly rich blacks. Plus, the self-emissive aspect of this FO48U eliminates the need for backlights, resulting in swift response times. Furthermore, the monitor provides perfect colors with accurate hues, saturation, and contrast.
Its transitory response time allows for crystal and clean action behind quick-shifting objects. This product also uses FreeSync, perfect for tear-free gaming.
Being a larger 48-inch display, the FO48U is also perfect for other media entertainment, such as streaming 4K movies and TV shows. This is a truly great alternative to a standard television setup. The OLED display adds a new level to movies that just need to be seen to be believed.
The FO48U also includes Space Audio which gives you some of the most immersive sound possible, including various sound profiles for various media, including games, movies, live concerts, etc.
Notable specifications include:
47.53-inch OLED display
98% DCI-P3/ 130% sRGB color saturation
10bits display colors
135000:1 contrast ratio
1ms GTG response time
120Hz refresh rate
HDR10 / HLG
HDMI 2.1

M28U
The M28U is another great 4K monitor with a 28-inch IPS screen. It delivers notable gaming features that enhance your entire experience. The monitor provides a very low response time of 1ms, providing lag-free gaming.
The optimized pixel density and spacious viewing allow it to function as a top-notch monitor for regular and gaming use. Being a smaller monitor than the others on the list, you won't need as powerful hardware to take advantage of the 4K display.
In addition to excellent viewing angles, it offers incredible color gamut and consistency. These amazing elements give you a product that is perfect for media and content creation.
One of the best features of this monitor is the included KVM. The KVM allows you to use one single monitor across multiple devices using a single mouse and keyboard. This is perfect for those to use more than one device such as a Mac for work and a PC for gaming.
Notable specifications include:
28-inch SS IPS display
94% DCI-P3/ 120% sRGB color saturation
8bits display colors
1000:1 contrast ratio
1ms GTG response time
144Hz refresh rate with 120Hz for consoles
VESA Display HDR400
HDMI 2.1
KVM

M32U
This is a Gigabyte monitor that is a 32-inch product with a 144Hz refresh rate. It is similar to the M28U but comes in a larger display size.
It makes use of FreeSync VRR, which delivers tear-free gaming and gives you a buttery smooth game. Thanks to the included HDMI 2.1 port, it supports both Xbox Series X and PlayStation 5.
The larger screen size makes it the perfect option for gamers who like to play PC games as well as console games, as it gives it a nice sweet spot between screen size and performance.
Like the M28U, the M32U also includes KVM. This means that this really is the only monitor that you need on your desk. Allowing you to control more than one device with the same keyboard and mouse makes productivity so much simpler.
Notable specifications include:
31.5-inch SS IPS display
90% DCI-P3/ 123% sRGB color saturation
10bits (8bit + FRC) display colors
1000:1 contrast ratio
1ms GTG response time
144Hz refresh rate with 120Hz for consoles
VESA Display HDR400
HDMI 2.1
KVM

M28U ARM Edition
The M28U ARM Edition monitor from GIGABYTE is the latest display offering that not only offers stunning 4K image quality but comes with a unique feature.
Firstly, in terms of the display itself, it offers brilliant 4K visuals thanks to the 8-bit color depth plus the 94% DCI-P3 wide color gamut. Paired with a blazing-fast 144Hz refresh rate, this monitor is an absolute beast.
The unique feature we mentioned earlier however is that of the ARM itself. Normally, if you want to mount your monitor to your desk you would need to remove the included stand and purchase a third part, an expensive monitor arm mount. Well, this is no longer the case.
With the unique M28U ARM, you are able to mount the monitor directly to your desk using the included monitor arm. This frees up desk space leaving you with a much more aesthetically pleasing gaming setup.
Notable specifications include:
28-inch SS IPS display
94% DCI-P3/ 120% sRGB color saturation
1000:1 contrast ratio
1ms GTG response time
144Hz refresh rate with 120Hz for consoles
VESA Display HDR400
HDMI 2.1
KVM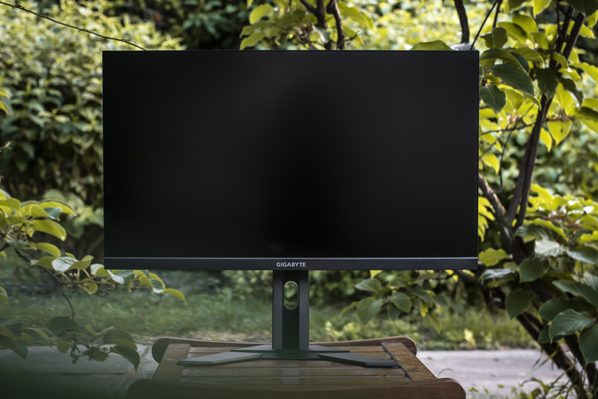 M32U ARM Edition
Like the M28U ARM Edition, we just spoke about, the M32U also comes sporting the new ARM mount. ARM makes it incredibly simple to mount your monitor to your desk instead of using a traditional monitor stand or third-party monitor arm.
The M32U ARM Edition is similar to the M28U ARM Edition, but it packs a larger 32-inch display which is perfect for those gamers that want a larger screen for more immersive gameplay.
The larger screen is also perfect for content creators and those that perform productivity tasks. The larger screen size ensures that visuals are crystal clear and that they look stunning.
Notable specifications include:
31.5-inch SS IPS display
90% DCI-P3/ 123% sRGB color saturation
1000:1 contrast ratio
1ms MPRT response time
144Hz refresh rate with 120Hz for consoles
VESA Display HDR400
HDMI 2.1
KVM
What else to consider when moving to 4K
A Powerful Gaming PC
4K gaming requires more than just a 4K monitor, you need something to power the games that you are playing and output the 4K content. Fortunately, creating a capable gaming PC for 4K gaming is more achievable than ever before.
A 4K-capable gaming PC requires a powerful video in order to render the 4K graphics correctly. The most popular 4K capable cards are the likes of the NVIDIA GeForce RTX 3080 and 3090, and AMD RX 6800 XT and RX 6900.
Along with a decent GPU, you'll need a CPU that can last in the long run. The AMD 5800X and Intel i7 12700K are two current CPUs that deliver amazing gaming performance at an affordable price.
Next-Generation Console
The latest next-generation gaming consoles provide an amazing 4K experience. Capable of gaming at 4K 120 fps, you get a stunning 4K gaming experience. The best thing about the next-gen consoles is that all you need to do is buy the console, plug it in, and you are ready to game.
There is nothing quite like gaming from the comfort of your couch or slouching back in your computer chair and just enjoying that game that you are playing.
The Xbox Series X is a highly powerful Xbox console. Its 4K resolution and fast frame rates deliver graphics that are incredibly realistic. Additionally, it offers excellent cloud gaming functions and 8K HDR.
High-speed memory and storage, an 8-core processor, and a 12-teraflop GPU are all included in the Xbox Series X.
The Sony PlayStation 5 can deliver 4K gameplay at up to 120 frames per second. It delivers 8K output just like the Xbox Series X does.
Its fast memory and storage allow for speedy interactions. Additionally, it performs flawlessly as a streaming media.
Learn More:
-What is Super Speed VA? A new alternative that will change the way you game!
-What is FreeSync and G-Sync, and Why Should You Care?
-A Gaming Monitor Plays to Win