Finally, after the long wait, the latest RTX 30 series graphics cards are coming to shelves. Here's the very first-hand UNBOXING of AORUS RTX 3090 XTREME. Well, we're not going to take it out from the oven, but we believe it's still something fresh and worth sharing.
Exterior : Fan Design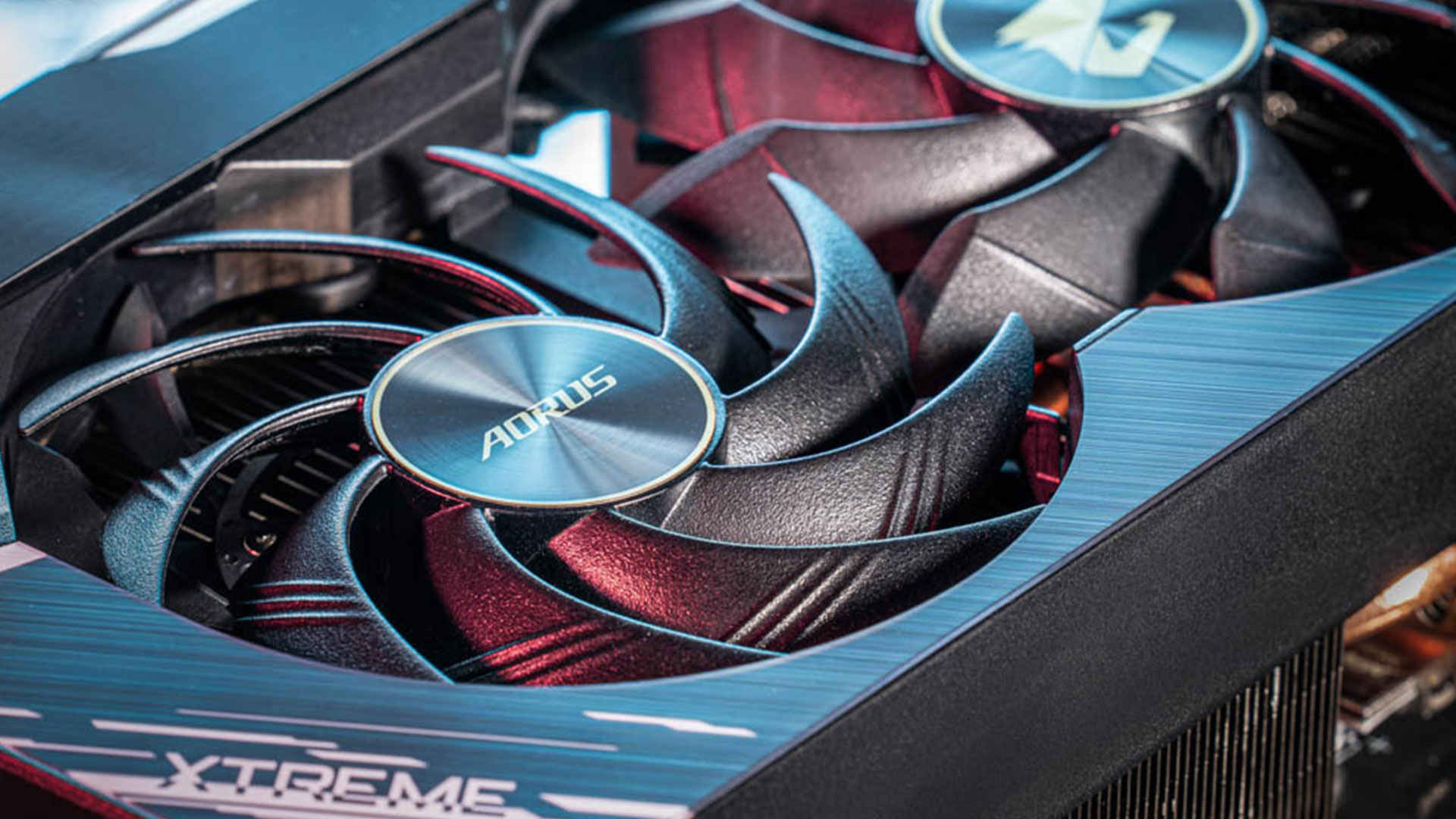 Let's start with the exterior. Here at AORUS, there's a saying, "fans come first." Yes, all of YOU matter to us, and also the FANS on the graphics cards. As one of the major parts of thermal design, the fans play a huge role in cooling. For this generation, several features are introduced or improved as part of the fan design. Let's take some close look at the details.
Stack Fan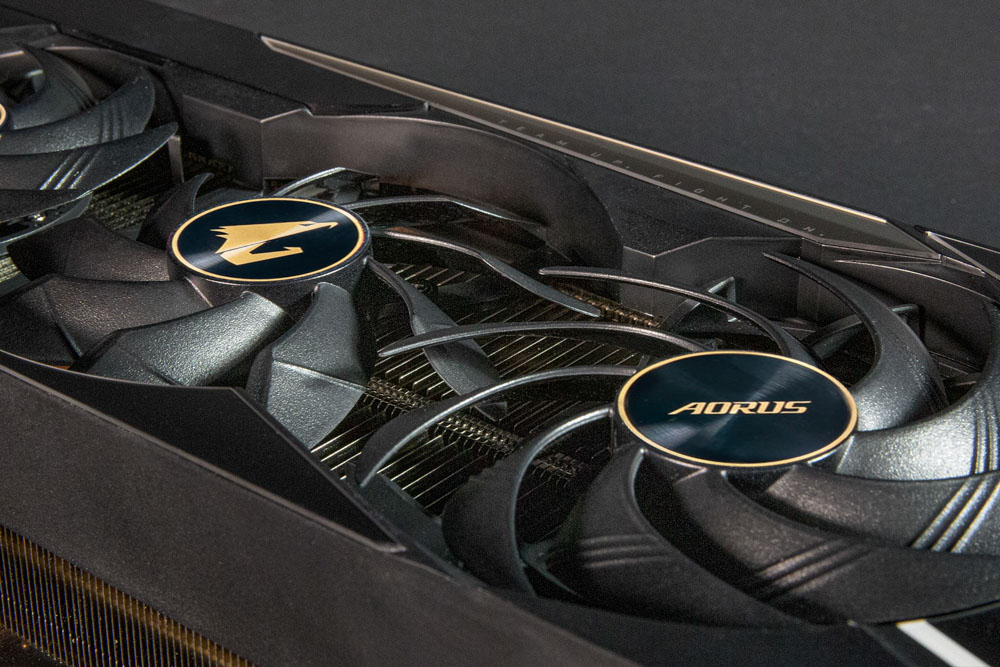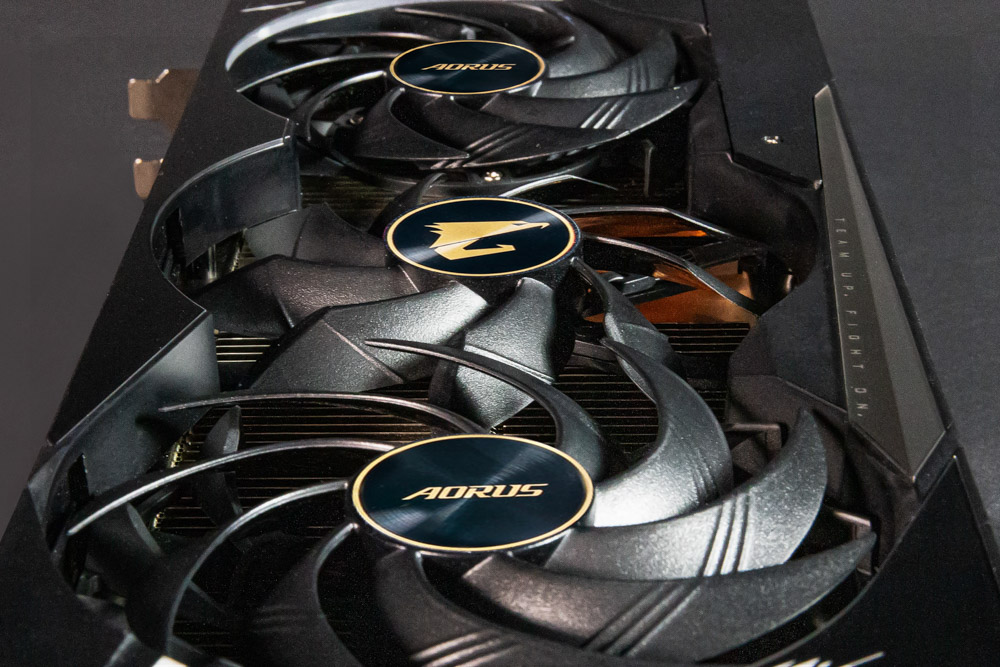 The first thing we see is the triple fan's design, which combines two 115mm and one 100mm fans altogether on this 319mm-long card. This is how Stack Fan works. With this technique, not only can we shorten the length for better compatibility, but enhance the airflow passing through the overlapped area, by minimizing the "dead zones" where traditional triple fans design couldn't cover.
Wind Claw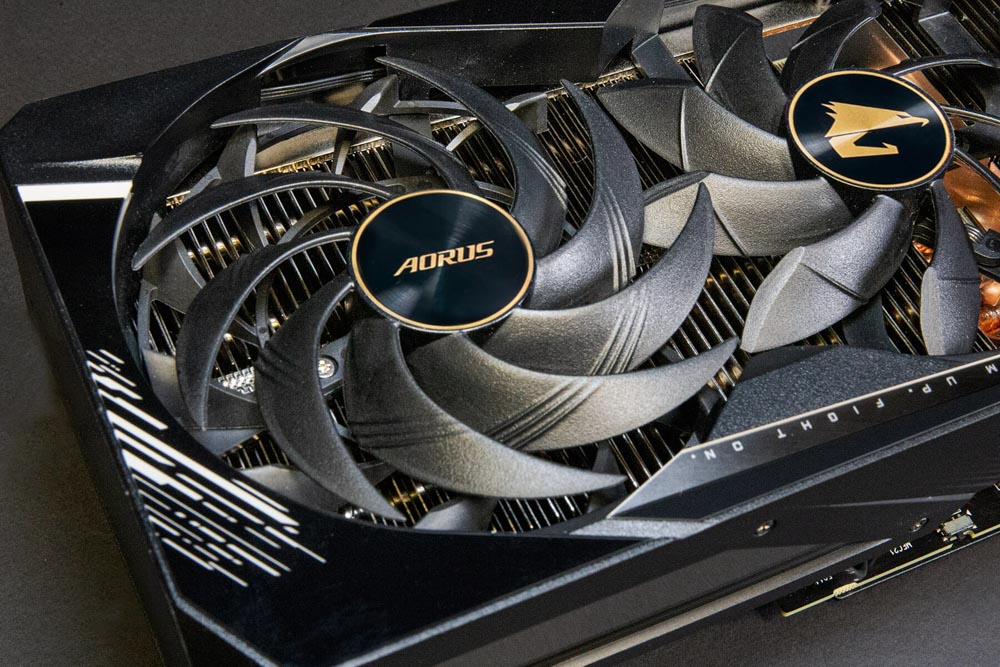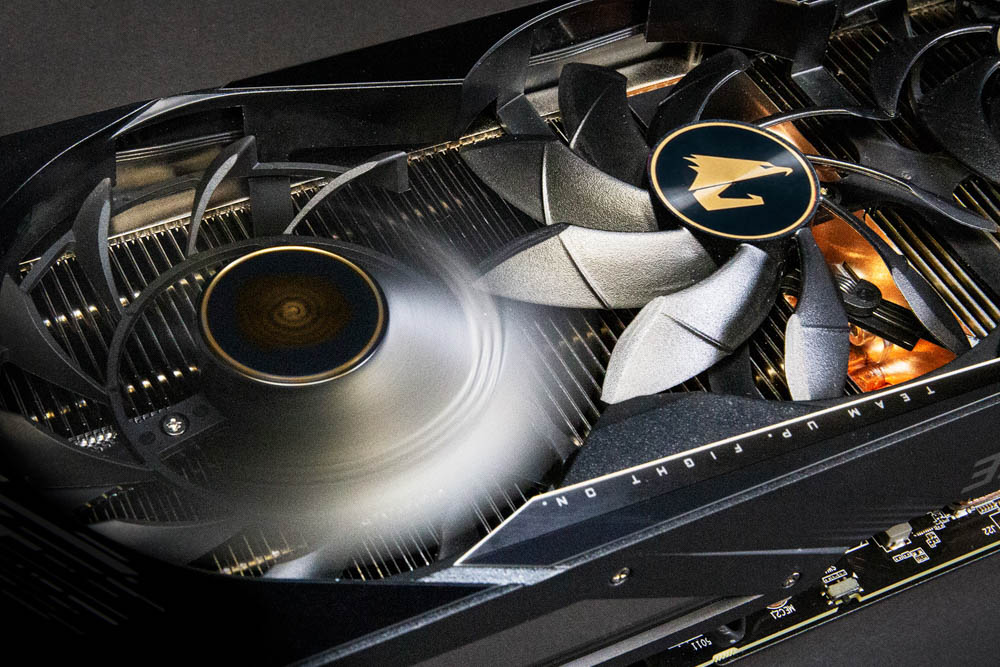 Just underneath the two side fans, there are two sets of stationary fan blades called "Wind Claw." No, it's not a Pokémon move. Instead, it's a passive cooling design that can channel the airflow through the heat sink with higher pressure and thermal efficiency.
Power Connector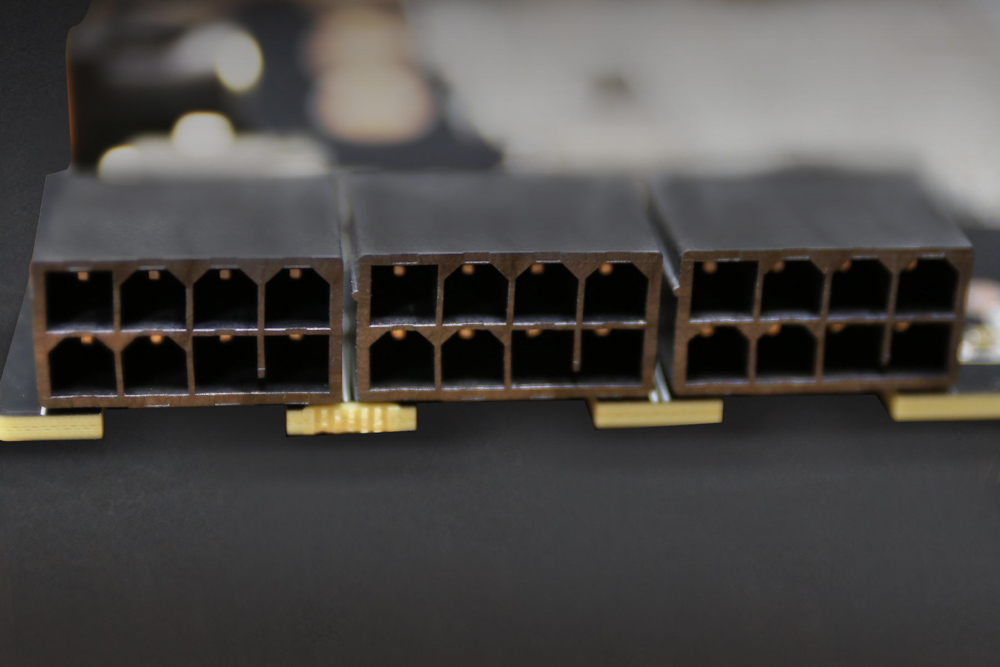 Power consumption is something you should really not neglect in this generation. According to NVIDIA, the RTX 3090 Founder's Edition is designed for power consumption of up to 350 watts.
On AORUS RTX 3090 XTREME, we feature three 8-pin PCIe connectors instead of two, to balance the power draw and avoid overheating for safety. Moreover, it offers a higher power cap in total, for XTREME-ly high performance during the most demanding scenarios.
On the other hand, high power consumption always results in high temperatures. This is why we keep improving the thermal design as you can see above.
Side LCD Edge View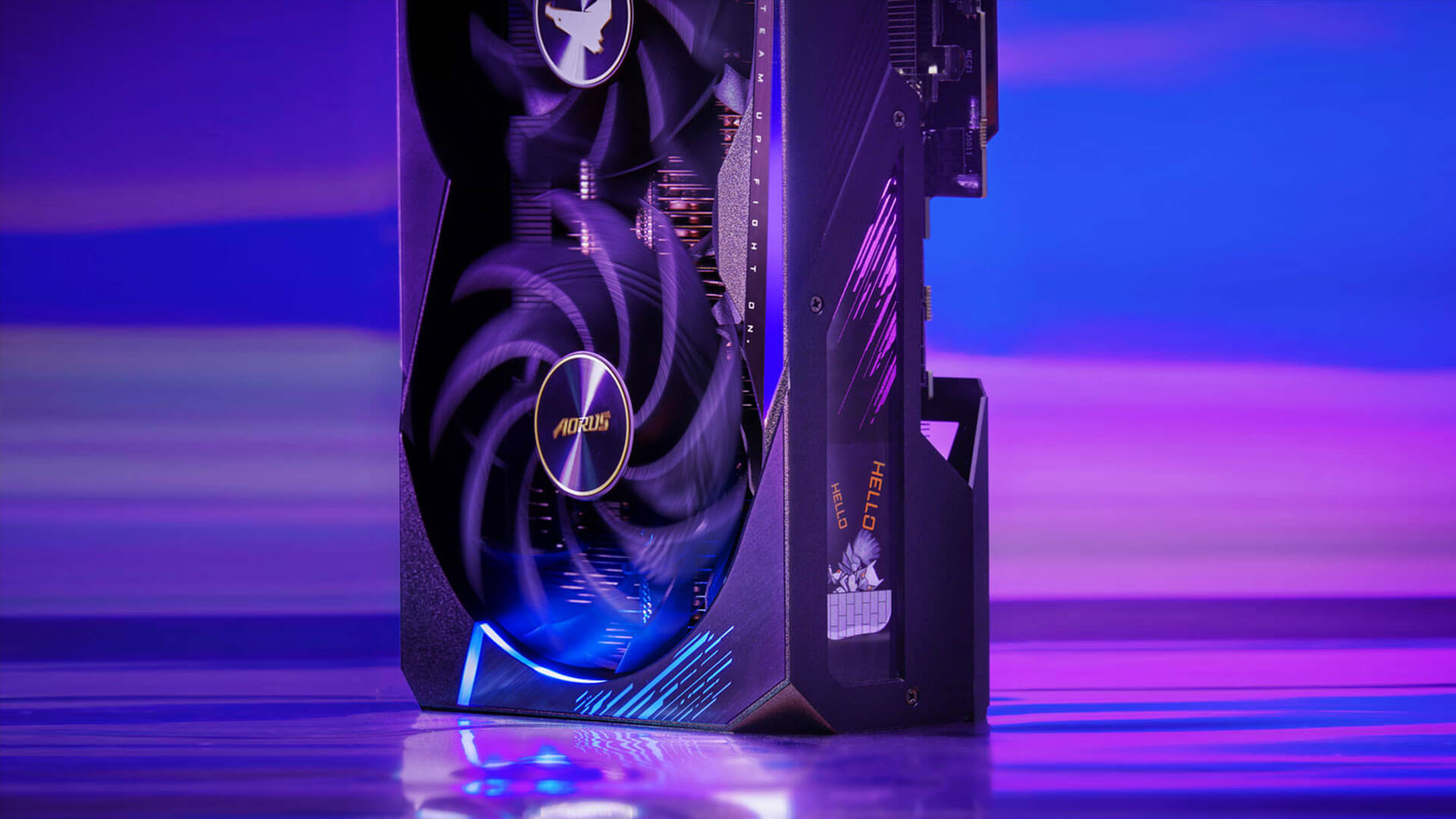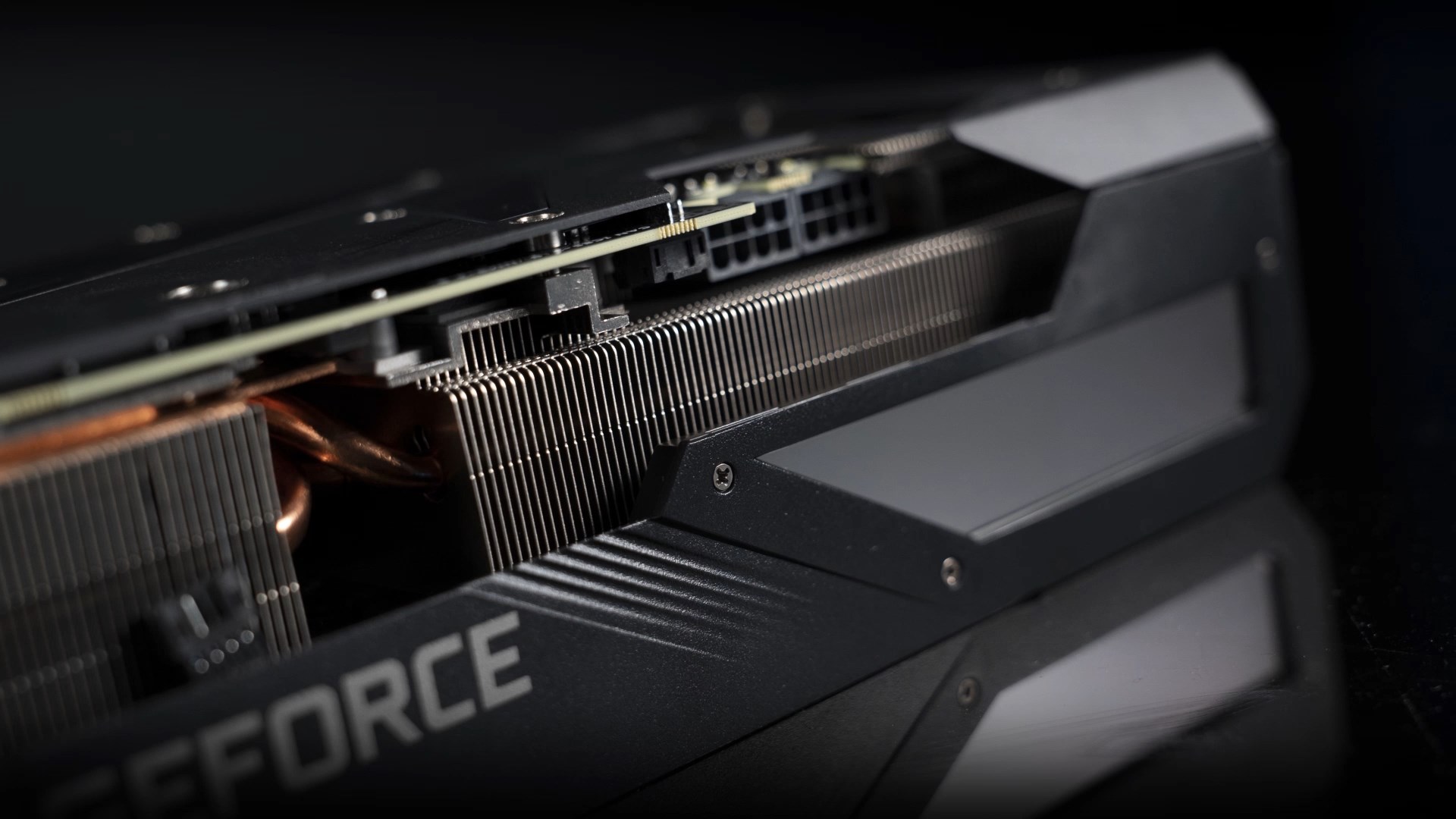 Move on to the side panel. The biggest change you can see here is where there used to be a "FAN STOP" indicator, which is now replaced by a whole new LCD monitor. It can now display more information, such as power consumption, temperature, or even your custom picture.
As mentioned before, power and temperature are both critical in this generation, and it's more convenient to have an LCD to monitor these stats without installing any other software.
Outputs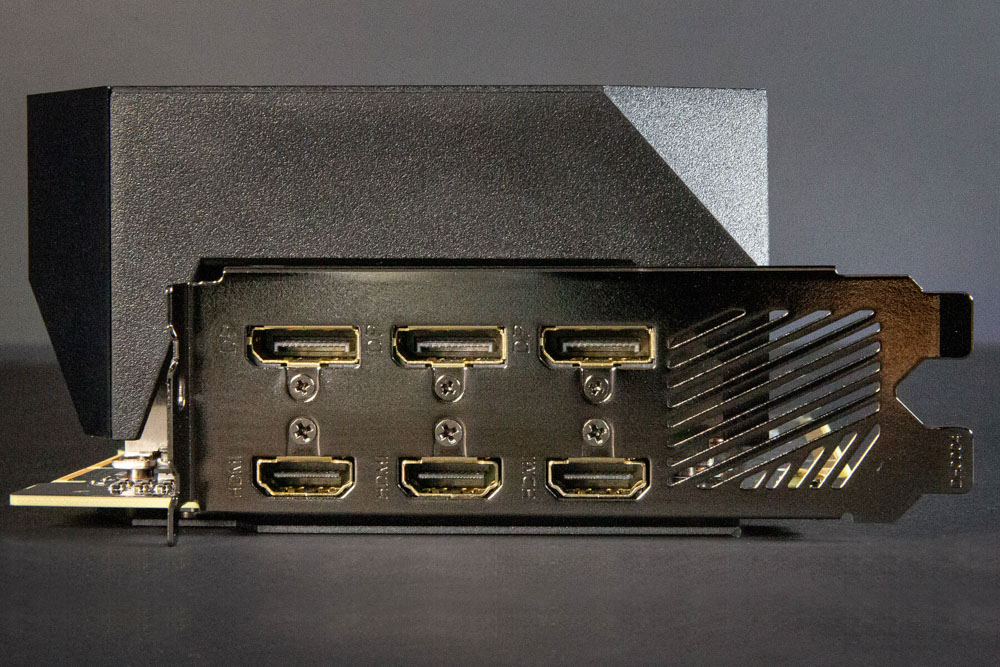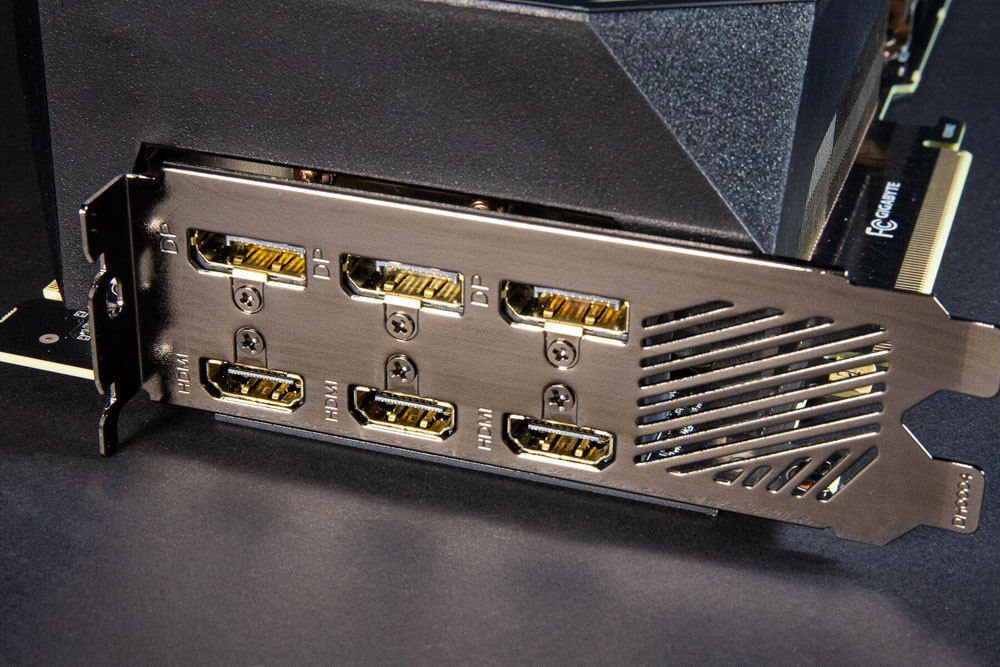 The outputs on the graphics card may have been the least concern to most people. Now that the RTX 30 series are the very first PC GPUs to introduce HDMI 2.1, it's never too late to start valuing your outputs on cards for future compatibility.
As a proud tradition, AORUS RTX 3090 XTREME features 3x HDMI 2.1 port as well as 3x DP 1.4a ports, just like those grand predecessors did. It should provide the best support for any possible monitor setup for this generation.
Outlook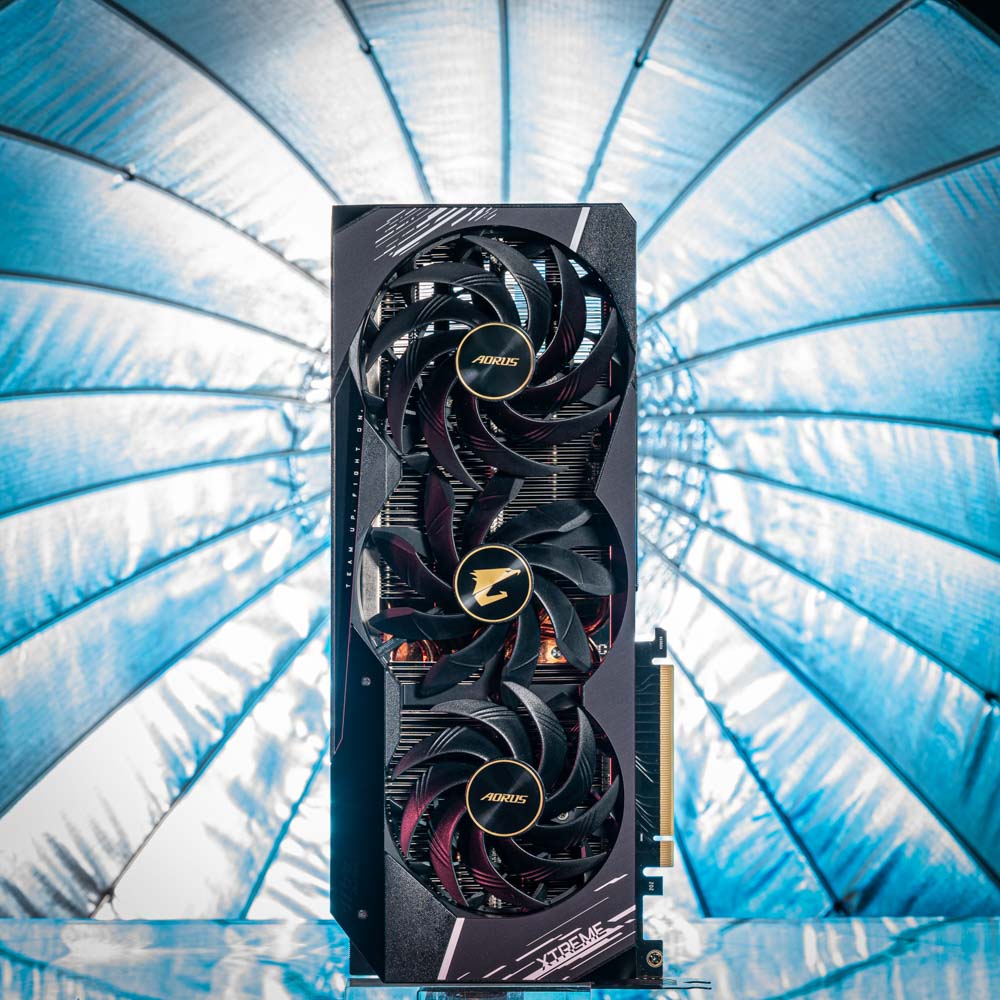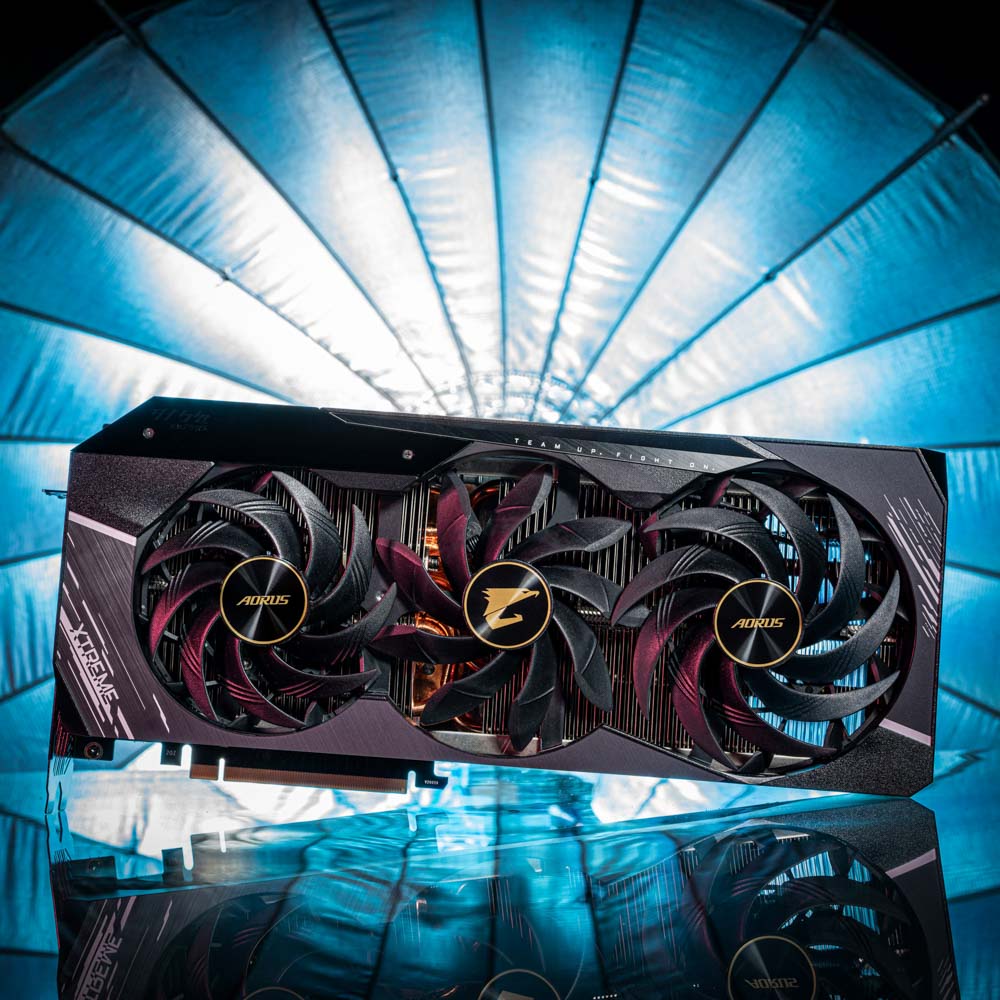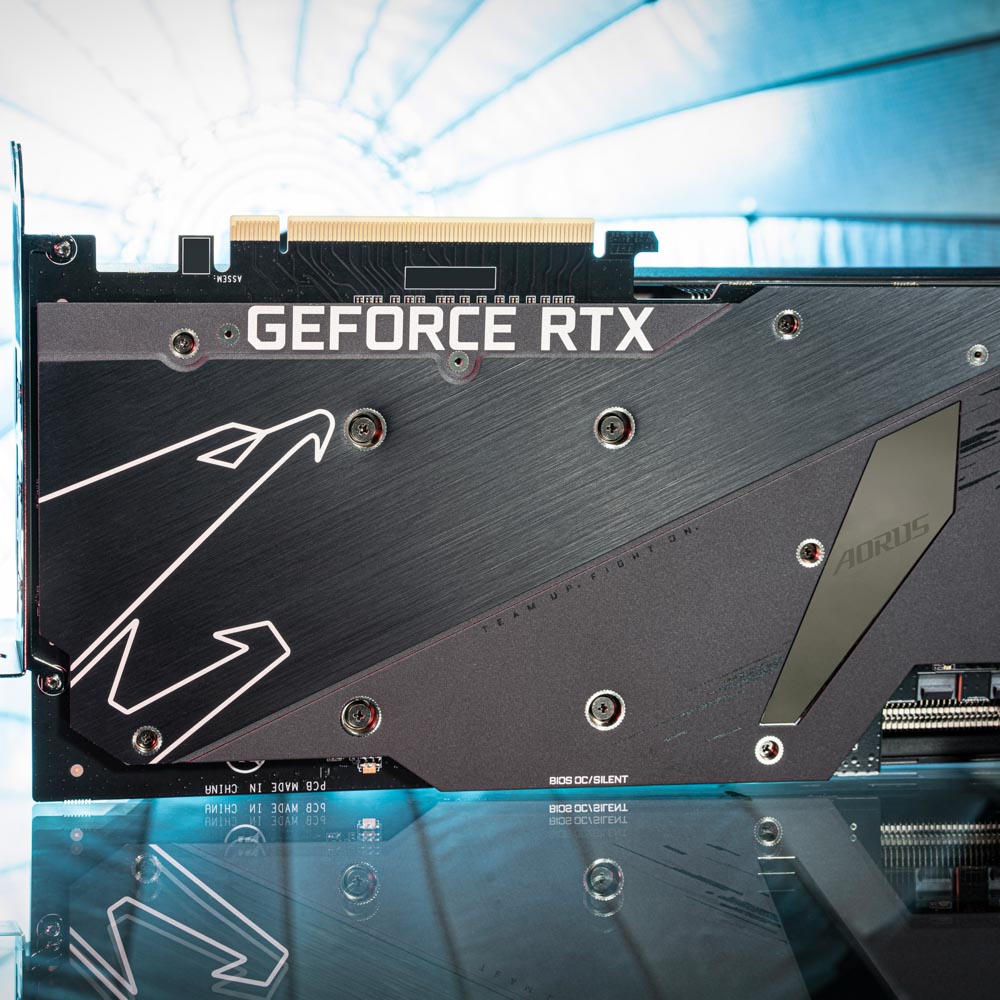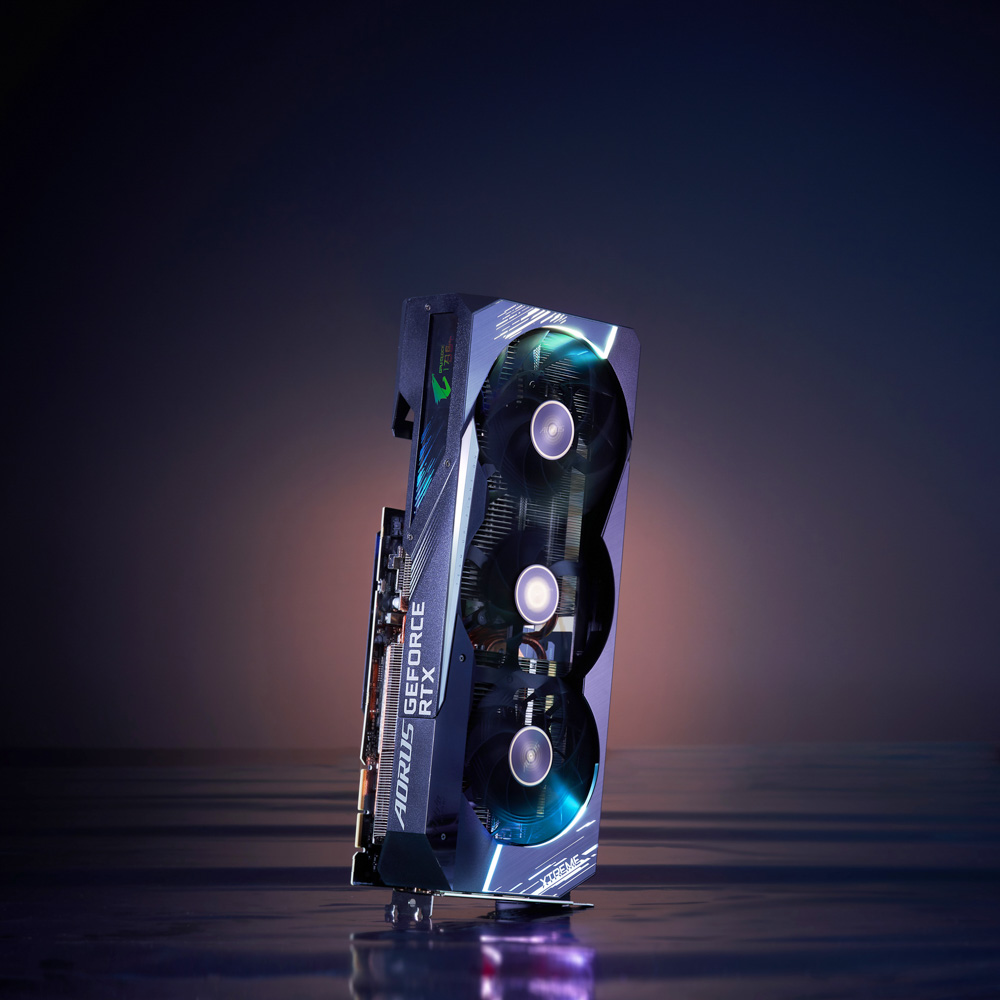 Interior : Thermal Design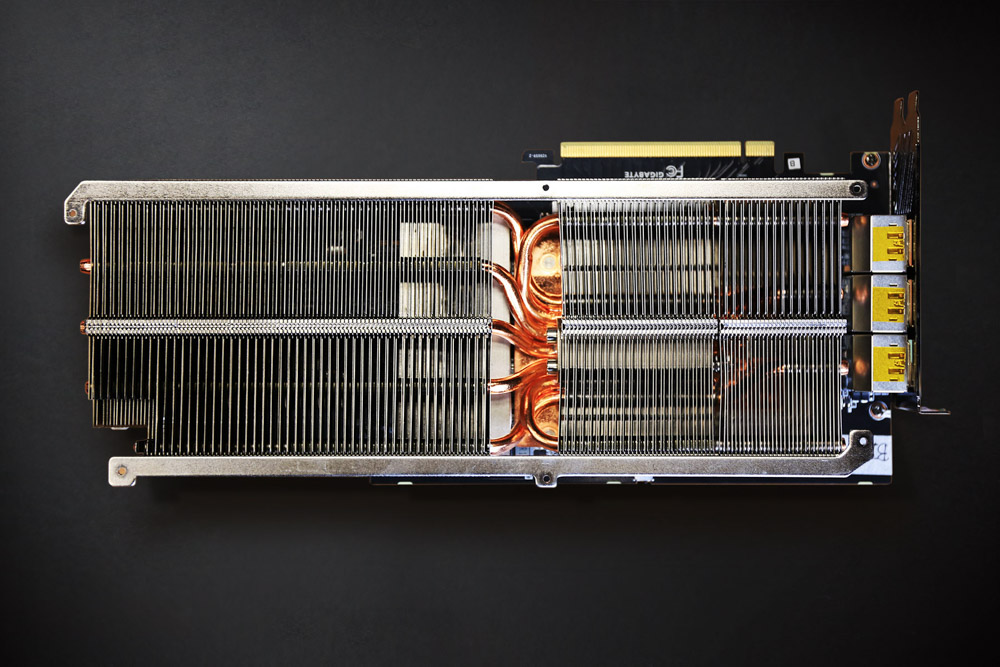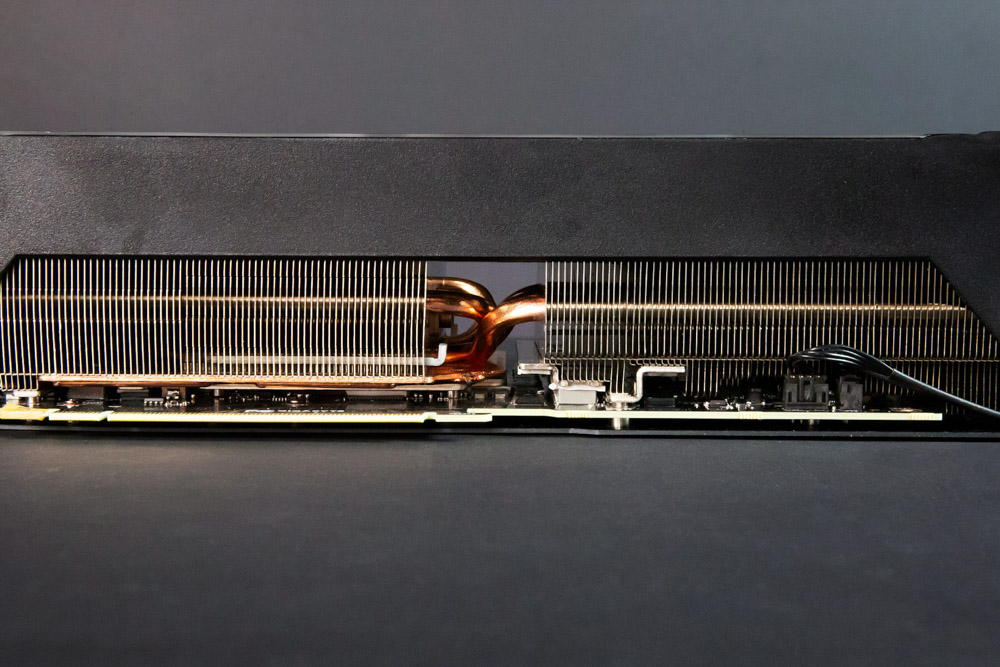 A monstrous yet elegant heat sink is the first thing we see under the cover. As it is mentioned in the previous paragraphs, the heating issue is really critical for the latest RTX 30 series. Therefore, several improvements have been introduced to AORUS RTX 3090 XTREME to make sure the best gaming experience.
Heat Sink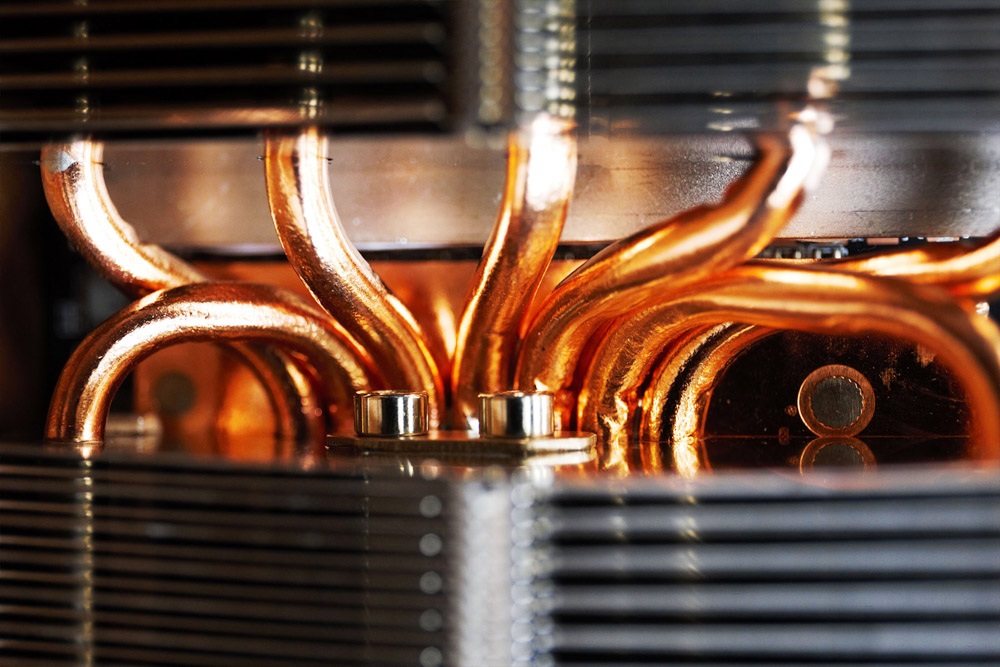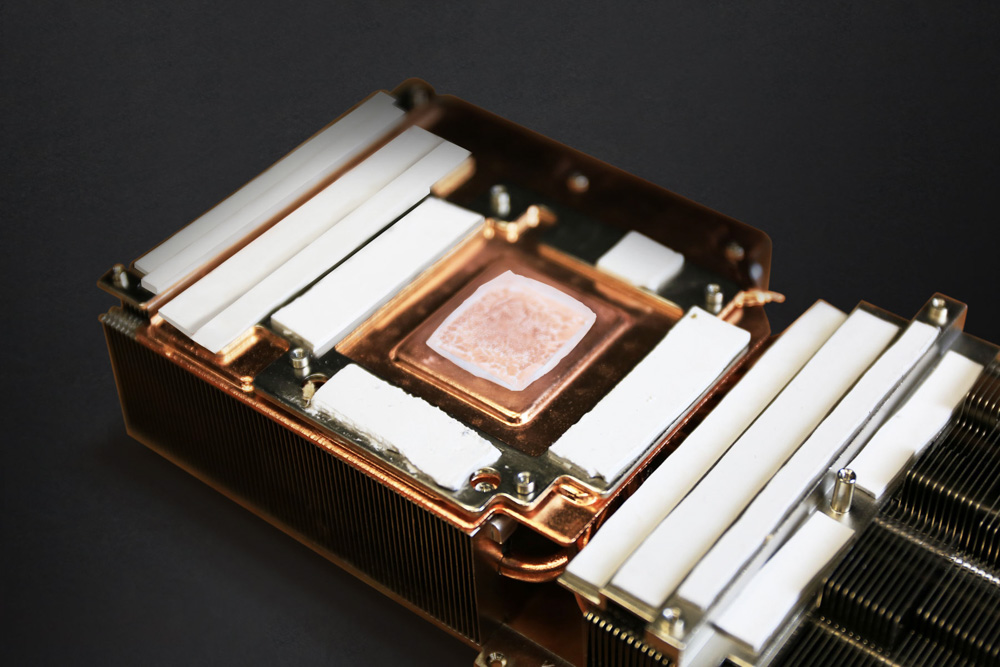 The heat sink consists of 3 major parts: vapor chamber, heat pipes, and fin arrays. The vapor chamber on AORUS RTX 3090 XTREME has been enlarged in comparison to the last generation to transfer heat through the heat pipes more efficiently.
Also, half of the fin arrays are curve-shaped and unequal in height. This is an exclusive design called "Angular Fin" which can channel the air flow better through the fins and increase the contact area.
Look closer. What's under the heat sink is more delicate. Not only the vapor chamber directly touches the GPU so it can effectively transfer the heat from its very source, but it also covers all the core units, such as VRAMs, MOSFETs, and VRMs, for they are also major heat-generating components yet usually overlooked in thermal design.
Moreover, the heat sink is extended over the PCB and thus creates a channel that the airflow passing through can increase the heat dissipation due to the difference in air pressure. This is called "Screen Cooling" and it's one of the several technologies we adapt in AORUS RTX 3090 XTREME to present Max-Covered Cooling.
Power Design
Since RTX 3090 does require a great amount of power, we also focus on the power design to unleash its XTREME performance. With three 8-pin power connectors, the graphics card can consume up to 350 watts or even more. That's why we need a 22-phase power solution to effectively cope with high-power-demanding scenarios like 4K gaming, 3D rendering, or even 8K film editing. Notice that every power unit is covered by the thermal design, so the heat won't hold down its efficiency or even cause damage to the system. Pretty COOL, huh?
Conclusion
NVIDIA RTX 30 series is now taking PC GPUs to the next level. With higher performance, comes more power consumption, and heat. That's where AORUS steps in with the latest technologies to build the most compatible graphics cards for the next-gen specs and to ensure the best gaming experience that every gamer deserves.
In this first-hand unboxing article, we've overviewed the entire outlook of AORUS RTX 3090 XTREME. Next, we're going to install the card and run some performance tests on several benchmark game titles to see how powerful it is.
The GeForce RTX 30 Series Family!
https://www.aorus.com/graphics-cards/rtx30
Learn More: